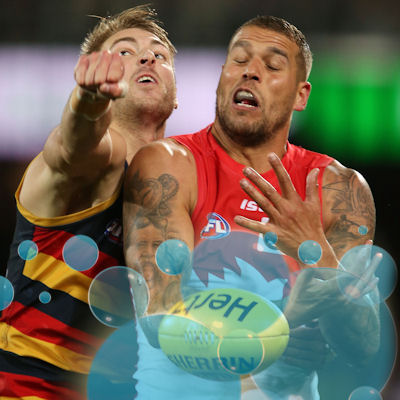 Sadly, for about 90% of AFL Fantasy coaches the season is now over. What a year it was. Tom Mitchell will break the all-time Fantasy season points record. Tom Rockliff broke the record for the World's biggest fall from grace. Sam Docherty played the greatest defensive season of all time. A new snout was born. Nathan Brown is on target to break Prestigiacomo's record low average of 24. I have seen more carnage in Fantasy over the past 6 months than I have in any Michael Bay shit show over the past decade. It has been as eventful as it has been painful, and unfortunately I felt the majority of those blows. Ahead of Grand Final week, it's time to wash-up 2017. Let's do it!

Click here to subscribe on iTunes. (Please leave a rating and review as a thank you for the year!!).
Legends
Taylor Adams (115.5) – Where better to start the season wrap up than the most owned player in the competition. I can't remember an easier pick ever being granted by the Fantasy gods. Of course Swanny as a forward matches it, sadly we didn't get to send the King Pig off in style. We all own Adams, and we all love him. Don't take this season for granted, he's actually the 6th best averaging player for the season (And Ablett hardly counts). Durability was also a big question mark for some, but they can shove that non-sense where the sun doesn't shine. Adams has played every game and is the third highest point scorer in 2017. Legend! The big question is whether anyone will be brave enough to select him as a midfielder in 2018. Because that's what he is. A midfielder. Its been fun.
Sam Docherty (119.2) – Let's just keep the love flowing. I haven't owned Doch until last week, but that doesn't mean I don't absolutely love what he brings to the table. Sure he is the very definition of a seagull, but that's what makes a Fantasy player great. He has posted 8 scores above 130, amazingly that's only 1 behind Tom Mitchell. Keep racking up those +6's Doch, don't worry about becoming a midfielder. Enjoy his last game next weekend, because next season you're going to need to sell off your family to afford him in Round 1.
Dangerfield (120.9) – Thanks to Tom Mitchell's utter dominance we haven't raved as much about Dangerfield's Fantasy scoring this season. He has actually bettered his 2016 effort and is matching Gary Ablett's glory days. Sure in the words of BT he likes a bit of "me time". He also has a tendency to believe he has suffered a career ending injury, only to run back out on the ground 10 minutes later as a hero. But I'll put those minor resentments aside if he keeps averaging 120. Safe as houses and a true legend!
Merrett (115.8) – There may be a few bitter pills being swallowed here, and if you got on board the Zerrett train late then do yourself a favour and quickly skip over this paragraph. Zach was my draft captain for most of the season and up until Round 14, he was averaging 125! Sure he has hit a bit of a wall in the past month, but we can blame taggers for that. His game involves a lot of outside footy and that hurts, it's not his fault he's too good when disposing the footy. Ok he might have got a few people knocked out this week if they captained him, but can't we all be friends? No is the answer to that question, but as a loyal Merrett owner for the past 2 seasons I stand by him. He has still put together and almighty season and those who started him will be beaming with pride. Let's just hope Essendon help him out more with tags in 2018.
Zorko (114.2) – Don't listen to Beyonce, nobody is flawless. Sure Zorko may have dished up 2 scores of 45 and 48, managing to only get 5 disposals in a full 120 minutes of footy… But he also subsidised that with a 157 and a 181. I was sure that he was going to reach the promised land of 200, maybe next year. The Zork has been a fan favourite ever since being a bargain mature age rookie pick a few years ago, and I'll always appreciate his Fantasy efforts. More so this season, 114.2 makes him an uber premium!
Martin (113.5) – Dusty has never been known as a reliable Fantasy source, but he has now reached 'elite' levels. So much so that his season average is 113.5, his 3 mach average is 113.3 and his 5 match average is 113.6. Consistency was the only missing piece of the jigsaw, and Martin has found it in 2017. Part man, part machine, part really intimidating bloke. He has made a name for himself with 'don't argues', you just have to respect that.
Duncan (113.3) – Here we sit in Round 22, and still only 4.2% of coaches own Mitch Duncan. He must be up there with the greatest ever POD in Fantasy history, averaging 113.3. Criminally underrated and an absolute legend for his small ownership group this season. Someone shout this man a beer.
Kelly (113.3) – When picking my first squad for 2018, I can guarantee you Josh Kelly will be just about my first selected. After Tommy of course. I wasn't sure that this kid had a Fantasy game in him, and wow have I been proven wrong. In just about the only great move I've made all season, I traded Rockliff to Kelly on the back of his 162 point monster against Essendon. Since then he has averaged 115 and is now an absolute Fantasy jet. He tackles, gut runs, racks up disposals, kicks a few snags and never gets tagged. Why he never gets tagged is beyond me, but while it remains that case I'll own him every year. He's a footballing freak and a joy to watch and own. Man crush enabled.
Gibbs (113.0) – How can I ignore Bryce Gibbs. That 37 is an unfortunate lowlight is what has been a ridiculous season. It included the highest individual Fantasy score of 2017, a massive 194 against Gold Coast. He didn't get that score from the Brent Stanton academy of Fantasy slutting either, doing the dirty tackling work as well. Criminally under-rated and under-owned, his owners will just be thankful for our ignorance. What a gun.
Murphy (110.9) – Can I take you back to pre-season, where Marc Murphy was $482,000. There's no doubt in my mind that he was the premium bargain of the season. We missed out on Bryce Gibbs in 2016, and a lot of us missed out on the exact same opportunity again in 2017. I refused to let it happen and jumped on board after Round 2 (As did most of his current ownership), but it's still not a great look. If it looks like a duck, swims like a duck and quacks like a duck, it's probably a duck.
Beams (106.2) – Dayne Beams' season average doesn't do him justice. A rogue score of 5 after injury, coupled with a few 60's sees him potentially priced with a 10% discount. He will be best remembered for notching a 5 round average of 129.4 in the lead up to and during Fantasy Finals, where he knocked me out with another monster score last week. Of course these memories could change if he butchers things in the Grand Final this weekend, but for now I've only got glowing reviews for Dayne. Always a fan favourite.
Macrae (103.4) – There have been some doubters at certain stages this season, but Jack Macrae has answered them in style. The Doggies have finally got him back in the guts where he belongs, and he's making it count with a huge end of season charge. Last weekend's 149 would have decided many finals if it wasn't for the fact that every good coach has Macrae in their teams. Sadly he won't be a forward in 2018 but thanks for the memories Macca.
Grundy (106.5) – Say what you like about his tackle, Grundy has had a superb season. If Mason Cox wasn't around to occasionally screw it all up, it would have been even better! Grundy has more than justified his price tag with an average of 106.5, despite being suspended for DT finals. In a season where ruck troubles caused havoc once again, Grundy was a steady pick amongst the carnage.
Kreuzer (105.0) – Undoubtedly the ruck pick of the season, if you managed to see this one coming then I want all your pre-season notes, methods and I'll even pay for a cheat sheet. Kreuzer defied all expectations, dominating for a whopping average of 105! Having drafted him in Round 12, let's just say the Kruze control always has a place in my heart. Legend!
Darcy (83.6) – While I was bang in the middle of a ruck crisis, Sean Darcy came in and showed my lads how it's done. His short 8 game spell netted a price gain of $239k and makes him an absolute Fantasy legend! I just want to know what his parents are feeding him.
Greenwood (78.8) – If we're to have a successful Fantasy season then mid season rookie downgrades are vital. Step up Hugh Greenwood. He came into our forward lines at $150k and didn't look back, passing the $400k barrier a couple of weeks ago. He's still out performing plenty of low end premiums that I own, looking squarely at you Buddy. Absolute jet, did you know he used to play basketball as well?!
Newman (86.9) – What am I meant to say here. Sure trading out Newman has given me my most successful tweet, but otherwise it has brought nothing other than pain and misery. That's nobodies fault but my own and f**king Longmire. Newman has done everything asked of him this season, yet he still got dropped leading into last week's Preliminary final. Imagine if he doesn't play in Sydney's finals campaign… We appreciate your efforts Nic. He's the seasons biggest riser (+$309k) and deservedly so. Absolute legend.
Hoskin-Elliot (83.3) – Remember this guy? WHE is still powering along, rising to $470k last week. Don't forget how good he was at the start of the season, can we have a round of applause please.
Witherden (87.1) – Thanks for coming. Witherden has walked into many teams and slotted comfortably into D6, at least until that unfortunate hamstring injury. His phone call with Warnie and the boys only cemented his place as a Fantasy legend. A pick for the future.
Scharenberg (80.8) – We have a new and improved Berger in Town. Owned by under 5% of coaches, I'm one of those lucky enough to have him sitting at D6 averaging 94 in his past 5 matches. It was a bit of a rocky start to our relationship, but after starting priced at $234k he has well and truly kicked on from Otten's solid start. Let's just hope he doesn't go full Callum Mills next year.
Tom Mitchell (127.5) – Who else? Tom has been my boy since game 1, starting him on my ground as he turned the green vest into a farce. Here we sit 4 years later and he has broken the AFL disposal record. Not only that, he's just 31 points away from breaking the great Dane Swan's AFL Fantasy/Dream Team record for most points in a single season. Many will be surprised by the level of Fantasy piggery Titch has shown this year, but I'm not. For god sake, he had 65 disposals and 260 points in a NEAFL game. Whenever you think they're posting big scores these days, just remember that. John Longmire hasn't done much for us, but he has provided me with a quote I rate up there next to anything Martin Luther King came up with. "If there was only one football left in the world, Tom Mitchell would find it." You better believe it. I will pick him in every Fantasy team I ever make and I don't think he could ever let me down. I haven't been able to enjoy much in 2017, but watching Mitchell dominate every week has made it durable. Now please excuse me while I go get myself checked, my man crush is getting a bit alarming. Long live the Pig!
I have a few special mentions. Shoutout to Rory Sloane for matching Docherty's effort of 8 x 130 scores, it's just a shame he had as many 60's. Adam Treloar was OK but I'll be honest, he still pisses me off. Watch out, the Crouch brothers are coming. I couldn't include every successful rookie otherwise I'd have been here writing until pre-season kicked off. Thanks to Houston, Curnow, Otten, Marchbank, Stewart and many others for their helpful contributions during the season. I couldn't get to every premium either, but a special mention to Hurley, Hibberd, Steele, Heeney and Pauleen Hanson's long lost cousin Oliver for making a mockery of their original price tags. I'm sure there are many other personal favourites, if I missed anyone give them a shoutout in the comments! Now onto our favourite blokes, the losers…
Losers
Ablett (118.9) – No, this isn't a typo. Gary Ablett is the first player to ever average over 100 and make it into the losers. He must also be the first player to decide he'd pull off the trackpants and play a game of footy once every three weeks. After the byes he'd just run out, get a lazy 40 disposals then sit out the next few games. If he was feeling really adventurous then he might play an away game! There would have been many coaches burnt by Ablett's late outs this season, I was so nearly one of those guys. We've had so many good times Gary, don't go and ruin it.
Dahlhaus (89.6) – The other day I reported a fraud to Police but sadly they "Can't chase up on lost funds and false pricing in a Fantasy sport platform". Disappointing. 40.6% of coaches own Dahlhaus. That is over 60,000 managers which makes him the seventh most owned player in the competition. Perhaps the fact that Mitch Hibberd sits above him gives us some answers as to why. Dahl is sitting in my dog haus, the door has been padlocked and the key thrown away. Not going near him next year.
Fyfe (97.6) – I have been using the Fantasy website's 'top 10' feature to put this article together, and it came to my attention at Fyfe is the 9th most captained player this season. That equates to over 43,000 times. Either there's a lot of Freo fans, there's a lot of ghost ships, or more likely there's a lot of Freo fan ghosts ships. They're not really good at much. I owned Fyfe in Round 1 and I'll do it all again next year. I look forward to seeing how you let me down this time Nat, let's go for three out of three.
Pickett (39.7) – Jarrod Pickett is clearly the player named as emergency the most for Fantasy coaches this season. He has survived in my team for the full 23 rounds and I have only praise for the great man. In reality he didn't average 40 and was a butchered rookie selection. Not great.
Riewoldt (87.4) – Roo is a Fantasy legend and will be warmly applauded by every true Fantasy coach around Australia. Sadly some will be biting their bottom lip while doing so after Riewoldt burned them so badly this season. It wasn't a pretty end for Riewoldt, I'm sure his knee rendered him unable to play on a wing where he dominated in 2016. Still, an average of 87.4 isn't exactly the worst! Never forget his 200 in last season's Grand Final. That is GOAT areas.
Shaw (82.1) – That was all a bit positive for my liking, so who better to bring the mood down than Heath Shaw. Just spare a thought for anyone who drafted Heater ahead of Docherty. He lost $183,000 this season, third to Riewoldt and Rocky. He doesn't deserve to be in the same sentence as those two. Let's not waste our breathe on Shaw any longer, I'm just thankful this is the end of headache Heath. Anybody who picks him again is honestly just a masochist.
Johannisen (77.0) – Don't be fooled by JJ's little recovery at the end of the season, he has butchered thousands of owners this season. If you just put a player within 10 metres of him he'll put the feet up and start grooming that shitty hair. It hasn't been a great season for those with awful haircuts, hopefully this serves as a lesson.
Selwood (94.9) – Every damn season we fall for the same Joel Selwood mirage. A few good games, a myth about him finishing the season well and then an inevitable self inflicted injury. That or he just flops. It's as predictable as Game of Thrones scripted by money crazed producers, yet we still get sucked in. Our never again lists continue to grow and get ignored, but Selwood sits comfortably on mine. Burn.
Goldstein (85.7) – I guess he's not really relevant so I won't dwell on my personal woes for too long, but seriously what has happened to Goldstyne. That score of 32 marked the end of his short lived premium status. Maybe Goldy doesn't like Fantasy finals? A sad end to a short Fantasy career.
Eddy (40.0) – Rumour has it they're still searching for Eddy, missing after his 5 goal pre-season effort at Hickinbotham Oval. Pray for Brett.
Gawn (87.2) – Man Gawn has almost single handedly derailed my 2017 campaign. Sure it was mostly self inflicted, but how he has ended up in my final Round 23 side after what he did to me begs the question of my morals. Another 65 last week just adds to the pain. Of course he'll be under priced in 2018 but I fear the beard for a whole host of reasons, and it's not because he's a 6ft10 ruckman.
Spencer (52.5) – Ok, so this pick was more questionable than Stephen Dank's morals. I don't look forward to seeing him back during pre-season next year, hopefully that will be the last time I'll ever have to see that rogue head on TV. Very bitter pill.
O'Meara (64.8) – If you ever think you've made a bad decision (Paying $364,000 for O'Meara for example) then just remember that the Hawks gave up a first and second round draft pick for JOM. Sure he has a few years left in him to get the best out of his body, but one suspects he might just be getting the best out of the Hawks state of the art rehab facilities. Get ready to go through it all again in 2018!
Parker (97.7) – Sure, Luke Parker has shown occasional glimpses of being back to his best form. That doesn't excuse an average of 98 for a player widely tipped to become one of the competiton's elite players. He started the season priced at $663,000. That is more than Zorko, Mitchell, Kelly, Duncan and well… Nearly every good uber premium midfielder this season. Kennedy and Hannebery can join him on this list. I was really bullish about JPK's ability to finish the season strong, sadly he saved his revival until Round 22 after missing two matches with injury. The Swans were a nightmare this season, who cares about team footy.
Franklin (92.5) – I'm making a stand. Sure Buddy's average looks pretty, but I can tell you first hand there is no way you should ever trade him in under any circumstances. I have seen tits on a nun with more use than what his 37 points was to me in my elimination final. NEVER AGAIN.
Miller (79.5) – I've seen more excitement in Parliament House than the dire tripe Touk Miller produced for me this season. Bore fest and never to be picked again.
Tom J. Lynch (80.3) – More self inflicted pain for me. I'm sorry, I got caught up in the hype that Lynch is apparently "One of the best players in the AFL". Give me a spell. I haven't seen a more over rated footballer and I watched Nic Naitinui get picked in the All Australian team for his dreadlocks alone.
Hall (98.8) – If you're into weak minded players that love to ski downhill and get cheap footy then Aaron Hall is your man. Every year I get blinded by the byes, it makes me do stupid sh*t like this.
Gray (82.0) – Don't let Robbie Gray's late revival distract you from the fact that he managed three scores under 40 this season. I don't care where on the ground you're playing, any player capable of that doesn't get anywhere near my side. That of course is why I selected Tom Lynch and Lance Franklin…..
Caddy (74.5) – There are some pre-season picks that you just have to look back upon and laugh. I mean, Josh Caddy? He was hot property. I'm ashamed to say that he probably featured in more pre-season drafts for me than he scored tons.
Jones (78.3) – This Ladies and Gentlemen is why you never go midpriced in defence under any circumstance. Heritier did it to us. I guess Zak wasn't THAT bad… Still, I'd love to know the extent of emotional trauma his owners have been through. I imagine they must have some sort of Fantasy PTSD.
Rockliff (104.4) – Firstly can I be clear that Rocky's average of 104 is still technically 'good'. But technically he is a Fantasy pig and cost me and everyone else over $700,000. He's clearly not at 100%, hence the drop off in tackling and extra forward time. Given that he was leading the AFL clearance record until his dislocated shoulder, I think we can safely say Chris Fagan isn't that stupid to play him out of position. Perhaps our beloved Pig will seek off-season surgery to fully repair things and return to his piggish ways in 2018. Sadly that won't get me my $300,000 back, not to mention the severe lack of any notable scores after his bye. I love you Rocky, but this was the biggest fall from grace since Lance Armstrong decided he might go on Oprah Winfrey just to see what happens.
There are a few names lucky to miss out. I'm honestly not even sure where Michael Walters fits in to this. Value next year anyone? I just hope for my sanity that he has a poor pre-season. If there's any players that caused you headaches all season, feel free to vent away in the comments as always. Their trash will not be tolerated!
It's time to vote for this season's best performers, and dare I say it I think it will go to the wire. Get voting!
Tom Mitchell – Average: 127.5 Points: 2,678 Price change: +$41,000
Sam Docherty – Average: 119.2 Points: 2,504 Price change: +$19,000
Nic Newman – Average: 86.9 Points: 1,477 Price change: +$309,000
Matthew Kreuzer – Average: 105.0 Points: 2,099 Price Change: +$128,000
Taylor Adams – Average: 115.5 Points: 2,426 Price Change: +$36,000
Who is your AFL Fantasy player of the season?
This Game Sh*ts Me
Hindsight is always a beautiful thing. I usually get a visit from The Captain by Round 3 or 4, when it becomes perfectly clear that my 30 man squad that looked unbeatable just a month prior, is actually an irreparable train wreck. I'm then left to pick up the pieces for the next 4 months, recover to a respectable rank and do it all over again next January when team pickers return. So what are my biggest regrets of 2017?
I don't want to revisit dark memories, so just the mere mention of Max Gawn, Jake Spencer, Tom Rockliff and Michael Walters should be enough if you've followed my nightmare season. I would've had a completely different year if I'd saved the extra $20,000 to get Brodie Grundy, talk about a crossroad. One path lead to happiness and rainbows, the other to blood, sweat, tears and regret. A lot of regret.
Just like the regret I have for not drafting Tom Mitchell with my first draft pick. If I had I would have won my preliminary final and had something to play for this week. I'm not going to pretend every other coach in the league didn't have their own stories. Like the bloke who picked Max 'Munter' Gawn with the number 1 pick in the draft. You won't be surprised to hear that he has since left the Country indefinitely.
Go back to your Round 1 team, I dare you. It might make for tough viewing, and quite possibly a board meeting during the off-season to discuss your merits as an 'expert' Fantasy coach. Mine isn't actually too bad. Fun fact, my rank peaked after Round 2. That doesn't mean there wasn't some head scratchers in there. Jaeger bombed. What happened to Curtly Hampton? Horlin-Smith didn't quite join the other hyphen success stories… Here's an amazing stat. Only 9 of my original squad of 30 have survived in my team without being traded at some point during the season. Two of them include Darcy Cameron and Jarrod Pickett. Yes, Pickett still warms my pine.
During this trip back in time we often kick ourselves for missing picks only your mate who auto-fills their team could end up with. How did we not see Matthew Kreuzer remaining fit and becoming an uber premium ruckman?! I could have used that extra $200k to turn O'Meara into Luke Shuey, who was clearly under-priced and about to morph into a point scoring machine until the byes. Sadly I then scrolled down to Touk Miller and had to quickly shut the tab. Take me back to the simpler days when the Big Bad Wolf was my worst nightmare.
Then of course there's those 'obvious' Fantasy calls many of us managed to make a better butchery job of than the Gold Coast Suns. Marc Murphy was priced at $482,000. He has averaged 110.9. Nic Newman was averaging 70, just give the lad a few weeks and find $100,000 elsewhere. Spending $723,000 on Tom Rockliff coming off a shoulder injury with no proof of fitness is not a great idea. Trading Max Gawn to Jake Spencer to Shane Mumford to Todd Goldstein back to Max Gawn probably isn't going to end too well. Just me on that one? Ok then…
I could rant forever about hindsight calls that would have changed my season, just as they would have done for every other coach reading this article. But I'll keep doing it until next season so I can convince myself I will be the only person in the World to pull it off next year, after which I shall drive off into the sunset (To my nearest dealer) in a brand new Hilux. It's a cycle that I don't think I'll ever get out of, and I'm not sure it's healthy…
This Game Sh*ts me. But my god I love it.
The Other Bits and Pieces
2425 leaves me ranked at 6,275 for the season. Having previously never ranked outside the top 1.2k, it's safe to say I've had a bit of a 'mare' this year. At least it has made for some entertaining articles. Hopefully I have been able to provide you with some much needed relief on the back of a horror weekend. A shoulder to cry on. A shit Fantasy coach to laugh at. It's therapeutic and I've enjoyed nearly every second of it. I hope to be back again next season, but 6 months is a long time. On the back of a season as bad as mine, it's going to feel even longer. Good luck to those legends in their Grand Finals next week! Commiserations to the rest of you. I'll just be glad to see the back of 2017…
Thanks Matt for another entertaining year of the Wash Up! You are a Legend! (BTW – if you're into Fantasy Premier League, check out Matt's site at www.fpladdicts.com. – Warnie, Roy and Calvin