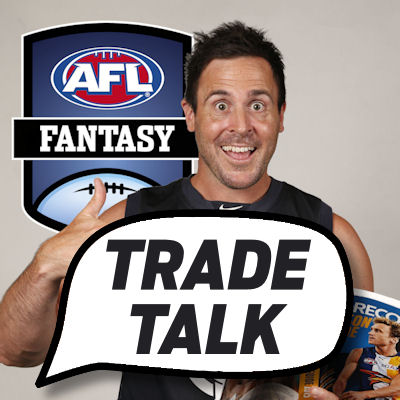 It's an interesting week at the trade table with a number of chubby cows putting their hand up for selecting despite inflated prices. As always, there are also some under priced premium options, you just need to look.
Cows: (Score last  week)
Declan Mountford (90) (MID, $236,000) finally got going and churned out an impressive score that leaves him with a BE of -1.
Alex Witherden (96) (DEF/MID, $264,000) backed up his impressive debut with another great score. Knows how to get open of a mark in the back half and the Lions have been sharing it around a heap back there of late. Still a great option despite price rises.
Luke Ryan (77) (DEF, $232,000) Keeps ticking over nicely and won't be going anywhere. Has a BE of 4 following his 77 against the Saints.
Malcolm Karpany (95) (MID/FWD, $238,000) After back to back 50's, kicked three goals for his first impressive score. The worry is that he needs goals to score but has a BE of -7 so he is going up, goals or not.
Sean Darcy (114) (RUC, $251,000) Solo Ruck on the back of Sandi going down and looked very comfortable filling his shoes with another good score following his 80 on debut. He looked so good in fact that some coaches are looking to take the punt on his as part of a cash grab from Nank and Stef. He has a BE of -28 and is the pick of a good bunch.
Mid-priced guys not often considered:
Michael Walters (Fwd/MID, $506,000) Can obviously be a rollercoaster and is capeable of churning out shocking scores, usually based on role. It can't be ignored however that he has averaged 126 in his last three and consequently has BE of 33.
Kane Lambert (FWD, $506,000,000) Career best form with an average of 119 in the last three and is coming off a ridiculous coming off 147 which gives him a BE of 34. High risk, high reward with a couple of nice games coming up. Pass for me, but impressive.
Brad Hill (FWD/MID, $538,000) has been a revelation at the Dockers, increasing in price by over 120K so far this year. He has three round average of 115 and a BE of 72 leading into his game against the the Roos and is only owned by just 8% of the competition.

Click here to subscribe on iTunes.
Pick of the mid pricers:
Chad Wingard (FWD/MID, $529,000) After overcoming his calf complaint, Chad becomes the pick of the bunch in this price bracket. He is the only one out of these guys who I would be happy to pick as a long term selection for the remainder of the year. He has averaged 108 last three and has a BE of 73 following his 141.
Big Dawg:
Bryce Gibbs (MID, $723,000) is in beast mode and it would obviously be a unique situation for any coach to consider him at this price and quite frankly, you are better of finding value somewhere but Gibbs has been getting no love for too long. He is averaging a whopping 152 in his last three and 142 in the last five. Has a 194 and 160 in his last three making him the form player of the competition.
Value Premium:
Luke Parker (MID, $538,000) dropped 125K after a disappointing first half to the season but he is starting to look like his old self again.  He has averaged 110 in his last three and looked sensational with a season high 148  on the weekend. He now has a BE of 62 and has the potential to return to genuine premium status for a bargain price.
Unique Premium:
Lachie Whitfield (MID, $576,000) Quietly going about his business with scores of 116, 125, 103 and 123 in his last four. He has only scored poorly on one occasion with an 80 and would be an interesting unique selection.
As always, use the comment to discuss your trade ideas in the comments, I'm currently:
Lloyd to Witherden
Soldo to Darcy
@RoyDT