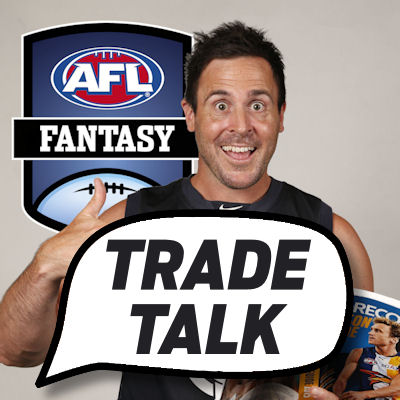 It certainly wasn't the way we expected to celebrate the end of the byes with big names dropping like flies on Thursday, Friday, oh and Saturday and Sunday! But either way, it was certainly good to have a full list of teams playing, even at the expense of one trade  per week.
Trade out?
Dan Butler-  Should have been done weeks about, no ability to score.
Toby Nankervis – Another tough match up this week, thanks and goodbye.
Jake Barrett– Had a shocker, but still worth enough to be part of a significant upgrade.
Tom Stewart – Unfortunately injured after really finding his feet lately.
Caleb Marchbank– Contender for ROY, but plenty of value in the backs to upgrade to.
Bargain Cows:
Sean Darcy (RUC, $199,000) BE: 45 – 40 hit outs and an impressive 80.
Alex Witherden (DEF/MID, $225,000) BE: 14 – Looked the best of the Lions kids and got open for plenty of marks.
Big Dawg:
Sam Docherty (DEF, $713,000) So far out of reach for non owners it is ridiculous, but he still needs to be mentioned because he is probably the most important player to own, given he is a defender and has the scoring of an elite premium. He has a five round average of 133 and a three game average of 139 which is nuts. If you can somehow get him without ruining your team by selling the farm, do it.
Steele Sidebottom (MID, $642,000) is officially on fire! He has a five round average of 126 which would have to indicate career best form and the crime here is that only 2% of the competition are enjoying it. He has a great run coming up with games against the Hawks, Bombers, Suns and Eagles where he should continue to rack up.

Click here to subscribe on iTunes. (Please leave a rating and review to help us move up the charts).
Value Premium:
Robbie Gray (FWD, $430,000) is once again great value for a bloke called Robbie Gray! He has finally put a couple of nice games together with scores of 117 and 99 ahead of a game at home against the Tigers. I certainly don't think this is an indication that he is a shadow of what he has been in the past as he is relying on goals to score but for this price, he is still a good pick.
Bernie Vince (DEF/MID, $408,000) has had a shocking season by his standards, averaging just 77 and dropping $146,000 from his opening price. In the absence of Nathan Jones last week (I might be grasping at straws there) he had his second 100 and highest score of the year with 113 from  27 touches, eight marks and five tackles. He has a break-even of just 56.
DPP:
Sam Menegola (FWD/MID, $523,000) Apart from a blemish in round 13 with 65, Menegola has a low score of 86 for the year while scoring as high as 124 and 133. He scored 124 last week with an awesome game including 22 touches, eight marks, nine tackle and a goal. With Joel Selwood questionable this week, he might need to step up again.
Kobe Stevens (FWD/MID, $517,000) is coming off a great score of 115 where his tackling pressure was phenomenal. He has a five round average of 91 but what I like most is his ability to hit triple figures, doing so in four out of his seven games.
Isaac Heeney (FWD/MID, $550,000) is someone I seen to talk about every week, but given he is only owned by 28% of the competition, it seems I need to keep talking about it. The kid is an absolute superstar with a three round average of 115 and a break even of 75.
As always, use the comment to discuss your trade ideas in the comments, I'm currently:
EVW and Daniel Lloyd
Menegola and Witherden
@RoyDT