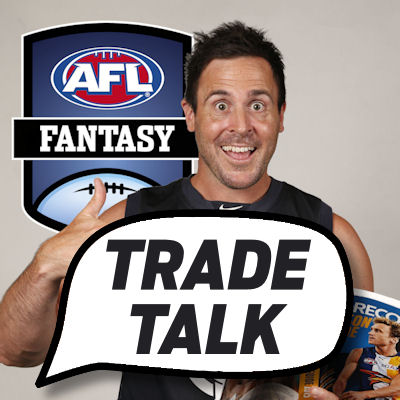 A combination of my second Green vest in a row and the approaching byes has literally left me crook in bed… but I'll still pump out a few names I think are worth considering. Now the byes are an interesting thing, its a fine line between navigating our way through with minimal damage and getting to the end of the byes and thinking 'why do I have all these shit guys?'. So we need to find a balance. I am however, keen to look at the best players from Port and the Suns as it just makes Sense. Two to three premium upgrades from these teams is viable over the next two weeks.
Defenders:
Jarrod Harbrow (DEF, $493,000) is arguably in career best form, averaging 105 over his last three and he has a BE of just 66 as a result. He has been finding plenty of the ball, highlighted by a 35 possession and 114 game against the Power a couple of weeks ago. He only has one score under 80 this year and a viable option if hard up for cash.
Jasper Pittard (DEF, $519,000) is my pick of the defenders despite a lower three game average of 98. After missing the start of the year with injury, Pittard hasn't missed a beat with a low score of 89 in his first game back and a high of 113 over his five games. He has a BE of 88 and is a great unique pick, owned by less than 2% of the competition.
Mids:
Gary Ablett (MID, $672,000) How stupid are those journo's looking that said the little master was cooked after one bad game in round 2. It was his only sub 100 game for the year and he is averaging 125 in his last five, 130 in his last three which includes a whopping game of 162 to remind us he still has a ceiling. The only concern is that he comes up against the Dees this week which he hasn't had a good run of late with 82 and 61 in his last two. If you think that is a concern, it might be best to wait until next week as he has a BE of 121.
Aaron Hall (MID, $591,000) is a way to upgrade in the mids, while saving some handy cash. Although he is no Gaz, his last two games have been awesome with scores of 156 and 134. He has only dropped under 100 on three occasions this year, but also has four scores over 109 so he is certainly one to consider, especially given he is playing 88% of games as a mid, the highest at the club (Thanks Freako)
Brad Ebert (MID, $606,000) Flying under the radar, apart from the 2% of his owners is Ebert, who has an outstanding average of 110 for the year. His consistency has been phenomenal, with a low score of 96 for the season, while also displaying a ceiling with 149. Apart from a tough matchup with the Cats, he has a very nice run to follow.
Forwards:
Chad Wingard (FWD, $500,000) is almost my pick of the bunch given his price and form since moving into the midfield. He has a three round average of 105, which gives him a BE of just 59, making him a genuine bargain if his latest role continues.
Michael Barlow (FWD/MID, $530,000) has dropped over 50K due to and injury in round 4 which limited him to just 44. Other than that he has been great, especially given his forward status with a low score of 88 and two scores over 110, including 127. He has a three game average of 96, which is about what we can expect from him.
Use the comments to discuss your moves,
@RoyDT
SHOP NOW: Tom Mitchell beanie | Tom Rockliff beanie