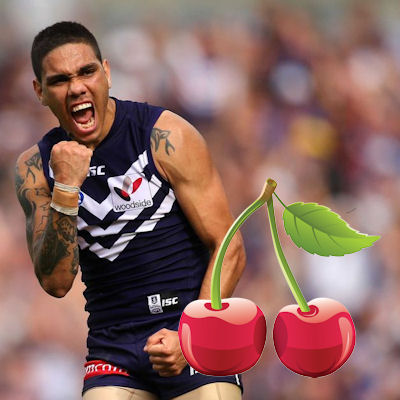 It's the end of Round 8 and I am back to let you know who is ripe and ready to be picked up around the upcoming bye rounds. I'll be writing another one of these after Round 12 to help you find juicy prospects after the byes, but this article will cover right up to Round 12 and when to jump on these value players. If you haven't already, you should definitely consider your bye structure, otherwise you may struggle to field a team of 18 some of those weeks. I currently have a bye structure of 0, 13, 6 and 11 which I'm alright with although it is quite Round 11 heavy. Try and structure it so more players have the later rounds off, therefore you can trade out some of those players for ones who have already had their bye.
But enough bye round talk, let's get into the thick of things.
Defenders:
Jake Lloyd ($561,000 BE 102)
Jake is here to tell everybody I was wrong. After Round 4 when I wrote this season's first edition of Ripe for the Picking I omitted Jake because Heeney was coming back and was going to take all his midfield time. This wasn't the case however. The truth is that Jake wasn't actually spending that much time in the guts and racked up most of his possessions across half-back. Now, Jake isn't that much value, in terms of price he has probably topped out after gaining just $40k, so if you're Round 11 heavy or you want to wait to upgrade your defence, Jake is perfect because he should stay around this price for the rest of the season. I'm comparing him to Docherty last season which is HUGE praise coming from me. Docherty has taken it to a whole new level this year, but in 2016 he was Mr. Consistent, never dropping far below 90 and being a solid ton you could pencil in at the start of every round. Same goes for Lloyd, he has a low score of 87, only three scores below 100, and a high score of 113. This shows you'll know exactly what you'll get from him, week in, week out. He has a few massive pluses to his name as well; as we all know Sydney's draw is favourable for pretty much the rest of the season. Add to this the fact that the SCG is the ground that gives up the most Fantasy points and it's Sydney's home ground, tick. The only thing that goes even slightly against Lloyd is his bye round. He has that ever-present Round 11 bye and it seems most people are Round 11 heavy. But, as I said, if you're in the 87.45% of coaches who don't have him, there's no harm in waiting until after his bye.
Jasper Pittard ($519,000 BE 87)
One to pick up after Round 9 as he's probably having a holiday in Shanghai right now. Pittard almost got my number one spot but his numbers weren't quite as high as Lloyd. Coming back in Round 4 from injury, Jasper has averaged 96.2 since including a big 113 two weeks ago, against West Coast. He has one score below 90 which was an 89 against GWS in his first game back. He is ultra-consistent, he has the Round 9 bye which is beautiful, he has an insane draw with his next 5 being Geelong, Hawthorn, Essendon, Brisbane and Collingwood after his bye, and he plays for Port Adelaide which are the third hardest team to score against so he doesn't need to play against them. He's also $42k cheaper than Lloyd which is hard to resist as downgrade options are slowly drying up and it's only costing you a 5-point differential in average at the moment. The only problem I have with Pittard is that he won't be a Top 6 Defender by the end of the season. He is currently the ninth highest averaging Defender, although I have him pegging Hodgey and/or Joey Montagna back to jump up to number 8 or 7. Granted, this doesn't put him far off the pace but I'd like to see all 6 of my Defenders averaging 100+ and I don't think Pittard will get there. Maybe I'm just being too picky… Anyway, he's a great value pick, and if you need to upgrade a Hampton, Otten, Marchbank (not yet!) etc. but don't have the cash for Lloyd, Pittard is the man.
Jarrod Harbrow ($493,000 BE 65)
And if you don't have the money to get to Pittard, save another almost $20k and go to this man instead. Another player you'll have to wait a week on due to the China trip, Harbrow has been on a tear lately, averaging 104.7 over his last three and finding the Sherrin as he pleases off half-back. Harbrow has a few more negatives compared to the two aforementioned prospects; he's not as consistent having a low score of 69, his draw for the rest of the season is similar but he has Melbourne next, the hardest team to score against, he's more injury prone, and he plays for Gold Coast who could do anything for the rest of the season, who knows! Harbrow's game is a typical half-back, he relies on marking the ball and distributing it up the ground to get most of his Fantasy points. This means that his game will likely suffer if somebody is sent to him, however with Gaz on the team, I don't think Jarrod is considered damaging enough to play defensively on. He has roughly the same ceiling as Lloyd and Pittard this season (1 point higher in fact), and he's much cheaper with an easily achievable breakeven. He's also currently #10 on the Defender's average list so you could do much worse! He's probably not for me as I'm a little concerned about the risk of him bombing out but, if you have an extraordinarily large, metaphorical pair – go for it. And let me know, I'll be thoroughly impressed!
Next 5 –
Heath Shaw ($500,000 BE 87)
Ricky Henderson ($492,000 BE 69)
Michael Hibberd ($459,000 BE 67)
Christian Salem ($465,000 BE 79)
Kade Koldjashnij ($460,000 BE 67)

Click here to subscribe on iTunes.
Midfielders:
Josh P. Kennedy ($528,000 BE 102)
Luke Parker ($538,000 BE 87)
Daniel Hannebery ($554,000 BE 81)
These boys are the talk of the town and I wish I could have them all. As we all know, Sydney haven't been performing up to scratch this year, Fantasy-wise or in reality. I was convinced that the Titchell effect (Just so you all know, Titch is my man now he's at Hawthorn) was the only thing making them score well, they couldn't do it without him. However, it seems like they definitely can and that's great for us Fantasy coaches that don't already own them because we get them dirt cheap! I made a promise to myself two weeks ago, that I wouldn't touch any of these three until Sydney have proven they can score better in Fantasy as a team. Since Round 5, Sydney have upped their overall team score for the season by 60 points, which is proof enough for me that they're on the right track! They've even upped their 100+ scores per game by 1.5 which is an insane increase for three rounds. I've already mentioned Sydney's draw which is breathtaking to say the least, I'm excited, however there is one catch – you can't have them all. Well, not right now anyway. Unfortunately, they all have that Round 11 bye and, if you stock up heavily on Swans players now, I don't see how it's possible to have 18 playing on-field for Round 11. This means we not only have to prioritise the three in order but we have to decide how many we want. Hannebery has always been a great Fantasy player, averaging around 110 on multiple occasions. JPK is the strongest season-finisher Fantasy has ever known and will likely come home with the biggest of bangs. And Luke Parker is one of the classiest players in the game, getting close to 100 and then adding a few goals to please his owners every game. They're so difficult to split but I've done my best.
If you're looking to bring one in this week, Hannebery is your man. He's averaged 111.7 in his past 3 games and has the lowest breakeven of just 81, despite being the most expensive of the three. He's only $20k off his basement price and $100k off his starting price which just proves how much value he is, but those gaps are closing quickly in the wrong direction. This is why you need to jump on very soon or he won't be value anymore. So, if you're aiming to get one of them before your bye, Hannebery is the way to go. If you're waiting until after the bye, go for JPK. We've all heard about Kennedy's strong finishes and I don't think this year will be an exception. Good news for Coaches that don't have him (apologies Warnie) is that his 58 against Brisbane will be in his system for the next fortnight until his bye. That means his BE will be that little bit higher than it should be and his price rises should be limited. However, JPK has St. Kilda at Etihad and Hawthorn at the SCG coming up before his bye. This means it is entirely possible for him to go 160 on either team (or both) and catch up to Hannebery in price and lose a lot of his value. I anticipate waiting until the bye will cost us around $20k more than what JPK is asking right now, so I'd hold off. Now, where does Luke Parker fit in this? Right in the middle of course! Parker is the most consistent of the three with a low score of 84 this season. He actually hasn't been horrible, he just hasn't been at his own lofty standards either. His 121 last round bumps his season average up to 94 and I'm extremely confident he will be 100+ by season's end (Average 111+ for the rest of the season). He's also the most unique of the three, owned by just under 8000 coaches and you can almost guarantee he will stay that way with most other coaches looking to bring in Hannebery or Kennedy. There are two reasons I would go Parker over either of those options: You want a PoD or you already have one of the other two. Before the bye, Parker is better value than JPK, I'd suggest he will grow in value about $30-$40k before his bye which means he will be about $580k. After the bye, Parker should be better value than Hannebery, who should be back over $600k mark by then with little value. The true answer as to which Swan to go for is, as long as they all are truly back in form you can't go wrong. If we go back to the start of the season, all three were pretty much on level pegging, I think I prioritised Parker over the other two but that was just personal preference and none made my Round 1 team. The same goes now, you can pick any of these three and you'll be fine, they're all great value picks and very ripe for the picking. Do your best to get them in, I'm getting Hanners this week no matter what.
Aaron Hall ($591,000 BE 80)
You'll have to wait a week and he doesn't have his forward status anymore, but Aaron Hall provides some great numbers. He only misses out on the number one spot in my value midfielders due to hype and the fact there's three of them and only one of him. Let me throw this statistic at you; his last three average is 114.7. Pretty impressive, right? What if I told you that 114.7 average included a 54? Impossible you say? You would be wrong! Hall has scored a 134 and 156 in his last two games for a two-game average of 145. Pure insanity. He's gone below 100 three times; a 98, a 71 against GWS (the second-hardest team to score against) in Round 2, and his tagged 54 against North Melbourne in Round 6. On top of that, he has the Round 9 bye meaning he will be present for all the actual byes. And, on top of all that, he's only owned by 2.5% of the competition! Honestly, there's not much more selling I can do for you, Hall's numbers speak for themselves and he won't be this cheap for much longer. In my eyes, he's a must have even without his forward status, and he's a nice PoD to have to watch him knock your non-owning opponents around for a 130+.
Now, as I gave you three players for the first write-up in the midfield segment, I thought I'd give you a bunch of players in the third spot who need to be watched but aren't quite ripe enough to pick yet. There are so many midfielders who are going to be below what they're valued at in the coming weeks. To begin with, Jack Steven ($590,000 BE 103) will be slightly over-ripe by the time his bye rolls around. His injury-effected games of 88 and 87 have cause him to drop currently $40k from hist starting price and I thought he was value at the beginning of the season. After a few sub-100 scores in the past five rounds, Ollie Wines ($530,000 BE 121) has plummeted in value, despite starting the season with 3×110+ scores. He has the bye this round but should be ready to be picked any time after that, especially if he finishes the year as strongly as he did last year. Patrick Dangerfield ($608,000 BE 136) is already owned by over half the competition but, if you're a non-owner, get ready because he's about to drop below $600k. Obviously, there's a reason he's so cheap, but Danger has still had a 117 and 119 in between three sub-100 scores so there's still solid scoring there. I also think Coach Scott will rip his players a new one throughout the week, so Danger might decide to pump his numbers up with a few tackles unlike last week. A personal favourite of mine after deciding against bringing him in at full price, Rory Sloane ($660,000 BE 182) has shown us he can't handle a tag and Adelaide can't handle it either. The Crows have lost their last two and Rory's been nowhere, proving they rely on him way too much. As soon as Sloane works out how to deal with a tag, he's going to provide so much value to non-owners. He has Brisbane and Fremantle coming up however, and both teams like to tag, so we'll see how he goes with that. Adam Treloar ($641,000 BE 159) is right on my radar when he comes back from injury. He had two 82's in a row before missing last round and comes up against Hawthorn this week. He has the Round 13 bye which means you'll probably have to pick him up before then for him to be true value but he will definitely be a Top 8 Midfielder by season's end. Lastly, Lachie Neale ($604,000 BE 108) seems to have found his way back into form after dropping almost $100k from his starting price. He did only have a 96 on the weekend, but the two weeks before that he produced a 138 and 114. At 5.22% ownership, he's a nice PoD to have, and we all know he can go huge. A definite game-winner in Fantasy and one to strongly consider.
So, as you can see, there are plenty of midfield options available over the next 5 weeks, good luck getting the right combinations and timing!
Rucks:
As usual, and in complete contrast to the midfield, the values in our ruck stocks are few and far between. I apologise to all for missing the boat on Ben McEvoy ($548,000 BE 72) in the last article. He decided to remember how to football again in Round 4 with a 101 against Geelong and I figured it was a one off. Since then he hasn't dropped below the ton and has risen $154k. You could still potentially jump on if you'd like, I actually don't mind him as a ruck option, especially as he hit the 100 again last week, against Stef and with Jack Fitzpatrick sharing ruck duties. But he's no longer a value pick, if you bring him in he's there to stay and you're paying close to top dollar for him. Matthew Kreuzer ($518,000 BE 96), Patrick Ryder ($483,000 BE 67), and Jarrod Witts ($456,000 BE 62) are all in the same boat, having pretty much topped out and not scoring enough or consistently enough to be considered a top-tier ruckman. If you started with them then well done, but I wouldn't bother bringing them in now. Sam Jacobs ($593,000 BE 81) is a real bolter and is truly pushing for top-tier status in the rucks. He has dominated and you'd be happy to have him on your field, but he no longer has a lot of value either. The one I do think is priced well-unders at the moment is Brodie Grundy ($579,000 BE 123) due to the Cox-effect. Common sense says that Cox doesn't have a place in Collingwood's side right now, but common sense doesn't always prevail, especially when it comes to Nathan Buckley. However, if Cox doesn't get his place back, Grundy will be well over $600k by the end of the season, so get him cheap now if you need to.
Forwards:
Isaac Heeney ($492,000 BE 53)
If you do not have Heeney, you must get him in this week. In fact, you've probably already missed a large portion of his value, but the kid is a superstar. Not only is he a great Fantasy player, but he's a joy to watch and just so exciting around the ball that you'll love owning him. After being out with glandular fever until Round 5, Heeney started slowly, scoring just 61 Fantasy points in his first game back. I was watching one of the Sunday footy shows whilst doing some homework the day after that game and Isaac was a guest on it. He spoke about how the glandular knocked him about a lot during that game and he felt extremely lethargic but was happy he got some match fitness. Clearly, he must have gained 20 games worth of match fitness in that Round 5 game, because since then he's averaged 113.3 and gone up $61k in just three games. Quick reminder that he has that Round 11 bye like the other Sydney boys, but he also gets the mouth-watering Sydney draw. Plus, I'm no Champion Data expert, but I'd say he's a shoe-in for MID DPP come Round 12 which is handy when moving around your team. He could also end up being a keeper. No, he's probably not going to be a Top 6 Forward, but he's definitely one of those handy players that you wouldn't mind if they were stuck in your F6 position when finals roll around. I know there's a lot of hype around him right now, but it's definitely warranted, bring him in.
Koby Stevens ($530,000 BE 84)
I've been harping on about this bloke since pre-season but he's just so good. After being injured/not getting picked in the side, Koby came onto the scene in Round 6 with a 106 against the Hawks. He then backed that up in Round 7 with a 108 against the second toughest team to score against in the Giants, before being rubbed out by the MRP for earning a holding the ball free-kick (honestly, baffling). He's back this week however and he should be named and that's great for us, here's why. Koby is mega consistent, a lot of his Fantasy scoring comes from tackles and marks which he's guaranteed to have a few of in each game as he's not prominent enough to get tagged. He accompanies these +4's and +3's with a plethora of disposals, averaging 28 in two games. He also goes forward and is generally good for at least one snag a game, which is a nice added bonus on top of the almost 30 touches. He's in 1.1% of sides at the moment, meaning he's an almost guaranteed 100 that nobody else is going to have. He's also currently the third highest averaging Forward in the game. Do you see where I'm going with this? Lock and load.
Michael Walters ($382,000 BE 24)
Now, I want to start this write-up by saying I'm certainly not convinced, but the hype warrants some research. Walters does this to us every bloody year, Ross gives him a bit of time up the ground and he tears it up, only to go back to being average again a few weeks later. I will say, Walters looked very solid on the weekend, I was impressed by the bits of his game that I saw, he looked quick and lethal. I will counter this point however, by reminding everybody that Walters has three scores in the 30's this season which screams "stay away". His role on the weekend was more half-backish, coming off the 50 and being damaging with rebounds 50's, and then going forward when needed. He had 9 pressure acts, 10 score involvements, 450 metres gained, 7 marks and 4 tackles which just makes me think that old mate Sonny doesn't really try most weeks. Another thing that concerns me is that Fremantle's Fantasy scoring trends have severely increased in the past fortnight. As a team, they are +60 for points scored overall compared to the first 6 rounds. Not only that but fellow Fantasy Forwards Bradley Hill and Matt Taberner have averaged 141 and 98.5 respectively, which makes me think this trend isn't going to continue. The fact that Stephen Hill is currently out but should be back soon also has me a bit worried as Walters replicated Stephen's role last week. There are two big positives however: Walters can score big, like HUGE, and he's priced so low that there's only points to lose. He's certainly a juicy downgrade option for some really fat cash-cows, he's even a tempting sideways option, but the numbers say no. The numbers have been wrong before though.
Next 5 –
Chad Wingard ($500,000 BE 57)
Karl Amon ($405,000 BE 32)
Bradley Hill ($548,000 BE 54)
Jack Billings ($510,000 BE 39)
Matt Taberner ($409,000 BE 44)
So, that's it for another four weeks. It was a difficult one getting all the valued picks in order as there's a lot of them but I reckon I'm pretty close. Any questions at all, hit me up on Twitter @SparksyDT or in the comment section below. Good luck throughout the byes and I'll see you on the other side! Happy trading!
Sparksy