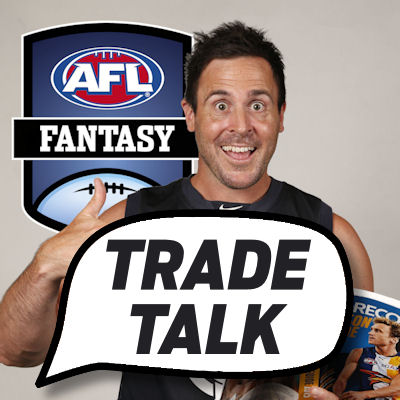 The roses continue to bloom while some premiums missed the memo that scoring is going through the roof this year. Maybe the old 'don't trade a premium' rule is out the window with two trades per week. Dan Hannebery showed why the rule exists last week with a bounce back to form against the Pies, but the likes of Luke Parker, Heath Shaw and Lachie Neale are really testing coaches patience.
Chopping Block:
Max Gawn (RUC, $588,000) BE: 152: Injury, get him out
Luke Parker (MID, $612,000) BE: 129: Rivals are circling in Draft leagues with low offers, stay strong!
Heath Shaw (DEF, $552,000) BE: 122: A big score must be on the cards, but I would be itchy with an average of 79.
Lachie Neale (MID, $617,000) BE: 127: Cheaper players are pumping out way bigger scores… Luxury trade option
Get him in:
Marc Murphy (MID, $596,000) BE: 36: Still under-priced and killing it
David Swallow (MID, (404,000) BE: 15: Looking like a number one draft pick
Alex Neal-Bullen (MID/FWD, $377,000) BE:-14: Two massive scores out for three for the high scoring Dees. Nice stepping stone as we shy away from the guns and rookies strategy. BE: -14
Clayton Oliver (MID, $531,000) BE: 34: Yes, still a bargain, not too late.
Rucking issue
The biggest trade issue this week is Max Gawn. There is no simple answer here as everyone's team is off to a different start. Some are structured well, rolling along nicely, while others needed to find a reason to restructure and this could be it.
Well balanced:
If you have a team that isn't running the rollercoaster with rookies on the field that are producing pathetic scores like 30 or less, good job and look no further than Brodie Grundy (RUC, $623,000). He is in sensational form with an average of 117 and with a break even of only 77, you will pick him up cheaper than those seeking a ruck upgrade down the track. If you want to save some cash but maintain structure, Stef Martin (RUC, $582,000) is an easy selection. Also averaging 116 and carrying a low BE of 62, Stef is a bargain.
Shuffle, making a bit of cash for an udgrade:
Matthew Kreuzer (RUC, $494,000) is always a worry when you see him like this. He is looking every bit the player we though he could be for the last eternity and whenever this happens, something always seems to derail him. Touch wood, I hope it doesn't because I love him, but history tells us there is an element of buyer beware.
Jarrod Witts (RUC, $409,000) has embraced the increase opportunity and his scoring has reflected that. Despite the Suns indifferent start to the year, he has managed to average 91 which gives him a BE of just 39 leading into his matchup with the blues. A viable and interesting stepping stone.
Make some real coin:
You could always sub Toby Nankervis into the ruck division or play the best rookie in the competition Braydon Preuss which would allow you to make a significant downgrade/upgrade of a rookie to one of the under priced premiums mentioned above.
Hopefully this generates a few ideas, but as always, have a chat in the comments section and throw some ideas off each other.
@RoyDT