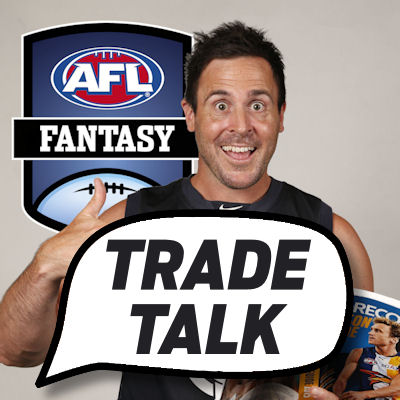 Whether it be forced, rage or pure luxury trades, injuries and form have ensured that all categories are relevant this week. Here are some names that I think should be in your thoughts this week:
Trade out? Wouldn't blame you:
Dan Hannebery (MID, $585,000)- Form, surely smashes Pies though?
Jack Steven (MID, $607,000) – Injured, trade for sure
Jordan Lewis (MID, $612,000)– Suspended, gone
Jack Steele (MID/FWD, $437,000) – Shocker! 1 point at QT tests the patience but no Stevens or Armitage plus a game against the Lions at ES buys him a week.
Bargain Cows:
Dan Houston (DEF, $215,000) BE: -30
Nic Newman (DEF, $175,000) BE:-9
Sam Powell-Pepper (MID, $267,000) BE-2
Harley Balic (MID/FWD, $150,000) BE: 25
Mid-priced cow:
Will Hoskin-Elliot (FWD, $317,000) proved that week one was no fluke after pumping out an impressive 124. I don't think he will do that in Sydney against the Swans this week but with a break even of -29, outstanding job security and an impressive ceiling, it's not too late.
How did we miss these three?
Clayton Oliver (MID, $488,000) is off to an amazing start to the season with an average of 129 after scoring 135 in round two which ranks him 5th overall. I have slight concerns that the suspension of Jordan Lewis makes it's a little harder than it has been but with a break even of 14 it is low risk with high reward.
Marc Murphy (MID, $548,000) has quickly proven we made a mistake for not backing him in to return to his best. In two weeks he has risen 66K on the back of a 132 average which ranks him 3rd in the competition. He has a break even of 37 and looks capable of recapturing the heights of his magical 110+ season.
Andrew Gaff (MID, $610,000) was under 600K at the start… but after averaging 130 over the first two games, ranking him 4th overall. There was certainly room for a couple of Roses in our midfields from the get go. He has a break even of 66 and is almost in the big buck category now where you are questioning whether he is a top 8 mid before bringing him in.
Forgotten forward:
With a couple of Dogs and a Saint taking up the majority of pre season forward talk, a big guy called Buddy Franklin (FWD, $592,000) has reminded everyone who rules the roost  with a two game average of 119, while playing a whopping 95% time on ground. He has a break even of 70 and is great value given the fact he has only risen 23k despite his dominant start.
As always, use the comment to discuss your trade ideas in the comments, I'm currently:
Mountford > Balic
Horlin-Smith > Hoskin-Elliot
@RoyDT