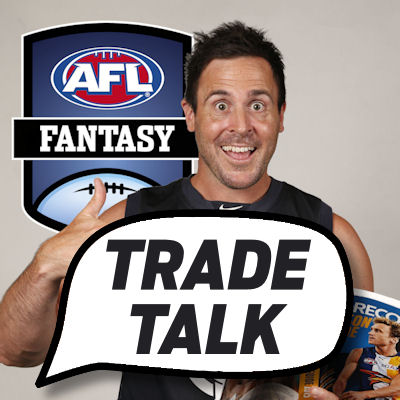 What a week! The big dogs came to play for coaches in the first round with some massive scores, while a few of the mid price 'roses' also came to the party… unfortunately, most of the rookies didn't get the memo and have many
coaches sitting on the edge their seat for this weeks team selections following the worst collective debuts I have ever witnessed. Guns and Rookies strategy could easily become Guns and Doughnuts, so unfortunately two trades could
easily be used this week shuffling the rookie deck.
A common question I am receiving is in regard to hold or fold Nick Riewolt (FWD, $659,000) and whether to hold or fold after hearing the news it might only be a 1 to 2 week injury. Despite this, it's almost a blessing in disguise to patch up a bad rookie pick by trading Roo out to a mid priced success story (for round one at least) and bringing in someone like Jack Steele (MID/FWD, $442,000) or Touk Miller (MID/FWD, $504,000) and using the cash to upgrade to a 'best 22' player you may have missed like (Caleb Marchbank DEF, $226,000) or Zac Jones (DEF, $352,000).
Here are some mid priced guys that we all considered, but many didn't go through with that are great targets this week.
Dyson Heppell (MID, $578,000) What an absolute champion! After looking a little off the pace in the JLT the
Bombers skipper absolutely dominated with a performance for the ages, scoring 156 from 34 touches, 8 marks, 7 tackles and 3 goals. There is a serious risk the Bombers may have a flat patch at some stage soon given the emotional high that has been likened to a Premiership, but even if so, Hepp is great value.
Andrew Gaff (MID,$587,000) Did exactly what we thought… Absolutely dominating with the likes of Sam Mitchell and Matthew Priddis combining as the best inside mid combination in the competition and provided endless opportunities for Gaff to record +6's on the outside.  He took a phenomenal 13 marks and gathered 36 possessions (32 uncontested) on his way to 144.
Marc Murphy (MID, $510,000) looked like the Marc Murphy of old, as opposed to the one we saw last year. He didn't miss a beat against the Tigers and it left many of us scratching our head as to how we could miss Bryce Gibbs at his price last year, only to do it again with a player who has averaged as high as 111 in the past. He has 35 touches, 6 marks and 7 tackles for a whopping 139.
Jobe Watson (MID, $47,000) was one of the feel good stories (well for most of us) but especially good for the 19% of coaches who selected him after he dominated with 27 touches, 7 marks and 8 tackles for 122. He has a BE of just 52 and looks set for a sensational season.
Imagine the cash we could have saved by starting with Matthew Kreuzer (RUC,$454,000) and Jarrod Witts
(RUC, $352,000). Kreuz looked like the player we have all thought he could be with 39 hit outs, 2 goals and 15 possessions for 120, while Witts embraced the responsibility of sole ruck duties at his new club with 37 hit outs and 9 tackles a highlight of his 104. Both remain worthy selections, especially for those who may have taken a punt on Tom Hickey.
Of the young bloods worth grabbing, unfortunately we will need to pay for it as the guys at the top of the tree such as, Andrew McGrath (DEF/MID, $276,000), Will Hoskin Elliot (FWD $258,000), Sam Powell Pepper (MID, $233,000) and even Alex Neal-Bullen (FWD/MID, $288,000) all come at a cost after great games but their job security and scoring ability make them worthwhile.
Use this article as a platform to discuss your trade options with the DTTALK community
@RoyDT