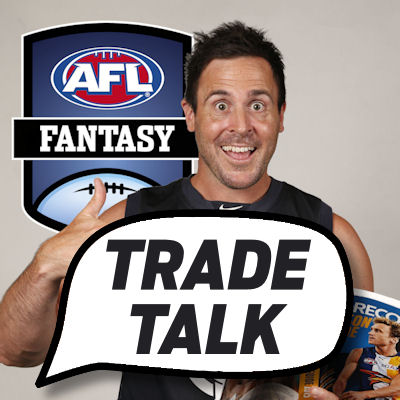 Whether it be forced, rage or pure luxury trades, injuries and form have ensured that all categories are relevant this week. Here are some names that I think should be in your thoughts this week:
Trade out?
Heath Shaw- Use the shin injury as an excuse. Where are the rude +6's?
Jarryd Roughead – Been solid, but doesn't look like the 85 av we thought he would be.
Toby Nankervis– Done his job, but trade away any time from now.
Sam Powell Pepper – He will be fine to keep, but if you can trade him out as part of a genuine premium upgrade, that's a good move.
Curtly Hampton– Still has more growth but a downgrade can make $150K now which is handy.
Bargain Cows:
Harley Balic (FWD/MID, $178,000) BE: -7
Josh Daicos (FWD, $150,000) BE: 25
Mid-priced cow:
Alex Neal Bullen (FWD/MID, $426,000) Is still playing well above his asking price despite rising by $171K so far this season. He is averaging 102 for the season and is coming off 95 which leaves him with a BE of just 12.
Which big dawg?
Zach Merrett (MID, $710,000) Owned by just  6% of teams, Merrett is having another pig season and we need to be on him asap. He is averaging 125 on the back of 134 this week and looks set for a huge game against the Pies on ANZAC Day.
Rory Sloane (MID, $669,000) Also owned by  just 6% of teams, Sloane has taken his game to another level again this year. He is averaging 144 in his last three games and looks unstoppable in the impressive Crows outfit. Has a BE of 71 and offers a little more value than Merrett.
Tom Rockliff (MID, $709,000) Averaging: Who cares? BE: Who cares? coming off: Who cares? One word: OINK.
Bargain Premo:
Josh Kelly (MID, $577,000) If you fall short of the guys above, Kelly is living up to the hype. He is a nice unique pick, currently owned by just 4% of teams despite averaging 117 in his last three games. He has certainly taken his game to the next level again with a secondary break out and carries a BE of just 64 as a result.
Clayton Oliver (MID, $557,000) Despite rising $141K since the start of the year, Oliver is still great value if you can't reach one of the big boys. He is averaging 117 with a low score of 99 over four games which is very impressive and his tackling numbers are ensuring his score continues to tick over. He has a BE of 61.
As always, use the comment to discuss your trade ideas in the comments, I'm currently:
Hampton to Daicos via DPP
Roughead to Kelly via DPP
Docherty, Ablett and Neale also coming under consideration for Kelly's position.
@RoyDT