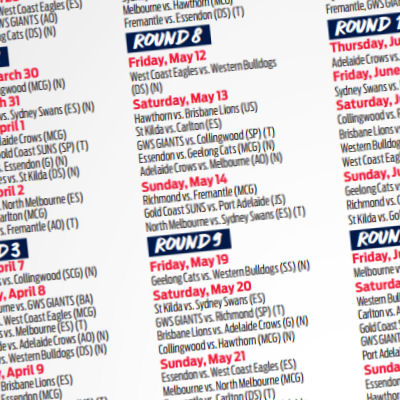 The 2017 AFL fixture was released today and of course, our thoughts go straight to thinking about Fantasy. There are a few points that will have an affect on how we play the game in the new year. Here are my initial thoughts.
Click here for the full fixture.
BYE ROUNDS
The three multi-bye rounds are back and in 2017, they will be played across rounds 11, 12 and 13. Last year they occurred over 13, 14 and 15 meaning, for some coaches, a lot of upgrades had been done in the salary cap game. As has been common practice, the best 18 scores will count over each of the three rounds. Round 13 could be a challenge on first impression, as there will be a few popular premium players from the spread of teams there. Sydney midfielders will be among the popular inclusions coming out of their round 11 bye. On another note, a cheap Stefan Martin and premium Max Gawn ruck combo may not be great with both having the first bye. Plenty to think about in our pre-season planning.
Round 11
Brisbane Lions, Carlton, Melbourne, St Kilda, Sydney Swans, Western Bulldogs
Round 12
Geelong Cats, North Melbourne, Richmond, West Coast Eagles
Round 13
Adelaide Crows, Collingwood, Essendon, Fremantle, GWS Giants, Hawthorn
Note that there are only four teams on a bye in round 12… that is because in round eight, Gold Coast will host Port Adelaide in China and their bye will be the week following the match. Therefore, round nine will be a bye round as well with eight games being played.
Round 9
Gold Coast, Port Adelaie
Loading ...
CONSEQUENCES OF THE PA v GC CHINA GAME
As mentioned above, Port Adelaide and Gold Coast will play in Shanghai in round eight and they will have their in-season bye earlier than the rest of the competition in round nine.
What will it mean for Fantasy? With players from the two teams on the bye getting zeroes, then there will be some thought required here. Round nine could possibly be treated as a multi-bye round and therefore, the best 18 could be in place. The question around this is that it could be too easy on this round. Alternatively, it could just be left as normal and you use your two trades to move out any Power or Suns players (or bench them). This would also mean that you are less likely to start with them.
In saying that, Port Adelaide and Gold Coast players will be popular to have rolling through your team following the bye as they will be playing in each of the three multi-bye rounds. Something to think about.
In Elite, most leagues have the bye rounds turned off (ie. don't play head-to-head league games), but you would think that round nine would be treated as normal. Does that mean you wouldn't draft Gary Ablett as high? There are a few relevant players worth looking at to come in that week.
Post your thoughts on what AFL Fantasy could do in the comments.
THURSDAY NIGHT GAMES AND PARTIAL LOCKOUTS
With every Thursday night game, we have a partial lockout. In 2017 we will have eight, up from five this season. Main reason being is that Easter is later and with the Port Adelaide and Gold Coast bye, more can be fitted around the whole six day break thing.
Round 1 – Carlton v Richmond (Thursday 23 March)
Round 2 – Richmond v Collingwood (Thursday 30 March)
Round 4 – West Coast v Sydney Swans (Thursday 13 April) *Easter
Round 10 – Geelong v Port Adelaide (Thursday 25 May)
Round 11 – Port Adelaide v Hawthorn (Thursday 1 June)
Round 12 – Sydney Swans v Western Bulldogs (Thursday 8 June)
Round 13 – West Coast v Geelong (Thursday 15 June)
Round 14 – Adelaide v Hawthorn (Thursday 22 June)
Premium Port Adelaide players could be handy for the Captain loophole following their round nine by with back-to-back Thursday night games. The Cats and Hawks also have two Thursday night games in the five week stretch of the earlier round starts.
OTHER THINGS TO THINK ABOUT
It's not generally too much of an issue, but there comes some risk – and stress – when we have games starting after Sunday night as we don't know finalised 22s. There are a couple of these through the year of which you need to be aware.
Round 4 – Easter
Hawthorn v Geelong (Monday 17 April)
Round 5 – Anzac Day
Richmond v Melbourne (Monday 24 April)
Essendon v Collingwood (Tuesday 25 April)
Round 12 – Queens Birthday
Melbourne v Collingwood (Monday 12 June)
Round 23 – Final Round
The floating fixture is still in place for the final round of the season. This is strange considering there is still a week off between round 23 and the first week of the finals. Anyway, this is likely to remain as the Fantasy Grand Final weekend but what could throw a spanner in the works is Travis Auld said on the fixture announcement broadcast on AFL.com.au is that there could be a Monday night game. This would mean out Grand Finals would finish on a Monday evening and we wouldn't know final teams on the Friday night before lockout. Coupled with not knowing the dates/times of the final round until around a month before it happens, then it could be very interesting.
AFL FANTASY POINTS FOR AND AGAINST (SEASON)
| CLUB | PTS FOR | >100 FOR | >120 FOR | PTS AG | >100 AG | >120 AG |
| --- | --- | --- | --- | --- | --- | --- |
| ADE | 1685.18 | 3.77 | 1 | 1517.81 | 2.86 | 0.91 |
| BL | 1423.82 | 2.96 | 1.05 | 1667.82 | 4.59 | 1.23 |
| CAR | 1550.41 | 3.91 | 1.05 | 1561.82 | 3.41 | 0.86 |
| COLL | 1624.32 | 3.64 | 1.14 | 1614.55 | 3.55 | 1.09 |
| ESS | 1611.18 | 3.86 | 1.18 | 1658.73 | 4.14 | 1.23 |
| FRE | 1561.18 | 3.09 | 1.14 | 1704.95 | 4.91 | 1.23 |
| GC | 1519.09 | 2.82 | 0.86 | 1669.91 | 4.45 | 1.27 |
| GEE | 1647.95 | 4 | 1.09 | 1497.05 | 2.64 | 0.77 |
| GWS | 1665.14 | 4.45 | 1.05 | 1495.95 | 2.45 | 0.45 |
| HAW | 1612.59 | 3.59 | 0.86 | 1530.45 | 2.68 | 0.86 |
| MELB | 1611.73 | 3.73 | 1.23 | 1584.64 | 3.32 | 0.82 |
| NM | 1551.09 | 2.91 | 0.73 | 1497.82 | 2.68 | 0.77 |
| PA | 1524.45 | 2.73 | 0.5 | 1600 | 3.55 | 1.18 |
| RICH | 1555.18 | 3.05 | 0.82 | 1591.32 | 3.45 | 1.18 |
| STK | 1586.82 | 3.59 | 1.32 | 1622.05 | 3.5 | 1.05 |
| SYD | 1659.59 | 4.5 | 1.73 | 1555.45 | 3.45 | 1.09 |
| WB | 1674.73 | 4 | 1 | 1629.45 | 3.5 | 0.91 |
| WC | 1550.41 | 2.86 | 0.45 | 1601.86 | 3.77 | 1.23 |