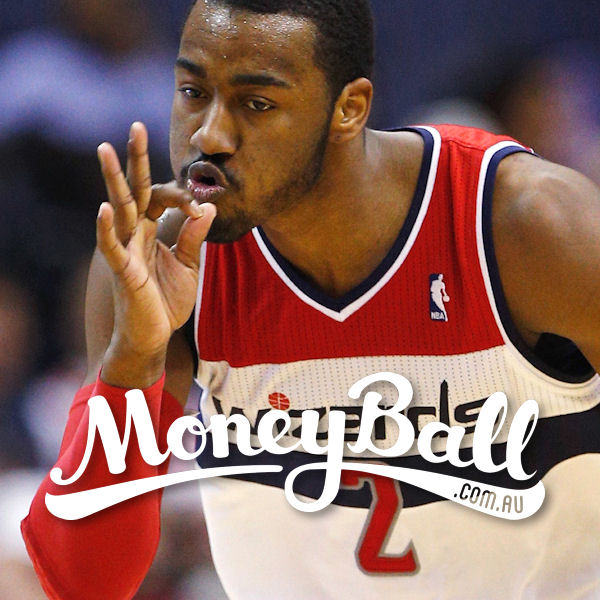 Daily Fantasy Sports has been bought to Australia in 2015 by the guys at Moneyball.com.au – the leading DFS platform in the country. They have a large array of games available in the lobby, ranging from an outlay as little as $2 up to $200 and beyond! Sign up today and join the Daily Fantasy Sports revolution!
Moneyball contests for NBA are easy to be involved in – simply select 9 players (2 point guards, 2 shooting guards, 2 small forwards, 2 power forwards and 1 centre), whilst keeping under the $60,000 salary cap. Jump in the lobby today and give it a go!
Sunday's contests include the Guaranteed $3,500 Sunday Bank ($15 entry) as well as a Rebound Special, a Lay-up Special (both $10 entry) and an AirBall Special ($5 entry). They also have the usual H2H, Double-up and other competitions to satisfy your Daily Fantasy Sports appetite!
Picks for Sunday 10th January 2016:
POINT GUARD:
John Wall (WAS) – $10,200
Wall has been down on his usual output over the past three game with returns of only 28.3, 36.6 and 28.4 Fantasy Points, although in that time he has had three tough match-ups against the Heat, Cavs and Raptors. The game here is against the Magic so we can expect Wall to play with a bit more freedom and get back to the sort of output we are used to.
Reggie Jackson (DET) – $7,900
Jackson has the ability to put up some monster scores which has been showcased this season by him putting up 50+ Fantasy Points on five occasions. In addition to this he rarely puts in a terrible game, falling under 23 Fantasy Points only four times this season. He should have a great game against the Nets.
Ish Smith (PHI) – $4,900
Smith is enjoying his days in a 76ers uniform, starting at the Point and providing great numbers for his price. In his past six games he has scored over 40 Fantasy Points three times. He has a tough opponent here in Kyle Lowry from the Raptors but anything over 25 Fantasy Points is a good return.
SHOOTING GUARD:
Klay Thompson (GSW) – $7,700
The self-confessed best Shooting Guard in the league is in some cracking form at the moment, scoring at least 40 Fantasy Points in each of his past four games. He has an uncanny ability to score a bunch of points very quickly and if he gets hot here against a fast-paced Kings team we could see a massive score.
Victor Oladipo (ORL) – $5,700
It is hard to get away from Oladipo and his fantasy friendly game when he is in the starting line-up and getting plenty of burn for the Magic. He has an all-around skill-set which means as long as he is getting plenty of minutes he is unlikely to put up a low score. Here against the Wizards he should be good for at least 30+ Fantasy Points.
Marco Belinelli (SAC) – $4,000
Over his past five outings Belinelli has scored no less than 20 Fantasy Points. That doesn't sound a lot but when you factor in that he is priced at just $4,000 it means he has provided at least 5x value in each of his past five games. In what should be a high-scoring, fast-paced game here against the Warriors look for Belinelli to be a great value play.
SMALL FORWARD:
Tobias Harris (ORL) – $6,100
After three very ordinary performances of 12.5, 18.1 and 12.6 Fantasy Points, Harris returned to form scoring 38.4 Fantasy Points against the Nets. He has another good match-up here against the Wizards, who are well known for struggling to guard the wing positions. If Harris can hit 30+ for a second consecutive night he will be a good play.
Otto Porter (WAS) – $6,100
Porter has returned from injury and put up some decent scores, providing at least 28 Fantasy Points in five of his past six games. He is able to stuff the box score across the board which means that he rarely has a low score. He is not going to score you massive points but at his price he is a solid choice on any given night.
James Johnson (TOR) – $3,500
Due to another knee injury to DeMarre Carroll, Johnson is again in the starting line-up for the Raptors at the Small Forward position. Better known for his defence than his offence, Johnson is unlikely to put up huge scoring numbers but his ability to contribute in most categories means he will usually be a good value play.
Click here to sign up to Moneyball.
POWER FORWARD:
DeMarcus Cousins (SAC) – $10,400
Cousins form over the past four games has been off the charts, with scores of 47.3, 60.3, 65.4 and 50.5 over that period. He is quickly establishing himself as one of the premier big men in the game and his growing maturity is starting to show in his game. He has a tough opponent here in the Warriors but to be the best you have to perform against the best.
Chris Bosh (MIA) – $8,300
Bosh is such a solid play night in and night out it is hard not to choose him in any Moneyball line-up. He has a great match-up here against the Jazz who will be without their starting Power Forward and starting Centre. The only reason not to pick him here is that there is a real chance this could be a huge blow-out.
Cody Zeller (CHA) – $4,900
With a lack of quality low-cost options on the slate here Cody Zeller is the pick of the bunch. With Al Jefferson off the court injured Zeller has been entrenched in the starting line-up and he has been a solid play on most night. In his last game, against the Suns, he put up his third 30+ Fantasy score of the season. If he can get near that here he will be great value.
CENTRE:
Andre Drummond (DET) – $9,800
Drummond is a double-double machine, contributing at least 10 points and 10 rebounds in over 80% of his games this season. He is leading the league in rebounds with an average of a whopping 15.7 rebounds per game. Expect another double-double and plenty of boards again here against the Nets.
Hassan Whiteside (MIA) – $7,700
Whiteside has been struggling through injury for a couple of weeks now but he seems to be recovering, scoring 35+ Fantasy Points in three of his past five games. He is absolutely dominant on the defensive end, leading the league in blocks per game, and against a weakened Jazz squad the big man should get his fair share of Fantasy Points.
Jeff Withey (UTA) – $4,900
Withey has a tough match-up here against the Heat and their block machine Hassan Whiteside but as he is pretty much their only decent tall that isn't injured he is still going to get plenty of minutes and plenty of opportunities to provide Fantasy Points. At his price he only needs to score 20+ Fantasy Points to be a good value play.
There you have it, my picks for Sunday 10th January 2016. Let me know your thoughts via Twitter – @pearcey47
Click here to find all of the Moneyball contests in the lobby.
And as always, remember to only play with an amount of cash that you can afford to lose.