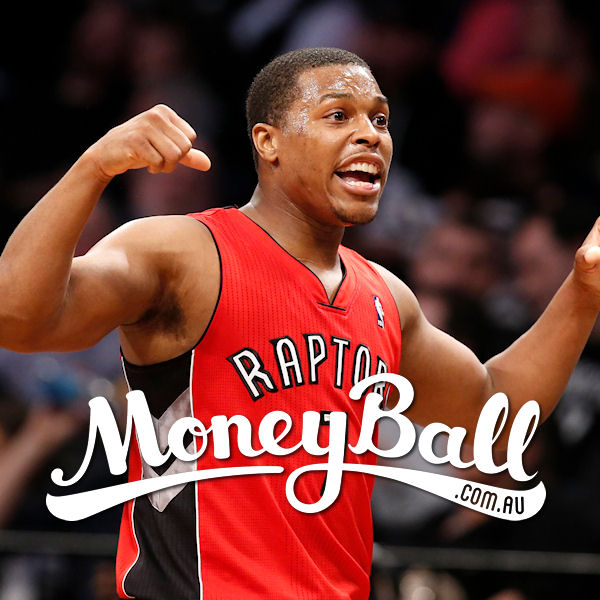 Daily Fantasy Sports has been bought to Australia in 2015 by the guys at Moneyball.com.au – the leading DFS platform in the country. They have a large array of games available in the lobby, ranging from an outlay as little as $2 up to $200 and beyond! Sign up today and join the Daily Fantasy Sports revolution!
Moneyball contests for NBA are easy to be involved in – simply select 9 players (2 point guards, 2 shooting guards, 2 small forwards, 2 power forwards and 1 centre), whilst keeping under the $60,000 salary cap. Jump in the lobby today and give it a go!
Tuesday's contests include a Guaranteed $5,000 Tuesday Bank ($15 entry) as well as a Charge Special and an AirBall Special (both $10 entry). They also have the usual H2H, Double-up and other competitions to satisfy your Daily Fantasy Sports appetite!
Picks for Tuesday 8th December 2015:
POINT GUARD:
Kyle Lowry (TOR) – $9,300
Lowry has been in some sensational form of late, dropping a career high 41 points against the Warriors in his last outing. He went head-to-head with the reigning MVP, Steph Curry, and showed on his day he is one of the best PGs in the league. He has an amazing match-up here against the Lakers. The only thing stopping Lowry having another huge game is the possibility of a blow-out.
Isaiah Thomas (BOS) – $7,800
Thomas is the Celtics main offensive player which means he is always going to have the ball in his hands, which usually translates to decent production. Thomas has been very consistent this season, with 12 of his past 13 games resulting in at least 31 Fantasy Points. He is up against the Pelicans in this game so there will definitely be plenty of points to go around.
Raymond Felton (DAL) – $4,100
Felton has been giving the Mavs some solid production over the past couple of weeks, putting up at least 18 Fantasy Points in each of his past 7 games. In his last outing he had his best game since the first game of the season, putting up 31 Fantasy Points, although this was as a starter as Chandler Parsons had the night off. If he can score 20+ against the Knicks he will be a good value play.
Which teams score the most and give up the most Moneyball points? Click here!
SHOOTING GUARD:
DeMar DeRozan (TOR) – $7,800
The Raptors match up with the Lakers in this game should be very beneficial for DeRozan. The Lakers give up the 4th most Moneyball points of any team and the highest percentage of these are to opposing Guards. DeRozan is incredibly consistent, scoring between 24 and 44 Fantasy Points in every game bar two this season. Look for him to be at the higher end of that range here.
CJ McCollum (POR) – $6,600
McCollum is the sort of player you can bank on to score a decent amount of points every time he hits the floor. He hasn't scored less than 21 Fantasy Points in a game this season, and is fresh off his second-highest score of the season in his last outing against the Timberwolves, where he had 37 Fantasy Points. A solid pick against the Bucks.
Lou Williams (LAL) – $4,300
Williams has strung together three nice games in a row with an average over that time of 25.9 Fantasy Points, with a low of 20. He will be on the second night of a back-to-back and will be matched-up against the Raptors but if he can score similar to his past few games he will be worth the price.
SMALL FORWARD: 
Andrew Wiggins (MIN) – $7,400
Wiggins has really stepped up this year for the young Timberwolves and is showing why he was the number one pick in last year's draft. He has the ability to really take over a game when he applies himself which means he has potential to put up a big Fantasy score. He is up against the Clippers here who have struggled to guard the SF position so Wiggins could be in for a big night.
Nicolas Batum (CHA) – $7,500
Since Al Jefferson went down with injury Batum has had to consume some of the offensive duties and has really flourished with the extra responsibility. He currently has a 3-game average of 36.1 FPPG and has scored at least 39 Fantasy Points in 4 of his past 6 games. He is matched up here against the Pistons which should be a good contest.
Chandler Parsons (DAL) – $4,400
Parsons sat out of the Mavericks last game so he should be fresh and raring to go in this match-up against the Knicks. He has been building since returning from injury but is yet to really impose himself on any games thus far. This could be the game that Parsons starts to return to the sort of form he showed in past seasons.
Click here to sign up to Moneyball.
POWER FORWARD:
Anthony Davis (NOP) – $10,600
Davis is the highest priced player for this day of games, and for very good reason – the guy is a great basketballer. He has a 3-game average of 55.3 FPPG and has scored at least 50 Fantasy Points in 6 of his last 7 outings. He is playing agianst the Celtics in this one so look for Davis to put up another monster score. Lock and load.
Pau Gasol (CHI) – $8,600
Gasol has hit a purple patch, putting up a 3-game average of 48 Fantasy Points. In that timespan he has scored his two highest Fantasy Point totals, with 46.6 and 58.3 respectively. He has a good match-up here against the up-tempo Suns so look for his great form to continue, especially if Tyson Chandler sits out the game.
Julius Randle (LAL) – $6,000
The second year player for the Lakers is really showing lately why he was a top 10 draft pick last year, putting up huge numbers in his past few games. He has pulled down at least 11 boards in 4 of his past 5 games and against an undersized Raptors frontcourt expect him to grab his fair share of the ball off the glass once again.
CENTRE:
Greg Monroe (MIL) – $7,700
Portland's frontline has given up a huge amount of Fantasy Points this season and Monroe gets his turn to feast in this game. He has a season average of 33.8 FPPG and has scored above 40 Fantasy Points in almost a quarter of his games. Look for him to have one of his biggest games of the season.
DeAndre Jordan (LAC) – $8,000
If Jordan could shoot free-throws he would be a much more dominant player, but for now we should just focus on the positives, like his immense talant for rebounding. He has grabbed at least 14 rebound in each of his past 3 contests and matched up here with the rookie Towns from Minnesota he should dominate the glass yet again.
Alex Len (PHO) – $3,900
Len should get the nod as starting Centre for the Suns yet again with Chandler expected to sit this game out against the Bulls with an ongoing hamstring injury. Len has been more than servicable in Chandler's absence, putting up a solid amount of points and rebounds. Hawes from CHA or one of Biyombo or Nogueira from TOR could also be good value options here.
There you have it, my picks for Tuesday 8th December 2015. Let me know your thoughts via Twitter – @pearcey47
Click here to find all of the Moneyball contests in the lobby.
And as always, remember to gamble responsibly.