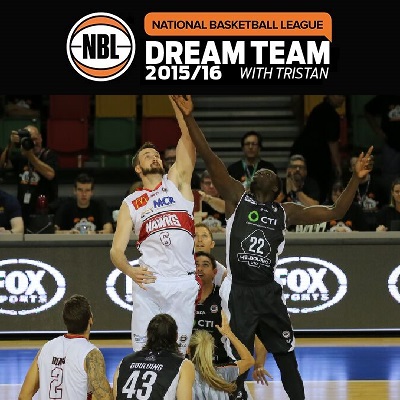 The season is finally about to start and lockout is this Wednesday so it's time to finalise our team selections.
Who To Pick?
As I always do, I've split the players up into the five position types below and I've listed those who I think should be in your consideration set and given them a rating of how much I think you should pick them. It was actually immensely difficult to narrow my list down to just the 22 below, it's going to be a nervous lockout this year.
Centres
AJ Ogilvy ($184,200)
The premium big man and a superstar last time he was in the NBL, he has had a great pre-season and was a regular focal point for the Hawks offence. He played limited court time during the Blitz and still managed to average almost 35ppg. Perfect for a "set-and-forget" starting strategy as the only reason you're not picking him is price.  7/10
Julian Khazzouh ($142,100)
Another who was a star last time he was in the NBL, Khazzouh is more than $40k cheaper than AJ and still scored really well during the pre-season despite regularly being on the bench with foul trouble.  8/10
Luke Schenscher ($92,800)
The only true Centre for Townsville, Luke's single appearance during the Blitz showed that he is still very capable and will be more than just tall support for the Crocs. My big concern is the lack of matches though.  5/10
Dual: Centre/Forward
Daniel Johnson ($127,600)
Showed that he is still going to be one of the premium players in the competition and is priced cheaper than he should be after some quiet games last year.  8/10
Majok Majok ($60,500)
A huge final game to the blitz where he scored 84 DT makes him an virtual lock for me. He won't see as much court time as Warrick settles in and learns the systems, but he can still score plenty even in limited minutes.  9/10
Nick Kay ($43,500)
Already the leader for Rookie of the Year, Kay scored well, got lots of court time and showed that he can match the NBL standards. His offensive rebounding is incredible and he should be locked in.  10/10 – unless he gets injured there's no way he's not in my starting team.
Forwards
Josh Childress ($202,500)
The most expensive player in the game for a very good reason. He only scored under 40 on four occasions last year and they were all still scores in the 30s. However, he was rested all Blitz because of injury and Sydney needs him, so my concern is that they will ease him back into the games. If you think he'll start the season firing them lock him in, otherwise keep some cash handy in case you need to trade up to him.  7/10
Brian Conklin ($165,500)
Last year's MVP was rested for most of the pre-season and looked a little rusty when he came on court in the Blitz. His scores were respectable though and given Townsville's start to the season he could be worth grabbing. He could comfortably score big from round 1.  6/10
Torey Craig ($117,600)
Cairns shares the scoring quite extensively amongst their players so it's hard to know exactly who'll be their go-to player on any given week, but Torey Craig can put up plently of points in a short period of time and was steady improving every week last year. Cairns has a slow start compared to other teams though so it's easy enough to give him a miss with the other options available. Could start going big regularly though.  5/10
Tim Coenraad ($112,400)
Was Illawarra's best player during the Blitz and seems to have just kept improving on last years gains. The big concern is if he will get more or less opportunity to score as Penny and Lisch get back into the lineup.  6/10
Tai Wesley ($98,600)
Was a big improver last year and with the extra opportunity at New Zealand due to injuries he should start the season with a bang. He showed during the Blitz that he's up for it too.  7/10
Lucas Walker ($54,800)
The change of scenery looks to have done a lot of good for Walker who was showing the determination and ability that seemed missing last year. Will come off the bench but should get more than enough court time to go up in price nicely.  6/10
Dual: Forward/Guard
Todd Blanchfield ($139,500)
Was really impressive doing all the extra things in Melbourne's games and was given a relatively free run at scoring with how hard pressed the opposition defenders were. If he was lining up for any other team then he'd be in my squad, but United has so many good DT options this year he'll probably miss the cut as I don't really like having 4 or more players from one team. Could be a great point of difference though as he'll be a consistent scorer.  6/10
Mitch Creek ($115,800)
Looking healthy and with no pre-season interruptions, this could finally be the year we see the best of Mitch Creek. Highly talented and fun to watch he significantly undervalued too I believe.  8/10
Reuben Te-Rangi ($49,100)
Another New Zealander who will get to make the most of extra opportunity, particularly in Webster's absence, he played plenty of minutes during the Blitz and scored accordingly.  7/10
Guards
Cedric Jackson ($152,100)
It's hard to ignore Cedric as he is such an amazing player but with the changes to the New Zealand roster I think he'll have the ball a bit too often which will mean extra turnovers and missed shots. And at his price I just think that's too much of a risk. I'll wait for him to prove me wrong now though.  5/10
Chris Goulding ($135,700)
It's great to have Goulding back and he showed some impressive moves during the Blitz. He can score absolutely huge numbers on his day but I don't think he's going to need to particularly often this year with the wealth of scoring options that Melbourne have. I want to have him, but just like Blanchfield he'll probably miss the cut.  6/10
Stephen Holt ($116,700)
The biggest lock of the year, Holt's has shown a complete skill set before the season has even started. He got good stats in nearly every line every game of the Blitz, and had surprisingly few turnovers for how often he handled the ball under pressure. Lock him in.  10/10
Kenyon McNeail ($116,700)
Was great for Adelaide, posted good scores, and got plenty of court time. Looks like he'll be a solid scorer all season, the only risk being some of his score going to the depth of talented Adelaide players who didn't show much during the Blitz.  9/10
Jason Cadee ($67,300)
While Cadee has always shown lots of explosive pace and talent his performance during the Blitz suggested that he might have developed a new level of composure that could see regular decent scores. It's hard to be sure given Sydney's struggles during the Blitz but they were destroyed by Melbourne without him and I think he'll have a big role in the coming year.  7/10
Everard Bartlett ($43,500)
Made the most of his opportunities during the Blitz and suggested that he could be a big money maker from the start. I'm not completely sold as New Zealand was feeling out their injury adjusted structures, but at his price it could be worth the punt.  6/10
Igor Hadziomerovic ($43,500)
Showed more than expected during the Blitz and could get extra opportunities depending on Tomlinson's injury. He scored respectably off not much court time but the risk is this could be a sign of needing fitness or development.  6/10
Selecting Your Team
So now you have lots of players to choose from and it's a tough decision. The fixture will play an important part and if you missed the Preseaon Primer with its fixture planner, then click here and have a quick read:
http://dreamteamtalk.com/2015/09/23/nbl-dream-team-201516-preseason-primer/
The next thing to do is to decide if you want to play a min/max type team with proven stars and speculative cheap players, or if you want to go for versatility. Here are two "cheat sheet" teams that show you what each of those team types could like. Both are line-ups that I am genuinely considering.
Min/Max Team
Versatile Team
There are four players that make it into both squads and they're the four players I've given a score of 9 or 10. There really hasn't been a line-up I've considered without them. Also note that the Versatile team has a lot of spare cash. This is to cover the contingency of a more expensive player scoring huge and becoming an absolute "must-have". It's a risk leaving that much cash spare as that is a lot of potential point lost, but you would only go for the Versatile line-up if you believe that those cheaper players are going to deliver roughly equivalent scores overall with the extra double-match flexibility which that line-up has.
Leagues
You can join the Dream Team Talk group by clicking this link, it has unlimited places so jump on in:
http://dreamteam.nbl.com.au/group?cic=628173
If you keen to play in a Head-to-Head then please feel free to join one of the leagues below, but please limit yourself to one initially so that as many people as possible have a chance. If there are still spots closer to lock-out then I'll be letting people know on Twitter, so keep an eye on @Xebradant.
DTTalk Dragons – 314101
DTTalk Giants – 117769
DTTalk Saints – 213167
DTTalk Tigers – 234142
DTTalk Titans – 576094