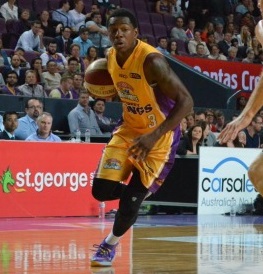 Dream Team finals start this round and hopefully you didn't have to watch the last of your finals hopes crushed on the weekend like all the Melbourne supporters did.
Wrapping Up Round 18
It was an unexpected pair at the top of the high scorers list this week as Kendrick Perry top scored with 72, closely followed by Alex Loughton on 68. Whilst both played the double match you would have been considered crazy to make either your captain before the round started. Popular captain choices from Sydeny, Tom Garlepp (60) and Ben Madgen (62), turned out to be great choices , while Cameron Gliddon (48), Scottie Wilbekin (46), and Matt Burston (44) were solid without being great. Brock Motum (58) and Todd Blanchfield (52) led the way for the players with single matches.
At the disappointing end of the scale my personal big gamble in making Torrey Craig my captain due to his recent hot form was an unmitigated disaster as he scored 10 from a -4 and a 14. Gary Ervin and DeAndre Daniels also scored 10, although being from just one game it was slightly more acceptable. Corey Webster had a quiet night with 8, while Clint Steindl's poor form continued with a 4. Whilst there were a fair few players with negative scores, including Rhys Carter (-4) and Brad Hill (-2) but the worst result of the round goes to Stephen Weigh who got -2 and 4, for a combined 2 points from over 47 minutes of court time.
Round 19 – Trade Targets
Melbourne players should be the top choice right now as they play four games over the next two rounds, however their apathetic basketball over the last three weeks has seen them be essentially eliminated from finals contention. Despite this, both their top scorers are still worth getting. Jordan McRae will be hoping to show that he can consistently deliver, even when nothing in on the line, whilst Mark Worthington only has one match-day setting and that is 110%. If you're short on cash then Nate Tomlinson is probably worth the gamble. He got significantly more court time on the weekend and Melbourne looked better when he was on court. I'd probably skip Stephen Dennis as his court time was reduced to give Nate time, whilst Daniel Kickert was having a shocker of a game until the last quarter on Saturday and might be hindered by his back with the intensity of the Sunshine Swing.
New Zealand is the other team with the double this week and you should definitely have one or two Breakers in your line-up. If you're planning on winning your final I'd recommend four players from Melbourne and New Zealand, ideally two from each. The best would be Ikene Ebekwe and Cedric Jackson, however both are over $170K. Thomas Abercrombie, Mika Vukona and Corey Webster all have the potential for a good result in the double match round and all would be respectable enough to leave on your bench for round 20 if you run out of trades.
Feel free to get rid of all your Cairns players. The Taipans have no more double matches and with the way that they take turns in scoring there's no guarantee any of them will be worth having, even on your bench. You could keep Alex Loughton one more week though if you want to take advantage of his price increase.
Round 19 – On Court Selections
Obviously get your Melbourne and New Zealand star players on court. I'd put fringe players like Corey Webster, David Barlow and Tai Wesley on court ahead of nearly anyone else other than Brock Motum who is on such a hot streak at the minute that he's worth punting on even with only the single game.
Captain choice is a tough call as it's hard to read how Melbourne and New Zealand will perform, Melbourne because they don't really have anything to play for and New Zealand because they'll play two super intense matches against other finalists in Adelaide and Perth. I'm inclined to say that Jordan McRae is the best option, followed by Ekene Ibekwe, Mark Worthington and then Cedric Jackson. If you don't have and can't afford any of those four then trade in someone like Daniel Kickert and hope that Melbourne runs every play for him to shoot 3-pointers.
Lockout is a early in both possible ways this round being on Thursday and kicking in at 5:30pm AEDT. Take note, because this is absolutely not the round to get caught missing lockout.
As always you can follow the live dream team scores for the games at dtlive.com.au/nbl
Cheers
Tristan
Coach of the Statismathgicians