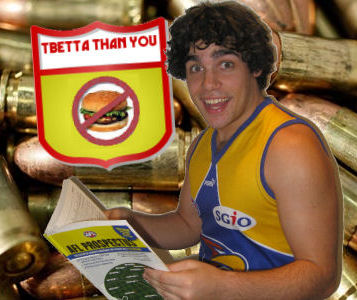 The Importance of Bench Cover
Most weeks, we can survive without even considering our bench or emergency players. In those rounds, they may as well be $89k basement priced rookies who probably won't ever experience the snug fit of an AFL guernsey. In fact, we employed this tactic yearly for our 4th Ruck slot in the past.
Round 6 showed us just how critical it is to have a strong bench however – those who boasted a combination of Gibbs, Heppell, Waters, Goodes and Pittard can attest to that fact. The teams who avoided donuts were the teams that had the Terlichs, Heaths and Stevensons of the rookie world (not that they did much), and not quick cash options in Docherty, Laird, Hutchins, Frost or Plowman. Job security becomes increasingly vital over the next two months, as getting as many players on the park as possible will be critical to staying competitive over the MBRs.
Brent Stanton is a Tease
This is less of a realisation than a reminder. Last year he fooled us into a false sense of security and reliability with an average of 134 DT points in his first 8 games; only to regress significantly by posting an average of just 88 for the rest of the year. In 2013 he's decided to stab us in the back again, this time with the knife being in the form of yet another soft tissue injury. At least he's still priced at a healthy $555k (despite dropping about $27k this week), so finding a suitable replacement coughMurphycough shouldn't be too difficult if need be.
Holding Has Some Value
Before the season started, I assumed that the increase in trades would eliminate all these 'hold or trade' dilemmas, even for the fiddly one week injuries. We're seeing so far that it's not as black and white as that now that we're under fire – although there still is a huge variation in the strategies that coaches are using to deal with these short-term injuries and suspensions. I know a lot of coaches that traded out at least one and sometimes two of Heppell and Gibbs, despite supposedly one week injuries, while others (including myself) held them both. Same goes for Goodes.
I think the way the weekend turned out, it was a win for Team Hold in most cases. Unless you got on a select few Premium defenders, the sideways trades backfired violently, with Birchall, Hartlett, Burgoyne, Dixon, Grimes and especially Waters all failing quite spectacularly our time of need. Of course, the book hasn't been fully written yet and it could be a completely different story if Gibbs (apparently missing another game at least) and Heppell aren't back for the next chapter.
Once a Hack, Always a Hack
The gap between Westhoff's best and worst is excessively large – he's the AFL version of Music Video Katy Perry and No Make-Up Kate Perry. In the end it just averages out to make one ordinary player. It's just goes to show that players rarely become 'superstars' overnight – the same goes for other early bolters like Liberatore,  Howlett and Mullett.
Compromising for the Bye Rounds
The MBRs are going to come into every trade decision we make over the new few weeks, whether we like it or not. It's very rare that our desired trade target suits our personal bye situation perfectly (because that would just be too easy), so it comes down to a compromise. Do we ignore the bye structure and compromise our teams over one or more Bye rounds; or do we compromise on personnel and bring in a player that you don't want as dearly, but helps you out over a difficult bye period? I don't believe there's a clear-cut solution here– at least, there's no evidence of a superior strategy – so all I can say is, good luck.
Polling and Extended Trolling
3. Stevie J (136)
There's a new Sheriff in the forward line, and he goes by the name of Stevie J. Move over Buddy, Goodes and Pav, the super-premium forward is now the slick Mr. Johnson. He had a late start to the season so very few coaches have cashed in on his 119 point average thus far, but given that his percentage ownership has already doubled in less than a day after the Round 6 lockout, I think we can expect him to become much more relevant.
2. Shaw / Hibberd / Hanley
As I alluded to in the preface, only a select few of our Premium backmen replacements justified their price tags this week. As much as he is a human headache, there was no doubting the timing of Shaw's 107 points this weekend, who was slightly cheaper than a lot of the more popular options at $405k. Also in the ballpark was Hibberd (105), who's enjoying a very fantasy-friendly role out of defence this season, which has resulted in a jump of over 20 points per game from his previous two years in the AFL. Hanley was the other rare success story in his return from suspension, scoring 96 points despite a blitzkrieg from the Swans.
1. Matt Jones (108)
Janitor of the Year (pipping the great Jimmy Bartel) goes to Matt Jones, who took out the trash with a huge 91-point second half – boosting him to a team-high 108 points for the game. Unfortunately I didn't see the match live, but in my imagination he was bursting packs with Judd-like power and hunting the footy with Ablett-like fervour. This is a massive total from a guy many had to rely on this week, particularly those who took advantage of DPP and moved Gibbs/Goodes into the guts. That score should keep the cash flowing in the near future, and with a favourable R12 bye, he could be around for a little while longer…
Honourable Mentions: Dangerfield (145), Bartel (138), M. Murphy (124), Priddis (124), D. Thomas (121), S. Selwood (119), N. Riewoldt (117), K. Cornes (108), D. Martin (106), Lucas (102), Wellingham (102), B. Ellis (85) , Vlastuin (78).
I don't want to dwell too much on the Trolling section this week, because frankly, it depresses me. Particularly the part where it says Beau Waters was a late withdrawal – that killed my spirit. I think whenever you trade in a donut, you deserve a little introspection punctuated with large servings of ice cream and the gloomier beats of Coldplay.
Premiums like Watson, Cotchin, and Birchall really sting as well, because they haven't skipped a beat this year. It's like coming home and finding your sweet, innocent girlfriend playing naked twister with your elderly neighbour on your living room floor – if it were that girl of questionable morals you used to date in high school (Stanton or Shaw, basically) you might be prepared for it. But this knocks this wind out of you, because you never saw it coming. So, as impressive as that side looks on paper, it only managed 1090 this week, with Watson a strong Captain choice against the lowly Giants. Wow.
A very relevant footnote: I hate taggers almost as much as I hate the first verse of Nickleback's Photograph.
Given how topical Round 6 was, I've decided to focus on the popular issues we're all facing in this week's Bullets, with an extended Tweets section. I'm stripping back all the bells and whistles and trying to get to the heart of what Round 7 will be all about for us DT coaches. If you have any queries of your own, be sure to flick them my way at @Tbetta9 at your leisure.
You've nailed a solid bunch there, and your implication is correct – we're not seeing the same Super-Premium stuff from our Super-Premiums as we have in past seasons. I think early injuries to Beams and Boyd have contributed to that, but the main culprit has been both coaches and players taking tagging to a whole other level. They've been killer this year, and coaches will continue to send them out as long as they're so effective.
There're not many others that get my unconditional trust. Marc Murphy is a very solid acquisition in my eyes, notching 111+ in his last four. It feels weird to say it, but Kane Cornes is someone that I'm going to have to consider bringing in – he just gets too much of the football to ignore, but I'll need to see what he can do against the Collingwood's, Geelong's and Sydney's of the competition before being fully convinced. Leigh Montagna is a sneaky option, bucking the trend of ordinariness from the again Saints and posting a low of 99 in his five games. Still, he doesn't inspire the same feelings that I have for guys like Swan and Cox.
At the end of the day, guys like Watson, J. Selwood and Boyd (Swallow, Mitchell and Cotchin are getting close) have proven time and time again that they can be trusted, save for a few hiccups over a long season. If you want a stress-free addition, you have to look at those Premiums first.
Great question, and one that's super relevant now that Gibbs and Waters have already been confirmed to miss. Juggling both BE's and scoring power, here's my top 3, in order:
1.       Pearce Hanley ($455,000, 122 BE)
I'd be all over the Irish Lion if I didn't already have him, and that's despite him looking like something you'd be likely to see in Lord of the Rings. He seems to score at will, with consistent totals in the mark and tackle categories suggesting that his form is more lasting than fleeting. Hanley has a low of just 87 in his four full matches, averaging 103.8 DT points in those games – pretty commanding numbers for a defender.
2.       Heath Scotland ($461,300, 103 BE)
He's getting old, but Scotland has perfected the perfect fantasy game. No accountability, all uncontested goodness. Carlton has a naughty little run coming up (Saints, Port Lions and Giants), and those are the kind of teams he eats for breakfast whenever he's not smashing skulls in pubs. DPP can't hurt either.
3.       Heath Shaw ($417,700, 44 BE)
Consider this third place by disqualification. Hartlett is sore, Birchall is bleeding cash and I don't have any faith in Adcock or Duffield just yet. Shaw has been his usual hot-and-cold self (two scores in the 60's, 3 in the noughties), but he's pretty good value for what he's dishing up.
It's time to sell Westhoff, simple as that. I just hope there isn't another barrage of bad-luck barbs in store for us in the Thursday Teams, because he's a must-cut for mine. Even though he leaked a massive $50k this week, he's also fulfilled his purpose – he filled the void for us until a fallen Premo came along, making us $70k and travelling at an average of 84.8 in that time (assuming you got him after Round 2). It's hard to be too mad at the fuzzy spud when you think of it like that.
At the moment, I'm finding it hard to look past Dale Thomas ($412k, 68 BE). You make a sneaky $55k-odd profit, and Daisy looks ripe for the picking; particularly if Bucks continues to hand him that HBF role which landed him a 121-point total this week.
The other option is Stevie J ($544k, 54 BE), who I've already mentioned has been on a tear lately. My main stumbling block is that he's $130k more expensive than Daisy, which equates to roughly 26 average points. You wouldn't say that Stevie J would be 26 points better than Thomas per game on average, but with a BE of 54, Johnson won't be getting any cheaper any time soon either. Basically, if you want him it has to be now, or just settle for Daisy (or even a Wellingham/Robinson for under $425k) instead.
Yep, as I mentioned in last week's Bullet's, Priddis will be an excellent injury-affected fallen Premium after this round. He's already cheap enough at $414k based on his output so far, but even with a 90-point score, he'll dip just below $400k next week – the perfect time to pounce. He's ultra-consistent as evidenced by his log sheet which reads 98, 93, 98, 89, 124; even if he does lack the star-power of other midfielders. He'll definitely come into my side over the next fortnight, barring any more bizarre scenarios unfolding.
And yes, Wines will be just small change away from Priddis next week, but I'm not so sure that we should be rushing to ship him out. He's produced a low of just 72 in his first 6 career games – excellent numbers for a rookie, and seeing as most teams are still playing two or three on our fields in the mids… Well, it'd be nice to keep him there. I'm more looking at a Stevenson/Heath à Priddis manoeuvre next week (via DPP, as many coaches loaded up on this week), or maybe even sacrificing some like Neade instead. He'll be $250k or so next week, and as only he's sitting there as my bench emergency each week anyway, I'm no exactly losing too much.
With so many urgent trades to cover (thanks Backline, Westhoff and Stanton), there's not a whole lot of scope to make any ground-breaking moves. It feels like the good old days – making vanilla trades to sidestep pain forced upon us. There are, however, still a few things we need to keep in mind for this weekend and beyond:
Monday game
Welcome to the start of four-day weekends. The Carlton-Saints clash on Monday will spark a series of unusual game slots, with an Eagles-Richmond game on a Monday in R10, The Queen's Birthday match a week later, with a pesky Thursday game in Round 14…. Not to mention the MBRs – can't wait pause not.
The obvious issue with this is that we won't know the Carlton and St. Kilda squads before lockout this week. It could be a nervous wait if you're relying on any of Wright/Saunders/Lee and they find themselves on an extended bench this week, and the same goes for Gibbs if they haven't 100% ruled him out by then.  Be vigilant people!
Beau Waters
I don't know if I can bring myself to talk about Beau in detail at the moment, but an unavoidable result of my 11th hour trade last week is that I'll need to make a call on whether to Hold or Trade either way. In pros-and-cons format:

Scarily, I'm leaning towards holding. The key point here is that my team doesn't get any better in the long run if I sideways trade him… More "short term pain for long term gain", which I really hope doesn't become my mantra.
My Boy Scoots
I wanted to but Scooter in the Polling section, but I thought that was a bit excessive. On the other hand, I can't let my boy go unmentioned in his current form! How's this for some tasty numbers; Selwood is now the 4th highest averaging player competition-wide, going at 113.7 per game which improves to 131 per game in the last 4 rounds – 8 points clear of the second-best in Kane Cornes.
Why has he been so successful this season? His elite tackling numbers put him head and shoulders above those with similar disposal numbers. He's averaging 9 per game – which is even more than his record-setting 8.1 tackles per game in 2011. To put it in perspective, one player who has almost identical stats to Scooter elsewhere is Callan Ward, yet he's averaging over 20 points less! Stay hungry Scoots!
Anyway, that's all from me folks! I'm sure there are some players and issues that have slipped through the cracks in a hectic week; so I guess it's lucky we have the comments system – let me know below!
PS. Congratulation to my charges in the DT TALK WA League – still sitting atop the Leagues ladder! Keep it up fellas.