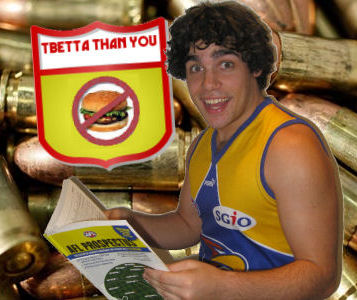 "When it rains, it pours" – We've been blessed with a reasonably clear run injury and suspension-wise in the first month of fantasy AFL, and I'm surely not the only one who felt like it was merely the calm before the storm. While Round 5 unleashed a cyclone on our Dream Teams, it was the pinpoint nature of this barrage of bad luck aimed towards our backlines that will have us at panic stations with our trades this week.
"You've got to risk it to get the biscuit" – Swanny's 120 was looped by many coaches, and most took the 'safe' option of points in the bank. Yes, those who chose to take a punt on Ablett (131), Rockliff (125) and Stevie J (141) were rewarded with a small boost in points; but it was more the bold decision not to loop Swan that benefited a lot of coaches. With Pittard a late withdrawal, anyone who had Hanley or Stevenson as a Loophole Captain risked it and only got a soggy biscuit in return.
"She says they miss the old Drake, girl don't tempt me" – Replace the 'she' with 'DT coaches' and 'Drake' with 'Justin Westhoff' and the lyrics of Headlines kind of applies to the bearded Port forward. Once an inconsistent underachiever, the Hoff teased us with a 128-point average over the first four weeks of the season but drifted back into his old ways in Round 5.
"You get what you pay for" – This was particularly true with both upgrades this week. For those tossing up between Murphy and Ablett in the midfield this week, Smurph would have earned you 115 points, and finding the extra coin for Ablett was rewarded with the extra points with his 131 against the Giants. Likewise, those who were too cheap to snap up Mayes (111) and went with Evans (67) instead still get a great cash cow, but miss out on a short-term forward line starter and the additional 20-30 points that will deliver each week.
3. Fresh Rooks
Sam Mayes (111) and Michael Evans (67) were the big bubble rookies leading into Round 5, and both fulfilled their duties admirably at the weekend. At base draftee price, Evans shot up a huge $72k in his first price rise and looks like being a fast-maturing cash cow who'll sit there fattening on the bench until you need to cull him for a quick cash influx. Mayes was a bit harder on the hip-pocket, but rewarded suitors with a straight-up $80k price-hike; with scores of 95, 75 and 111 in his first three games, Sam May is a must-start rookie in the forward line at this point.
2. Nick Riewoldt (153)
I'm not ashamed to admit that I was one of the many Riewoldt doubters prior to season 2013, with age and relevancy (due to St. Kilda's seemingly inevitable demise) two massive hurdles that needed overcoming to be a legitimate DT option this year. His workman-like performance in Wellington totally contradicted that theory, boosting his seasonal average to 107, with a low of just 82. I'm not 100% convinced on him just yet (this may be due to my wariness of key forwards in general), but with very few Premium forward options to choose from these days, he should at least be firmly on your radar.
1. Scott Selwood (136)
Those who follow me on Twitter or tracked the Deck of DT this preseason know that I was all over Scooter to break-out this year after showing some encouraging signs in 2012. After the first two rounds (71 and 87) I was eerily quiet on the subject, wondering where it had all gone wrong. Since then, he's posted scores of 142, 127 and 136 to be the highest-averaging players in the last three weeks. The secret to his success? At least 26 touches and 8 tackles a game in that time.
Honourable Mentions: Stevie J (141), Zorko (120), Dixon (119), Hartlett (116), O'Meara (115), S. Byrnes (110), D. Martin (99), Josh J Kennedy (98), M. Hibberd (97), Stevenson (82), Priddis (4).
3. Jasper Pittard (LW)
In a normal week, who cares if Pittard misses? Historically, we've been able to throw a blanket over Pittard/Stevenson/Heath, and with most coaches having bench cover, it wouldn't have been a big deal at all. Enter ANZAC Day and the opportunity for a little Loophole action, and suddenly Pittard's tiny bit of soreness becomes a huge issue for fantasy coaches. Personally, I had Hanley © with Heath as an emergency, leaving me weeping over a donut for Pittard and still 82 points behind the rest of the competition, thanks to Stevenson notching 82 unused points on my bench.
2. Bryce Gibbs (54)
I wouldn't be surprised if the Gibbs substitution was just a sly player management manoeuvre by Malthouse. We know players battle soreness and niggles all season, and I'm willing to bet my left jubbly that Gibbs would have pushed through a little bit of tightness if the game was against a Collingwood or a Geelong, and not against an out-of-sorts Adelaide – even if they were 30 points up at the time. With Melbourne coming up in Round 6, there's no denying the incentive for Carlton to gift one of their stars an easy fortnight under the guise of 'hamstring strain'. Luckily, we were all burned by his 54 points because every Barry Norman has him, but he does put us in a bit of hot water with other issues pressing issues in defence this weekend.
1. Justin Westhoff (45)
Aside from a sanity-restoring 45 points (I was starting to doubt whether I had any grasp of the game of AFL; Westhoff leading the competition in DT points was utterly bizarre), Westhoff has put the heat on his owners this week. Do we hold him, writing off this game as a one-off given his blistering early form? Or do we trade him, as his BE has climbed to 150 this week, and capitalise on the $121k he's already made us? Interestingly, we might ultimately be saved/prevented from making a difficult call where he's concerned thanks to incessant backline drama.
Dishonourable Mentions: Priddis (4), L. Brown (20), Docherty (21), Blicavs (22), Lee (30), Kerridge(30), Hutchins (31), Rowe(31), T. Walker  (35), Hodge (61), Franklin (62), Dangerfield (71).
BACKLINE DRAMA
Okay, no more mucking around, let's get all serious up in here. We all have backline issues, so that'll be a big focus area for the masses. So let's recap the carnage, in Bullet form:
Gibbs. Hamstring, 1-2 weeks
Hanley. Back from suspension, Test on knee though.
Goodes. Offered 2 weeks for errant elbow.
Pittard. Test on his boo-boo.
Heath. Test on sore leg.
Stevenson. JS issues – was initially dropped last week.
Then, to add insult to injury, we have very few promising rookie options that could possibly come in for a Goodes/Pittard if you needed to avoid a donut:
Laird. 81 last week, but still vest/JS issues. Best option at this stage.
Docherty. Sub last week (21), huge JS issues with Hanley possibly returning.
Vlastuin. Only played the one game (51), Premium priced ($148k) and JS issues with Morris/Conca returning on the horizon.
Saunders/Clark. Only played the one game, big scoring and JS concerns.
Frost. Will he come in for his third game given Toovey's knee injury? Obvious scoring deficiencies though.
IT'S ALL ABOUT SECURITY
There's a huge element of risk with all those guys. My thinking is that with our downgrades over the next month or so, our primary concern should be Job Security. This is because 1. They'll likely be our later upgrades (after the rookies that have already fattened for us, ideally), so they need to be around for longer to make as much cash as possible. 2. We'll need every troop we can get over the MBR's. Yes, the Byes still exist, and we're getting to the point where the players we'll be bringing in now will very likely be around for them.
If that's the case… we're in a tight spot. I've had JS concerns for Docherty ever since he missed out on Round 1 selection, and while Vlastuin looks like he can mix it with the big boys, I'm not exactly thrilled about the prospect of parting with $150k-odd for someone who may not even get a third game. Laird might have to be a reluctant inclusion this week, taking the gamble on his long-term job security for some short-term relief. We have no excuse for donuts now with two trades per week.
PREMIUM SWAP
For this reason, we may need to consider trading Gibbs to cover a donut instead of searching for other rookies that just aren't there. Like last week, Birchall ($527k, 111.8avg) and Hartlett ($458k, 96.2 avg) are still excellent options, while also consider Gibbs' teammate in Scotland who has a BE of 116 – that's a little high,  but remember that the Blues are running into Melb, St. K, Port, Lions and GWS in their next five, and you'd think Scotland ($473k) would slut it up against that lot.
RIPE FOR THE PICKING
Even outside of the backline, our Bubble Boys are thinning out fast. Max Gawn ($108,500, -73BE) could be a great "downgrade" option for Blicavs, who's maxed out at $161k with a BE of 44 this week. He's clearly having trouble reaching that figure, let alone exceeding it. MID/FWD hybrids Paparone ($107,200, -50 BE) and Kerridge ($108,500 -43 BE) were two rookies that I was optimistic about last week, but both were lukewarm at best in Round 5. Lee and O'hAilpin are both on the bubble as well, but I'd probably rather watch that Sydney vs St. Kilda game on loop for a week than trade those spuds into my side.
ALL THINGS CONSIDERED
In a perfect world, I'd be engineering luxury trades like replacing Dangerfield or cashing in on Westhoff, but with all this backline Hollywood crap it's looking increasingly unlikely. This doesn't mean we shouldn't be looking to improve out teams – in dark DT times in the past, I've always looked to galvanise my side, trying to turn a negative into a positive. Here are a couple of scenarios I'm contemplating in the next Bullet:
1. Pittard/Goodes
OUT

Laird/Premium

IN

(+ cash)

The classic downgrade/upgrade move will be a very popular one for coaches, particularly those lucky souls who have kept some change in the bank for a rainy day just like today. The downgrade will basically leave you with $370k plus whatever you have to find a replacement to your liking.
2. Two of Pittard/Heath/Goodes
OUT

Laird and Docherty/Vlastuin

IN

The double downgrade will be a strong consideration for those with nothing in the bank and a desire to avoid trading out copping donuts while keeping Gibbs. Thursday Teams will help you make the choice between Docherty and Vlastuin, with Doch the preferred option on a pure capitalist basis.
3. Two of Pittard/Heath/Goodes
OUT

Laird and Ellis

IN

This particular scenario is a little out of left-field, but there's no doubting the value that Brandon Ellis can present if he can just avoid the sub vest long-term. The first month average of just 24 was the expected product of being subbed in each game, but he was unleashed in Round 5 and look what he produced – 86 points. At $217k, is it worth thinking of him as an expensive rookie and getting on board?
4. Underperforming MID/Pittard
OUT

Laird/Premium DEF 

IN

This is my favourite trade proposition because it embraces the magic of DPP and allows you to make your team better while avoiding donuts. I'm seriously considering trading out my underperforming Dangerfield for a Premium Defender (Birchall, Hartlett, Waters, etc.), via the Dual Position of Gibbs. If Pittard is out, he makes way for Laird ahead of Goodes, meaning I'm able to keep both Gibbs and Goodes, who I regard as long-term team members at this stage, on the books while dodging zeros. Later on, I'll trade out Stevenson/Heath for a midfielder of some sort, DPP switching Gibbs back into defence where he belongs.

I mentioned earlier the need to sit back and take a look at the big picture, so let's refresh ourselves on a few things to keep in mind for our squad from a long-term perspective:
Byes Approaching
It's very easy to forget about the Byes this year with the new 'Best 18' rule, but it's important to remember that the new system is simply a bandaid and not a cure. It will still require forethought, skill, luck and often sacrifice to manoeuvre through these without copping a donut, and now's the time to start thinking ahead before you're forced into a course of action you'd rather not take, sort of like the Saw movies.
A quick glance tells me that my side is structured 11-8-11, which from last year we would know it a bit too front-ended. Hence, I'll be looking to offload a few Round 11 rookies in the future – it's nice to see that Port and WBD will take that week off, putting Goodes and the Portlets (not a band, as far as I know) towards the front of the fantasy abattoir line.
Busy Bees at the MRP
Don't forget that the Match Review Panel has already unleashed its fury, condemning fantasy relevant stars Brett Goodes (2 weeks) and Nat Fyfe (1 week) to the sidelines, while Matty Boyd received a reprimand.
ACLs
What's going on with the AFL and crucial knee ligaments these days?! We had another wave of ACL injuries this week, with Bradley, Toovey and Taylor Walker all rupturing their knees just this weekend. Add in existing ACLs to players like Suckling, Menzel, Morabito and even that poor goal umpire (I honestly felt so bad for laughing at the time, that I donated to charity), and it's shaping up to become an epidemic that rivals AIDS in the 80's. Probably. For both our fantasy and AFL teams, let's all cross our fingers and toes that no-one else is consigned to what is normally a full season out of the sport we all love; but mostly Dream Team.
Priddis and Daisy Watch
Priddis' hair has proven to provide minimal upside in the safety department, knocked out in the very early stages of a game for the second successive season. At this rate, he'll dip to around $360k in just a fortnight! I'm a big fan of acquiring the 'big dogs' of DT as soon as possible, but every now and then a bargain like this comes along that I just can't refuse – I didn't last year when I brought him in, and I never regretted it! The frizzy-haired workhorse has averaged 93 or more for the past 4 seasons, if you need any extra convincing to get on board.
Meanwhile, Dale Thomas is still working into his best form (65 in Round 5), sustaining his price drop. Round 8 for under $380k is looking tasty, keep up the fantasy-considerate form Daisy!
It's time I gave a massive shout out to my boys in the DT TALK WA league, who's currently the Number 1 league in the universe! That's a huge effort to everyone involved, and a tough gig for the other competitors in the DT Talk State League Challenge to try and chase us down.
That's all from me this week folks, and I might I just add, how awesome is 44 Trades turning out to be?! We're constantly considering trades every week, we're using guilt-free trades to avoid donuts, we're not getting stuck with the fantasy skidmarks we were fooled into picking in our starting squads – it's a wide-smile thumbs up from me so far!
What trades are you looking at doing this week? Which Fallen Premiums are on your radar in the future? As usually, let me know in the comments! Remember to keep them relevant though – head to the weekly 'My Team' post here for help on your individual side.