Tbetta's Bullets: Round 1 (Part 2)
Nine games in eleven days is tedious enough from a fan's perspective, but 3 separate lockouts and 4 different teamsheet lodgements was chaos for Dream Team coaches. How did you manage?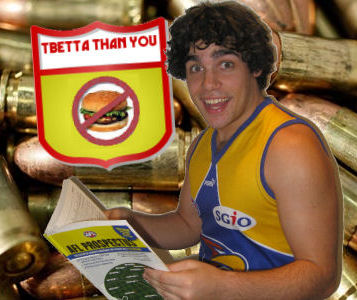 Why DT Bent Us Over in Round 1
1. Crappy fixture
Nine games in eleven days is tedious enough from a fan's perspective, but 3 separate lockouts and 4 different teamsheet lodgements was chaos for Dream Team coaches. Having to lock in some players before you knew whether others even had a chance of playing watered down a lot of sides, and certainly forced our hands prior to the final lockout with a lot of rookie-priced options such as Terlich, Docherty, Vlastuin, Crouch, Kane Mitchell, Anderson, Spangher, Blicavs and Dwyer all either missing out on the action or approaching under emergency or vest clouds. We've had two split rounds to kick-off the last two seasons, AFL people, and they've both been anticlimactic and frustrating for fans. Massively kidding yourselves.
2. Potential vs Reliability
With 44 trades seemingly allowing us to take more risks this year, our search for the next 'breakout' star intensified to never-before-seen levels. Underpriced players and value-based strategies were infused with the standard Guns & Rookies approach – necessary for cash generation – which spawned a lot of hybrid midfields. If Round 1 is any indication, we should have kept it simple, as many of the unique Premo's underperformed – some excessively so. There is a reason why we dub a select-group of players Super-Premiums, and it's because they kick ass on a regular basis. If I had my time again, I'd be rolling out the mat for 3 or 4 of those incredible few fantasy treasures.
 3.  Bloody Taggers
This was the single biggest week-killer in Round 1, and I'm worried that it's going to have a more profound effect on our fantasy sides than we ever thought; just like we didn't foresee the negative effect Brian Taylor was have on our viewing experiences. If you're casually brushing it off, here's a summary of the carnage so far:
# Hocking destroys Dangerfield (51)
# Crowley pumps Shuey (52)
# Griffen gets a reprieve with Raines left out for Brisbane
# Rich (46) sodomised by Lower
# Greene (37) embarrassed by O'Keefe
# Jones (62) reamed by Cornes
Note that that's with the Collingwood vs Kangaroos and Hawthorn vs Geelong games experiencing head-to-head battles rather than defensive assignments, which certainly won't happen every week. While these taggers are so effective they're going to continue be used, so hand out chastity belts to your Premiums and buckle up for the ride.
3. All of the rolled-gold Premiums had a day out this week, and as I said earlier, this reinforces the GnR strutuce as the premier strategy to take into the season, if only because it is easier to execute year after year. Ablett was at his blistering best with 135 of the best, while Swan (123) and Pendles (124) took care of business, as usual. Watson did his 'Mr. Consistent' tag no harm with 113 points in a vote-worthy performance, while Selwood (122) and Mitchell (128) wrestled it out yesterday for the same honour. You really can't go wrong with these blokes.
2.  The fabled re-emergence of Bryce Gibbs was set into motion on Thursday Night, with Malthouse finally releasing the ball-magnet into the midfield as prophesised. Gibbsy was clearly BOG for mine, despite the Blues failing to snatch the win, with 50 of his 133 coming in a faultless 4th quarter. So what if everyone has him, I was just relieved to have a ton by that point.
1. Rookies are what makes the fantasy world go round, and old friends though fresh opponents Wines (99) and Viney (86) certainly had us in a spin this weekend. Both are chances to get votes for their exploits, with both debutants equal sixth for contested possessions this round with massive totals of 16. Consider the job securities of this pair water-tight.
3. Greene (37) was the single most disappointing thing that happened to me this week, and is currently odds-on favourite for my annual 'Yarran Dilemma' award, which goes to the biggest pre-season troll. Toby was going at 115 DT/100min in the NAB Cup, so to only manage 37 from 83% TOG is ridiculous. In a bad way.
2. I know Mitch Robinson was knocked out, and that's not really his fault (actually, it probably is), but 21 points hurt a lot of forward lines this week. Apparently he'll be good to go for Round 2, so at least no knee-jerk trades are required here. But seriously… try not running into people for a change Robbo.
1. The R2 slot was a dangerous prospect for coaches this week, particularly those who rejected a Set & Forget structure in the hope that Leuenberger would return soon. Well, his replacement Longer (44) was monstered, mini-upgrade Zac Smith managed just 47 himself, and possible stand-in Blicavs showed why he is a steeplechaser by choice with a barely-there 32. Once again, the 'you get what you pay for' theme is strong with this one, and the scary thing is, Leuey probably won't be that much better to start with.
I've spent the better part of this article talking up consistent Super-Premiums like Paul Roos on his favourite subject (which is everything, and how it relates to his mates back at the Swannies), but there are actually a few POD's that have come off in the midfield so far.  They're all under 5% ownership as well, showing that sometimes the risky picks do pay dividends – it's just not the 'percentage play' is all. Maybe you want to take the risk on these underpriced 'Uniques' before prices change after Round 3? I know I'll certainly be having a close look…
Swallow ($528,800 – 4.2% ownership)
Swallow was a fantasy beast on the weekend, tackling with fervour and ball-hunting with vigour. Yes, Collingwood doesn't tag but that doesn't mean that we should write off Swallow's total – his 141 points was a round-high. Combine this with a potent NAB Cup (154DT/100min from limited TOG), and the future is looking very bright for Spitter.
Ebert ($511,900 – 1.6% ownership)
If Port Adelaide continue to be competitive, Ebert is in for a huge year. A combination of more exposure and natural improvement means he'll definitely average 100 this year, it's just a matter of how high his ceiling lies. Most clubs prefer to tag Boak too, and whether that's because Ebert is too vanilla or they don't see him as terribly damaging, who cares. It just means more points for those willing to take the risk!
Barlow ($495,300 – 3.1% ownership)
We've always known Barlow is a ball-magnet, and his amazing spree of 100-110 point scores last year was evidence of his extreme consistency. It's just a matter of him pushing that consistent average skywards by 10-20%, which is certainly possible given his exploits pre-Palmer. His first game puts him right on track to achieve this, and at sub-$500k he is a reasonably risk-free acquisition.
Mundy ($451,800 – 2.1% ownership)
Mundy's and Barlow's fortunes are intertwined in so many ways; both are regaining full fitness and confidence after broken legs, both will benefit from being apart of a resurgent Fremantle midfield this season and both are extremely underpriced based on previous accomplishments. We need to remember that his 117 points a fortnight ago was supplemented with 10 tackles, which obviously won't happen each week – but at his price, an average of close to 100 has to be considered a great investment anyway.
Koby/Lucas/Whitfield –> Viney/Wines
If you were without one of Viney and Wines, this is almost a no-brainer for coaches. Koby ($204,800) was impressive for 3 quarters and was on track for 80 until he suffered cramps (and possibly a strain) in his hamstring. Whitfield ($183,700) started slow but managed to squeeze out a 47, while Lucas ($251,200) didn't justify his price-tag with an insane kick:handball ratio of 3:16, also for 47 points.
While this trio can easily bounce back this week and beyond, we have two cheaper rookies who have just secured themselves selection for the foreseeable future. Viney ($102,700) was the Dees best player by any definition of a mile, while Wines ($156,700) wasn't far off for Port. Pulling any of these trades will deliver you cash and job security, so they are bound to be popular with the new trading scheme.
Longer/Zmith –> Kreuzer/Goldstein/Leuenberger
40-point scores don't sit well with any coach, especially if the player in question was only selected as a substitute anyway. If Leuenberger is named this Thursday, I can see many ridding themselves of Round 1 failures Longer ($241,500) and Zac Smith ($300,700) and acquiring their original target. At least he's cheaper so you won't feel as cheated if he does put up scores in the 40's.
If Leuenberger isn't named, for around $100k on Zmith you can get Kreuzer ($403,700) or Goldstein ($407,300), both of whom topped the ton this week with 114 and 101 respectively. Both are excellent value at that price, particularly Goldstein who is only owned by 5.5% of coaches after a woeful NAB Cup.
LeCras –> Kennedy
Isn't it wonderful when you don't have to stress about a trade? If you have LeCras and don't have Kennedy, then you'd be stupid not to make the switch. It's like trading in your damaged Mercedes and slipping straight into a nice shiny replacement with whatever the equivalent of a full, luscious beard is in this analogy. JJK ($272,300) is a significant cash grab from Lecca ($355,400), giving coaches handy flexibility to use in a second trade elsewhere. Kennedy was probably the Eagles best player against the Dockers, and with LeCras done for a month, he'll only become more of a target for West Coast midfielders going forward.
Dangerfield –> Murphy/Barlow/Swallow
While I don't particularly support this kind of trade – sideways trading out a Premo after one bad performance – it will be hard to ignore for coaches that suffered Dangerfield's ($525,000) 51-point fade-out. If you have small change handy, all of Swallow ($528,800), Murphy ($522,000) and Barlow ($495,300) are easily accessible, and all three have shown brilliant signs in their first outings.
Many coaches, including (and particularly) me, would love to wipe Round 1 from their memory and start again. Well, with the ways the rules are set up in Dream Team, we can pretty much do that.
Firstly, we didn't have any head-to-head matches this weekend. That might not sound significant, but to not have an opponent pointing out every small piece of misfortune you suffer makes it, not surprisingly, much easier to stomach. It's kind of like taking home a 'grenade' only to find out that all your housemates are out, therefore not having to be subjected to their mockery the following morning.
Secondly, and most importantly, we don't have to stress about Break-Evens this week. So what if Mitch Robinson has a BE of 248 – that figure is absolute pointless as we don't experience price-changes until Round 3. Of course, his score of 21 will affect his first price change – most likely negatively (depending on his scores in his next two games) – but it will only be in his three-week moving average for one week. Effectively this means that his Round 2 and Round 3 scores will be significantly more influential on his price fluctuations than his subbed Round 1 total.
For example, let's imagine what might happen for Robinson owners. Say his first four rounds score like 21, 105, 99 and 132 for a modest average of 89 points. Obviously, his price will change after Round 3 according to the formula: $New = 0.75($Old) + 0.25(MN * 3wkAVG). His theoretical  3-round average would be 75, so his new Round 4 would be 0.75(478,600) + 0.25(5000*75) = $452,700 (Note that I predicted a deflation in the MN from 5150 here, which happens each year). So, a drop of about $26k. But after Round 4 his price will altet again, this time according to 0.75(452,700) + 0.25(5000*112), which equals $479,525. This is more than his starting price, despite averaging 4 points less than last season!
So please, don't overvalue the influence of a Round 1 score and panic trade your underperforming Premiums this week. It's because of this 'Mulligan' effect that I'll be sitting tight on my (many) underperforming Premiums this week. Instead, I'll be fixing up whatever rookies I can while I wait for some reliable data. Round 2 is another chance to evaluate sideways or upgrade targets, because the reverse is true – just because they had a bloated Round 1 score, it doesn't mean that a price-rise is inevitable. Which brings me back to Breakevens – throw them out of the window until after this week.
Let's have a quick look at the 5-day forecast – some things you should be keeping in mind for Round 2's action:
#  Look out for whether Terlich or Crouch will be named this week. Both dominated their lower leagues, with Crouch collecting 31 disposals and 7 marks while Terlich apparently topped 30 touches himself (unconfirmed). Both Adelaide and the Demons were disappointing in Round 1, so there's likely to be a few changes and these guys will certainly be in the mix.
#  As for Scooter/Shuey owners, take a close look at the teamsheet this week. If Kerr doesn't play (likely), then Shuey is likely to get any tag the Hawks throw out (Shiels, if any). If McGinnity misses again, then Scooter will probably tag Mitchell like he did in Round 23 last year, and especially after what the Chicken Schnitzel served up yesterday.
# Speaking of taggers, remember to keep an eye out for Hocking, Lower, Crowley, Jones, Raines and any other point-sucking vermin that thwarts our DT superstars each week. I'm particularly worried about Fyfe (Lower tag?), Greene again (Cornes tag after O'Keefe proved its effectiveness?) and Viney (will Hird send Hocking to him in only his 2nd game?).
# Remember that a Round 2 score is twice as important as a player's Round 1 score in terms of price changes, particularly for Rookies. Don't stress about Mitchell (24 vested), Anderson (28 vested) or Toumpas (37) just yet – there is plenty of scope for cash generation on the horizon if things go their way over the next fortnight.
Until next week!