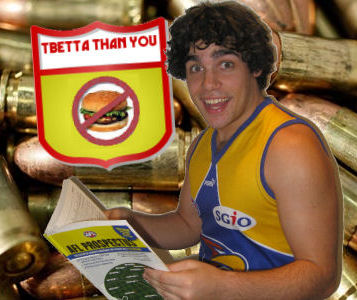 Breaking Bad

The most crucial lockout, barring our Round 1 starting squads, is always the Round 3 lockout. After this week, the majority of the AFL fantasy fraternity will experience their first price fluctuations, which means that this is our last chance to patch any leaky holes in our Dream Team boats.
Even before we had two trades a week to play, trading before the third round was a must – we should know a lot more about the players we've picked with two games worth of home-and-away season data – not that silly NAB Cup stuff. As a result, this article will be saturated with trade talk, break-evens and dollar signs as we break down the best way to better/salvage your squad!
3. Jobe Watson (143)
J.Watson, 3 votes. Actually, that might have been Dyson Heppell (147) – but in DT terms, Jobe's start has been Brownlow worthy. He's currently the equal 2nd highest scorer this season (128 avg), marginally behind teammate Stanton (128.5 avg) and alongside big improver Andrew Swallow. If you need to fix up any midfield mistakes, Jobes's the guy for you – provided you can find the $580k lying around to lure him in.
2. Port Babies/Mid rooks
It was an excellent week in the world of rookies, the fuel that keeps our DT trains chugging. Our little Portlet backmen were excellent, with Pittard (78, -63BE), Heath (74, -69BE) and Stevenson (71, -82BE) all securing large price hikes ahead of time. Add in the wise Brett Goodes (82, -102BE), and it's safe to say that our backlines will be funding the bulk of our earlier upgrades.
Proving that you can't fake quality, two Number 1 picks in Jaeger O'Meara (mini-draft) and Lachie Whitfield became the first two rookies to top the ton this year. 102 for Whitfield is a frustrating result for owners who were dazzled by the extra dollars on offer for an overlooked Viney (59) or Wines (81), but Jaeger's 104-point bomb has everybody smiling!
1. Josh J Kennedy (97)
My boy! JJK was one of the more traded-in players last week, and judging by the current Assistant Coach figures, he's about to become one of the more popular characters in Fantasyland. Kennedy bounced back from a disappointing first quarter that only produced 4 points (a lonely tackle) to be the game-leader for the Eagles with 5-straight goals and 97 DT points. As I've said all along, key forwards will be inconsistent and he won't be poppin' 90's every week – but he's basically a must-have at this point, if only for his price increases over the next month due to his BE of -37 this week.
Honourable mentions: Hanley (124), Cotchin (121), Birchall (121), Ebert (117), A. Swallow (115), N. Riewoldt (108), Minson (104), Moloney (101), Wines (81), Neade (75).
3. Patrick Karnezis (9)
So far, Patrick Karnezis is a massive front-runner for the infamous Yarran Dilemma, just slightly overtaking Toby Greene for the honour at this early stage. He has failed miserably in living up to the (possibly excessive) expectations we had for him after his pre-season – where he went at 119DT/100min, don't forget. Then only positive that we can take out of his 9-point sub-affected atrocity is that Claye Beams was the sub in Round 1, then was rewarded with a full outing the week after.
2. Hamish Hartlett (35)
After Vlastuin and Terlich were scratched in Round 1, a structure reshuffle meant that I was on the lookout for a new D4. Hartlett, Hanley and Grimes made the shortlist, and I'm feeling pretty lucky to have steered my side in a non-Hamish direction after Round 2. Hartlett backed up last week's 105 points with just 35 in Round 2, largely due to a debilitating back injury sustained in the 3rd quarter. As a result, he scored just 7 DT after half-time, which has the further effect of raising his BE considerably over the next fortnight. As for question marks over his health leading into this week's Showdown, you can breathe easy – Hinkley says he's a certain starter. 
1. Zac Smith (34)
Years into the future, I may consider picking Zac Smith in a fantasy side again. Until then, he's dead to me. Like many coaches, Zmith was the stand-in for Leuenberger over the first week or two, which has just been a massive failure on every level. In fact, Blicavs – who's literally played about seven games of Aussie Rules in his life – would have been a much better starter, scoring 8 more points over the first fortnight for just a third of the price. Luckily, Leuenberger announced his return with 74 at the weekend, making him a no-brainer replacement if you hadn't done so already.
Dishonourable Mentions: Greene (72), Robinson (75), Rich(47), M. Wright (49), Zorko (75), Ablett (84), Varcoe (56), Watts (38), K. Mitchell (19).
Last week I urged fellow coaches to leave their Premiums alone – basing trades around a single performance (with the exemption of rookies, of course) is something smart coaches would never have considered just a year ago with limited trades. More trading doesn't necessarily mean smart trading – let's have a look at how the reflex trades worked out:
Dangerfield
OUT

Barlow/Mundy/Murphy

IN

Dangerfield was far from everybody's favourite DTer last week, and without any large ruck or rookie issues, the remaining coaches chose to sever ties after just the one 51-point game. Barlow, Mundy and Murphy all topped the ton last week and were prime value-based replacements, particularly the Docker pair.

Grade: This trade earns a pass mark from me – just. Dangertroll still showed signs of inconsistency dealing with a tight tag (Raines, this time), bursting out to 53DT points halfway through the second quarter but slowing considerably to finish on 95. Mundy (70), Barlow (91) and Murphy (84) all stumbled a little themselves but look like they'll all have consistent seasons, whereas you can see Dangerfield toying with our emotional state each week. This is more of a case of short-term pain for long term game than luxury-trade-gone-wrong for mine. D-
Ryder
OUT

Kreuzer

IN

It was well publicised that Ryder had just the 4 touches last week, whereas Kreuzer was brilliant on his way to 114, making this just another reflex luxury trade pulled by a fair chunk of coaches. I'm very wary about side-swapping Premiums based on one performance, but this one seems to have paid off early.

Grade:  Ryder competed well for 86, but that was in a mauling of the Demons where the Bombers averaged a huge extra 45 DT points per player (wow!). Meanwhile, Kreuzer soldiered on for 91 in less-then-perfect weather for a ruckman, and I'm certain he would have had another 20 points in drier conditions. Additionally, Ryder's BE is 141 to Kreuzer's 31, which is another long-term positive out of this trade. B+

LeCras
OUT

Vickery

IN

LeCras' broken wrist obviously forced a lot of hands with Round 1 trades, so it just a case of who you picked to replace him. Josh Kennedy (99 in Round 1) was the obvious choice, but there were thousands of coaches (literally) who either had JJK already or chose to back in Vickery after his Round 1 career-night that was punctuated with 101 DT points.

Grade: Horrible trade. Judging a guy as inconsistent as Vickery based on one game is like leaving a half-cut Brendan Fevola in the TAB on his own – fraught with danger. As predictable as Ben Johnson trying to get onto his left foot, Vickery ground out a 34-point score before being offered the red vest, making the sneaking cash grab barely worth it. At least he still has a favourable break-even leading into Round 3, or this would have been a catastrophe. F
Zorko
OUT

Wright

IN

After struggling for 51 points in Round 1, I can see why coaches were eager to jump off the sinking Zorko ship and onto what was seemingly a cruise-liner in Matthew Wright (102). The diminutive Crow was a hype-pick (particularly early in the NAB Cup), that looked like it would actually pay off…

Grade: While Zorko (75) outscored Wright (49) considerably this week, he needed two goals to do it, and he's already on thin ice with us after Round 1. Wright's score was tag-affected, as he was the unlucky soul asked to follow Rich around all day. Neither look particularly tempting going forward, with BE's of 105 for Wright and 158 for the Zork. D

Moral of the story – if you're going to trade a Premium out after Round 1, make sure it's to a reliable option, not a speculative break-out guy. You're only asking for more pain otherwise.

The interesting thing about all these extra trades are the strategies that coaches are coming up with to make use of them. I love seeing a variety of different tactics, as I don't think there's just one particular method we have to employ to be successful this season like there has been in the past (Guns & Rookies with a safe trading tact). As a result, I'm having an identity crisis – I feel like I'm an old-school DTer in a Gen Y's body, unsure of which way to favour moving forward.

Unfortunately, DT won't hang around and wait for me to make up my mind. With price changes just around the corner, this is the week where we go into Fix-It mode. It's our last chance to patch up those pre-season mistakes – but where do we look for salvation? The reliable-though-expensive Premiums who'll keep churning out points for us until their last breath, or the fast-rising bolters who'll make you wads of cash if nothing else over the few weeks? Both are legitimate strategies – points vs cash – so for every Fix-it, I'll offer at least one replacement that suits both strategies. Exciting times at the trade table!
1. Adcock ($418k, 136BE, 54avg)   /   Duffield ($427k, 107BE, 71avg)   /   Hartlett ($422k, 106BE, 70avg)
Old School: Hanley/Birchall/Heppell
The seasoned DT coach in me says to pull the pin on these underperforming D3's and D4's and sideways them to a reliable premium. Both Birchall ($456k, 44BE, 111avg) and Heppell ($439k, 34BE, 111.5avg) are on fire and satisfy the need for consistency with your backline Premiums, while Hanley ($426k, 35BE, 105.5avg) has the ability to average 90 for the year but is likely to be a bit more hot and cold than the others. These are all basically sideways options with change, with only really Birch needing a bit of capital to get over the line.
YOLO:  Charlie Dixon
Every instinct I have says that trading in Charlie Dixon ($305k, -34BE, 104avg) is a stupid idea and needs to be laughed at lengthily before being expunged immediately from my consciousness. However, even with quite modest predictions, he'll shoot up about $70k in the next fortnight alone, not to mention the $120k-odd that you'd bank in a swap like this. Of course, the big risk is that he'll do a 'Vickery' and your team will then suffer score-wise for a modest price increase which requires a further trade to fix anyway.
2. Greene ($496k, 181BE, 54.5avg)
Old School: Watson/Swallow
Unfortunately, as much as I'd like to keep Toby based on the Giants upcoming draw, his price is going to plummet in the meantime; probably in the neighbourhood of $40k-plus and that's even with a decent total in Round 3. On the other hand, Watson ($580k, 83BE, 128avg) and Swallow ($529k, 53BE, 128avg) are both scoring at will so far this year and look likes excellent Set & Forget type replacements. If money was no object, Watson would be my first-choice in years past because of his excellent consistency and the ineffectiveness of any tags against him.
YOLO: Moloney
Alongside Luke Ball and Andrew Embley, Moloney ($310k, -16BE, 98.5avg) was a leading option as a mid-priced centreman this pre-season, and it's paying dividends thus far. In fact, he's the 2nd-highest scoring Lion so far this year, and he has a guaranteed price hike on the way. Who knows whether he can keep it up, but he's been doing it in tough losses which is a great consistency indicator. If you pull this trade you can pocket almost $190k now with guaranteed growth on the horizon.
3. Zmith ($301k, 95BE, 40.5avg)

Old School: Kreuzer/Goldstein
Quite simply, Zac Smith has to go. He has been shockingly ordinary in the first two rounds of 2013, with part-timer Charlie Dixon showing him a thing or two about 'development' and 'realising potential'. If my mid-priced ruck failed in past seasons, I'd go straight up to the best value Premium options and look for a Set & Forget replacement there – this year, it's between Kreuzer ($404k, 31BE, 102.5 avg) and Goldstein ($408k, 52BE, 93avg) for just $100k extra.
YOLO: Leuenberger
Seeing as Leuey ($234k, 74) is half the reason most coaches jumped on Zmith, it's a simple sideways trade to get him in. If you hadn't already pulled the trigger on this one last week, then the $70k windfall will help you patch holes elsewhere.
4. Zorko ($488k, 158BE, 63.6avg)
Old School: Bartel/Chapman
Despite relatively slow starts by their standards, Bartel ($493k, 94BE, 97avg) and Chapman ($503k, 101Be, 96.5avg) are some of the better Premium patches for an out-of-sync Zorko ($488k, 158BE, 63.6avg). They'll be reliable sources of points; however, their BE's are relatively close to their average so any poor score over the next few weeks will result in a sharp price drop – making it easier for everyone else to get on board later at a discount.
YOLO: Westhoff
Trading in Justin Westhoff ($395k, -23BE, 127avg) after his 154-point score last week is something I would have never dreamed of considering a year ago, but it's a legitimate option these days. He's averaged 80 points for the last couple of seasons, so you'll earn points while he sits there fattening up in your side. Assistant Coach has him pegged for a price influx of almost $90k over the next fortnight alone, which by that time will put you in striking distance of a sideways trade to Buddy Franklin (expected to be around $490k after Round 4). Holy sh*t.
5. Karnezis ($239k, 64BE, 37.5avg)
Old School: HOLD or Josh J Kennedy
My instinctive preference would be to trade Karnezis to JJK ($273, -37BE, 38) – not because I Karny is a dud, but because Kennedy is a must-get, purely for cash generation purposes. It's just so happens that I have both – so what to do? I'm leaning towards holding, partially because he has a gettable breakeven, partially because he shouldn't be the sub again this week and mostly because I'd rather fix up bigger issues elsewhere.
YOLO: Petterd
If I was hell-bent on getting rid of Karnezis, Petterd ($244k, 75) would be my go-to guy. He slotted perfectly into Richmond's defense last week, and it would avoid any probable price drop from Karnezis. This is a bit of a luxury trade though, because we don't actually know what Petterd's range is going to be like after just the one game.

Great question. Like some of the speculative picks I mentioned above, Libba's ($402k, -5BE, 120avg) not someone I'd ever have seriously entertained in years past. He's just not reliable enough to be a 'Keeper' – someone that you'd hang your hat on for the rest of the year.
Of course, it's a different world out there now and Liberatore is now suddenly a juicy option. Thanks to back-to-back 120-point scores, Assistant Coach has predicted him for a $60k cash boost in just a fortnight. By that time, you could simply swap him out for a fallen Premium, such as Swan/Ablett/Dangerfield/Redden, all of whom have BE's over 140 this week.
I don't recommend doing this kind of 'bridging' trade too often during the season, because it requires using two trades and trading a guy in that you don't really want, let alone the risk associated with relying on price drops on your next trade target. But we're in a unique position this week where two scores compound for a price-rise, whereas it's normally just the one (as prices change every week once a player has established a three-week moving average), so we're getting double the value with these snakes-and-ladders trades.

With a BE of 17, you can't really go wrong. Monfries is a great DTer in the sense that he scores more than someone of his influence or talent probably should – plenty of uncontested +6 combos and opportunistic goals help with that. I know that sounds like a criticism but it's really not. If you've got the $115k spare and already have JJK, then he could be worth a shot.

Yeah, absolutely. Maybe not happy, but content is a wise choice of words. What you get with Coxy is reliability – both in terms of consistency, as he'll top 80 every week, as well as durability, given that's he played 73 games on the trot. He'll score a lot better against the weaker opposition too, which he hasn't had with Freo and Hawthorn so far.
I'd be looking at the front-runner type of guys, which has pretty much been the entire Eagles midfield mindset in the first two rounds, barring Priddis. Scooter (131), Shuey (123), Gaff (117) and Masten (113) all dominated last time they played the Dees, although Jordie McKenzie went to Kerr that day. Pick one of the three that doesn't get the tag – which is most likely to be Shuey, with a slight possibility it could be Gaff after Shiels destroyed him on Sunday.
Round 3 is still a few days away, so let's take a quick look at some long-range issues that need negotiating before lockout:
# Two-week forecast
Don't forget that not all of our players change in price after Round 3. Popular fantasy options such as Heath Shaw and Montagna have played just the one game, as has the mid-priced Petterd. The advantage here is that we get another week to look at these guys before we'd have to commit to them, and it prevents us getting stuck in a log jam with pre-price change trades. The rookies get first preference however, and I'm hardly going out on a limb in saying that Crouch and Terlich will be two of the most traded-in players next week, when they're on the bubble and everyone else has experienced their first price change.
# Gablett
Firstly, everyone who ridiculed me and others for not starting with Ablett can shove it. His BE is now 156, meaning he's likely to drop $40k in the next fortnight. The question is – should you consider trading him out to a bolter like Moloney if you can? It's tempting, but one look at the Suns' upcoming fixture has me transfixed; over the next 6 weeks, they play the Lions, Port, GWS, Fremantle, Melbourne and the Bulldogs. Only the Dockers are finals contenders of that lot, and although Ablett doesn't need to play easy opposition to score well… Surely it gets easier?
# FWD Premos
Where have all the gun forwards gone? That's right, Beams, Sidebottom, Dangerfield and Zaharakis all lost their DPP last season… It's a far cry from last year, where we were spoilt for choice up forward. I mean, Westhoff is the only forward currently averaging over 100?!
I can't be the only one who's unimpressed with the lack of choice down there – as a result, I'm considering pursuing a cash grab for Zorko until Thomas/Stevie J/Wellingham are fit and firing again.
# Danny Stanley
Are you alive?
# Fixture Trading
For those who are getting involved in fixture trading tactics (worked well for N. Riewoldt owners so far, not so much for Swan midfielders though), you'll want to keep an eye out for GWS, Gold Coast, West Coast and Brisbane players over the next month. It's for this reason that I'll be keeping Scooter, for example, as the Eagles play Melbourne this week (who would he even tag?) then Carlton is the only finals contender that they facein the 6 games after that.
Well, that's all from me this week! Given that this week is the most crucial week for trades all year, I tried to fit in as much as I could. If I didn't help solve your problems, hit me up on twitter at @Tbetta9. Until then, let us know whether you'll be going old school or YOLO with your trades this week in the comments!