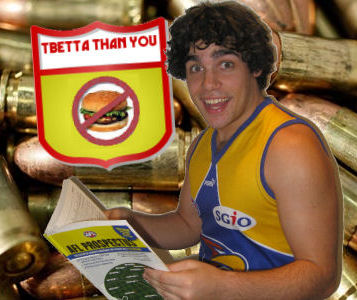 Split Personalities
The worst thing about having a split round is having to wait another 5 or 6 days for your DT to redeem itself for a terrible first weekend. I have no problem with a staggered start if the AFL legitimately couldn't fixture a full round due to scheduling difficulties – I do, however, take issue with my early starters letting me down without any 'out' clause.
I may as well kick things off on a personal note – week one of the first round have not been kind to Tbetta Than You. I made two trades in the lead-up to round one; firstly, Murphy made way for Dangerfield (even though I had the coin for Ablett) based on the assertion that they're both underpriced but Dangerfield was in better pre-season form, and secondly, I traded Wright out of my side after the hype surrounding him died down in the latter stages of the NAB Cup. Add in an all-too-familiar tagging role for Scott Selwood, and it's fair to say that it's been an anticlimactic start to the year for yours truly – I'm getting the feeling that there are plenty others out there in the same boat.
Polling and Trolling

Honourable mentions: Kommer (60), Watson (113), Wright (102), Mundy (117), Suban (97), Waters (113).
Barlow is one of my all-time favourite fantasy players. Regular readers of this article would know how much I value consistency, and Barlow is right up there with the best. He scored between 100 and 110 thirteen times last year – thirteen! Incredible stat really, given that he was green vested in the first two games after an interrupted pre-season. This, of course, rendered him underpriced this year given that he averaged 99.7 in full games while we were able to buy him at a 96 avg. Along with fellow Glendenning Medallist Mundy, Barlow was the main culprit in exposing a spiritless (undermanned or not) West Coast midfield, collecting 27 touches punctuated by an impressive 9 tackles. The Dockers midfield seem to be more fit and organised than they were at this point last year – keep an eye on Barlow (only 3.2% ownership league-wide) and co. for value over the early part of the season and beyond.
As dejecting as it would feel to see Stanton lining up in your midfield as lockout approaches each week, there is no doubting that the man is a born DTer. He was serviceable without starring on Friday night, yet he still managed to notch 26 disposals, 5 marks and 6 tackles for 115 DT points. Stanton is one of the few players in the league that have the potential to average the fantasy trifecta – 25 touches, 5 marks and 5 tackles per game – and because of that, he's a must-have on your watchlist this year.
It's no secret that Josh J Kennedy is my man crush – I've been talking him up all pre-season, Deck Of DT or otherwise. His start to the season was very encouraging, particularly an ominous first half which was shades of his career-best 2011 form. It looks like he's back to playing that Riewoldt-circa-2008 role, leading up onto the wing and being that marking linkman between the back and forward lines. As a result, we should see plenty of +6 combos for JJK this year, of which he had 8 on the weekend – and it probably would have been more if the Eagles' midfield decided to show up.
Honourable mentions: S. Selwood (71), Shuey (52), Gaff (63), Duffield (67), Bellchambers (56), Thompson (75).
It's hard to dislike Dangerfield because he's such a dynamic player with a cheeky off-field persona, but true to his on-field reputation, he's done the impossible. I'm sure that his 51 points is just a small blight on what will be a fantastic year from the Dangerman, but he's definitely walking the line for many coaches who are itching to use their customary two trades a week. I don't really have any excuse for Patty, because although he was tagged by a dogged Hocking, he's dealt with better before and still belted out BOG's.
Ryder is another Patrick who's disappointed coaches this week, managing just 4 disposals for 45 DT points. He was certainly on the watchlist the year with his shiny new Ruck/Fwd DPP, especially part of a link with someone like Cox or Roughead, but that looks to have backfired at this early stage. Again, I'm sure this is just an aberration and not a sign of things to come for Ryder, but good luck calming down his owners long enough to remind them of that.
Pavlich has destroyed the Eagles in countless derbies in the past, but this was far from his best home-town rivalry outing. A split-webbing finger injury (probably  the paper-cut equivalent in AFL injury terms) certainly cruelled his score, limiting the Pav to 58 points – which included 3 behinds and a report for charging. If past years are any indication, it was probably a smart idea to overlook him initially and bring him in for one of his famous late-year blitzes anyway.
The Rockliff Effect
The Rockliff Effect is the phenomenon that explains the regression shown by an up-and-coming fantasy star for seemingly no reason. The title is a nod to one of DT Talk's own Tom Rockliff, who seemed to have the DT world at his feet with an incredible 112 point average in just his third season. As we know, he was only to regress alarmingly the year after with a season-average of just 93 points per game. It's not quite second-year blues, but it does often affect players struggling to back-up a breakout fantasy season.
Clearly, one Patrick Dangerfield fits into this category by definition, and this is possibly the biggest reason why I tried to avoid him all-season at that tempting 102-point average; especially when you look at his scores at the end of last season. He averaged 120.7 points in that 7-game frenzy that closed his 2012 home-and-away season, making him very difficult to ignore this year in my eyes. Will he continue to suffer from the Rockliff Effect all season, or was this a one-off?
And I'm kicking myself, because I'd made a point to ignore these guys all pre-season based on Rockliff's cautionary tale – it's just not worth the stress. Others that fit the criteria are Beams, Cotchin and Greene – all three had break-out 2013 seasons, increasing their average by 14.8, 16.8 for the former pair respectively, while Greene averaged an incredible 96.2 DT points in just his first season at AFL level.
Do you have the guts to back them in for the year, or will they crash and burn like Rocky's fantasy owners in 2012?
Passing Thoughts
#     How dangerous did the Dash Brothers look like night? Hill and Pearce tore up the wings of Subiaco, and I can't help thinking that Pearce's arrival from Port Adelaide will be the best thing that's happened for both players. You simply can't tag both.
Hill's probably irrelevant in salary-cap competitions as a mid-only, but Pearce should definitely be on the radar after his derby outing. Like Gibbs, Goddard, and Heppell, you can effectively get a midfielder in the backline with Danyle, especially if he continues to roam the wings like he did on Saturday. Fun stat – he's averaged between 73 and 79 every year for the past seven seasons. Its early days, but it looks like he might finally push that into the eighties this season.
#     With the news that Sandilands flew over to see a Victorian hamstring specialist, is it time to start seriously considering Griffin as a legitimate fantasy option? He battled hard against Cox for a solid 77 points, and the same level of effort will surely reap more points against lesser quality opposition. My thinking is that if you have $40k lying around and you have to figure out what to do with a winged LeCras ($355,400), consider trading him for Griffin ($397,100) with some sneaky DPP magic.
Take LeCras out, swing Cox/Ryder/Roughead into the forward line and bring in an underpriced Griffin as long as Sandi is out. This gives you have insurance for your rucks with your DPP ruck resting in the forward line (especially handy with the question marks over Leuenberger, who many have at R2) and when Sandi comes back, you can DPP trade Griffin out for a profit and snap up a Premium forward. Boom.
Lockout Issues
Hopefully you negotiated the first partial lockout with composure, and didn't make too many rash last-minute decisions. Last year I brought in Golby at the 11th hour, and it basically wrecked my season. However, with Crouch named as an emergency just 24 hours before lockout, there was definitely some last minute movement as coached scrambled to cover his absence.
Young Talent Time
The man that many jumped on was Nicholas Kommer ($102,700 MID), the mature-age recruit named in a forward pocket for the bombers. It was a combination of factors which convinced me to bring him in rather than benching Crouch (who has been very impressive this pre-season); 1. He played in every pre-season game for the Bombers, 2. Essendon have no first-choice players on the injury list, with Winderlich the only player out at the moment, and 3. Zaharakis was always likely to get a vest (I thought it would be the red, admittedly), and with a young Jackson Merrett (65) in the squad, it seemed unlikely that Kommer would be the plyer subbed off. As we know, Kommer played out the match for 60 DT points and looks like he'll be a regular for at least the foreseeable future.
Of course, whether to start him on your field or list him as an emergency and gamble on Wines/Mitchell/O'Meara/Anderson/Viney/Whitfield/Toumpas/Macrae next week was another question, and one we probably can't validate either way until this week's team lists are in. I personally started him on the field, and was more than happy to bank the 60 points.
Other rookie lockout issues we had was whether to bank starts from L. Brown ($147,700 DEF) or Lycett ($162,300 FWD) rather than risk selection with other rookies the next weekend, especially with Lycett given the lack of forward rookie talent. I hope you weren't convinced with either, as Brown went on to be subbed off with injury for 35 (he's since been cleared for Round 2) and Lycett limped like an injured giraffe to 19 points.
Invested
Embley was thrown about as a leading mid-price midfield contender this pre-season, based on his reduced price after a dodgy shoulder derailed his season, and the fact that he averaged 92 and 94 the two years before. I distanced myself from him from the outset due to concerns with durability and the sub vest, and my fears have been justified and it's not even halfway through Round 1 yet.
Speaking of injuries and sub vests, I think it's time we got used to the fact that injuries no longer affect us for the length of time a player is on the sidelines. With the substitute rule, clubs are using this gimmick to 'manage' their returning stars on the comeback trail, preferring to ease them into AFL action. This weekend has shown us that they're not afraid to do it with senior talent either, with both Embley and Zaharakis suiting up with the green vest. We need to start factoring these stunted restarts into our thinking, and I hope no-one was bedazzled by Embley and brought him back in thinking he'd have a full hitout this week.
Long-Range Issues
Remember that we have a second partial lockout this week, with our Blues and Tigers locked out on the Thursday evening. If you haven't utilised your Loophole option yet, chuck the VC on someone like Gibbs, Murphy, Cotchin or Deledio while you still can. Of course, we'll be locked into all our Blues and Tigers at bounce-down, which means we have to make some early decisions on guys like Lucas, Vlastuin and Sam Rowe in particular – we'll only see the team sheets for the remaining clubs (and still just the 25-man squads for Sunday and Monday games) one hour prior to lockout, so that will be a hectic little decision-making session for us.
At least we'll know whether Vlastuin is the starting sub or not and start/bench/trade accordingly, but the last forward slot is the most interesting for me. I'm happy to start with Rowe (even if he's not playing) and utilise him as forward line insurance (with Cox in my rucks) rather than overspending for a Patton type. However, if Sam Dwyer is upgraded and named in the 25-man squad, then I'll be tempted go with him – but there is only an hour to make that call.
The other obvious lockout issue we might have concerns our Hawthorn and Geelong players, primarily the rookie types. This means that we won't know whether Jed Anderson cracks a game, or if Blicavs is locked in to play. As a result, I wouldn't take a chance on either as on-field players, and while The Steeple is locked at R3, I'll find it difficult to select Jed over other confirmed starters, regardless of his pre-season form.
Of course, check in to DT Talk for the Friday Scramble for any lockout assistance you might need.
A Wet Fish to the Face
Let's not panic. Yes, it's been a flaccid start to the first round, but let's not forget that it's not even halfway done yet. I know I'm going to feel a lot better once Swanny smashes out a 140 for me on Sunday afternoon, hopefully pacifying me long enough to stop holding this 'two trades' thing over my underperforming troops.
Taking the emotion out of the decision-making, here are my sobering thoughts leading into the second week of Round 1:
1. Don't trade your Guns after the first round, for Christ's sake. It's tempting, I know. But rarely does one game typify a player's season, especially their first hit-out under full home-and-away pressure and intensity.
Here's some proof: Shane Tuck totalled 47 points in Round 1 last year before being subbed out. He went on to average 108 points per game for the rest of the year. Dayne Beams produced just 74 in a lukewarm first outing – he went on to average 119 for the remainder of the home-and-away season, 3rd best overall. So let's just give the Dangerfields, Scooters and Ryders a break, shall we? If they fail next weekend though, by all means, throw them to the wolves.
2.  Let's not get too excited about these "massive price-drops" that these guys are allegedly going to be experiencing. Don't forget that Round 1 will only stay in the moving average for one week (see DT 101 for details on price-changes), meaning that they'll experience a modest drop at best. Delusions of picking up Danger, Embley, Shuey, Zaharakis or Ryder for cheap post-Round 3 are just that – delusions – if you're looking to get Premiums for unders, wait and see which guns tank in Round 3.
Until next week!