More News
Ben has the Magoos News for this week.
More Posts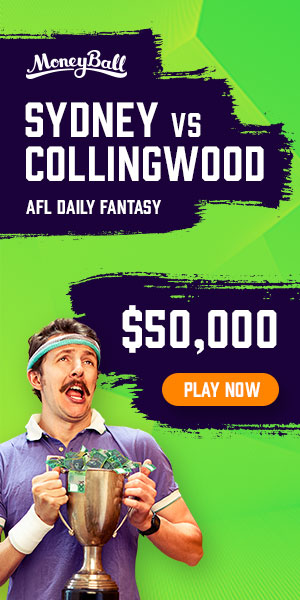 My Team
Discuss your moves and any other Fantasy related topics ahead of round 10.
Bye rounds
Recent Comments



The Friday Scramble: Round 10 (45)

Chatta: Just hum this to the sounds of silence Hello donut my old friend Sadly we meet again...
Cripps: Ziebell +210k or Whitfield ??
Chief007: Yeah good, I thought I read somewhere Williams was out for a few weeks, wonder if...
beanford: Perhaps consider Corbett.
Shags: Worth trading Danger if I means I can get in Whitfield for Zwill? Or should I trade...
P Power: R young will make you more cash
Jakob: Worth paying up for Balta's JS over R. Young for the saints? Have Hayes and...
P Power: Current side Def – Hurn, B Smith, Z Williams, M hore, X Dursman, scrimshaw...
Chief007: 👍 hopefully cogs actually plays
Chief007: +1
beanford: +1 – Danger owned by so many, practically everyone taking that hit this week




Ripe for the Picking – Risk vs. Reward (14)

Sparksy: It depends on who you're fielding in Williams' place, but I'd say...