More News
PODCAST: The replay of the round nine live Facebook show is available now.
More Posts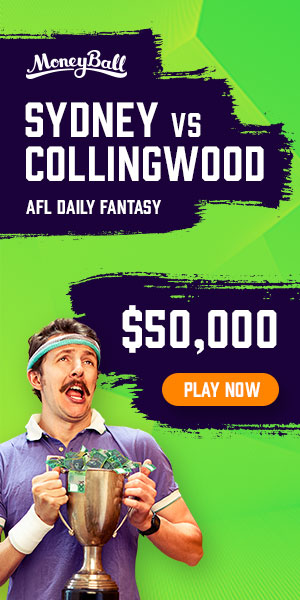 My Team
Discuss your moves and any other Fantasy related topics ahead of round 10.
Bye rounds
Recent Comments



The Friday Scramble: Round 10 (62)

lewie14: Whitfield or Merrett……… 8230;..
Belly: I agree, with injuries being so unknown and the majority choosing to bench premos, I...
God of DT: Whitfield definitely is a must have
God of DT: Definitely Whitfield. Set and Forget. Won't be tagged with ANB out. Harmes...
God of DT: Zorko proven can't handle tags and is more dangerous with the ball. Go Neale
God of DT: Heater with increased scores with Williams out.
God of DT: Whitfield is a must have
the internet: If Stocker plays; option 1 for me. Crisp is going well. Baker is far too iffy...
The Milkmen: If Banfield comes back in I'd be worried about Neale.
Jack: Heater or Ziebel for Zac Williams
David: yep i did the exact same trades




Team Sheets – Rd. 10 (58)

Rossco1: Gday champ, yeah there's a few reasons. Firstly it's job security, with Carlton's...