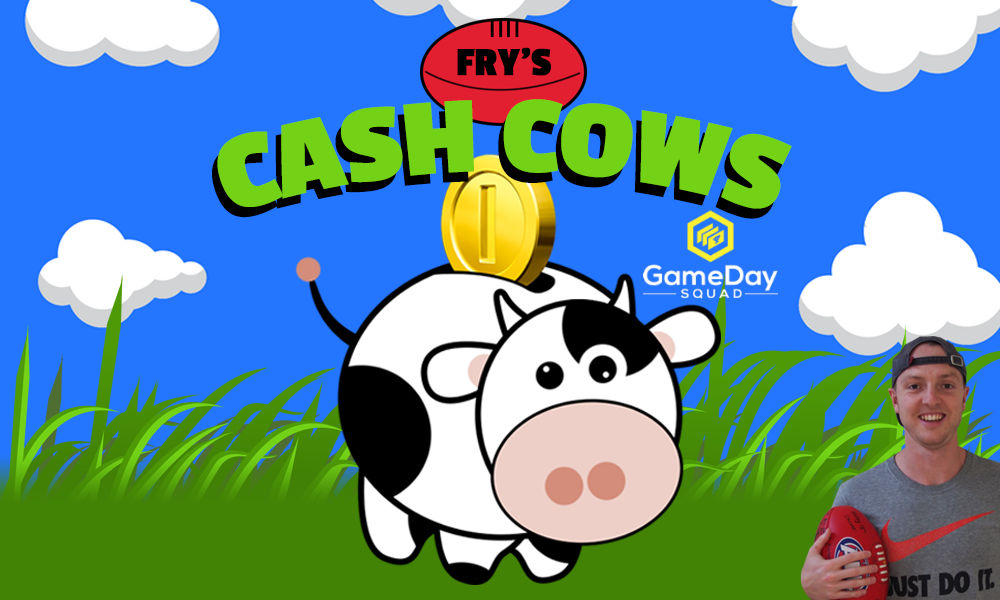 21 down, 3 to go!
It's crazy to think that there are only 6 trades left for coaches before the 2023 fantasy season is officially done an dusted. Everyone is eager to land one or two final premos in their starting 22, with their trade attention hardly focused on cash cows and bench pieces. That being said, you'll still need some extra dosh to make these hypothetical upgrades a reality and trading one of your inflated bench rooks to a $200K player (not matter whether they're a red or green dot) can help such a deal come to fruition.
Rookie/cash cows are players who start the season priced around $300,000 or less
---
Mooooving On
Part of our weekly trade focus is to remove the rookie-priced players who are no longer making money. When a cash cow sees their average fall in line with their breakeven or they find themselves on the outside looking in for multiple weeks at a time, that's a good time to give them the axe.
Fattened cash cows
Seamus Mitchell, Hawks ($497K, AVG 63, BE 107)
Harry Sheezel ($775K, AVG 95, BE 108)
Campbell Chesser, Eagles ($374K, AVG 43, BE 53)
Jaspa Fletcher, Lions ($440K, AVG 54, BE 63)
Darcy Wilmot, Lions ($590K, AVG 60, BE 77)
Injured/non-playing rookies
Angus Sheldrick, Swans ($516K, AVG 62, BE 32)
George Wardlaw, Kangaroos ($492K, AVG 63, BE 68)
Cooper Harvey, Kangaroos ($280K, AVG 45, BE 22)
Oisin Mullin, Cats ($248K, AVG 30, BE 54)
Will Ashcroft, Lions ($722K, AVG 83, BE 96)
Cash Cow King – Round 21
Harry Sheezel was nowhere to be found among the top scorers last round, although familiar faces could be found everywhere. Forgotten heroes Kade Chandler and Dylan Williams flipped the script after their recent crappy scores, Will Phillips continued his strong second half of the season and the latest Rising Star nominee Ollie Hollands was also back to his best with a new career-high score of 87. However, none of them could top Crows debutant James Borlase who slotted right into Adelaide's back-6 en route to 18 touches, 9 marks and 90 points! My vote sides with the budding Blue in Hollands, but this week's CCK is bound to be a close count.
Loading ...
Round 21 Power Rankings
After 21 weeks of action, these are the top 10 cash cow performers in season 2023!
Making Moves
With coaches chasing a Nick Dacios this replacement rather than a reliable rook, I've streamlined the cash cow advice for the final few weeks. If there's a rookie I don't cover that you've got questions about, feel free to drop them below or hit me up on my socials.
DEFENCE
James Borlase ($246K, 90, BE -19) – I was NOT expecting that ripper score on debut! Borlase only averaged 65.3 in the SANFL this season, but thanks to his stupidly low breakeven you can still nab the young Crow.
Sam Banks ($356K, 40, BE 17) – Even though he's not in my team, I'm still buying stock in Sam Banks. He came into the Tigers' team an hour before bounce down to replace Dylan Grimes, so he's hardly a lock for their side. If he plays this week, you can keep Banksy for another run.
James O'Donnell ($203K, 25, BE 30) – Some may have JOD running around at D7/D8 and there are understandable doubts over his scoring ability. Still, O'Donnell played 100% of the game against Richmond which suggests he'll still be there next round.
Campbell Chesser ($374K, 40, BE 53) – It's time to trade Chess. The Eagles youngster is finding his fair share of the footy as he adjusts to consistent AFL games, however he's only scored 71 points across the last fortnight. If Chesser's still in your squad, cash him in.
Jacob Bauer ($200K, 21, BE 63) – It was good to see Jacob Bauer playing again this year after initially injuring his hammy on debut. Unfortunately, that saw his breakeven shoot through the roof, ruling him out as an option.
Seamus Mitchell ($497K, 30, BE 107) subbed off – Seamus has to go ASAP for anyone who still owns the Hawks swingman.
Harry Sheezel ($775K, 53, BE 108) – Most seasons, there's a cash cow who comes along and stays in our team for the entire year – playing their role admirably. Harry Sheezel has been that player in 2023, although he's currently the second-most traded out player prior to Round 21 after scoring a pair of lacklustre 50's in the last five weeks. Sheez can go for the right upgrade, although I still have faith in the rebounding Roo and his ability to hit big point totals.
MIDFIELD
Luke Nankervis ($322K, 58, BE -1) – Three decent scores in a row have seen Nankervis have seen the Adelaide MID/FWD climb a significant amount already. It's too late to jump on the bandwagon now, but holding onto Nank and using him for a cash influx ahead of Round 23 or 24 makes a lot of sense.
Matthew Coulthard ($216K, 52, BE 11) – Coulthard finally got to feature in more than 30% game time for the Tigers and it's no coincidence that he produced his first 50+ score. He's still cheap enough if you need a downgrade target in the midfield.
Elijah Tsatas ($313K, 65, BE 16) – I'm still not over the fact that Brad Scott ruined a perfectly good 2024 cash cow by playing him in a dead rubber against West Coast. The baby-faced Bomber didn't look out of place though, gathering 14 touches and proving he was up to AFL level. We'll cheer him on over the final three weeks, although I can't help but think about what could've been…
Ollie Hollands ($479K, 87, BE 38) – Carlton's running machine had his rookie season interrupted by a broken collarbone, but he is quickly reaffirming himself as one of the best players from the 2022 draft class. A new career-high score of 87 last weekend deserves mention, even if no one owns him anymore.
Elijah Hewett ($422K, 45, BE 40) – There's nothing wrong with getting rid of Elijah Hewett, with the ascending Eagle serving his purpose as a cash cow. He's hardly a pressing trade concern though as Hewett should score well enough against Fremantle to reignite his cash gen.
Ryan Angwin ($323K, 7, BE 42) subbed on – I'm really glad that I didn't invest in Angwin this season – what a goddamn rollercoaster! Averaging almost 60 across his last three, the sub vest ruined any chance the Giants youngster had of climbing more in value.
GameDay Squad – Create. Coach. Compete.
Will Phillips ($577K, 83, BE 57) – The second-half surge continues from Will Phillips, with North's promising midfielder now averaging 71.7 points over his past nine appearances. These numbers are great and all, but they would've been much more convenient in the earlier portion of the year. 2024 breakout contender?
James Tsitas ($200K, 22, BE 51) subbed on – As long as Tsitas is forced to play the role of substitute, he doesn't offer any value.
Jaspa Fletcher ($440K, 36, BE 63) subbed off – Unfortunately for Jaspa Fletcher owners, the Brisbane line breaker is done as a cash cow now. Subbed off in consecutive weeks means Fletcher will only start going backwards from here. It's wise to move him on.
Cam Mackenzie ($352K, 12, BE 78) subbed on – Still kicking, but Mackenzie is ruining his season average with all these sub-affected scores.
Matthew Johnson ($463K, 12, BE 108) subbed on – Ditto. Matthew Johnson didn't have a lot of impact in his one quarter of action against the Lions and as a result, his BE has skyrocketed. Unless that changes and Jonno finds himself in the starting 22, we can move on from Freo's young midfielder.
RUCK
Dante Visentini ($237K, 55, BE -2) – Dante will seemingly have the ruck role to himself as long as Port Adelaide's season is alive. Both Scott Lycett and Sam Hayes are out with differing injuries and even if the Power opt to share the ruck responsibilities around some more, Visentini is the perfect R3 to close the fantasy year.
Jack Williams ($309K, 37, BE 24) subbed off – Apparently Jack Williams can still be found in over 10% of teams, despite the raw ruckman failing to fire in most fantasy matchups. The Eagles are challenging his one-match ban, however that won't breathe life into Williams' poor scoring ability.
FORWARD
Brandon Ryan ($261K, 59, BE -5) – A new cult hero is emerging at Hawthorn with mid-season draftee Brandin Ryan making plenty of waves in a short amount of time. Kicking three goals against the Pies helped Ryan continue to steal headlines, although fantasy coaches aren't too keen on grabbing a slow-burn key forward this late in the campaign.
Cooper Harvey ($280K, DNP, BE 22) – We won't be seeing the son of a gun again in 2023 with Cooper suffering a partial shoulder dislocation that will require surgery.
Ryan Maric ($390K, 52, BE 40) – The lack of reliable downgrade targets in the FWD line means that Ryan Maric owners would probably prefer to hold onto him for another week or two. If you need some extra $$$ for another upgrade though, turn Maric into a $200K guy and go shopping!
Robert Hansen Jr ($200K, 20, BE 42) subbed off – Over the last two rounds, Hansen Jr hasn't had a huge impact and it's very possible it costs him a spot in North's side. We may see the former WAFL product even demoted to the role of sub, but either way he's not the answer.
Mattaes Phillipou ($440K, 43, BE 45) subbed off – He seemed to be turning his form around before their matchup with Carlton and it was a bummer Mattaes didn't get to finish the job and was subbed out prior to three-quarter time.
Alwyn Davey Jr ($266K, 9, BE 51) subbed on – Alwyn Davey Jr isn't the difference maker you're looking for in your fantasy side to close the year…
Arthur Jones ($286K, 10, BE 62) subbed on – The same could be said for Artie Jones, who earned half a recall but didn't make his presence felt in the fourth quarter.
Reserves Watch
Noteworthy 💰🐮 AFL Fantasy numbers from Round 21 state leagues
Ed Allen, COLL (55) – 15 touches, 4 marks
Kaine Baldwin, ESS (121) – 28 disposals, 12 marks
Harry Bernett, WCE (49) – 10 touches, 9 hitouts
Miller Bergman, NTH (68) – 19 disposals
Jack Bytel, STK (135) – 35 disposals, 9 marks, 6 tackles, 1 goal
Aaron Cadman, GWS (85) – 11 touches, 6 marks, 3.3 in front of goal
Blake Drury, NTH (44) – 11 touches, 4 marks
Tom Emmett, FRE (90) – 12 disposals, 10 tackles, 2.2 in front of goal
Josh Fahey, GWS (93) – 26 touches, 6 marks, 1 goal
Cam Fleeton, GWS (96) – 23 disposals, 6 marks, 4 tackles
Will Gould, SYD (110) – 20 disposals, 10 marks, 4 goals
Harvey Harrison, COLL (74) – 12 disposals, 8 tackles, 1 goal
Lachlan McAndrew, SYD (80) – 13 touches, 26 hitouts, 1 goal
Rhett Montgomerie, ESS (94) – 18 touches, 12 marks, 1 goal
Jack Peris, STK (86) – 20 disposals, 2 goals
Cody Raak, WBD (95) – 17 disposals, 9 marks, 2.1 in front of goal
Harley Reid, ESS (93) – 23 disposals, 7 marks, 4 tackles
Liam Reidy, FRE (107) – 13 touches, 7 tackles, 26 hitouts, 2 goals
Matt Roberts, SYD (115) – 35 disposals, 6 tackles
James Trezise, RIC (76) – 17 touches, 5 marks, 4 tackles
Corey Warner, SYD (115) – 34 touches, 7 marks
Remember the Name
In no particular order, here are some of the other rookie-priced players to consider throughout the season.
DEFENDERS
Jake Stein (Suns, $288K)
Rhett Montgomerie (Bombers, $200K)
Jakob Ryan (Magpies, $246K)
Sam Durdin (Blues, $213K)
Darragh Joyce (Lions, $241K)

MIDFIELDERS
Connor Blakely (Suns, $235K)
Billy Dowling (Crows, $216K)
Ed Allen (Magpies, $264K)
Hugh Bond (Crows, $202K)
Mitch Hardie (Cats, $200K)
Henry Hustwaite (Hawks, $228K)
RUCKMEN
Jacob Edwards (Kangaroos, $200K)
Alex Mirkov (Blues, $200K)
Hamish Free (Kangaroos, $200K)
Max Heath (Saints, $200K)

FORWARDS
Jaxon Binns (Blues, $238K)
Joe Richards (Magpies, $206K)
Finlay Macrae (Magpies, $290K)
Hugh Jackson (Power, $200K)
Patrick Voss (Bombers, $200K)

---
FOLLOW ME ON TWITTER: @SportsbyFry for all things AFL Fantasy (and more)! Feel free to hit me up with any questions you have throughout the season. Good luck! ✌️