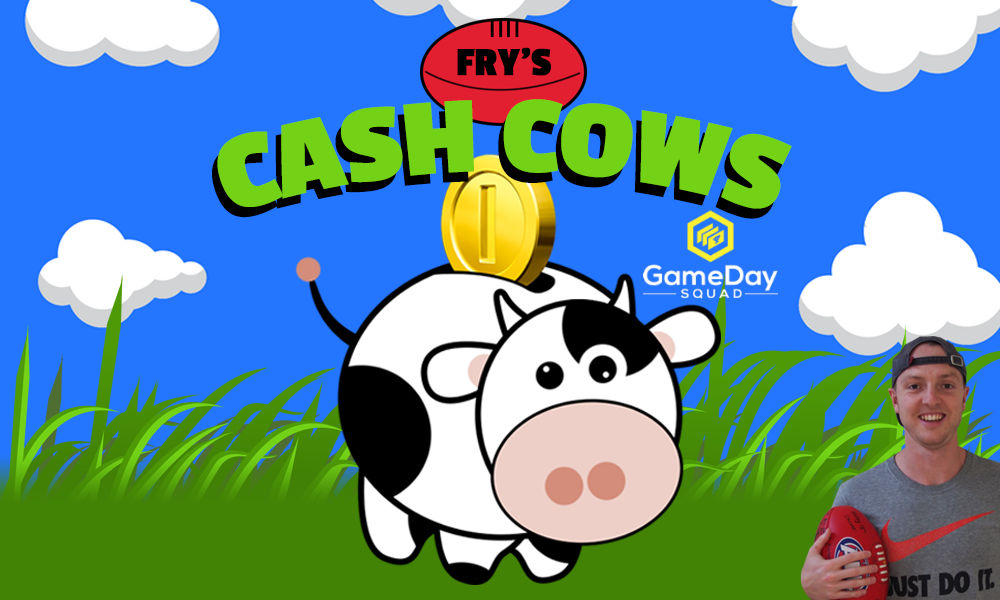 20 down, 4 to go!
Outside of Harry Sheezel, there aren't many rookies who are mentioned in the fantasy discourse right now. Sure, the likes of Elijah Hewett and Sam Banks are appreciated, but the vast majority of coaches are now in the process of making their final few on-field upgrades in an effort to field the best possible team by Round 24. To help generate the funds for those future upgrades, it's still ideal to have a bench full of green dots, but if you have to chase a red dot rook in order to pull the trigger on your preferred upgrade, now is the time to get serious.
Rookie/cash cows are players who start the season priced around $300,000 or less
---
Mooooving On
Part of our weekly trade focus is to remove the rookie-priced players who are no longer making money. When a cash cow sees their average fall in line with their breakeven or they find themselves on the outside looking in for multiple weeks at a time, that's a good time to give them the axe.
Fattened cash cows
Seamus Mitchell, Hawks ($549K, AVG 66, BE 106)
Campbell Chesser, Eagles ($381K, AVG 43, BE 51)
Ryan Maric, Eagles ($379K, AVG 49, BE 38)
Jaspa Fletcher, Lions ($449K, 57 AVG, BE 51)
Darcy Wilmot, Lions ($595K, AVG 60, BE 64)
Injured/non-playing rookies
Will Ashcroft, Lions ($722K, AVG 83, BE 96)
Matthew Johnson, Dockers ($520K, AVG 54, BE 95)
Angus Sheldrick, Swans ($516K, AVG 62, BE 32)
George Wardlaw, Kangaroos ($492K, AVG 63, BE 68)
Cooper Harvey, Kangaroos ($280K, AVG 45, BE 22)
Cash Cow King – Round 20
The rapid scoring we've recently seen from Corey Wagner would've been convenient about three months earlier, as there aren't many coaches benefiting from the points the Dockers defender is producing. Wags recorded a season-best 104 on the weekend, narrowly beating out Harry Sheezel as the top-scoring cash cow in Round 20. Aside from that duo, Darcy Wilmot stood out as his run of impressive performances continues. Figuring out the other two nominees was somewhat of a conundrum with Tylar Young, Francis Evans and Elijah Hewett all finishing within two points of each other. Even though Frankie Evans jagged 4 goals in Port's Showdown loss, I'm siding with Hewett and Young thanks to their greater ownership percentage and the superior roles they have played for coaches in season 2023.
Loading ...
Round 20 Power Rankings
After 20 weeks of action, these are the top 10 cash cow performers in season 2023!
Making Moves
Money makers
At this juncture of the fantasy season, coaches would rather see potential debutants stay in the reserves to ensure they have a cheap price tag in 2024. There aren't too many appealing basement-priced rooks filtering through, but another portion of coaches are expected to invest in Dante Visentini ($205K, 55, BE 10) should he maintain his spot in Port Adelaide's side. Totalling 24 hitouts in the Showdown may see the raw ruckman get another chance and the anxiety around Rowan Marshall's availability saw some jump on the Visentini bandwagon prior to last round. If he's picked to play against the Cats, then Visentini becomes a perfect R3 target.
Maintaining a negative breakeven may even see some pull the trigger on Luke Nankervis ($275K, 59, BE -8) or Sam Banks ($323K, 69, BE -6) as the pair continue to establish themselves as the preferred discounted options. Banks has performed well for the Tigers since he cracked the rotation a month ago, averaging 54.5 points and consistently rising in value. The same can be said for Nankervis who hasn't looked out of place in his first two AFL games with respectable scores of 67 and 59. If you're downgrading a Johnson/Sheldrick type from your bench, then there's nothing wrong with grabbing Banks or Nankervis to pocket some handy change. Even if it nets you a small purse by trading for either of these cash cows, it's still not too late with the hopes they could provide us with a perfect cash injection ahead of Round 23 or 24.
Keep the faith
I fully expected Elijah Hewett ($405K, 73, BE 23) to claim the Rising Star nomination last weekend, following 21 impressive touches and a goal against North Melbourne. The promising Eagle showed flashes of brilliance on Sunday, en route to the best fantasy score of his young career that inflated his average over the last five contests to 60 points. We should expect more scores above that mark if Hewett continues to feature in the midfield for West Coast and his crosstown rival Corey Wagner ($492K, 104, BE 7) should maintain a similarly strong scoring rate. With Hayden Young stepping into the CBA rotation, Wags thrived in Freo's back-6 by hauling in 8 marks and gathering 23 disposals.
I assume that most of the 4.5% of coaches who own Wagner aren't still actively trading and his tricky price point makes it hard to justify a move for the mature-ager this late into the fantasy season. Even though we've reached the final month of games, there are a handful of teams that still have cash cow mainstays Darcy Wilmot ($595K, 75, BE 64) and Will Phillips ($561K, 57, BE 62) following their strong form in the back half of the campaign. Surely this duo aren't in our on-field rotation and the optimal move is to send them packing and go shopping. Oh also, in case you're unaware, Harry Sheezel ($794K, 98, BE 83) is still really good.
GameDay Squad – Create. Coach. Compete.
Cut them loose
There are still over 4,000 coaches who are trading Matthew Johnson, Will Ashcroft or Angus Sheldrick out this week and those three are still a trade priority if you own any of them. After that trio, comes a bunch of bench fodders who have slowly been rising in price and are now ready to be culled. West Coast youngsters Ryan Maric ($379K, 42, BE 38) and Campbell Chesser ($381K, 31, BE 51) are at the top of the pile as they approach the $400K mark and you could wait another week or two before axing them if you have other pressing trade matters. Cashing them in before too long is the wise move though, with Lions rookie Jaspa Fletcher ($449K, 39, BE 51) another cash cow who has seen his cash generation stall. Seeing Fletcher subbed out of the loss to Gold Coast is a concern and I don't blame you for giving him the flick to a player like Nankervis to pocket over $170K.
Thin Ice
It's harsh to declare a bloke making his AFL debut is on 'thin ice' although I don't think there will be too many taking the punt on  James Borelase ($200K, DNP, BE 25). The Adelaide tall comes into the lineup to help cover the recent injuries to Jordan Butts and Nick Murray, but a SANFL scoring average of 65.3 points isn't enticing enough to invest in Borlase. Hawthorn's mid-season recruit Brandon Ryan ($222K, 55, BE 4) finds himself in a similar position after making his debut vs. St Kilda last week, with no guarantees he's picked again on Thursday night. You would think that FWD duo Taj Woewodin ($267K, 35, BE 20) and Kai Lohmann ($254K, 63, BE 22) will be safe and if so, they should continue to rise in value albeit at a slow rate. It's taken another cheap RUC/FWD in Jack Williams ($290K, 62, BE 11) a while to show signs of fantasy competency and I do wonder if his effort against the Roos was a flash in the pan rather than a sign of things to come.
Sub status
Subbed On – Ethan Stanley, Matthew Coulthard, Joel Smith
Subbed Off – Jaspa Fletcher, Alwyn Davey Jr, Seamus Mitchell
Any coaches who have clung on to Jaspa Fletcher or Seamus Mitchell would've been disappointed to see them cop the vest last round, with a few familiar faces amongst the other 'vest wearers'. Fremantle and Richmond continued to deploy their mid-season draftees via the vest, ruining their potential cash generation as Ethan Stanley and Matthew Coulthard combined to score 30 points.
Reserves Watch
Noteworthy 💰🐮 AFL Fantasy numbers from Round 20 state leagues
Kaine Baldwin, ESS (96) – 21 disposals, 8 marks
Connor Blakley, GCS (48) – 13 touches, 1 goal
Jaxon Binns, CAR (143) – 32 touches, 11 marks, 7 tackles
Jack Buller, SYD (98) – 15 disposals, 7 marks, 4.1 in front of goal
Lachie Cowan, CAR (97) – 28 disposals, 7 marks
Oliver Dempsey, GEEL (156) – 29 touches, 13 marks, 5.3 in front of goal
Billy Downling, ADE (71) – 21 touches, 3 marks, 3 tackles
Will Gould, SYD (86) – 13 disposals, 7 marks, 3.1 in front of goal
Cooper Harvey, NTH (59) – 9 touches, 6 marks, 1.3 in front of goal
Max Heath, STK (75) – 16 touches, 14 hitouts, 4 tackles
Olli Hotton, STK (79) – 18 disposals, 5 marks, 4 tackles
Will Kelly, COLL (110) – 22 touches, 9 marks, 3.1 in front of goal
Mitch Knevitt, GEEL (153) – 28 disposals, 11 marks, 7 tackles, 2 goals
Bailey Laurie, MELB (103) – 22 touches, 10 tackles, 1 goal
Bailey Macdonald, HAW (74) – 18 disposals, 9 marks
Lachlan McAndrew, SYD (86) – 16 touches, 22 hitouts
Rhett Montgomerie, ESS (79) – 16 touches, 6 marks, 5 tackles
Ned Moyle, GCS (73) – 7 disposals, 32 hitouts, 5 marks
Jack Peris, STK (75) – 17 touches, 5 marks, 1 goal
Matt Roberts, SYD (94) – 33 touches
Deven Robertson, BRIS (126) – 34 disposals, 8 marks, 1 goal
Jakob Ryan, COLL (73) – 18 disposals, 6 marks
Josh Sinn, PA (92) – 19 touches, 5 marks, 7 tackles
Jeremy Sharp, GCS (66) – 17 disposals, 7 marks
Elijah Tsatas, ESS (93) – 22 touches, 5 marks, 5 tackles
James Tsitas, GCS (115) – 28 disposals, 9 marks, 1 goal
Corey Warner, SYD (129) – 32 disposals, 4 marks, 10 tackles
Remember the Name
In no particular order, here are some of the other rookie-priced players to consider throughout the season.
DEFENDERS
Jake Stein (Suns, $288K)
Rhett Montgomerie (Bombers, $200K)
Jakob Ryan (Magpies, $246K)
Sam Durdin (Blues, $213K)
Darragh Joyce (Lions, $241K)

MIDFIELDERS
Connor Blakely (Suns, $235K)
Billy Dowling (Crows, $216K)
Elijah Tsatas (Bombers, $292K)
Ed Allen (Magpies, $264K)
Hugh Bond (Crows, $202K)
Mitch Hardie (Cats, $200K)
Henry Hustwaite (Hawks, $228K)
RUCKMEN
Jacob Edwards (Kangaroos, $200K)
Alex Mirkov (Blues, $200K)
Hamish Free (Kangaroos, $200K)
Max Heath (Saints, $200K)

FORWARDS
Jaxon Binns (Blues, $238K)
Joe Richards (Magpies, $206K)
Finlay Macrae (Magpies, $290K)
Hugh Jackson (Power, $200K)
Patrick Voss (Bombers, $200K)

---
FOLLOW ME ON TWITTER: @SportsbyFry for all things AFL Fantasy (and more)! Feel free to hit me up with any questions you have throughout the season. Good luck! ✌️