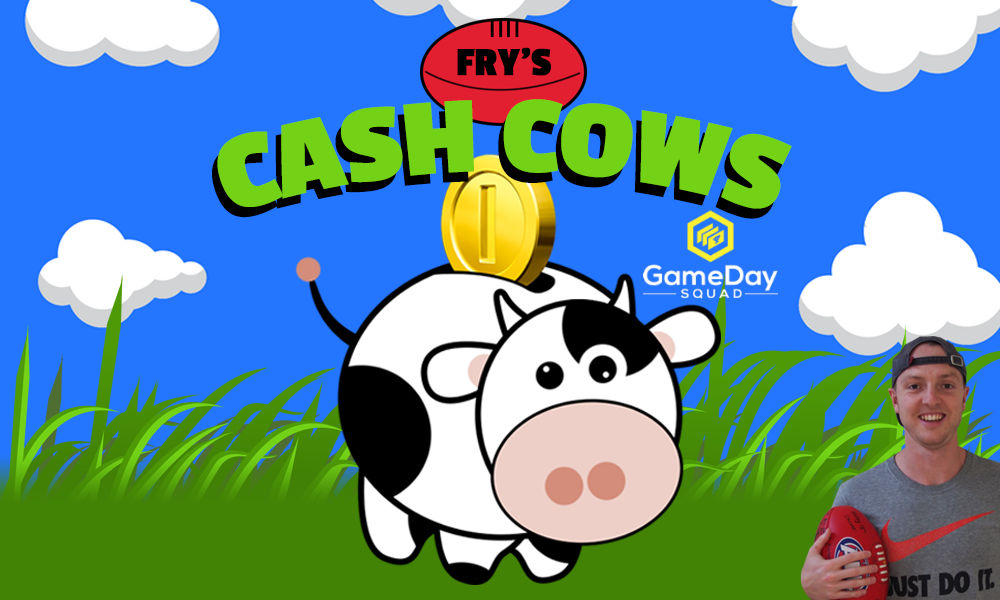 19 down, 5 to go!
Is it just me, or are coaches hardly discussing the upcoming fantasy finals? Sure, there are bound to be some of your mates firing up in the group chat over their potential minor premiership, but with just one week remaining before a lot of traditional finals series commence there seems to be a calm before the storm. 19 rounds of the fantasy season are in the books, meaning there are only 10 trades left for coaches to offload their fattened rookies and maximise the points on your ground. Regardless of if you're chasing the car, a hat or just bragging rights, be sure to cash in those inflated cash cows in an effort to squeeze every possible point you can onto your field.
Rookie/cash cows are players who start the season priced around $300,000 or less
---
Mooooving On
Part of our weekly trade focus is to remove the rookie-priced players who are no longer making money. When a cash cow sees their average fall in line with their breakeven or they find themselves on the outside looking in for multiple weeks at a time, that's a good time to give them the axe.
Fattened cash cows
Will Ashcroft, Lions ($722K, AVG 83, BE 96)
Matthew Johnson, Dockers ($520K, AVG 54, BE 95)
Bailey Humphrey, Suns ($430K, AVG 52, BE 88)
Seamus Mitchell, Hawks ($589K, AVG 69, BE 81)
Darcy Wilmot, Lions ($560K, AVG 58, BE 63)
Injured/non-playing rookies
Reuben Ginbey, Eagles ($445K, 58, BE 95)
Angus Sheldrick, Swans ($516K, AVG 62, BE 32)
George Wardlaw, Kangaroos ($492K, AVG, 32, BE 67)
Harvey Harrison, Magpies ($291K, AVG 39, BE 42)
Harry Sharp, Lions ($332K, AVG 59, BE 5)
Cash Cow King – Round 19
For the 11th time this season, Harry Sheezel finished the round as the top-scoring cash cow posting yet another triple-figure score this time against the Saints. Sheez now sits 20 votes clear of the field, but Will Phillips is making a late push for a spot on the podium after he recorded another strong score that may attract votes. He wasn't the only rookie enjoying a season-best score with Darcy Wilmot helping himself to 90 points, while Kade Chandler and Anthony Caminiti rounded out this week's nominees.
Loading ...
Round 19 Power Rankings
After 19 weeks of action, these are the top 10 cash cow performers in season 2023!
Making Moves
Money makers
Most of the usual suspects find themselves trending in the right direction and making cash for coaches, but a new face bobbed up last week thanks to a late change for the Crows. Adelaide handed a debut to 2021 draftee Luke Nankervis ($230K, 67, BE -4) who has been producing a fantasy average of 77 during his SANFL appearances this season. Making his way into the team via a late change doesn't instil me with a great deal of confidence, although Nank is currently the most traded in player this week and if Adelaide picks him again, the number of coaches pouncing on him will only increase.
If Nankervis isn't selected on Thursday and you need another cheap target, then Sam Banks ($270K, 74, BE -6) ticks all the boxes. Thanks to his 18 disposals against Hawthorn, Banks joins Nankervis as the only current players who own a negative breakeven. His handy DEF/MID status means the young Tiger can assist you across multiple lines and Banks still has some handy coin to make before the year concludes. Popular West Coast trio Elijah Hewett ($368K, 60, BE 22), Ryan Maric ($363K, 57, BE 21) and Campbell Chesser ($380K, 56, BE 31) could be dumped if you need an influx of cash, but they are worth keeping around while their value is moving in the right direction – providing they keep scoring around the 55-60 mark.
Keep the faith
You know that you can keep the faith with Harry Sheezel ($777K, 116, BE 78), but we aren't as convinced in his teammates. Will Phillips ($556K, 94, BE 52) has had plenty of quiet games this year, however he did manage to produce his best score of 2023 thanks in large part to a career-high 11 tackles. Phillips has now scored 90 or more in three contests this season and even though he isn't still hanging around for most coaches, the budding Roo still deserves recognition for the numbers he's producing. There weren't many numbers being produced by North's third-gamer Cooper Harvey ($280K, 23, BE 22) over the weekend, which could lead to him being sent back to VFL level. If that happens there's no reason to panic, but we need Harvey in the lineup to ensure he keeps rising in price.
There was devastating news for one Brisbane rookie, although a pair of Lion's rooks continued to do their thing for a large portion of coaches. Anyone who still owns Darcy Wilmot ($580K, 90, BE 57) wasn't expecting much more than a few 50-60's before he was inevitably sent packing, but a 90-point performance in Round 19 means that he'll once again increase in price 10th consecutive week. Wilmot's younger teammate Jaspa Fletcher ($440K, 76, BE 61) also maintained his string of decent performances by doing his bit in Brisbane's win, while St Kilda tall Anthony Caminiti ($434K, 76, BE 31) filled up the box score to please his owners. Residing in even fewer teams, Corey Wagner ($427K, 70, BE 14) missed his chance to become a mainstream fantasy name this season, but he still needs a shoutout for his decent score vs. Sydney.
GameDay Squad – Create. Coach. Compete.
Cut them loose
It's a huge bummer that Will Ashcroft ($722K, 63, BE 96) has done his ACL this late into his rookie campaign with the Brisbane gun now set for a long stint on the sidelines. He obviously needs to be a trade priority, along with Matthew Johnson ($520K, 22, BE 95) who continues to have his scores nullified by the vest. Johnson has done his job for coaches and in a perfect scenario, you can cull both cash cows and land a massive on-field upgrade.
Hawthorn's Seamus Mitchell ($589K, 59, BE 81) and Josh Weddle ($516K, 53, BE 72) should have reached the end of their tenure by now and their efforts on the weekend don't change their outlook. Some coaches may still be offloading injured bench pieces, but if any of these popular rooks are still on your field be sure to rectify that. One last time, I need to mention lacklustre pair Dylan Williams ($523K, 11, BE 105) and Bailey Humphrey ($430K, 11, BE 88) who almost every coach has traded away since they started to dip production. Following a pair of 11s, it's clear they aren't going to turn things around this late in the year. Axe them ASAP!
Thin Ice
While there are still good cash cow performers trying to assist coaches throughout the final stretch, a number of duds continue to weigh down the bench for a lot of teams. You can't be too disappointed in crafty Eagle Noah Long ($378K, 47, BE 42), who has done well enough to get his price close to the $400K mark after a disjointed start to his season. There wouldn't be many coaches who are angry at Taj Woewodin ($251K, 38, BE 13) either, as the inexperienced Dee tries to find his feet in an AFL side challenging for the flag.
The same patience isn't being demonstrated for the likes of Jack Bytel ($273K, 43, BE 52) and Alex Cincotta ($346K, 60, BE 38) with the duo thoroughly frustrating anyone who still finds themselves stuck with either of the underperformers. Equally as frustrating has been the backflip in production we've seen from a young Giant who coaches likely cast away a few weeks ago. A healthy number of the fantasy faithful moved on from Ryan Angwin ($298K, 46, BE 12) after his crappy scores/role only to now watch the GWS youngster piece it all together. Having failed to hit the 60-point threshold for most of the season, Angwin has now done so in back-to-back games. Annoying…
Sub status
Subbed On – Matthew Coulthard, Kai Lohmann, Oisin Mullin, Ethan Stanley, Dylan Williams, Josh Fahey, Joel Smith
Subbed Off – Tylar Young, Denver Grainger-Barras, Matthew Johnson
A myriad of cash cows were forced to start Round 19 in the vest and as history would suggest, that means their fantasy scores from the weekend aren't worth discussing. Of the seven rooks who were listed as the 23rd man, debutant and mid-season draftee Matthew Coulthard showed the most signs of life by scoring a 30 in his 30% of game time.
Reserves Watch
Here are the state league stats from Round 19 for all the relevant fantasy cash cows:
Ed Allen, COLL (79) – 25 touches, 4 tackles
Harry Barnett, WCE (56) – 8 touches, 24 hitouts
Jaxon Binns, CAR (125) – 34 disposals, 7 marks, 1.2 in front of goal
Judson Clarke, RICH (96) – 19 disposals, 8 marks, 1 goal
Alwyn Davey Jr (75) – 14 disposals, 8 tackles
Oliver Dempsey, GEE (85) – 22 touches, 5 marks, 1 goal
Billy Dowling, ADE (76) – 19 touches, 7 tackles
Cam Fleeton, GWS (67) – 22 disposals
Harvey Harrison, COLL (68) – 18 touches, 6 marks
Olli Hotton, STK (93) – 28 touches, 3 marks, 4 tackles
Hugh Jackson, PORT (57) – 17 touches, 4 tackles
Mitch Knevitt, GEE (95) – 28 disposals, 5 marks
Cam Mackenzie, HAW (102) – 27 touches, 3 marks, 7 tackles
Finlay Macrae, COLL (103) – 26 disposals, 6 tackles, 1 goal
Rhett Montgomerie, ESS (72) – 18 touches, 8 marks
Ned Moyle, GCS (81) – 12 touches, 20 hitouts, 1.3 in front of goal
Deven Robertson, BRIS (96) – 25 disposals, 4 marks, 4 tackles
Harry Sharp, BRIS (83) – 21 touches, 6 marks
Jeremy Sharp, GC (112) – 27 touches, 11 marks 1 goal
Zane Trew, WCE (112) – 32 disposals, 4 tackles, 1 goal
Elijah Tsatas, ESS (93) – 23 disposals, 3 marks, 7 tackles
Patrick Voss, ESS (76) – 14 touches, 3 marks, 5 tackles, 2.2 in front of goal
Remember the Name
In no particular order, here are some of the other rookie-priced players to consider throughout the season.
DEFENDERS
Jake Stein (Suns, $288K)
Rhett Montgomerie (Bombers, $200K)
Jakob Ryan (Magpies, $246K)
Sam Durdin (Blues, $213K)
Darragh Joyce (Lions, $241K)

MIDFIELDERS
Connor Blakely (Suns, $235K)
Billy Dowling (Crows, $216K)
Elijah Tsatas (Bombers, $292K)
Ed Allen (Magpies, $264K)
Hugh Bond (Crows, $202K)
Mitch Hardie (Cats, $200K)
Henry Hustwaite (Hawks, $228K)
RUCKMEN
Jacob Edwards (Kangaroos, $200K)
Alex Mirkov (Blues, $200K)
Hamish Free (Kangaroos, $200K)
Max Heath (Saints, $200K)

FORWARDS
Jaxon Binns (Blues, $238K)
Joe Richards (Magpies, $206K)
Finlay Macrae (Magpies, $290K)
Hugh Jackson (Power, $200K)
James Willis (Cats, $200K)
Jaiden Hunter (Bombers, $200K)
Patrick Voss (Bombers, $200K)

---
FOLLOW ME ON TWITTER: @SportsbyFry for all things AFL Fantasy (and more)! Feel free to hit me up with any questions you have throughout the season. Good luck! ✌️