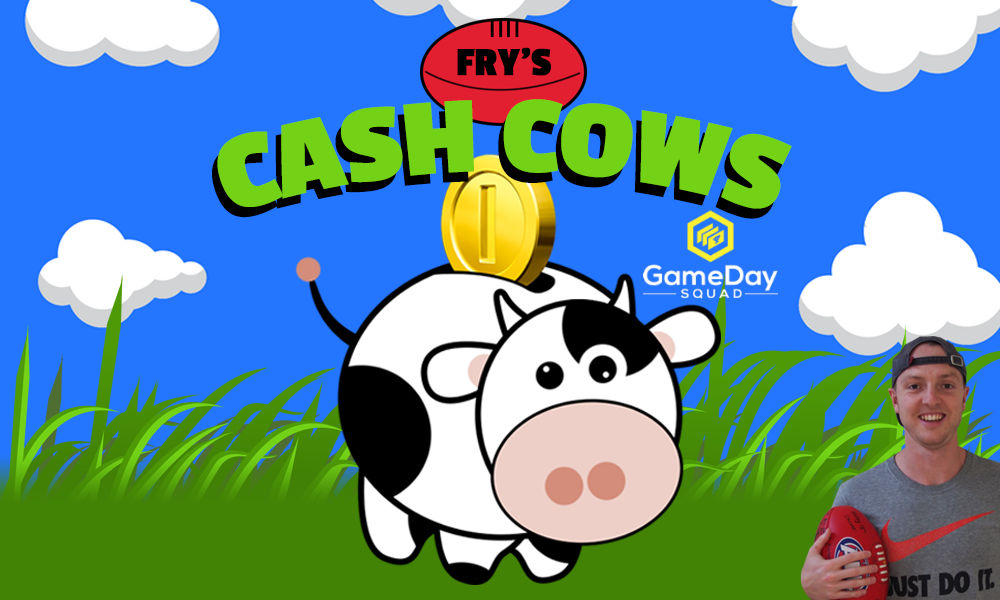 18 down, 6 to go!
Over the past few rounds, I've tried to streamline the rookie piece so you don't spend unnecessary time reading (you're welcome) about rookies who likely aren't contributing to your weekly score. However, Round 18 threw us plenty of curveballs which led to some coaches relying on their bench reserves to field a full 22-man outfit, with some forced to take a 0 as fantasy mainstays dropped like flies. There is only a quarter of the season left and acquiring the best possible players should still be the goal, but don't completely neglect your bench. You never know when you're going to need an extra green dot.
Rookie/cash cows are players who start priced around $300,000 or less
---
Mooooving On
Part of our weekly trade focus is to remove the rookie-priced players who are no longer making money. When a cash cow sees their average fall in line with their breakeven or they find themselves on the outside looking in for multiple weeks at a time, that's a good time to give them the axe.
Fattened cash cows
George Wardlaw, Kangaroos ($492K, AVG, 32, BE 67)
Matthew Johnson, Dockers ($547K, AVG 56, BE 63)
Darcy Wilmot, Lions ($560K, AVG 58, BE 63)
Seamus Mitchell, Hawks ($598K, AVG 70, BE 74)
Will Ashcroft, Lions ($728K, AVG 84, BE 74)
Injured/non-playing rookies
Blake Drury, Kangaroos ($234K, AVG 31, BE 31)
Harvey Harrison, Magpies ($291K, AVG 39, BE 42)
Angus Sheldrick, Swans ($516K, AVG 62, BE 32)
Kade Chandler, Demons ($479K, AVG 61, BE 74)
Harry Sharp, Lions ($332K, AVG 59, BE 5)
Cash Cow King – Round 18
The runaway favourite for the CCK award found his mojo over the weekend with yet another triple-figure score. Harry Sheezel will attract the bulk of the voting attention as he put a clear gap between him and the rest of his peers by scoring 30+ points in three of his four quarters last round. The ever-popular Will Ashcroft and forgotten Docker Corey Wagner were the only other duo who managed impressive scores, while loyal servants Jaspa Fletcher and Matthew Johnson earned a nomination for their efforts.
Loading ...
Round 18 Power Rankings
After 18 weeks of action, these are the top 10 cash cow performers in season 2023!
Making Moves
Money makers
North Melbourne's Cooper Harvey ($263K, 48, BE 0) was the most popular trade target prior to last weekend's games, impressing enough on debut to earn another crack vs. Hawthorn. There's no reason to suggest the Roos won't keep playing Harvey to finish the season and you can expect him to maintain his average while he's in the AFL side. If you didn't invest in Harvey, chances are Jack Peris ($223K, 57, BE 3) was the rookie you coveted with the St Kilda MID/FWD finally earning his promotion to the top side. Averaging 65 in the VFL through his 12 games this year, Peris may be a handy cash cow in the final quarter of the fantasy season and 6,000+ coaches have already opted to pounce on the young Saint.
It's tough to forecast whether he makes the cut on Thursday as St Kilda looks to steady their slide down the ladder, although with Jack Billings and Jack Higgins nearing full fitness, I've got a bad feeling Peris may be forced to don the vest. Another recent debutant who is doing his best to serve a role down the stretch is Sam Banks ($226K, 36, BE 13) from Richmond, producing a pair of subpar 30's in his two matches. He too could become a victim of the axe later this week, although if Andrew McQualter keeps giving him games then Banks may be another one to consider. Corey Wagner ($379K, 81, BE 4) is generating some buzz as a potential play after his strong score against the Pies, having paid his dues in the WAFL for nearly 3 months. Wags could access points in a hurry once again if Hayden Young fails to get up for Freo's next game, although I'd be hesitant to spend that much for a bench player this late in the season.
Keep the faith
The clock is ticking for West Coast cash cows Elijah Hewett ($336K, 40, BE 16) and Ryan Maric ($335K, 55, BE 18) as they approach peak value. Hewett's 40 against the Tigers was his lowest score in the last month and unless you're desperate for cash, you don't need to offload him just yet. We expect to see the budding Eagle feature in the final six games for his club and hopefully he can pop off for a game or two, then help to facilitate some of your last trades. As I've said for weeks I'm not confident about Maric although I have to admit, he's doing his job as a slow-burn rookie. West Coast's mid-season recruit isn't the worst F7/F8 to keep as bench cover while he continues to tick upwards in price.
Brisbane's father-son talent Jaspa Fletcher ($408K, 65, BE 32) comes with more optimism than the aforementioned WA duo and more performances like his one against the Demons may see Fletch maintain his place in the side throughout the finals. Over 8.5% of coaches are Fletcher owners and if he could add another $80K-$100K to his current price before he's given the flick, that'd be an ideal scenario. While the Lions' talent will eventually be culled from your team, it's fair to declare Harry Sheezel ($755K, 112, BE 88) as a keeper if you've held onto him for this long. There are only 23 players in the game that have scored more points this season than the versatile Roo and with a juicy run of upcoming fixtures, Sheezel could finish 2023 even higher on the total points list.
GameDay Squad – Create. Coach. Compete.
Cut them loose
Addressing the injury issues first, a fair segment of the fantasy community already traded away Angus Sheldrick ($516K, DNP, BE 32) with Sydney declaring yesterday his season is over after undergoing ankle surgery. If you missed the chance to cash out, then Sheldrick can clearly go in order to pull the trigger on another upgrade. You'd expect George Wardlaw ($492K, 32, BE 67) and Reuben Ginbey ($445K, 15, BE 95) to miss some time as well following a pair of hamstring injuries and both first-year players should've been ditched from your team by now anyway.
There are still a lot of squads that have Will Ashcroft ($728K, 82, BE 74) clogging up a midfield spot, although it's fair to assume that he's already been traded by the coaches who are still playing every week. Now that we're gearing up for the fantasy finals, it's important to axe Ashcroft and get a star midfielder in his place, with Matthew Johnson ($547K, 68, BE 63) another cash cow who is a priority to upgrade. Producing the first dud score since his bye round will see Darcy Wilmot ($560K, 53, BE 63) offloaded by the coaches who still own the Brisbane backman now that he has plateaued in value.
Thin Ice
Campbell Chesser ($362K, 37, BE 32) could find himself moved on this round as he struggled to get going against the Tigers. The second-year Eagle had produced consecutive 60's heading into Round 18 and if he finishes under 40 again over the next few weeks, you can expect the majority of his owners to send him packing. There wouldn't be as many coaches holding Ryan Angwin ($274K, 64, BE 32) anymore, but the few who haven't been able to rid themselves of the Giants youngster were pleasantly surprised last round.
Shrugging the sub vest helped Angwin churn out a season-high score and he may be able to finish with a flurry over the last half a dozen matches. The likes of Taj Woewodin ($230K, 44, BE 9) and Corey Warner ($200K, 28, BE 42) are attracting some attention at the trade table and I can see some of the appeal. Both are discounted, young players who could feature a few more times before the home and away season concludes, although there are much safer cash cows that you can find for a similar price. Unless your bench is loaded and you need to cull a maxed-out rook, I'd advise against making a move for Woewodin and Warner.
Sub status
Subbed On – Joel Smith, Oisin Mullin, Josh Fahey
Subbed Off – James O'Donnell, Mattaes Phillipou, Aaron Cadman, George Wardlaw, Fergus Greene, Reuben Ginbey
A lot of familiar faces found themselves in a vest over the weekend with cash cow favourites like Ginbey, Phillipou and Wardlaw all seeing their day end early. Once again, Josh Fahey started a GWS game on the bench and tried his best to make an impact in limited time. He managed to chalk up a respectable 29 points in his 15% of game time and should finally start to increase in value after a testing fantasy season so far.
Reserves Watch
I'll be surprised if we don't see Elijah Tsatas make his AFL debut this week with the Essendon prodigy turning heads with his BOG performance against the Cats' VFL team. At this point, I'd rather see the Bombers keep playing Tsatas in the reserves to ensure he's basement priced in 2024, although he's a virtual lock to get a crack at the top level before the season is over. Keep an eye on Western Bulldogs rookie Harvey Gallagher as well, with the 2022 draftee putting forth his best game of the season over the weekend. He'll need to string some consistent performances together before he gets a mention at team selection, but there's the potential for Gallagher to play some games late.
Here are the state league stats from Round 18 for all the relevant fantasy cash cows:
Harry Barnett, WCE (79) – 13 disposals, 6 marks, 23 hitouts
Jack Buller, SYD (113) – 23 disposals, 9 marks, 1 goal
Alwyn Davey Jr, ESS (60) – 13 disposals, 5 tackles, 1 goal
Ollie Dempsey, GEE (77) – 23 disposals
Billy Dowling, ADE (103) – 24 disposals, 12 tackles, 1 goal
Josh Fahey, GWS (81) – 22 disposals, 4 marks
Cameron Fleeton, GWS (118) – 25 disposals, 13 marks
Harvey Gallagher, WBD (108) – 29 disposals, 5 marks, 2 goals
Will Gould, SYD (57) – 12 disposals, 2 goals
Mitchell Hardie, GEE (90) – 21 disposals, 7 marks, 5 tackles
Hugh Jackson, PA (126) – 26 disposals, 7 tackles, 3 goals
Arthur Jones, WBD (59) – 9 disposals, 2.3 in front of goal
Mitch Knevitt, GEE (75) – 15 disposals, 5 marks, 4 tackles, 1 goal
Bailey Macdonald, HAW (68) – 22 disposals
Lachlan McAndrew, SYD (33) – 7 disposals, 7 hitouts, 1 goal
Rhett Montgomerie, ESS (113) – 25 disposals, 14 marks
Will Phillips, NTH (84) – 24 disposals, 5 tackles
Matt Roberts, SYD (101) – 29 disposals, 7 tackles
Harry Rowston, GWS (92) – 22 disposals, 5 marks, 6 tackles
Jai Serong, HAW (93) – 22 disposals, 8 marks
James Trezise, RICH (91) – 24 disposals, 7 marks
Elijah Tsatas, ESS (104) – 31 disposals, 6 marks
Dante Visentini, PA (84) – 7 disposals, 7 tackles, 30 hitouts
Remember the Name
In no particular order, here are some of the other rookie-priced players to consider throughout the season.
DEFENDERS
Jake Stein (Suns, $288K)
Rhett Montgomerie (Bombers, $200K)
Jakob Ryan (Magpies, $246K)
Sam Durdin (Blues, $213K)
Darragh Joyce (Lions, $241K)

MIDFIELDERS
Connor Blakely (Suns, $235K)
Billy Dowling (Crows, $216K)
Elijah Tsatas (Bombers, $292K)
Ed Allen (Magpies, $264K)
Hugh Bond (Crows, $202K)
Mitch Hardie (Cats, $200K)
Henry Hustwaite (Hawks, $228K)
RUCKMEN
Jacob Edwards (Kangaroos, $200K)
Alex Mirkov (Blues, $200K)
Hamish Free (Kangaroos, $200K)
Max Heath (Saints, $200K)

FORWARDS
Jaxon Binns (Blues, $238K)
Joe Richards (Magpies, $206K)
Finlay Macrae (Magpies, $290K)
Hugh Jackson (Power, $200K)
James Willis (Cats, $200K)
Jaiden Hunter (Bombers, $200K)
Patrick Voss (Bombers, $200K)

---
FOLLOW ME ON TWITTER: @SportsbyFry for all things AFL Fantasy (and more)! Feel free to hit me up with any questions you have throughout the season. Good luck! ✌️