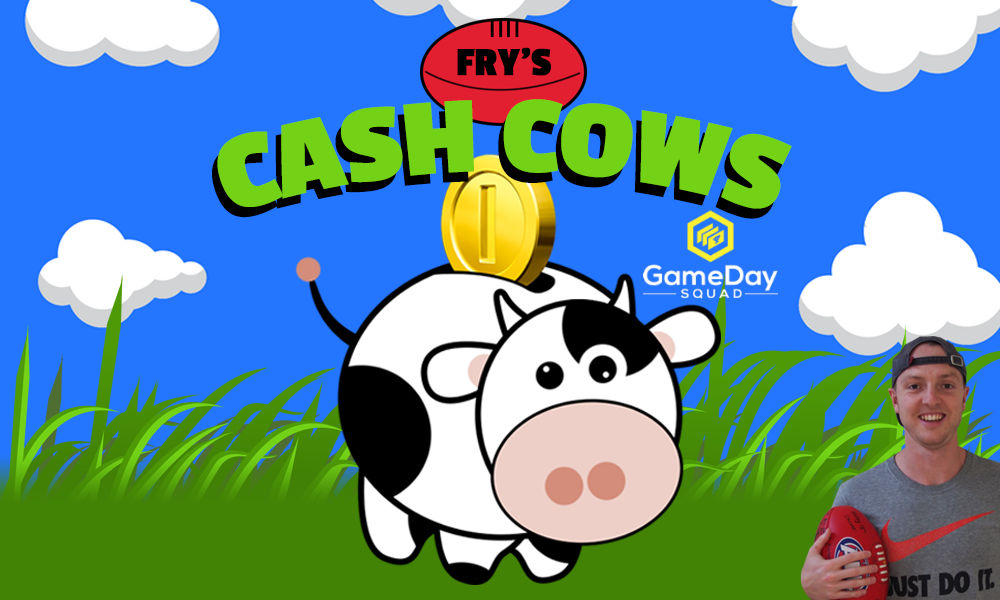 22 down, 2 to go!
We've made it to the penultimate round of the 2023 fantasy season, and if you're still reading these articles I appreciate you hanging in there. Much like a portion of the competition who have had things work against them this season, I'm ready for a break from the weekly anxiety fantasy coaches endure. Before we wrap things up though, it's important to narrow down the nominees for the major cash cow awards (dropping next week) and highlight the rookie success stories of 2023.
Rookie/cash cows are players who start the season priced around $300,000 or less
---
Mooooving On
Part of our weekly trade focus is to remove the rookie-priced players who are no longer making money. When a cash cow sees their average fall in line with their breakeven or they find themselves on the outside looking in for multiple weeks at a time, that's a good time to give them the axe.
Fattened cash cows
Campbell Chesser, Eagles ($370K, AVG 43, BE 48)
Jaspa Fletcher, Lions ($413K, AVG 51, BE 76)
Elijah Hewett, Eagles ($442K, AVG 45, BE 38)
Darcy Wilmot, Lions ($578K, AVG 60, BE 80)
Luke Nankervis, Crows ($368K, AVG 63, BE 11)
Injured/non-playing rookies
Angus Sheldrick, Swans ($516K, AVG 62, BE 32)
Ryan Maric, Eagles ($390K, AVG 49, BE 40)
Cooper Harvey, Kangaroos ($280K, AVG 45, BE 22)
Oisin Mullin, Cats ($248K, AVG 30, BE 54)
Will Ashcroft, Lions ($722K, AVG 83, BE 96)
Cash Cow King – Round 22
We were treated to some eye-popping cash cow numbers last week, led by Dockers MID Matthew Johnson. After sub-affected scores of 12 and 22 in his most recent outings, Jonno went gangbusters against West Coast to record the first 100+ score of his young career. For something different, Harry Sheezel was one of the best ball-winners for North with his EIGHTH game of 110 points or more this season, while his teammate George Wardlaw laid nine tackles for his solid score. Second-game Bomber Elijah Tsatas flourished against the Roos with 23 touches and Corey Wagner rounded out the nominees with his 3rd highest score of the year.
Loading ...
Round 22 Power Rankings
After 22 weeks of fantasy action, here are the current top-10 cash cow performers!
Power Ranking 2023 #AFLFantasy Cash Cows Round 22 💰🐮

1. Harry Sheezel ↔️
2. Corey Wagner ⬆️ 1
3. Elijah Hewett ⬆️ 2
4. Darcy Wilmot ↔️
5. Will Phillips ⬇️ 3
6. Elijah Tsatas (NR)
7. Luke Nankervis ⬆️ 3
8. Mattaes Phillipou ⬆️ 1
9. Matthew Johnson (NR)
10. Josh Weddle (NR) pic.twitter.com/9PYuDGKjsB

— SportsbyFry (@sportsbyfry) August 15, 2023
Round 22 Downgrade Targets
Cash is key at this point of the season and while there's nothing wrong with throwing a bench position away for a $200K player, there are still some rookies who offer assistance over the final fortnight. Here are my favourite targets ahead of Round 22.
James Tsitas ($200K, MID/FWD, Suns)

Karl Worner ($216K, DEF/MID, Dockers)

Josh Fahey ($227K, DEF/MID, Giants)

Hugh Jackson ($200K, MID/FWD, Power)*
* if named
Award Nominees
Successful coaches this season wouldn't have been able to reach great heights without the assistance of reliable cash cows. Below you can have your say on which players should be in the mix for the positional MVP award after their efforts in 2023, and next week I will be back with the final voting ballot for all the rookie/cash cow awards including Game of the Year, the Cash Cow King and more!
Make 2-4 selections (depending on position) for the finalists of each award race.
Voting closes at the conclusion of Round 23
DEFENCE
It's fairly obvious where one of these votes will go, but a variety of defensive rookies deserve mention for their heroics at different points of the season. Darcy Wimot has the 2nd most total points out of all the DEF cash cows, however, coaches likely moved him on before they could benefit from his scores in the back end of the season. West Coast duo Reuben Ginbey and Campbell Chesser were popular picks to start the season and the others amongst the group all played their role for a large number of coaches.
GameDay Squad – Create. Coach. Compete.
Reserves Watch
Noteworthy 💰🐮 AFL Fantasy numbers from Round 22 state leagues
Jaxon Binns, CAR (119) – 26 disposals, 10 marks, 4 tackles
Jack Buller, SYD (54) – 14 touches, 2.1 in front of goal
Aaron Cadman, GWS (155) – 21 disposals, 12 marks, 8.3 in front of goal!!
Billy Dowling, ADE (111) – 20 disposals, 5 marks, 10 tackles, 2 goals
Cameron Fleeton, GWS (79) – 21 touches, 8 marks
Charlie Constable, GCS (133) – 37 disposals, 10 marks
Will Gould, SYD (66) – 10 disposals, 5 marks, 5 tackles, 1 goal
Mitch Hardie, GEE (87) – 26 touches, 5 tackles
Hugh Jackson, PA (106) – 25 disposals, 5 marks, 7 tackles
Jacob Konstanty, SYD (100) – 15 touches, 11 tackles, 1 goal
Mitch Knevitt, GEE (103) – 24 disposals, 5 marks, 5 tackles, 1 goal
Bailey Laurie, MELB (115) – 30 disposals, 4 marks, 6 tackles, 1 goal
Kai Lohmann, BRIS (111) – 16 touches, 6 marks, 6 tackles, 4.2 in front of goal
Cam Mackenzie, HAW (84) – 19 disposals, 6 marks, 6 tackles
Finlay Macrae, COLL (88) – 25 disposals, 7 tackles
Ned Moyle, GCS (106) – 21 touches, 38 hitouts
Oisin Mullin, GEE (51) – 17 touches
Liam Reidy, FRE (124) – 19 touches, 7 marks, 5 tackles, 18 hitouts, 2 goals
Harry Rowston, GWS (87) – 25 disposals, 5 marks, 1.2 in front of goal
Harry Sharp, BRIS (125) – 30 touches, 7 marks, 1 goal
James Trezise, RICH (70) – 16 touches, 6 tackles
Remember the Name
In no particular order, here are some of the other rookie-priced players to consider throughout the season.
DEFENDERS
Jake Stein (Suns, $288K)
Rhett Montgomerie (Bombers, $200K)
Jakob Ryan (Magpies, $246K)
Sam Durdin (Blues, $213K)
Darragh Joyce (Lions, $241K)

MIDFIELDERS
Connor Blakely (Suns, $235K)
Billy Dowling (Crows, $216K)
Ed Allen (Magpies, $264K)
Hugh Bond (Crows, $202K)
Mitch Hardie (Cats, $200K)
Henry Hustwaite (Hawks, $228K)
RUCKMEN
Jacob Edwards (Kangaroos, $200K)
Alex Mirkov (Blues, $200K)
Hamish Free (Kangaroos, $200K)
Max Heath (Saints, $200K)

FORWARDS
Jaxon Binns (Blues, $238K)
Joe Richards (Magpies, $206K)
Finlay Macrae (Magpies, $290K)
Hugh Jackson (Power, $200K)
Patrick Voss (Bombers, $200K)

---
FOLLOW ME ON TWITTER: @SportsbyFry for all things AFL Fantasy (and more)! Feel free to hit me up with any questions you have throughout the season. Good luck! ✌️