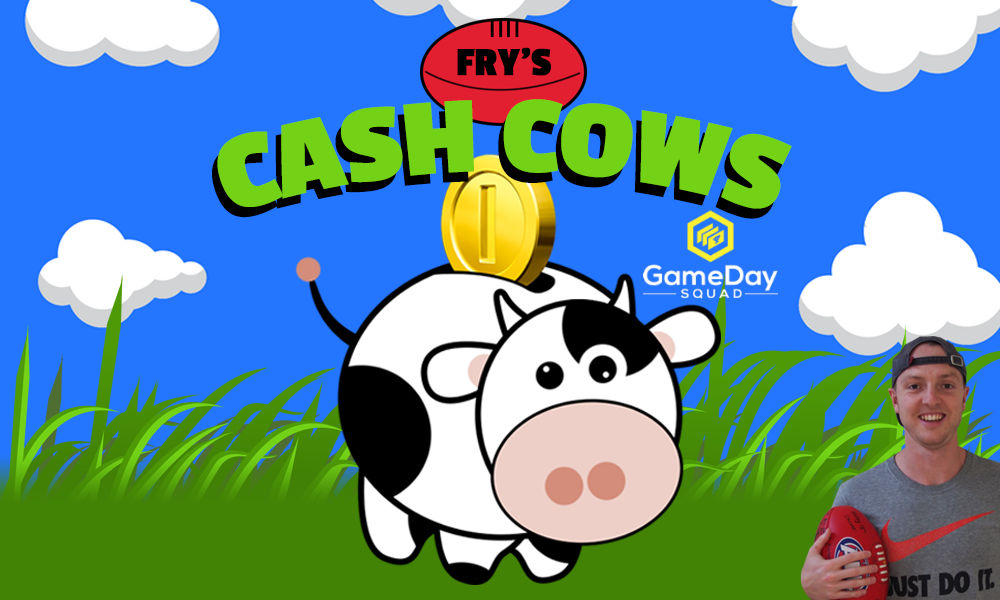 23 down, 1 to go!
An eventful five months of fantasy footy is behind us and there are only nine games left before the diehard coaches start crafting their 2024 wishlists. Some reading this may be preparing for a coveted Fantasy Grand Final, but aside from Harry Sheezel, no one cares about rookies this week. So instead, you can cast your votes* for the end-of-season awards that recognise the cash cows who stood out amongst their peers!
* Last week some of the polls lost their marbles and some people were unable to vote
If that happens again I'll take to Twitter to cast the votes, so stay tuned!
Rookie/cash cows are players who start the season priced around $300,000 or less
---
Mooooving On
Part of our weekly trade focus is to remove the rookie-priced players who are no longer making money. When a cash cow sees their average fall in line with their breakeven or they find themselves on the outside looking in for multiple weeks at a time, that's a good time to give them the axe.
Fattened cash cows
Campbell Chesser, Eagles ($363K, AVG 43, BE 50)
Ryan Maric, Eagles ($397K, AVG 49, BE 44)
Elijah Hewett, Eagles ($459K, AVG 47, BE 43)
Elijah Tsatas, Bombers ($396K, AVG 65, BE 21)
Jack Williams, Eagles ($331K, AVG 39, BE 39)
Injured/non-playing rookies
Luke Nankervis, Crows ($368K, AVG 63, BE 11)
Sam Banks, Tigers ($356K, AVG 52, BE 17)
Angus Sheldrick, Swans ($516K, AVG 62, BE 32)
Cooper Harvey, Kangaroos ($280K, AVG 45, BE 22)
Will Ashcroft, Lions ($722K, AVG 83, BE 96)
Cash Cow King – Round 23
North's focus was on retiring great Jack Ziebell, but once again it was Harry Sheezel who stood out for the Roos. The first-year phenom recorded a new season-high 129 points that featured 37 disposals as he fought his way to his 11th score over 100 in just the 22nd game of his career. Crazy. While Sheezel once again outshone his peers, there were other cash cows who produced decent scores including Fremantle's Corey Wagner. The recycled Docker continued his late-season push, while fellow defenders Dylan Williams and Josh Weddle put forth solid numbers over the weekend. Melbourne rookie Judd McVee took out his first nom of 2023 after his solid score of 75, although I think I know where most of the votes are going this round…
Loading ...
Round 23 Power Rankings
After 23 weeks of fantasy action, here are the current top-10 cash cow performers!
Power Ranking 2023 #AFLFantasy Cash Cows Round 23

1. Harry Sheezel ↔️
2. Corey Wagner ↔️
3. Will Phillips ⬆️ 2
4. Elijah Hewett ⬇️ 1
5. Matthew Johnson ⬆️ 4
6. Darcy Wilmot ⬇️ 2
7. Josh Weddle ⬆️ 3
8. Elijah Tsatas ⬇️ 2
9. Dylan Williams (NR)
10. Luke Nankervis ⬇️ 3 pic.twitter.com/OobgEkywVB

— SportsbyFry (@sportsbyfry) August 22, 2023
Round 23 Downgrade Targets
There's nothing wrong with throwing a bench position away for a non-playing $200K player to facilitate one of your last upgrades this week. If you still need rookie assistance though, here are my favourite targets ahead of Round 23.
Bailey Laurie ($200K, MID/FWD, Demons)

James Tsitas ($200K, MID/FWD, Suns)*

Tom Emmett ($243K, FWD, Dockers)

James O'Donnell ($280K, DEF, Bulldogs)

Domanic Akuei ($200K, DEF/RUC, Blues)+

Jason Gilbee ($200K, DEF/MID, Giants)+

Wade Derksen ($200K, FWD, Giants)+
* if named
+ loophole candidate
Award Races
Game of the Year
Your pick for this award will come down to a bit of a personal preference, depending largely on if you benefitted from these rookie scores or not. I could easily fill this ballot with Harry Sheezel performances, but I dug a bit deeper to find some of the best games from the cash cow class of 2023. Even though Sheez has experienced a ton of personal success, the field is crowded thanks to a handful of our popular rookies piecing it together and helping themselves to an epic point total.
Midfield maestros Will Ashcroft and Matthew Johnson showed their ability to access points in a hurry, with Jonno's recent showing in the Derby hard to go past for a nomination. Ashcroft on the other hand peaked just prior to the bye rounds thanks to 30 disposals and 7 marks against Gold Coast. Just a few weeks later, a Sydney cygnet in Angus Sheldrick burst onto the scene, with his highest point total of the season helping a large number of coaches in a time of great need. This trio mixed in with a couple of Sheezel scoring binges makes for an interesting vote to choose the best performance of the year.
Loading ...
Cash Cow Coach of the Year
So far this season we have been treated to 66 debutants, with three coaches in particular separating themselves from their peers by providing the fantasy community with convenient money-makers. Adam Simpson stands out after handing Reuben Ginbey, Noah Long and Campbell Chesser a debut in Round 1, with the Eagles also gifting us the likes of Ryan Maric and Elijah Hewett throughout the season. His one-time disciple and now the leader of the Hawks, Sam Mitchell, has also provided the fantasy faithful with reliable cash cows – namely defensive duo Seamus Mitchell and Josh Weddle.
Starting picks Fergus Greene and Cam Mackenzie coupled with late-season darlings Bailey Mcdonald and Brandon Ryan also enhance Mitchell's case to claim the Cash Cow Coach of the Year award, however, he may lose out to North Melbourne's shot callers. Between Brett Ratten and Alastair Clarkson, the Roos have gifted us with some of the best cash cows we've seen in season 2023. Harry Sheezel stands a cut above the rest, but his draft peer George Wardlaw also had a convenient cameo around the bye rounds while basement-priced choices such as Blake Drury and Cooper Harvey played a handy role for some.
Loading ...
GameDay Squad – Create. Coach. Compete.
Let's not beat around the bush, for the second consecutive season I expect one player to record a landslide victory when it comes to DEF voting. Rounding out the defensive nominees was harder than it may seem though, with a handful of rookies emerging as solid contributors over the entire season. Eagles manchild Reuben Ginbey battled bravely during a tough season for his club, averaging close to 6 tackles through his 17 games as he thrived for a short time as a startable DEF cash cow. Darcy Wilmot took longer to get rolling, but the Brisbane jet made himself known after the bye rounds – averaging 68 points in the second half of the season. It was tight between Dylan Williams and Josh Weddle for the final nom, with the Port backman narrowly beating out his Hawks counterpart to help make up the numbers.
Loading ...
Midfielder of the Year
Brisbane teenager Will Ashcroft was expected to waltz to a victory in the "Midfielder of the Year" category, although a cruel injury blow has somewhat opened it up to the rest of the field. Through his 18 games, Ashcroft averaged an honourable 83 points, the second-highest cash cow AVG behind only Sheezel. Four times the Brisbane prodigy posted a triple-figure score and the majority of the completion was content to start with Ashcroft and use him as one of their bye round stepping stones. It was that same time that a young Docker in Matthew Johnson made his charge. Fresh off his Round 12 bye, Johnson hit the ground running with a 93-point outing against Richmond in just 62% of game time.
Sporadic TOG plagued Johnson's scoring throughout the year, but Fremantle's budding midfielder was still able to produce plenty of noteworthy numbers. Roos rookie George Wardlaw also displayed an ability to score points in a flurry during his first pro season, with injuries hampering his ability to seriously contend for an end-of-season award. Still, Wardlaw managed to surpass 75 points in half of his games and turn plenty of heads while doing so, making him a worthwhile MID nominee. His teammate Will Phillips was one of the unlucky ones to miss the cut, beaten out by Carlton cash cow Ollie Hollands. While coaches opted to delist Hollands once he suffered a broken collarbone in Round 11, the first-year Blue managed to re-enter the lineup late and help himself to a season-best score of 87 just a few weeks ago.
Loading ...
Ruckman of the Year
Let's keep it brief with the rucks. Anyone who owned Samson Ryan would've been chuffed with his cash generation during the early-ish portion of the fantasy campaign as Richmond's tall recorded a four-round average of 70+ between Rounds 6-9. Outside of Ryan, there weren't many other RUC's who strung a decent stretch of games together. West Coast's Jack Williams was the only other cash cow who springs to mind, featuring in the last nine games for the Eagles while topping 50 points just once. The basement-priced R3 who may have helped as a loophole option also deserves a special shoutout – I'm looking at you, Max Heath!
Loading ...
Forward of the Year
This may be the closest award race of the lot, with a variety of bargain-priced forward's assisting us throughout the fantasy season. Most successful coaches started their campaign with Luke Pedlar and/or Kade Chandler in their team and the duo proved to be crucial rookies through the early portion of the season. Pedlar has gone on to play 20 games for the Crows this year, establishing himself as a permanent member of their best-22 while averaging 58 points a game. Melbourne's goal threat in Chandler had a similar arc, with a 104-point outing in Round 1 giving us Nic Martin vibes. Chandler didn't stop there, with another 100+ score just five weeks later as he continued to hit the scoreboard and provide coaches with a near-ideal cash cow who they could trust on the field.
Seamus Mitchell proved to be just as helpful for fantasy coaches, although he was forced to wait to earn his AFL debut. Once he arrived in Round 5, Mitchell had an immediate impact by averaging an impressive 68.6 points across a seven-week stretch. As the aforementioned trio approached their Round 14 bye round, most coaches would have given them the flick, with the possibility they opted to trade Angus Sheldrick in as a replacement. His residence as a must-have cash cow was brief although the month-long stretch where Sheldrick averaged north of 90 helped coaches immensely – making him a worthwhile nominee.
Loading ...
Cash Cow MVP
It's Harry Sheezel and daylight second. The reigning No. 3 pick from last year's draft has put forth a rookie season the likes of which we have never seen before! No player has had more disposals in their debut season, with DEF/FWD versatility arriving in Round 6 and allowing Sheezel to be swung between multiple lines. More often than not, Sheez finished with a 100+ score and anyone who traded him out of their team probably regrets that decision. We've been spoilt in recent seasons with some of the A+ cash cows and there's a chance Harry Sheezel is the best of the bunch.
Loading ...
Reserves Watch
Noteworthy 💰🐮 AFL Fantasy numbers from Round 23 state leagues
Ed Allen, COL (80) – 23 disposals, 6 marks, 1 goal
Ryan Angwin, GWS (75) – 17 touches, 6 tackles
Jaxon Binns, CAR (115) – 27 disposals, 7 marks, 5 tackles
Connor Blakely, GCS (94) – 26 touches, 6 marks, 3 tackles
Aaron Cadman, GWS (76) – 9 touches, 5 marks, 4 tackles, 3 goals
Lachie Cowan, CAR (105) – 23 disposals, 8 marks, 5 tackles
Alwyn Davey Jr, ESS (67) – 18 touches, 2 goals
Oliver Dempsey, GEE (81) – 23 touches, 4 marks, 2 goals
Billy Dowling, ADE (81) – 21 disposals, 5 tackles, 1 goal
Cameron Fleeton, GWS (71) – 15 disposals, 9 marks
Mitch Hardie, GEE (87) – 23 touches, 6 tackles, 1 goal
Harvey Harrison, COL (84) – 17 disposals, 6 tackles, 1 goal
Mitch Knevitt, GEE (85) – 22 disposals, 6 marks, 1 goal
Bailey Macdonald, HAW (108) – 22 touches, 5 marks, 8 tackles, 1 goal
Cam Mackenzie, HAW (119) – 25 disposals, 5 marks, 11 tackles
Finlay Macrae, COL (94) – 26 touches, 1.1 in front of goal
Seamus Mitchell, HAW (55) – 14 disposals, 5 marks
Ned Moyle, GCS (96) – 17 touches, 49 hitouts
Oisin Mullin, GEE (38) – 14 disposals
Harry Rowston, GWS (76), 19 disposals, 1 goals
James Tsitas, GCS (119) – 30 disposals, 5 marks, 6 tackles, 1 goal
Remember the Name
In no particular order, here are some of the other rookie-priced players to consider throughout the season.
DEFENDERS
Jake Stein (Suns, $288K)
Rhett Montgomerie (Bombers, $200K)
Jakob Ryan (Magpies, $246K)
Sam Durdin (Blues, $213K)
Darragh Joyce (Lions, $241K)

MIDFIELDERS
Connor Blakely (Suns, $235K)
Billy Dowling (Crows, $216K)
Ed Allen (Magpies, $264K)
Hugh Bond (Crows, $202K)
Mitch Hardie (Cats, $200K)

RUCKMEN
Jacob Edwards (Kangaroos, $200K)
Alex Mirkov (Blues, $200K)
Hamish Free (Kangaroos, $200K)
Max Heath (Saints, $200K)

FORWARDS
Jaxon Binns (Blues, $238K)
Joe Richards (Magpies, $206K)
Finlay Macrae (Magpies, $290K)
Hugh Jackson (Power, $200K)
Patrick Voss (Bombers, $200K)

---
FOLLOW ME ON TWITTER: @SportsbyFry for all things AFL Fantasy (and more)! Feel free to hit me up with any questions you have throughout the season. Good luck! ✌️