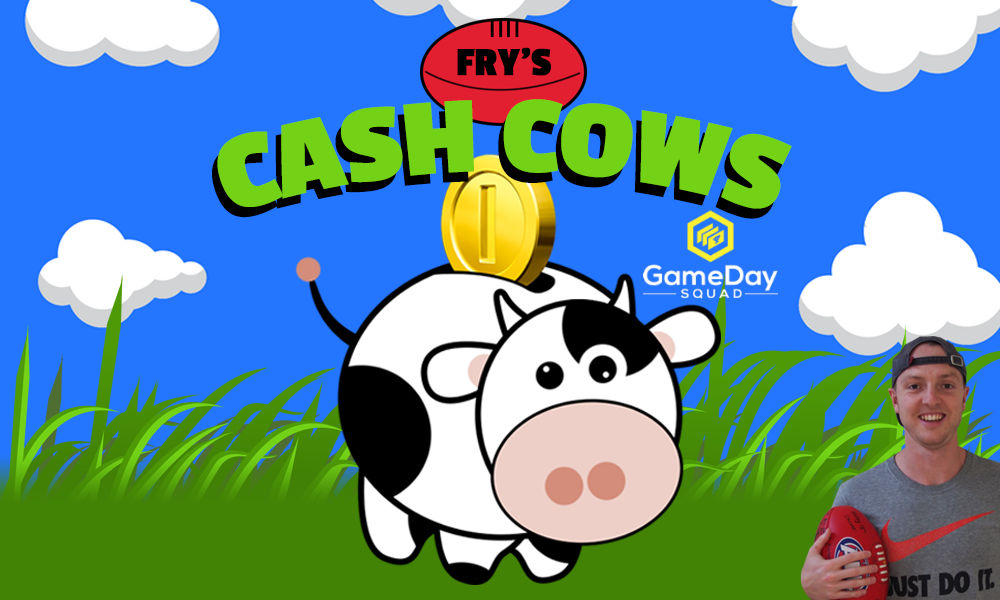 24 down, 0 to go!
Exhale fantasy coaches. After 414 games across 164 days, the 2023 campaign is over, with some deserving coaches taking out Grand Final glory, cash league prizes, hats aplenty and of course, one Toyota Hilux. As we reflect on an eventful fantasy season, no coach would be where they are without help from what turned out to be a talented rookie class. Acknowledging the most deserving cash cows essentially turned into a Harry Sheezel love fest, but he wasn't the only rook who took home some silverware with a large number of up-and-coming stars playing a crucial role for fantasy coaches over the duration of the season.
Rookie/cash cows are players who start the season priced around $300,000 or less
---
Before we get stuck into handing out trophies, I want to take a moment to thank you all for checking in with my cash cow updates throughout the season. Rookies tend to fizzle out as the season draws close to the end, and yet, that didn't stop the fantasy faithful from regularly reading articles, engaging with me via social media, or reaching out to talk trades, cash cows, or any other fantasy topic under the sun. While I personally may be going on the 'never again list' following my coaching practices this season, the support doesn't go unnoticed and I can't wait to get stuck in again in 2024!
Much love,
Fry
---
Game of the Year
Winner – Harry Sheezel, Kangaroos (118 in Round 1 vs. Eagles)
As I stated last week, this section could've purely featured Harry Sheezel scores after the reigning No. 3 pick helped himself to 11 triple-figure scores in his first pro campaign. His season-best score of 129 against Richmond late in the year got plenty of consideration, but Sheezel's start to his AFL career was hard to go past as the most impressive cash cow performance. Those two games from the Roos teen were only separated by 3% of the votes and if you ask me, the fantasy faithful got it right by rewarding him for his Round 1 heroics.
Cash Cow Coach of the Year
Winner – Alastair Clarkson/Brett Ratten, Kangaroos
With Sheezel dominating most of the categories, the votes were quite split when determining who was the best cash cow coach of 2023. Of course, North technically had two lead men calling the shots after Clarko stepped away but that didn't stop the Kangaroos from providing the fantasy community with gold throughout the season! George Wardlaw came into sides at a perfect time, while loyal servants such as Will Phillips and Miller Bergman could have helped coaches get off to a ripper start. The North Melbourne combo beat out West Coast's Adam Simpson by just two votes and I have a hunch this pair will be fighting for the same award in 12 months' time.
Cash Cow King
Winner – Harry Sheezel, Kangaroos
No surprises here with Sheezel continuing his dominance by claiming CCK honours. Harry finished as a top-2 scoring rookie in 16 rounds which saw him poll 78 votes – more than double the second-place vote-getter in Will Ashcroft (36). To put Sheezel's landslide victory into context, if the same 5-4-3-2-1 system was used last season Nick Daicos would've finished with 56 votes beating out Nic Martin on 42. Rounding out this year's successful challengers, Angus Sheldrick and Matthew Johnson shared a place on the podium with their 18 votes, while Darcy Wilmot (16), Ollie Hollands (15) and Will Phillips (15) were the leaders of the best of the rest.
GameDay Squad – Create. Coach. Compete.
Winner – Harry Sheezel, Kangaroos
Duh. Apologies for the number of times you're going to see Harry Sheezel's name in this piece, but this award race isn't even close. A hamstring injury to Reuben Ginbey ruled out any chance of him causing an upset down the stretch and even a second-half surge from Darcy Wilmot couldn't make this a contest. Sheez technically started the season as a primary FWD in fantasy terms, but playing most of his footy in defence and finishing in the top-10 for rebound 50's on the season makes him a worthwhile winner here.
Midfielder of the Year
Winner – Will Ashcroft, Lions
Not even an unfortunate ACL tear could stop Will Ashcroft from taking out this award. Leading all rookies MIDs in disposals (22.1 per), fantasy average (82.9) and season price increase (+$424K), it was obvious that Brisbane's budding star was the best midfield cash cow going around. He had decent competition from the likes of Ollie Hollands and Matt Johnson, although a broken collarbone and consistent appearances in the vest respectively spoiled any serious chance they had of beating out Ashcroft. Had he not injured his knee in Round 19, then we may have seen the Lions cub challenge Sheezel for top honours. Either way, he'll happily take this trophy home and add it to what should be an extensive collection by the time he's done.
Ruckman of the Year
Winner – Samson Ryan, Tigers
Obviously, Samson Ryan stood head and shoulders above his rookie ruck peers this season – managing to appear in 14 games and averaging close to 50 fantasy points. Coaches who slotted him into their R3 slot to start the season were forced to bide their time until Ryan started soaring in value, but a four-round average of 70.7 between Rounds 6-9 provided a big portion of the fantasy community with a handy boost just prior to the bye rounds.
Forward of the Year
Winner – Angus Sheldrick, Swans
I can't argue with the votes and while I may have not chosen Angus Sheldrick as the forward of the year, the people have spoken. Longer serving rooks such as Luke Pedlar, Seamus Mitchell and Kade Chandler saw their fair share of recognition, but Sydney's young talent snagged 37% of the votes to claim the award. Angus put a frustrating start to his season behind him once the Swans had their Round 12 bye – bursting onto the scene with scores of 79, 82, 111 and 93 across the next month of footy. It's possible he'll still have to feature as the substitute again in 2024 before he can find a permanent spot in Sydney's side, but Sheldrick deserves plenty of credit for the way he assisted coaches in the middle portion of the fantasy campaign.
The Cash Cow Team of the Year
Choosing the best 15 cash cows from a single season is always an arduous task, with a large group of rookies contributing to the successful fantasy teams. Some may give more weight to a player who featured in a high number of games and dropped solid scores along the way, while others might view the rookies who showed a higher ceiling as the more deserving picks for the team of the year. No matter which way you fall, here are my choices for the 2023 Cash Cow Team of the Year!
Honourable mentions: Alex Cincotta, Bailey Humphrey, Cam Mackenzie, Luke Williams
DEF: Reuben Ginbey, Harry Sheezel, Darcy Wilmot
MID: Will Ashcroft, Ollie Hollands, Matt Johson, Will Phillips
RUC: Samson Ryan
FWD: Kade Chandler, Seamus Mitchell, Angus Sheldrick
BENCH: Luke Pedlar, Mattaes Phillipou, George Wardlaw, Dylan Williams
Finals MVP
Winner – Harry Sheezel, Kangaroos
He's going to need a wheelbarrow to take all of these trophies home! There weren't too many rooks who challenged Sheez over the final four games of the fantasy season, but Josh Weddle (71.7 AVG), Elijah Tsatas (64.2 AVG) and Corey Wagner (71 AVG) did their best to make the race interesting. Sheezel's average of 96.5 in his last four was boosted by a whopping 129 in Round 23, although even without that score, there was no one catching the Sheez over the fantasy finals.
Cash Cow MVP
Winner – Harry Sheezel, Kangaroos
After recording 94% of the votes and 2239 points across the season, Harry Sheezel is the clear-cut cash cow MVP for 2023. Putting forth a rookie season for the ages, North's top draftee put up numbers that we don't commonly associate with a rookie. He finished 19th for total points scored this season and those who traded Sheezel out of their side, at any point of the year, would've likely been disappointed with themselves. We can never take anything away from Michael Barlow as the inaugural cash cow MVP, however, we may have to add Sheezel's name to the accolade after his breathtaking performance this year.
---
FOLLOW ME ON TWITTER: @SportsbyFry for all things AFL Fantasy (and more)! Feel free to hit me up with any questions you have throughout the season. Good luck! ✌️