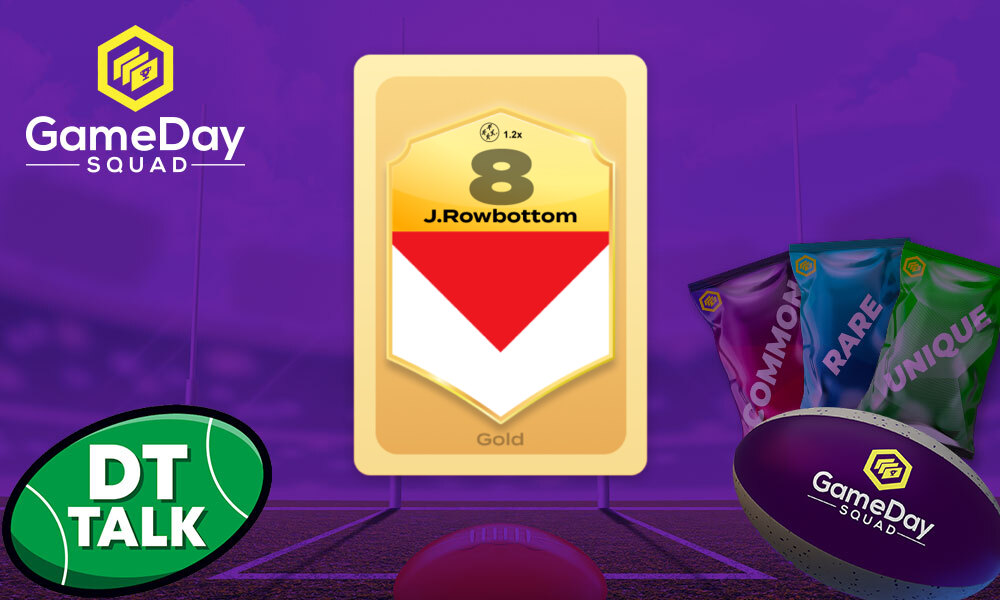 | | |
| --- | --- |
| Player | James Rowbottom |
| Club | Sydney Swans |
| Position | MID |
| Price | $726,000 |
| Bye | Round 12 |
| 2022 avg | 82.0 |
| 2022 gms | 21 |
| Proj. avg | 89 |
| Draft range | 70-90 |
Click here for 2023 Fantasy Classic prices.
Why should I pick him?
The run of fantasy-relevant Swans continues following articles on Jake Lloyd and Chad Warner – this time looking at James Rowbottom. Most coaches reading this wouldn't have had the Sydney young gun in their side before, with elite midfielders taking up the 8 on-field spots in the back half of 2022. However, with Rowbottom priced in the 80's, there are plenty of reasons to get excited about his potential for the upcoming campaign.
As the Swans went on a surge to make the Grand Final last season, James Rowbottom started to establish himself as a crucial part of their midfield rotation. His CBA numbers didn't skyrocket over the final portion of the fantasy year, but a healthy, consistent dose saw Rowbottom score in impressive bunches. From Round 19 onwards, Sydney's budding star went over 100 in four of his final five games at an average of 107.2 points. He kept that streak going into the finals, chalking up 24 touches and 8 tackles for a score of 110 against the Dees.
Rowbottom's tackle tally was a big reason for his elevated scoring, finishing 5th in the home & away season for tackles – tied with teammate Callum Mills and Dockers MVP Andrew Brayshaw. The 23-year-old also recorded over 18 disposals and close to 5 clearances a game (2nd at Sydney to Luke Parker) in 2022, both of which were career highs. There's no reason why Rowbottom can't continue to build on his per-game averages this year as he hones his midfield craft and emerges as a difference-maker for the future at South Melbourne.
The popular Sydney POD for coaches right now is Chad Warner, and while he looms as a future Brownlow contender, I feel confident that Rowbottom can produce from a fantasy standpoint and fly a bit under the radar. Opposing coaches will zero in on shutting down Warner, Luke Parker and Isaac Heeney more than they'll be worried about Rowbottom, allowing him to perhaps tackle his way to an average in the mid-to-high 90's.
Why shouldn't I pick him?
Priced at 81, trying to squeeze Rowbottom into your team is somewhat awkward. $726K means that he's in a similar ballpark as Adam Saad and Jaeger O'Meara – good players that can help your draft side, but there aren't too many players in that price bracket that you will covet in classic.
Of course, at the age of just 23, we all expect Rowbottom to be better in the upcoming season and he could tackle his way to some huge scores. And yet, he's got plenty of competition for points in the Sydney midfield with Chad Warner well-positioned for a breakout campaign of his own. Rowbottom's star teammate chalked up 8 scores over 100 last year, and he was one of the few Swans that could hold their head high on Grand Final day accumulating 29 touches for a score of 113. Luke Parker is bound to do some of the grunt work in the midfield as well, with the versatile veteran fresh off a season where he went at a 98 AVG.
I haven't even mentioned Callum Mills yet, who spent some time saving the day down in defence and still managed to post the 2nd highest points tally a season ago. With those established talents in the engine room, it's hard to see Rowbottom scoring 100+ over the course of the whole year and really emerging as a worthwhile gamble for fantasy coaches. For him to be a viable starting option, we would want more assurances that Rowbottom is going to increase his points per game by 10-15, but a lot of mouths in the Swans' midfield will make it tough for him to rack up consistent scores.
Deck of DT Rating.
QUEEN
Right now, James Rowbotton is only in 1% of teams and I understand why. His hot end to the season may have been a rare purple patch, but I can see a world where Rowbottom goes 90+ should a few factors work in his favour. Luke Parker getting on in age may lead to him spending more time in the forward 50, with Rowbottom and Warner poised to pick up the slack. As I've mentioned before, Rowbottom's tackling tendencies should help him maintain a high fantasy floor, but there are a few red flags that may quell his influence and stop him from becoming a mainstream fantasy player.
---
Catch more from Fry by visiting the SportsbyFry website for additional AFL Fantasy articles, plus NBA and NFL updates!
FOLLOW US  ON TWITTER: @DTTALK for all things AFL Fantasy (and more). Got something to say about the Deck or AFL Fantasy in general? Join the conversation and use the hashtag… #AFLFantasy.