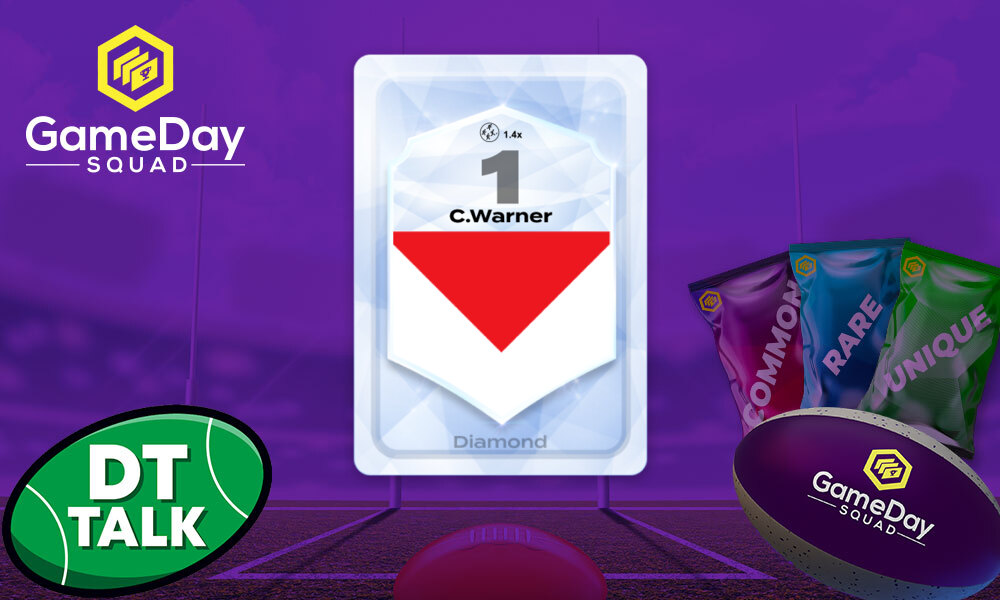 | | |
| --- | --- |
| Player | Chad Warner |
| Club | Sydney |
| Position | Midfield |
| Price | $785,000 |
| Bye | 12 |
| 2022 avg | 88.6 |
| 2022 gms | 21 |
| Proj. avg | 100 |
| Draft range | M3-4 |
Click here for 2023 Fantasy Classic prices.
Why should I pick him?
Are you looking for a POD to give you that edge in your midfield? At only 8% ownership right now, we may have one here for you.
Chad Warner broke out last year but there is still plenty of meat left on this bone.
Priced at $785,000 he's on the expensive side but every indicator says he still has improvement in him.
Following his yearly averages we have;
2020 – 2 games for 27
2021 – 12 games for 69
2022 – 21 games for 88.6
We can write off 2020 for a variety of reasons which leaves us with 2023 looking like Warner's '3rd year breakout' season, especially if he can maintain the momentum he picked up after the bye.
Pre-bye Warner was averaging 86.8 from 53% centre bounce attendances. Post bye Warner's centre bounce attendance increased to 73% which saw his average lift to 90.7.
His post-bye form also had a 4 game run of 100+ scores including his career high 127 point game against Fremantle.
Warner's stocks are still rising.
Generally we like to look at how a player finished the season as an indication of how they may start the next year. With his post bye run looking tasty, Warner's last game is better and not included in his fantasy average.
Warner was one of the few Swans who actually turned up for the Grand Final last year, fighting out the whole game for 29 touches, 6 tackles and 113 points. Not bad for playing in a team belted by 81 points!
Securing his place in those midfield rotations is also a massive tick for Warner's Job Security.
He provides a point of difference to Sydney. With Callum Mills being a defensively minded midfielder and Luke Parker providing consistency and experience, Warner has come in and added burst from stoppage and the ability to hit the scoreboard.
Why shouldn't I pick him?
We aren't the only ones who've noticed the rise of the Chad.
In round 20 GWS sent Ash to run with Warner, limiting him to 65 points, followed by St Kilda sending Windhager to him in round 23 for 78 points.
While still collecting 20 touches in both these games, his marks dropped as he was unable to get open space.
The difference in scores between the GWS game and Saints game can still be seen as a positive. In round 20 he only registered 1 tackle where as in round 23 he registered 5. This could mean that Warner learnt that if he's getting tagged he needs to step up his game defensively to compensate. Regardless, if Warner starts getting off the leash we may see more opposition coaches sending taggers to him this season.
The biggest hurdle to picking Warner though is his price. At $785K he's at the same price as popular picks in Newcombe, Serong and Cerra and about $200K more than Sheed and Worpel. Depending on your team structure you may not have room for a speculative pick like Warner and you wouldn't be picking him with the thoughts of 'making cash'.
Deck of DT Rating.
JACK
If you are starting Warner this year then it is as a season long keeper. For him to be considered a worthwhile pick then he needs to lift his average to 104. If you don't believe he can do that, then Warner isn't for you. If you do believe he can, then jump on with me and the other 8% of coaches and enjoy the ride!
Catch Anthony every Sunday morning during the season on "Behind the Goals" for 91.3 SportFM.
FOLLOW US  ON TWITTER: @DTTALK for all things AFL Fantasy (and more). Got something to say about the Deck or AFL Fantasy in general? Join the conversation and use the hashtag… #AFLFantasy.