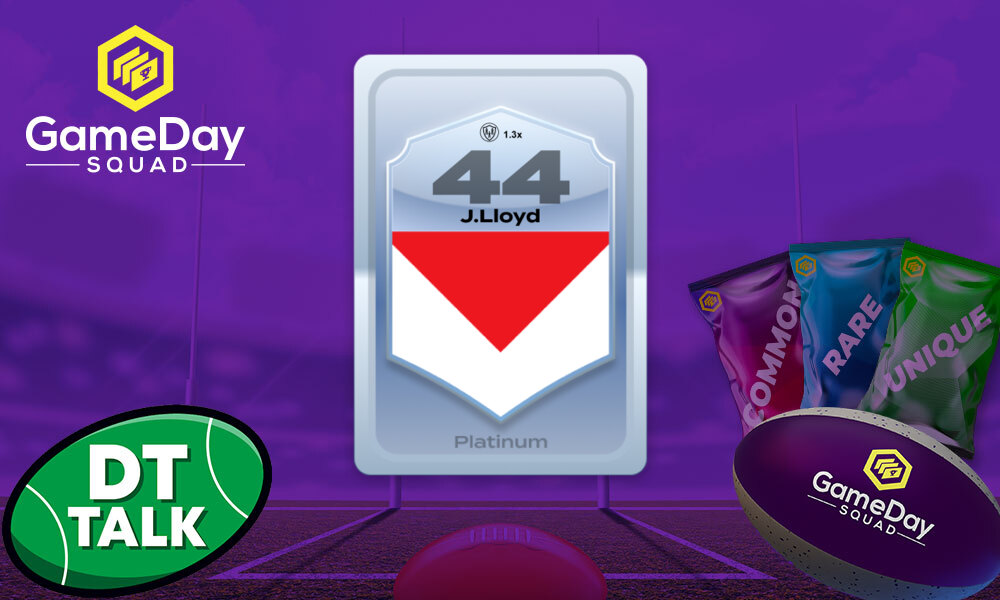 | | |
| --- | --- |
| Player | Jake Lloyd |
| Club | Sydney Swans |
| Position | DEF |
| Price | $807,000 |
| Bye | 12 |
| 2022 avg | 91.1 |
| 2022 gms | 21 |
| Proj. avg | 98 |
| Draft range | Round 3 |
Click here for 2023 Fantasy Classic prices.
Why should I pick him?
History, consistency, price tag, uniqueness – All reasons Jake Lloyd should be heavily considered for your Fantasy teams this year. At one stage, Lloyd was a staple in every Fantasy defense as a D1 or D2 option, then last season Jake decided to throw a small spanner in the works for his coaches and averaged a good deal less than usual, giving us his lowest season average since 2016. But fear not, he was doing this just to give us Fantasy coaches a bit of value for the 2023 season! Let's go through the positives one by one: 
History. Lloyd has been a strong presence in the Fantasy game for years to the point where it was unusual to hear a preseason discussion about teams without including him as your first Defender. Jake has average over 100 twice and over 90 for six seasons running, a feat that not many current Defenders can match. With a reputation like that, it's hard to ignore Lloyd irrespective of his price and his form, and you would assume that he won't break that streak this season, so you're locking in another 90+ Defender. 
Consistency. Jake tends to be one of the more consistent defensive options, rarely giving his coaches a subpar score. In 2019, 2020, and 2021, Lloyd went under 80 just twice per year, that's 90% of games that he would give his coaches an 80+ score. Last year, however, Lloyd struggled and went under 80 five times in a year. There were reasons for this that shall be explained later, and he offset these low scores with 7 x 100+ scores, including a 121 and a 140, really stretching his ceiling from previous years. If you're looking for somebody who will stay on the field, you can also look no further than Lloyd. He has missed 3 home and away games since 2016, so you don't have to worry about forced trades later in the year. 
Price tag. For somebody who is capable of being a Top 3 Defender, Lloyd is priced a lot cheaper than many other options that are being considered. James Sicily is owned by a quarter of the competition currently and Gus Brayshaw is being given a chance by over 15% of Coaches, yet you can save at least $50k and get a guy who should average just as much, if not more than both of those players. To begin the season, every dollar counts, and $50k can be used extremely effectively to build up the rest of your team. Whilst Lloyd had a slightly down year last year, it's hard to believe that such a Fantasy great is getting disrespected this much because of it.  
Uniqueness. Building on from the last point, Lloyd has a mere 2.45% ownership as of writing this article. Starting the year with a guy this cheap and who can be so good can have massive early-season benefits for coaches. As I mentioned before, picking Lloyd over other Defenders gives you more cash to increase your team's average elsewhere whilst not losing any average in your backline due to his scoring ability. This allows you to start the season with a points head start, a cash head start, and potentially a trade head start if Lloyd gets back to his very best and everybody has to bring him in because they didn't start with him. Seems like a no brainer. 
Why shouldn't I pick him?
Whilst every rose has its thorn, this rose has two of those very tiny thorns that you know shouldn't deter you from picking the rose but could make things very painful.  
The first is also part of the positives, which is his price tag. Although you will be saving money on other premo options by bringing Lloyd in, there are cheaper (and slightly riskier options) that could provide higher returns. Players like Aaron Hall, Christian Salem, and even Elliot Yeo are all cheaper than Lloyd and have the potential to average the same or more than him. Lloyd is priced in that awkward bracket that you never really want to pick – Not quite premo prices, but also not quite cheap enough to save you lots of cash. However, I think this is a risk we can safely ignore as Lloyd is a genuine premium option that had a down year, rather than somebody you are actually taking a chance on. See this more as a Boxing Day sale purchase, rather than a Dollar Store hit or miss bargain. 
The second reason not to pick Lloyd is a potential role issue. Whilst Lloyd played every game consistently and still performed well, his season and average was marred slightly by some of the younger kids at Sydney being tested out in his role. There were times where Lloyd was used as a lockdown defender, rather than the roamer that we all know and love. Just this threat alone is enough to send a shiver down any Fantasy Coaches spine, and it has clearly done more than that judging by his low ownership. I don't personally believe we have anything to worry about. Lloyd finished the home and away season with six straight 80+ games and I feel like Sydney stabilised their experimentation during this time. Hopefully this role-shifting is over and, if not, you can still expect a strong Fantasy scorer, just throw out some of his consistency. 
Deck of DT Rating.
KING
I am genuinely struggling to think of a reason not to pick Lloyd. I would easily pick Docherty over him if you had the cash to spend, however I have him level with Sinclair and Dawson in terms of value and he feels less risky than both. I think, as long as you can spend the extra cash well, Lloyd is an absolute lock for this season, but I'm sitting here hoping that you don't pick him so that I can start the year with a star at 2% ownership. 
FOLLOW US  ON TWITTER: @DTTALK for all things AFL Fantasy (and more). Got something to say about the Deck or AFL Fantasy in general? Join the conversation and use the hashtag… #AFLFantasy.