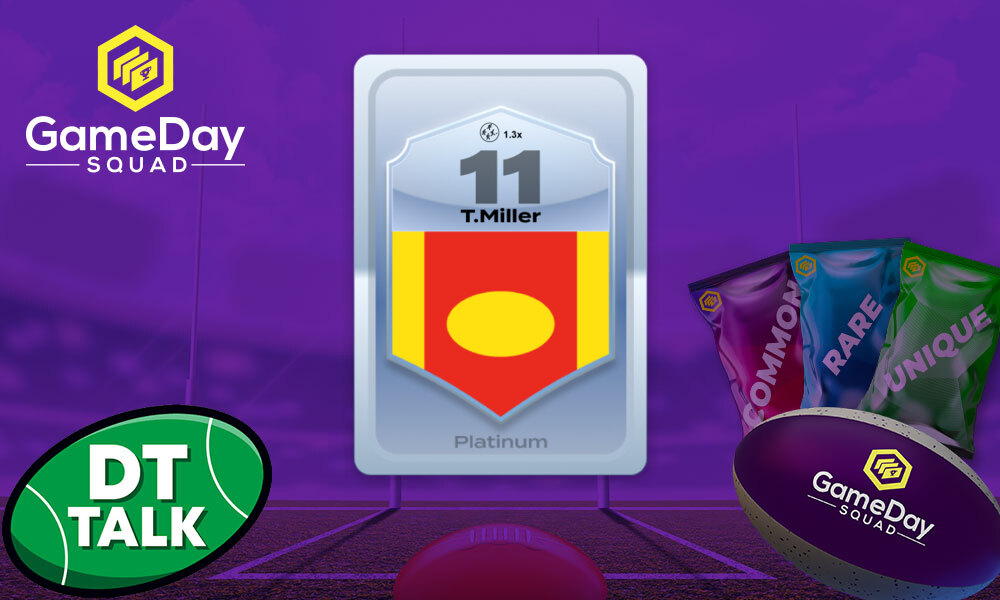 | | |
| --- | --- |
| Player | Touk Miller |
| Club | Gold Coast |
| Position | MID |
| Price | $972,000 |
| Bye | 13 |
| 2022 avg | 109.8 |
| 2022 gms | 22 |
| Proj. avg | 113 |
| Draft range | 4-8 |
Click here for 2023 Fantasy Classic prices.
Why should I pick him?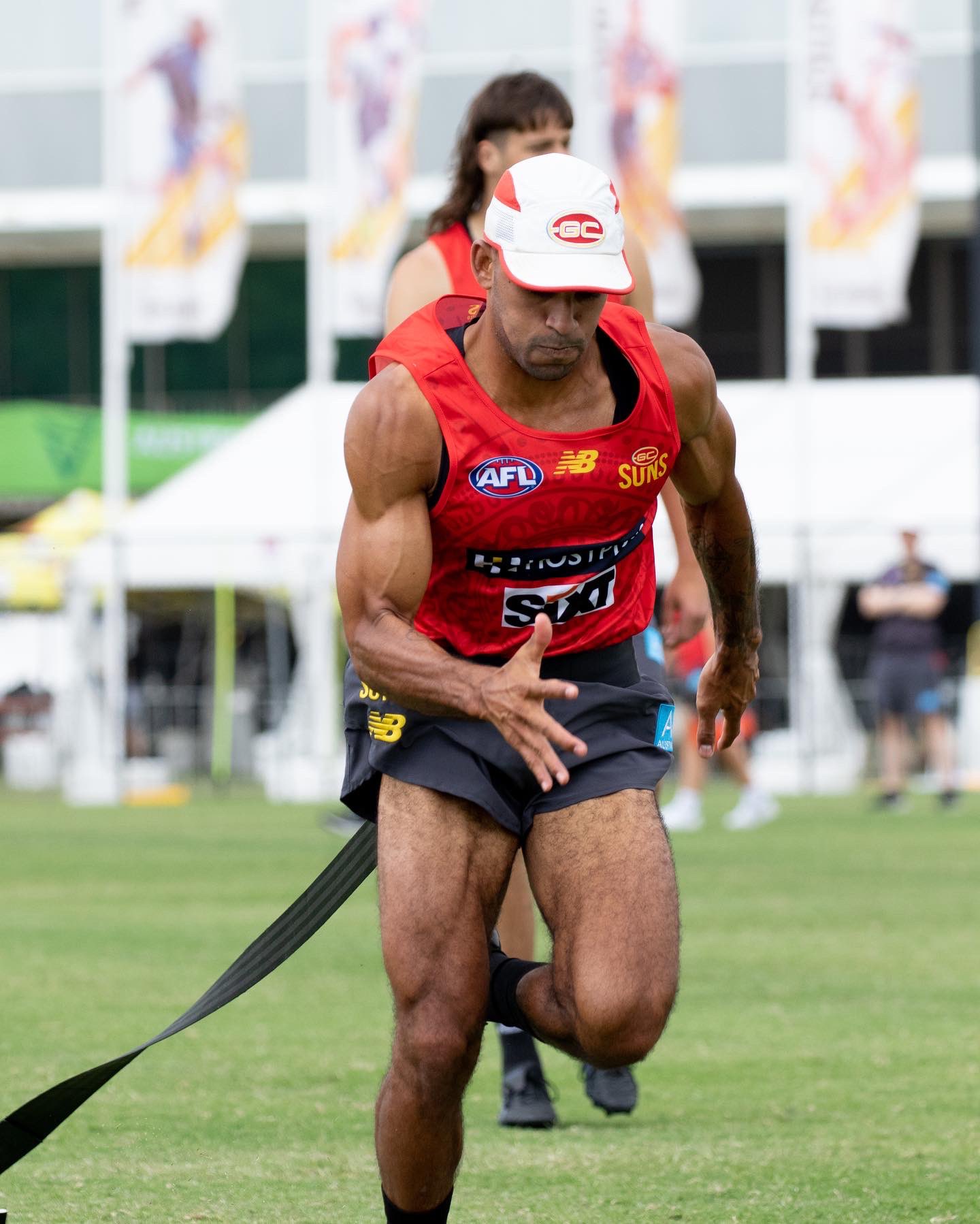 That's that then. Moving right along.
…you want stats and well-written critical reasoning as well don't you?
*insert DC sigh*
Okay, fine. If massive pipes and negligible body fat don't convince you, then how about these tasty Touk facts?
Touk has a career high fantasy average of 122.1 in 2021. He had 16 games in a row with over 30 disposals that year. Ridiculous.

He has had 22 scores over 120 in the last two years. That's a full season's worth. Most of any player in the AFL over that period.

Averages over 83% time on ground for his

entire career

. 86.7% average in 2022, which was a career high.

79% of centre bounce attendances in 2022, following 79% in 2021 also. 

Averages 5.5 tackles per game across his career. 6 tackle average in 2022. That's 24 points from tackles alone. 

Has only missed 1 game in 3 seasons, which was a suspension in 2021. Solid as a rock.
To summarise: Touk is very, very good in AFL fantasy. 
Many people felt he had a down year in 2022 but that was mainly because his 2021 was so outrageous. He still had the 7th highest average and the fourth most points for the 2022 season. After a slow start with just two tons in his first five games, he recovered to drop under the ton just four more times in his remaining 17 matches, with a very respectable low score of 82.
The Gold Coast co-captain exhibits a delicious combination of fantasy relevant stats that is rare across AFL players. 1) High time on ground. 2) High centre bounce attendances in a team that has a small midfield rotation (only Touk, Rowell and Anderson had >40% CBAs as mids). 3) High disposal count. 4) High tackle count. 5) Good mark count. 
It's basically everything you need to be an uber-premium fantasy midfielder and it seems unlikely that any of it will change substantially in 2023. You will want him at some point during the season and he's unlikely to get drastically cheaper than his starting price at any point.
Why shouldn't I pick him?
The Suns improved from 16th in 2021 to 12th in 2022. After a decade of being the laughing stock of the AFL they finally seem to be moving in the right direction. 
Unfortunately, their fantasy prospects as a team appear to be going backwards faster than the oarsome foursome. Stewy Dew implemented a more direct game style in 2022. The Suns ranked last in the AFL for total disposals and handballs, plus 3rd last for total marks (I blame Matt "I hate marks" Rowell). The real dagger to the heart of fantasy coaches is the fact they ranked 2nd last for fantasy points, only ahead of a dismal North Melbourne. 
In comparison, the 2021 Suns were 12th for total disposals, 2nd for kicks, 3rd for marks and 2nd for tackles. They were also 8th for total fantasy points. They've gone from being fantasy friendly to having a leather allergy in the space of a year!
This change is also reflected in Touk's personal stats somewhat. His average disposals dropped by 3.4 per game but he actually went up by 1 kick per game in 2022. His handballs dropped from 15.9 to 11.5 per game. There goes about 6 points per game because the Suns are playing more directly. His marks and tackles also dropped 0.7 and 1.1, respectively. Having tackle-merchant Matt Rowell beside him for a whole season may have lowered the reliance on Touk's cuddling ability.
So game style is a major flag for Touk in 2023. Do the Suns move further down the low-possession route? Or was 2022 an over-correction? I guess we'll find out.
There are a couple of other red flags that we can be more certain of though. The first is the tag risk. Although Noah Anderson is coming with a rush, Touk is still easily the Suns' most complete and damaging midfielder. He will cop hard tags during the season which will cap his marks and kicks in particular. You've been warned.
Finally, and possibly most importantly to me, the Suns and Touk have a diabolical start to the 2023 season. They face both grand finalists in the first four rounds and also come up against Essendon and St Kilda. The Swans ranked as the 4th most restrictive for fantasy points in 2022. The Cats were 7th and Bombers 8th. The real kicker is that Touk is very likely to get a tag from Marcus Windhager in round 4 and could easily also get attention against the Bombers and Swans.
The Suns play North Melbourne in round 6. He could be an ideal early upgrade target at that point. Biding your time and jumping on when he drops a little cash might be the savvy play.
Deck of DT Rating.
KING
Touk is an absolutely awesome fantasy footballer. He is short-priced to be a top 8 midfielder again in 2023. It's possible he could even return to being the top scorer after his slight regression in 2022. He is 972k though. Someone that expensive needs to start well, or risk bleeding a bit of cash in the first month or so when the game's price changes are most volatile. With the Suns' draw I just can't see Touk hurting you if you don't own him in the first few games. I'll be looking to jump on if he has a slight price dip early-doors but at the moment I just can't select him with low confidence of a bombastic start.
Catch more from DC and the Hat Chat lads via their Facebook, Instagram and Twitter.