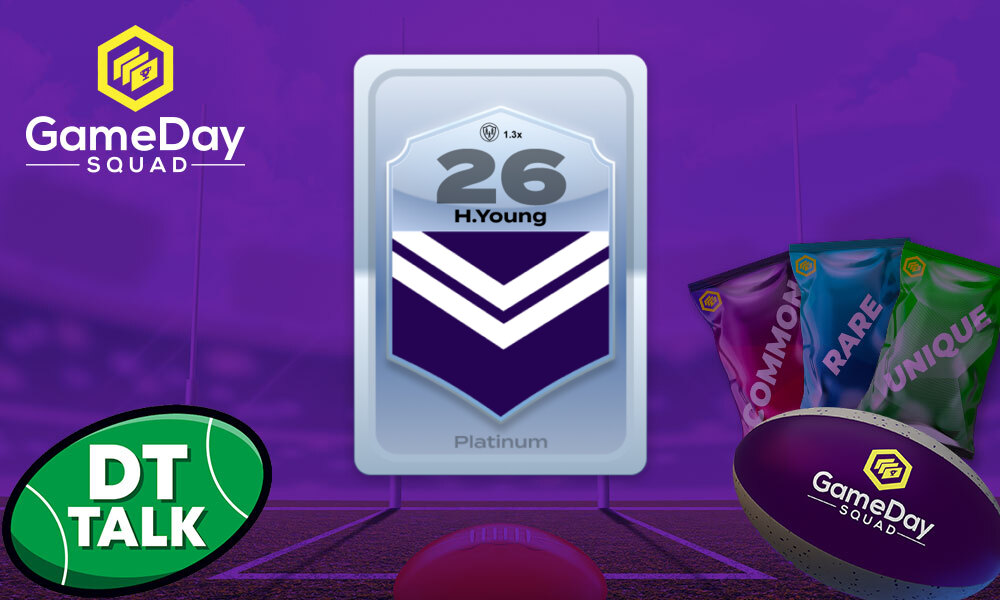 | | |
| --- | --- |
| Player | Hayden Young |
| Club | Fremantle |
| Position | DEF |
| Price | $776,000 |
| Bye | 12 |
| 2022 avg | 87.6 |
| 2022 gms | 20 |
| Proj. avg | 90-94 |
| Draft range | Looking at a D2 range |
Click here for 2023 Fantasy Classic prices.
Why should I pick him?
The defensive line in 2023 seems one of the tougher lines to pick this year, with coaches playing around with a number of different structures. Each year we see a lot of vanilla starting teams however this year I believe we will see a lot of variance in terms of how many premiums, mid pricers and rookies we choose inside our structure. This is partly due to the fact that we generally like to find value inside our premium players and this year in defence it seems most of the premiums are fairly priced. To potentially find value, we may need to take a punt on a young player with potential upside due to natural progression and increased responsibility. Enter Hayden Young.
Hayden Young is coming into his fourth AFL season, is rated as one of the elite kicks inside his draft year and now has 33 games under his belt. Having been largely affected by injury inside his first 2 seasons, Young put together 20 games last year at an average of 87.6. It finally seems like he has confidence in his body to really attack AFL football and has slotted into that heavy possession backline at Fremantle alongside the likes of Jordan Clark, Luke Ryan and Heath Chapman. Over the course of the season Young averaged 23 possessions (14 kicks, 9 handballs), 7 marks and 2 tackles. For his scoring to increase you would be banking on picking up a few extra possessions and increasing that kick to handball ratio a little bit further in favour of his elite kicking, all very viable. If we look at his two finals appearances, Young scored 122 against the bulldogs and 98 against Collingwood, both off the back of 11 marks. If Fremantle choose to have Young as the main distributor out of the backline, is this a sign of future premium scoring?
Why shouldn't I pick him?
If you are picking Young at this price point, you need him to average 97-100 and be comfortably inside the top 6 defenders. Picking a breakout and starting these players is always risky as you are taking a punt and predicting something we have never seen before, rather than picking a player who is underpriced and has been there before. These players are typically not the players I like to target in my starting squad however, I have looked to target them in the early rounds if they come out and pop
The main issue I see with Young is the role he plays in that Fremantle backline. Fremantle have a lot of quality players moving through there and from a football perspective, having multiple players share the ball and set up play is far more beneficial and harder to plan against than having all the play go through one player. This is highlighted by a number of floor scores including a 58 and a 62. Similar to the Western Bulldogs, Young may be competing too hard for consistent footy with a lot of mouthes to feed which may lead to a few floor scores that lower his average down from what we need at the top end
Deck of DT Rating.
JACK
Hayden Young is definitely a watch in the pre season and in the early rounds of the AFL season. At this point in his career he has had a breakout into the high 80s, but has done nothing yet to convince us that he will be relevant as a top 6 defender this year. A bit of natural progression should hopefully push him somewhere into the early 90s which for me is not quite enough, but definitely keep a close eye to see how that Fremantle backline is going to line up
Catch more from Kyle as part of the Point of Difference Podcast and through The Fantasy Community Discord Server.
FOLLOW US  ON TWITTER: @DTTALK for all things AFL Fantasy (and more). Got something to say about the Deck or AFL Fantasy in general? Join the conversation and use the hashtag… #AFLFantasy.