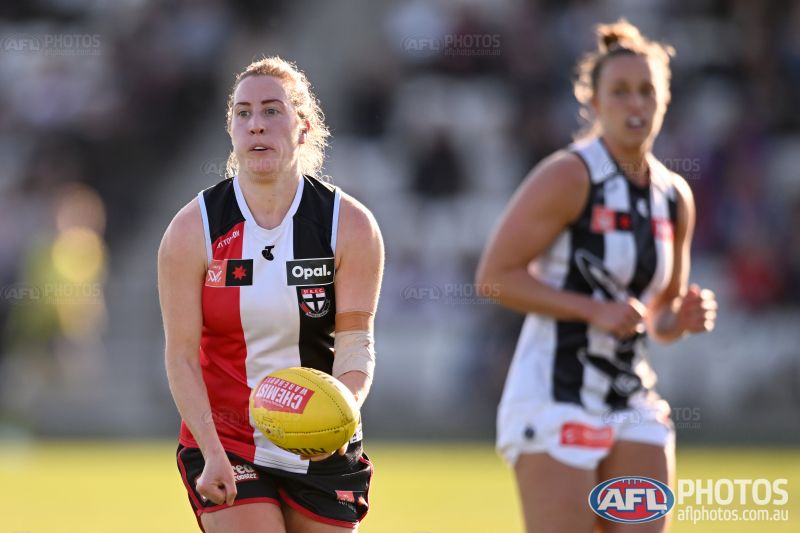 It's two weeks in a row that one of my trade targets hasn't played next round.
First 🐶 Keely Coyne was omitted after lockout, and then 🦢 Aimee Whelan broke her collarbone after lockout.
It's still worth chasing players with negative breakevens, even if their team's 23 isn't named before lockout.
But I'll put an asterisks from now on in case you've got no bench cover and need to be extra careful.
Rookies of the round
The votes for the Charlie Rowbottom Medal for best rookie of the season go to:
5. 😇 Hannah Stuart (MID) 103
4. 🦉 Lucy Wales (RUCK) 72
4. 🏁 Joanna Lin (MID) 72
4. 🦉 Tamara Smith (MID) 72
1. 🍐 Alex Ballard (DEF) 69
Leaderboard: 🦉 Wales (11), 🍐 Dowrick (10), 🐯 Sheerin (10), 🍐 Ewings (9), 🦉 Fleming (8), 🦉 Smith (8)
Cash is queen
The biggest price rises by rookies this round were:
😇 Hannah Stuart (MID) $11,400
🍐 Alex Ballard (DEF) $9,100
😇 Simone Nalder (RUCK) $8,900
🦉Jasmine Fleming (MID) $8,400
🦉 Lucy Wales (RUCK) $8,200
Trade targets
😇 Simone Nalder | RUCK, $41,900, 6%
Nalder started slow with just 18 in Round 4 but bounced back with a strong 50 and 63.
She racked up 19 hit outs in Erin McKinnon's absence, which is a handy baseline before piling on nine disposals, three marks and four tackles.
McKinnon should be back from her concussion but I wouldn't be too worried – Nalder split the ruck duties in Round 5 but still managed that 50.
🦢 Ruby Sargent-Wilson | MID, $34,500, 4%
Sargent-Wilson was the best debut last round with 58 from a well-rounded 13 disposals, three marks and four tackles.
But I've also got confidence in the fact she was Sydney's first signing and is a local product of their academy.
Sargent-Wilson should have a lot of opportunities for the rest of the season and more cash to make in the next few weeks.
Side note
🦅 Ella Roberts and ✈ Paige Scott are a good example of how important a player's match up can be.
Roberts had averaged 52.2 leading into Round 6, while Scott had averaged 51.6
And Roberts was coming off 67, 58, 32, while Scott had scored 50, 48, 47.
But in Round 6, Roberts scored 64 against West Coast (easy) and Scott scored -1 against Brisbane (hard).
Only members of Magic Up can access the article about 'Strength of Schedule' – yet another reason to sign up!
More content
💻 Give Benjy a follow on Twitter at @benjylat
📈 Check out DFS Australia and The Dub for stats
🎙 Listen to Jono, Liam, Mel and Will from the Free Kick podcast for advice