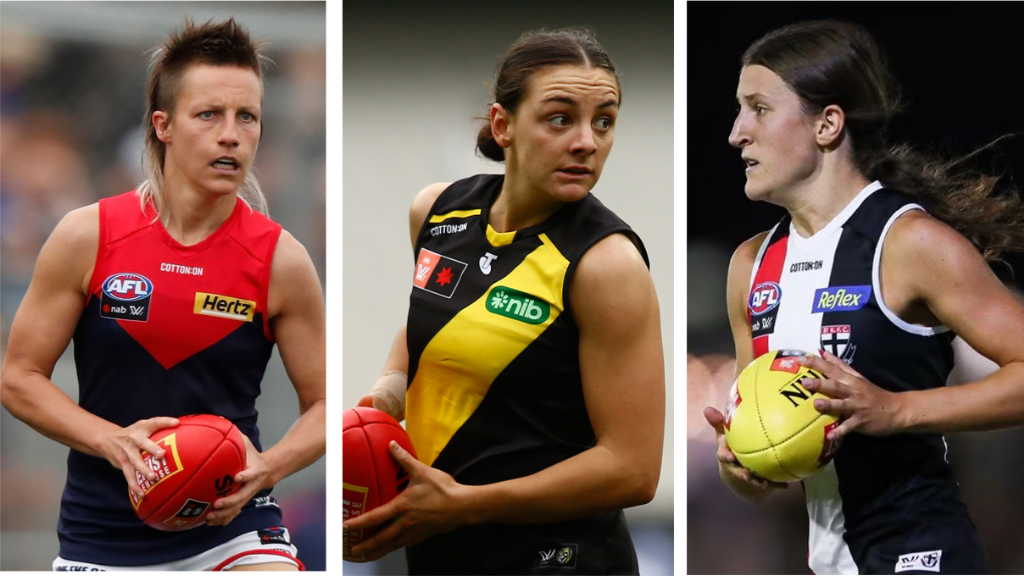 Have you just decided to get involved in AFLW Fantasy and feeling overwhelmed by how soon the season is starting? Are you playing for a second or third time, and looking to jump right back into the world of AFLW Fantasy content? This article should be the place to start.
The team at Free Kick: The AFLW Fantasy Podcast, including yours truly, have been making our way through our 'Clubs in Days' series, where we spend an episode breaking down the fantasy prospects for every AFLW side. For each episode in the series, we rank our top 5 most fantasy relevant options for 2023, plus sit down for an interview one (and sometimes more than one) currently rostered player for that team.
We have finished our final episode of the series, so I've whipped up a little summary of the most relevant options for each team in the second half of the league in each of the 'Premium', 'Mid-pricer' and 'Rookie' price buckets. This article is the second instalment of the AFLW Fantasy Download, with part 1 summing up the first half of the league. Hopefully these two articles can kickstart a successful season for any new (or more experienced) AFLW Fantasy coaches out there looking to put together a side.
As a little note, I'll be including/discussing the positions and prices for both the official AFLW game (AWF) and the Moreira's Magic game (MM), because there are a few subtle differences between the two.
Premium – Emily Bates (MID, AWF$1.088m, MM$130,700)
Bates was a league winning pick in season 6, but her fantasy average crashed back down to earth for season 7, going from 90 to 77. A move to Hawthorn, where there are a lot fewer fantasy accumulators in the team, may unlock that top 10 scoring pedigree again. Watch out though, Bates is a near constant tag threat.
Also think about: Tilly Lucas-Rodd (MID, AWF$1.209m, MM$145,300)
Mid-pricer – Louise Stephenson (AWF, FWD, AWF$460,000)(MM, DEF, $56,500)
Louise Stephenson was shaping as a good mid-pricer last season, with the defender spending most of her first game of the season in the midfield, scoring a respectable 53. That all came crashing down to earth in round 2, where a broken ankle on 2 points ruined her season, and many fantasy coaches' weekends. Priced at 33, if that midfield role re-appears, Stephenson offers sufficient value to be a worthwhile pick.
Also think about: Jasmine Fleming (MID, AWF$830,000, MM$99,800), Greta Bodey (FWD, AWF$753,000, MM$90,500)
Rookie – Tamara Luke (AWF, FWD, AWF$319,000)(MM, RUC, $37,400)
I could honestly repeat the narrative from Stephenson here for Tamara Luke. Tamara looked good in her first game, scoring 53 in a fantasy friendly ruck role. However, at the first centre bounce of round 2, Tamara went down with an ACL, ruining her first season at Hawthorn, and many fantasy coaches' weekends. If we are short of rookie ruck options to start the year, Luke is not a bad r2/utility selection.
Also think about: Mattea Breed (FWD, AWF$330,000, MM$46,700)
Premium – K. Paxman (FWD, AWF$1.053m, MM$126,500)
While Paxman's days of being a superstar midfielder are possibly behind her, her days as a premium fantasy scorer live on, as the evergreen tackler has spent a lot more time coming off the half forward line and drifting into stoppages. Has averaged 70/71 each of the last two seasons, and was incredibly consistent in s7, with only one score below 65 in the regular season. If you're looking for a consistent anchor for your f1/f2, Paxman is the play.
Also think about: Kate Hore (FWD, AWF$1.002m, MM$120,400), Liv Purcell (MID, AWF$1.117, MM$134,300)
Mid-pricer – Maddy Gay (DEF, AWF$847,000, MM$101,700)
Previously one of Melbourne's key midfielders, Gay moved into a half back role in Season 7 to provide an experienced head in defence. Still gets plenty of the ball further up the field, so expect her to be one of the higher scoring defenders this season.
Also think about: Eliza McNamara (MID, AWF$662,000, MM$69,600)
Rookie – Tahlia Gillard (AWF, RUC, $376,000)(MM, DEF, $45,100)
This is extremely speculative, but as the reigning premiers do not look like they will blood any rookies, I've got to think laterally. Gillard is a gun at full back, but not a fantasy gun. However, if she were to ever shift to a spot in the ruck, she has serious fantasy potential, as shown in her 16 disposal, 42 hit-out, 111 point performance as a ruck for Casey in the VFLW this offseason. Only a play in AWF owing to ruck status in MM.
Also think about: Aimee Mackin (FWD, AWF$300,000, MM$28,700)
Premium – Riddell (MID, AWF$1.219m, MM$146,400)
Priced at 86.6, Riddell might look like she is a touch awkwardly priced heading into the season. Don't be fooled however, as Ash is an elite PPM scorer, and in season 6, she averaged 99.6 (4th highest average overall). Her scoring in s7 wasn't quite as good, owing to some surprising/inexplicable low ToG numbers, but her PPM prowess remained broadly the same. I predict that more teams will devote resources to stopping the game breaking tour de force that is Jasmine Garner, and Riddell should profit accordingly.
Also think about: Jasmine Garner (MID, AWF$1.320m, MM$158,600), Emma Kearney (DEF, AWF$916,000, MM$110,000)
Mid-pricer – Tess Craven (FWD, AWF$547,000, MM$65,800)
Another deeply speculative one here, but Tess Craven as a forward priced at 39 is an option to consider. Ash Riddell talked in her Free Kick interview about how highly the Roos rate Tess' kick, and how she is currently pegged for a distributor role off half back . Missed the practice match vs the WBD, so serious buyers beware, but this silky distributor coming into their third season warrants a look to start the year.
Also think about: Nicole Bresnehan (DEF, AWF$694,000, MM$83,400)
Rookie – Ruby Tripodi (MID, AWF$300,000, MM$28,700)
Ruby was a recent supplemental draftee who, in both the practice match and match sim, has looked at home across the half forward line for North. Tripodi has been comfortably within North's best-21, looking good both as both a goal kicker, and in the extra F50 space created by the magnetism of the elite tall forwards otherwise forming the North Melbourne forward line. Her mid status makes it a tough pick, but an average at around 40 wouldn't shock the world here.
Also think about: Hannah Bowey (MID, AWF$300,000, MM$28,700)
Mid-pricer – Hannah Ewings (AWF, MID, $863,000)(MM, FWD, $103,700)
Ewings was the rising star last year, and oozed class as a midfielder, showed all the explosion and knack for goal you'd want to see in a medium forward, and has overall work rate of a future superstar. Unfortunately for AWF, she hasn't retained forward status, and might struggle to see the scoring boost necessary to warrant selection. However, in MM, she looks like a top-5 forward, and was one of the first in my team.
Mid-pricer – Erin Phillips (FWD, AWF$788,000, MM$97,400)
Phillips' fantasy scoring star faded on her move to Alberton, with her season 7 average of 57 a full 20 points below her career average. A lot of that came from a role at Port which revolved more around being a key forward and not on her midfield work. With the arrival of Ash Saint, and the return of a healthy Gemma Houghton in the forward line, Erin looks likely to pop up in a much more friendly role. With that move back into the midfield, she should definitely score closer to her career average in the mid70s.
Also think about: Abbie Dowrick (MID, AWF$953,000, MM$114,500)
Rookie – Matilda Scholz (RUC, AWF$300,000, MM$28,700)
Signed late in the offseason as an underage 'AFLW Priority Signing' (the first of its kind), Scholz has really come from the clouds as a genuine possibility to take a majority of Port's ruck contests this year. An under-18 All Australian for 2022, the 188cm young gun was specifically named by vice-captain Ange Foley as someone who has lit up preseason training, and that was on display with an electric performance against St Kilda in the practice match. She's currently in my team as utility.
Also think about: Jasmin Stewart (MID, AWF$394,000, MM$41,400)
Premium – Monique Conti (MID, AWF$1,227m, MM$147,500)
Mon is unquestioned elite superstar of the AFLW… who just can't quite break into the ranks of the elite AFLW fantasy scorers. Had a breakout fantasy wise in s6, going from averages in the 70s up to 85, but that trajectory couldn't be replicated in s7, hitting only 84 ppg. She's that good that I cannot rule out the possibility that Mon makes the leap to fantasy superstardom, but a game plan at Richmond that maximises metres gained and limits pure statistical accumulation mean that I'm hesitant to predict that she'll make that leap this season.
Also think about: Gabby Seymour (RUC, AWF$1.005m, MM$120,700)
Mid-pricer – Eilish Sheerin (DEF, AWF$805,000, MM$96,700)
Sheerin was the Rookie of the Year for s7 and comes into this year as part of a bunch of defenders who could launch from a sub 60 average into the top 5. A dashing intercepting half back for most of the year, the mature age recruit spent a few games at the back end of the season attending CBAs (approx. 30%). In my interview with her on the pod, Eillish talked about some mid/defender cross training this preseason without guaranteeing midfield time. Will keep you entertained watching Tigers' games.
Also think about: Katie Brennan (FWD, AWF$697,000, MM$74,400)
Rookie – Caitlin Greiser (FWD, AWF$431,000, MM$51,700)
The Tigers don't look like they'll start a whole load of rookies this season. However, the near rookie priced Greiser is a former league leading goal kicker joining a side who needs to replace attacking firepower after losing Courtney Wakefield to retirement. Priced at only 30, the G-Train averaged 49 in her All-Australian rookie year. Too risky for me, but there is a sliver of value there.
Also think about: Poppy Kelly (AWF, FWD, $396,000)(MM, RUC, $50,900), Shelby Knoll (FWD, AWF$300,000, MM$28,7000)
The 'Tyanna Smith' Category – Tyanna Smith (MID, AWF$300,000, MM$79,100)
Tyanna gets a category all to herself, because she's an option for both AWF and MM, even though she's a basement rookie in AWF, and a mid pricer priced at 47 in MM. After an epic debut season in 2021, averaging 72 and finishing second for tackles per game, Ty did her ACL before the start of s6, and she then didn't play for the entire year. She'll rejoin the Saints midfield group with 18 months of recovery under her belt, and with only the departure of Tarni White to Collingwood leaving a gaping whole in that mid group. Not even the sporadic coaching of Nick Dal Santo can turn me off this starting option, with Smith being one of a handful of players who hasn't left my side this preseason.
Mid-pricer – Georgia Patrikios (MID, AWF$725,000, MM$115,000)
Don't let the miserly priced at fool you, GP averaged 90 in season 5. Unfortunately, after not training for 2021 and the beginning of 2022, Patrikios didn't look to be at her fittest. That showed in her statistical output, dropping 22 points, 7.5 possessions, 1.2 marks, and 0.5 tackles per game off her All-Australian best. Not sure I trust Nick Dal Santo to guarantee consistent midfield roles week to week for Patrikios, or a gameplan which maximises scoring, so I'll be fading Georgia this season.
Also think about: Hannah Priest (DEF, AWF$725,000, MM$87,1000), Bianca Jakobsson (DEF, AWF$788,000, MM$94,700)
Rookie – J'Noemi Anderson (FWD AWF$300,000, MM$37,500)
Anderson was the highest draft pick to arrive at Moorabbin in 2022 and was the youngest player in the comp for season 7. An electric mid-forward, she will eventually be a fantasy relevant player, with a highlight reel filled with stoppage busting runs and elite goals. Might struggle this season though, so not a start for me.
Also think about: N/A
Premium – Chloe Molloy (FWD, AWF$958,000, MM$115,200)
The AFLW archetype of the mid-forward, Molloy left Collingwood in the offseason for a record deal with the Swans. Look past the career high average in s7, because Molloy did that with a bad back injury that saw her miss many a mid-week training session and forced her to rest deeeeep forward for load management. Looks set to be Sydney's #1 midfielder, but still has a nose for the goals, and loves a tackle. She's in my side.
Also think about: N/A
Mid-pricer – Laura Gardiner (AWF, FWD, $647,000)(MM, DEF, $77,800)
I dare not say it too loudly, but Gardiner is a potential fantasy superstar, who was 'hidden' on the wing at Geelong. Her move to Sydney changes everything. Laura averaged 35 touches and 116 fantasy points in the VFLW in 2022, with her effort against Port Melbourne the shining jewel in that season, with an outrageous 155 fantasy points on 49 possessions. Chloe Molloy was legitimately blown away by what she'd seen from Gardiner on her arrival in Sydney, and Gardiner was a high CBA midfielder in the preseason match against Carlton. I predict that this hardworking, quick, high tackling, elite accumulator will soon be talked about among the top fantasy scorers in the AFLW. In MM, as a MID, she is value. In AWF, as a FWD, she is a lock.
Also think about: Ella Heads (DEF, AWF$570,000, MM$68,500), Lucy McEvoy (DEF, AWF$742,000, MM$89,100), Sofia Hurley (MID, AWF$615,000, MM$73,900)
Rookie – Ruby Sargent-Wilson (DEF, AWF$415,000, MM$53,200)
RSW popped into fantasy sides at the back end of s7, with a wing role in her first game throwing up a 58. Unfortunately, that role didn't last with a low scoring forward role following for her final 3 games. Named by member of the leadership group, Lauren Szigeti, as one to improve for 2023, Ruby is a name to thrown in the memory bank.
Also think about: Eliza Vale (DEF, AWF$301,000, MM$35,400)
Premium – Emma Swanson (MID, AWF$1.267,000, MM$152,200)
Swanson has toiled in some very lean seasons at West Coast in 2022, but she was a very consistent elite scorer nonetheless. With the Eagles poised to improve in 2023, Swanson could cash in with increased scoring if she can turn her high ToG% into more scoring, on the back of the AFLW's rule change to lengthen quarters.
Also think about: N/A
Mid-pricer – Ella Roberts (FWD, AWF$813,000, MM$97,700)
This sand-grouper would have gone pick 1 in the 2022 draft if she hadn't nominated WA in the draft. The Eagles were beneficiaries, and Roberts put together a good, but not great first season. If you're looking for the upside, she scored an 85 against s7's stingiest fantasy defence of eventual premiers Melbourne in r10. Has the skills of a mid, the hands to clunk marks in f50, and the size and body control to pinch in the ruck, so can score from all avenues.
Also think about: Charlotte Thomas (DEF, AWF$837,000, MM$100,600), Bella Lewis (MID, AWF$923,000, MM$110,900)
Rookie – Shanae Davison (FWD, AWF$300,000, MM$28,700)
The Free Kick pod interviewed three players from the Eagles in this preseason. Two of those players (Aimee Schmidt and Ella Roberts) picked Shanae Davison is the player most likely to improve this season, and the third player said she'd have said the same if she hadn't been poached. Reports are that a mid/wing role is on the cards for Shanae, meaning that this 300k forward is a prime F6 candidate.
Also think about:  Evie Gooch (DEF, AWF$478,000, MM$50,200)
Premium – Alice Edmonds (RUC, AWF$1.003, MM$120,600)
Alice Edmonds was THE ruck pick of season 7, and she was also categorically robbed of a spot in the AA side. She put together one of the best tap rucking seasons in AFLW history, including breaking the record for most hit outs to advantage in a single game. If you're looking for fantasy upside, the final 4 games of the regular season saw Edmonds average 83.5 points with 27 hitouts and 8.25 tackles per game.
Also think about: Ellie Blackburn (MID, AWF$1.185m, MM$142,000)
Mid-pricer – Katie Lynch (DEF, AWF$833,000, MM$100,100)
Katie Lynch could easily be the highest averaging defender by a comfortable margin. Unfortunately, she's too good at actually being a defender in real football. This means Lynch is never more than a quarter away from being asked to forego her kick-mark dominant QB role off half back to become a lock down tall defender. Owning her will make you tear your hair out, with tough to watch 30s followed up by effortless 90s. Category 5 levels of buyer's beware here, but I'd be lying if I said I hadn't thought about bringing her in…
Also think about: Gabby Newton (FWD, AWF$570,000, MM$68,500)
Rookie – Dominique Carruthers (MID, AWF$,316,000 MM$38,300)
Drafted this year out of the Bulldogs VFLW team, Carruthers is a mature-aged midfielder who has been a train-on player at both GWS and Sydney. Had a role as an inside mid in the Dogs' praccy match against North, even before the injury to Ellie Blackburn. Add her to the list of M6/Utility options.
Also think about: Maggie Gorham (AWF, MID, $300,000)(MM, FWD, $28,700)
At that's it for the AFLW Fantasy Download for 2023. If you haven't already, be sure to read Part 1! Keep an eye out for more AFLW fantasy content here on DT Talk, and on the Free Kick Podcast, Instagram and Twitter
For more content: