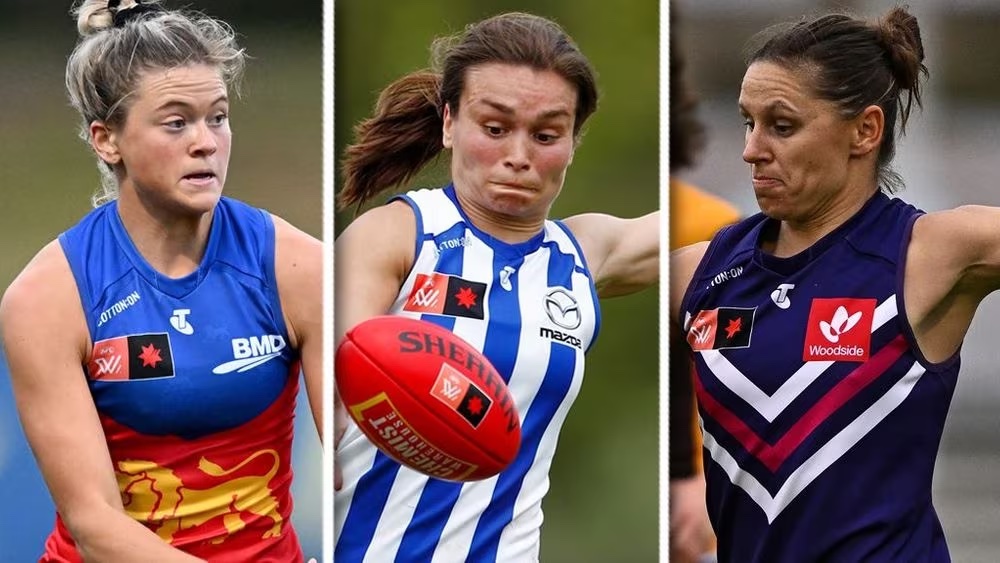 Have you just decided to get involved in the AFLW Fantasy season and feeling overwhelmed by how soon the season is starting? Are you playing for a second or third time, and looking to jump right back into the world of AFLW Fantasy content? This article should be the place to start.
The team at Free Kick: The AFLW Fantasy Podcast, including yours truly, have been making our way through our 'Clubs in Days' series, where we spend an episode talking about the fantasy prospects in every single AFLW side. For each of those episodes, we rank our top 5 most fantasy relevant options for 2023, and we also have at least one currently rostered player for that team join us for an interview. We are currently in the middle of that series, so what better thing to do than provide a nice little summary for everyone to get caught up!
I've whipped up a little summary of the most relevant options for each team in each of the 'Premium', 'Mid-pricer' and 'Rookie' price buckets, and hopefully that'll kickstart a successful season for any new (or more experienced) AFLW fantasy coaches out there looking to put together a side.
As a little note, I'll be including/discussing the positions and prices for both the official AFLW game (AWF) and the Moreira's Magic game (MM), because there are a few subtle differences between the two.
Premium – Ebony Marinoff (MID, AWF$1.583m, MM$190,400)
At just 25 y/o, Marinoff is the most prolific stat accumulator in AFLW history. Averaged a career high 105.6 fantasy ppg in season 7, but she hasn't had an average below 94 since her rookie year and has a career average of 98. Little reason to believe she'll be any worse in 2023, and is one of the few players who is a consistent captain option week to week.
Also think about: Anne Hatchard (MID, AWF$1.375M, MM$165,200), Chelsea Randall (AWF, FWD, $1.179M)(MM, MID, $141,600)
Mid-pricer – Sarah Goodwin (DEF, AWF$423,000, MM$56,500)
Taken by Port Adelaide at Pick 7 in 2022, Goodwin has shifted across town to the Crows. Didn't necessarily score well at Port but was a top-level scorer in the SANFLW as an underaged player in 2022, with an 82.6 average and a 110+ ceiling. Could be in the Crows' best 21 as an intercepting defender, throw her on the watchlist.
Also think about: Montanna McKinnon (RUC, AFW$725,000, MM$87,100)
Rookie – Jessica Allan (RUC, AWF$300,000, MM$47,300)
In AWF, Allan will be a bargain basement rookie, but she has been a full time ruck for GWS and Adelaide previously, with injuries killing her last few seasons. Has averaged 45 in a season before and may be in line for ruck minutes in 2023 with former R1 Caitlin Gould slated to move forward to replace Ash Saint (nee Woodland).
Also think about: Deni Varnhagen (MID, $300,000)
Premium – Ally Anderson (MID, AWF$1.289M, MM$154,900)
The Lions only have one 'premium' player on their list, being the reigning league best and fairest. Anderson took her game to new heights in season 7, rising from a 65 average to a huge 92. With Emily Bates leaving for the Hawks, there is some reason to believe Anderson still has some limited upside, but maybe not enough to be a starting pick.
Also think about: Tahlia Hickie (RUC, AWF$919,000, MM$108,900)
Mid-pricer – Belle Dawes (MID, AWF$885,000, MM$106,400)
The supremely talented mid/half forward Dawes is my number 1 pick to replace Emily Bates in the midfield this season. Was the 4th CBA midfield option for the Lions in season 7, but showed the necessary fantasy upside when she got more than 70% CBAs, with an average of 82 avg in those games in season 7. Awkwardly priced for 2023, but could be too talented to pass up if the role is there #BelleDawesSzn.
Also think about: Nat Grider (DEF, AWF $808,000, MM$97,100), Ellie Hampson (MID, AWF $760,000, MM $91,300)
Rookie – Lily Postelthwaite (FWD, $300,000)
Brisbane's fantasy rookie issue is that they're incredibly well set for established talent, and they don't lack for experience, youth, speed or agility. Lily was in the side last year in r1, then did her ACL for the second year in a row. She is apparently back fitter than ever before. Throw her on the watch list.
Also think about: Poppy Boltz (AWF, DEF, $306,000) (MM, MID, $31,100)
Premium – Breann Moody (RUC, AWF$1.085M, MM$130,400)
Breann has been the set and forget ruck for each of the last 3 seasons, and firms as a near certainty to do the same again this season. She's extremely well rounded, gets around the ground for marks and tackles, kicks goals, on top of leading the hit outs all-time in the AFLW.
Also think about: Mimi Hill (MID, AWF$1.05M, MM$126,100)
Mid-pricer – Gab Pound (DEF, AWF$673,000, MM$80,700)
Gab Pound was well down on her best last season, dropping her average from 62.8 down to 47.8. That was as a result of being thrown around the ground, even spending some time as a small forward. New coach Matthew Buck has talked about playing people in their most natural position, meaning Pound ought to be slotted right back in across half back.
Also think about: Keeley Skepper (AFW, FWD, $709,000)(MM, MID, $85,300)
Rookie – Harrier Cordner (DEF, AWF$304,000, MM$32,000)
The rookie priced Cordner isn't a real rookie, as the former AA intercepting defender is coming off a 2022 where she injured her ACL and averaged only 27. In her AA year, Cordner led the league in intercept marks, and averaged 54 fantasy points, and Carlton just lost key defensive cog Lucy McEvoy to the Swans.
Also think about: Taylor Ortlepp (AWF, MID, $300,000)(MM, FWD, 39,600), Marianna Anthony (MID, AWF$300,000, MM$28,700)
Under-priced Premiums – Brianna Davey (MID, AWF$867,000, MM$91,100) and Brit Bonnici (MID, AWF$943,000, MM$99,100)
Breaking the mould here and putting the premium and mid-pricers together. That's because Davey and Bonnici aren't your typical fantasy selections. Both Collingwood mids injured their ACLs in season 6, but they also both possess elite fantasy ceilings. Bonnici's last two seasons boast a fantasy average in excess of 83 (now priced at 67), and Davey averaged 94.8 in her last full season in season 6 (now priced at 61.5). Both are near locks for my midfield.
Also think about: Jordyn Allen (DEF, AWF$853,000, MM$102,500)
Rookie – Eleri Morris (FWD, AWF$312,000, MM$35,900)
Rookie priced forward generating hype out of Collingwood. Naturally talented and athletic, should get an early crack in the Pies forward line. A worthwhile F6 at some point in the season.
Also think about: Olivia Barber (FWD, AWF$344,000, MM$49,800)
Premium – Maddie Prespakis (MID, AWF$1.257m, MM$151,000)
Season 7 was the season we saw Maddy P break out a top tier fantasy game, averaging 89.3, after 4 consecutive seasons in the 70s to start her career at Carlton. Whether she can take her game to another level remains to be seen, but guaranteed to be an upgrade target by midseason.
Also think about: N/A
Mid-pricer – Paige Scott (FWD, AWF$583,000, MM$70,000)
Paige Scott was a must have rookie to start season 7, as goal kicking forward with a relentless tackle and clearance game when thrown in the midfield. Or at least she WAS a must have until she became a full time forward, where she got lost, particularly against top-4 sides (see game vs Brisbane for a -1). Highly volatile scoring, but scores well above her 40 priced at figure when a 30/40% midfielder.
Also think about: Brooke Brown (DEF, AWF$704,000, MM$84,600)
Rookie – Georgia Nanscawen (MID, AWF$300,000, MM$28,700)
Start her. Don't question it. Nanscawen averaged 107 in her 30-game career for Essendon in the VFLW and was as slated to be in the core midfield group at the next level in s7 before an ACL injury in the VFLW GF. An elite endurance athlete and former Hockeyroo who has played in the AFLW before (season 5 at North), GNans will immediately move into the CBA rotation this year. She was the first player picked for my fantasy sides this year, no questions asked.
Also think about: Mia Busch (DEF, AWF$300,000, MM$31,200)
Premium – Kiara Bowers (MID, AWF$1.703m, MM$204,600)
Kiara Bowers is the most dominant fantasy scorer in the AFLW, bar none. Might be the best fantasy scorer of all time in both the women's AND men's game. On the back of record breaking tackle numbers, Turbo averaged 121, 15 points more than the next best player last year, even after she 'underperformed' to start s7 (due to missing most of the preseason with COVID). Given her price tag, pick her or don't pick her for strategic reasons, but fair warning, if you don't, I wouldn't turn the TV on to watch Fremantle games (I know all too well…).
Also think about: N/A
Under-priced Premium – Hayley Miller (MID, AWF$1.027m, MM$123,400)
Breaking the mould here again, because Hayley Miller needs to be discussed as a midfielder in the same 'under-priced premium' bucket as Ash Riddell (and because Fremantle rookies are a bit of a toughie atm). Averaged 91.3 as an AA in s6, and has the inside/outside game that coaches covet. Another player who saw their scoring dip off an injury interrupted preseason, Miller is a watch list candidate at a minimum.
Also think about: N/A 
Mid-pricer – Gabby O'Sullivan (AWF, MID, $560,000)(MM, FWD,$67,400)
GOS was AFLW fantasy's F1 in s6, averaging 77. After a slew of injuries at Freo pushed her from mid to forward in s7, she then got injured on 8 in round 7, meaning O'Sullivan is priced at a 39.8 average. Her mid status in AWF makes her more difficult to select (if still a legit option at M5), but as a forward in MM, her 25 points of upside make her a near must.
Also think about: Mim Strom (RUC, AWF$953k, MM$114,300)
Premium – Georgie Prespakis (MID, AWF$1.337m, MM$160,600)
Took a huge leap in season 7, bumping her average by 30+ points in only her second season. Her potential room for scoring growth comes from her low marks per game, only managing to get 17 in her 9 games. That low number could be something she personally needs to improve, or as a result of the Geelong system, with Geelong's other premium mid, Amy McDonald, averaging only 1.5 marks per game. Not a starter for my side, but definitely on my upgrade list.
Also think about: Amy McDonald (MID, AWF$1.313m, MM$157,800)
Mid-pricer – Nina Morrison (MID, AWF$1.019m, MM$122,400)
Nina is not someone that we discussed on our Geelong episode of the Free Kick, as without forward status, her marginal room for scoring growth pales in comparison to other mid-priced midfielders in MM. HOWEVER, as a FWD in AWF, Morrison goes from awkwardly priced, to sitting just outside the top of her line. Averaged 80 between r5 and r10 last year, which also correlated with a bump in her CBA attendance numbers. One flag is that her best scoring came with a 60+% CBA role (vs her 28% average for the season) with Georgie Prespakis out of the side.
Also think about: Kate Surman (FWD, AWF$694,000, MM$83,400), Darcy Moloney (FWD, AWF$601,000, MM$72,200)
Rookie – Erin Hoare (RUC, AWF$336,000, MM$28,700)
Hoare was selected by the Cats with the first (and their only) pick in the 2023 supplemental draft, having had two children since her last AFLW game for the club in 2019. Erin, who is the tallest player in AFLW history, had previously taken a study break from football at the end of the 2019 season. In her seasons at Geelong in 2019 and Melbourne in 2018, Hoare averaged a tidy 46.1. Coming in rookie priced, she's a watch list player if selected, even more so if Olivia Fuller misses any time.
Also think about: N/A
Premium – Charlie Rowbottom (MID, AWF$1.257m, MM$151,000)
Rowbottom had an extremely consistent season 7, with the 2022 draft's number 1 pick pushing herself into the top-10 averaging players for s7 (89.3). Her potential upside comes from (a) the possibility that Ellie Hampson's departure allows Charlie to increase her market share of tackles and inside possessions, and (b) that she adds more of an outside game to her skillset, with the lowest metres gained per game for all mids inside that top-10 from last season.
Also think about: Alison Drennan (MID, AWF$1.168m, MM$140,700)
Mid-pricer – Daisy D'Arcy (DEF, AWF$704,000, MM$84,600)
Daisy is a gifted half back who is rated very highly internally at the Suns. Coming into her forth AFLW season, D'Arcy is still on 20 y/o, and has improved her fantasy scoring in each of her previous seasons. Don't be surprised if she gets a scoring bump with some potential midfield time and more responsibility out of the backline.
Also think about: Lucy Single (AWF, FWD, $522,000)(MM, MID, $62,800)
Rookie – Alana Gee (MID, AWF$300,000, MM$28,700)
Alana Gee was seen as a gem for the Suns out the 2022 draft, but missed last season due to injury. A natural midfielder, she may get pressed into the CBA mix the departure of Hampson. Keep an eye on her in the preseason.
Also think about:  Maddie Brancatisano (FWD, AWF$300,000, MM$31,900)
Premium – Alyce Parker (MID, AWF$1.289m, MM$154,900)
Alyce 'Piggy' Parker put together an incredible season 7, with an inside and outside fantasy game (10th MG, 8th Marks, 5th possessions, 5th Clearances, lead GWS in tackles) that made GWS games a delight for all owners. Priced at 91.6, there is limited price upside for those considered Parker in their side to begin the year, particularly with the return of other Giant midfielders from injury, most notable among them being Bec Beeson. However, her 125+ point ceiling means she will be an upgrade target for good sides through the season.
Also think about: N/A
Mid-pricer – Tarni Evans (DEF, AWF$757,000, MM$91,000)
One of season 7's biggest improvers, Evans became very fantasy relevant after a move to a ball dominant QB-style role across half back at mid-season.  Tarni averaged 44 ppg to r4, but after her role change, her average ballooned to 61 in the final 6 rounds of the season, which puts her in range of a top-5 defender. With clearcut defender picks hard to find, don't count Tarni Evans out for your side in round 1.
Also think about: Bec Beeson (MID, AWF$642,000, MM$67,500), Georgia Garnett (FWD, AWF$888,000, MM$106,700)
Rookie – Fleur Davies (RUC, AWF$300,000, MM$28,700)
There are two very simple reasons why Fleur Davies should be in your side to start the year. (1) GWS don't have many rucks on their list, and the ones they do have are not established names, and (2) Fleur Davies is the best prospect of the lot of them. Drafted in 2022, she was a highly touted prospect slated to be the starting ruck for the Giants for s7 before a last minute shoulder injury ruled her out for the season.
Rookie – Isabel Huntington (FWD, AWF$300,000, MM$28,700)
As a bonus player for the final team of this part 1 of the AFLW Fantasy Download, I'm going to give you Issy Huntington. A former All-Australian at the WBD, Issy moved up north into a forward line that's looking verrrry lean to begin the season. Shown the ability to average in the high 40s as a forward, but after a few missed seasons due to injury, she arrives on a silver platter to our fantasy sides at basement price.
Also think about:  Tess Cattle (DEF, AWF$358,000, MM$39,800), Annise Bradfield (FWD, AWF$300,000, MM$32,200)
That's all for part 1 but be sure to stop by for part 2 of the AFLW Fantasy Download!
For more content: