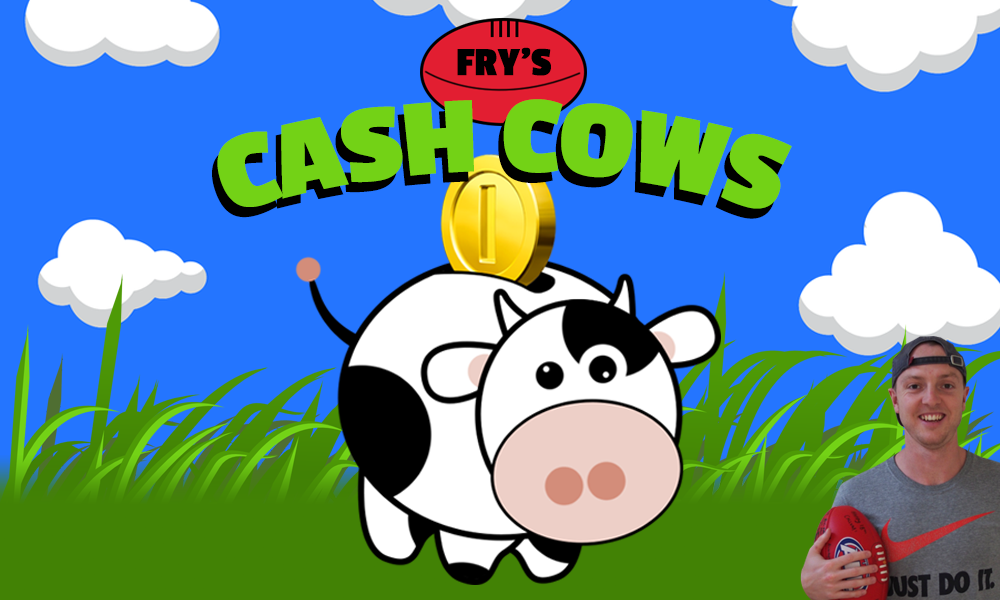 Copious months of changing our thinking, the structure of our side, refreshing Twitter, downloading podcasts and of course, deleting our fantasy teams and starting from scratch are nearly in the rear vision mirror!
By the time you read this, there's a chance the Bulldogs and Demons have already kicked off the 2022 AFL season and with that another all-important fantasy campaign. To succeed and drive away in a shiny new Toyota Hilux a lot of things will need to break right and you'll undoubtedly need a bit of luck as well. Coupled with those factors, it's crucial that your team generates cash over the entire season and there's no better way to do that than by nailing your rookie/cash cow picks. That feat is easier said than done, with the annual "there are no rookies" catchphrase somewhat ringing true this year, so to make the task less daunting I've once again compiled a comprehensive cash cow guide to help your team hit the ground running in Round 1!
If you missed out on my AAMI Series cash cow watchlist be sure to check it out here.
Rookie/cash cows picks are defined as players who are priced at $350,000 or lower
---
DEFENDERS
1. Josh Sinn, Power
AFL Fantasy Price: $268,000
AAMI Series Score: 29 from 43% TOG
Practice Game Score: 51
2021 Average: 65.2 from 4 NAB League games
We're still not sure how much action Josh Sinn is going to see as a member of Port Adelaide's best-22 this season, especially with the club squarely in the mix for a premiership. His line-breaking ability and clean foot skills are bound to be utilised by the Power for years to come and fantasy coaches are hopeful that he can entrench himself in their side given Ken Hinkley's tendency to play the kids. He'll likely don the medical sub vest in a few contests, but if he's given a clean run of games, I expect Sinn to post healthy point totals and become a meaningful cash cow.
2. Patrick McCartin, Swans
AFL Fantasy Price: $271,000
AAMI Series Score: 56 from 91% TOG
Practice Game Score: 38
2021 Average: 72 from 4 VFL games
We've already got confirmation that Paddy McCartin will make his Swans debut on the weekend and desperate fantasy coaches are quickly pouncing on the former No. 1 pick. After a tumultuous few seasons, McCartin looks set to carve out a place as a permanent member of Sydney's backline and revive his AFL career at the opposite end of the ground he's used to. Key backmen don't usually provide us with fruitful fantasy numbers and while we should tempter expectations around McCartin's scoring, he's looking like the best on-field defensive rookie for Round 1.
3. Sam De Koning, Cats
AFL Fantasy Price: $190,000
AAMI Series Score: 70 from 91% TOG
Practice Game Score: 31
2021 Average: 50.9 from 7 VFL games
Versatile DEF/FWD status makes Sam De Koning incredibly appealing as he prepares to enter his third season in Geelong's system. He managed to make his AFL debut last year where De Koning scored an unappealing 29 points from 8 touches, but there appears to be more promise around the tall Cat this time around. His encouraging AAMI Series game against the Suns where he accumulated 19 touches for 70 points has a lot of coaches hopeful that De Koning will stay in Geelong's team to commence the season. His volatile scoring should continue though with plenty of scores in the 40's, so I'd only view De Koning as a bench worthy cash cow rather than opting to field the former first-round pick.
4. Josh Gibcus, Tigers
AFL Fantasy Price: $274,000
AAMI Series Score: 55 from 81% TOG
Practice Game Score: 39
2021 Average: 54.9 from 10 NAB League games
Another confirmed debutant, Josh Gibcus will undoubtedly see a spike in his ownership before Richmond clashes with Carlton. Again, the glaring lack of noteworthy defensive rookies will lead to Gibcus appearing at D5/D6 for a portion of the fantasy community and his scoring output could have some of us searching for the delete team button just weeks into the season. It's not all doom and gloom though, with the No. 7 pick from last year's draft showing flashes in the preseason – just don't expect his scores to jump off the page.
5. Campbell Chesser, Eagles
AFL Fantasy Price: $264,000
AAMI Series Score: N/A
Practice Game Score: 6
2021 Average: 63.3 from 3 NAB League games
If the dreaded syndesmosis injury bug hadn't bitten Campbell Chesser then the new Eagle would've likely been ranked as the No. 1 DEF cash cow. All reports that were coming out of West Coast indicated Chesser was doing the right things for an early-season debut, however, we'll now have to wait until the middle portion of the season to see him fulfil that promise.  Touted as a future winger/halfback for the Eagles, there are still plenty of reasons to pick Chesser when he's healthy and he's shaping up as an important mid-late season cash cow.
Best of the rest – Defenders
A lot of coaches are holding out hope for a handful of $190K players to be named to provide us with defenders to plug on our bench. Charlie Dean (Magpies, $190K) appeared set to play that role until he suffered a foot injury, but that could lead to his teammate Will Kelly (Magpies, $191K) taking his place initially. If neither of them are selected, there is some optimism that Jordan Boyd (Blues, $190K) will crack Carlton's rotation, however, with Sam Docherty making his return that now seems unlikely.
Brodie Kemp (Blues, $271K) is another Bluebagger generating some interest as Round 1 draws closer, but I don't think he's worth paying up for – especially if he's going to sit on your bench. He could prove me wrong and with a lack of basement priced DEF's our hand may be forced. Keidean Coleman (Lions, $343K) also comes at a cost, although he's set to miss the first few months after going down with a hamstring complaint against the Dogs. When the Brisbane halfback does return I'm leaning towards pulling the trigger on him and while the same can be said for the notorious Will Gould (Swans, $190K), don't get sucked into starting with the former SANFL stud.
Deeeeep Dive
Not every cash cow can be in the mix for a Round 1 game, however, that doesn't mean their names aren't worth remembering. In no particular order, here are some of the other rookie priced defenders to consider throughout the season.
Nathan O'Driscoll (Dockers, $190K)
Darcy Wilmot (Lions, $260K)
Jake Stein (Giants, $190K)
Josh Fahey (Giants, $208K)
Nathan Kreuger (Magpies, $287K)
Sam Skinner (Power, $190K)
Isaac Chugg (Magpies, $190K)
Nasiah Wanganeen-Milera (Saints, $270K)
Rory Thompson (Suns, $190K)
Garrett McDonagh (Bombers, $192K)
Bodhi Uwland (Suns, $190K)

MIDFIELDERS
1. Nick Daicos, Magpies
AFL Fantasy Price: $284,000
AAMI Series Score: 99 from 87% TOG
Practice Game Score: 60
2021 Average: 136 from 4 NAB League games
One of the all-time safest locks in the history of AFL Fantasy, I'm still surprised Daicos doesn't boast a higher ownership. Sure, he's in over 60% of teams, but his elite fantasy numbers through his junior days and the preseason mean that number should still be higher. Poised to rotate through the midfield and half-back line in his first year with the Magpies, I'm expecting Daicos to push his average north of 85, meaning there's nothing wrong with keeping Peter's famous son in your team for the entire season.
2. Jason Horne-Francis, Kangaroos
AFL Fantasy Price: $290,000
AAMI Series Score: 78 from 72% TOG
Practice Game Score: 68
2021 Average: 74.2 from 20 SANFL games
Concerns over his scoring ability are understandable, but Jason Horne-Francis still needs to be in your starting side. The allure of using him closer to goal and not overloading the teenager in his first pro season means North Melbourne will take a somewhat cautious approach with the No. 1 overall pick. Still, JHF has shown over the preseason that it really doesn't matter where he plays, he'll still be productive enough to emerge as one of the best cash cows in 2022 and a genuine Rising Star threat.
3. Josh Ward, Hawks
AFL Fantasy Price: $278,000
AAMI Series Score: 91 from 67% TOG
Practice Game Score: 61
2021 Average: 108.8 from 5 NAB League games
We can take Josh Ward's preseason score of 91 with a grain of salt given Hawthorn were missing Tom Mitchell and Jaeger O'Meara, but all signs still point to the young Hawk thriving for fantasy coaches. The newest ball magnet at Waverley Park, Ward chewed up possessions for fun in his final junior season and he'll carry that trait over to the AFL level as soon as he hits the park. A lock for a large majority of coaches at M8, expect Ward to provide some healthy scores and average around the 65 mark.
4. Connor Macdonald, Hawks
AFL Fantasy Price: $240,000
AAMI Series Score: 57 from 71% TOG
Practice Game Score: 49
2021 Average: 121.2 from 4 NAB League games
There's a portion of daylight between the top 3 MID's and the rest of the group meaning another player could overtake Connor Macdonald by season's end. With that being said, Nick Daicos was the only draftee who averaged more fantasy points a year ago and the promising on-baller showed plenty of promise in the AAMI Series with 57 points from just 71% TOG. I've got fears that he'll be utilised as the sub for Hawthorn at times, but it's still worth paying up for Macdonald and picking him when he breaks into the Hawks' AFL side.
5. Greg Clark, Eagles
AFL Fantasy Price: $190,000
AAMI Series Score: N/A
Practice Game Score: N/A
2021 Average: 114.7 from 19 WAFL League games
After doing his AC joint in the preseason, the buzz around Greg Clark has understandably cooled as Round 1 approaches. However, once he's fit and firing I won't be shocked if he makes a run at carving out an important role in West Coast's aging midfield and fantasy midfield at the same time. The mature-aged recruit has finally had his AFL dream realised after a dominant WAFL season that included a 155-point game on Grand Final day and a season-high score of 164! A tackling machine with a natural ability to hunt the footy, Clark should remain on every coach's radar.
6. Cooper Stephens, Cats
AFL Fantasy Price: $190,000
AAMI Series Score: 62 from 64% TOG
Practice Game Score: 26
2021 Average: 61.7 from 9 VFL games
Geelong has to get games into their youngsters sooner or later, right? For that reason, a lot of coaches are high on the prospects of Cooper Stephens, who has been cut down by injuries in recent years and is still eagerly awaiting his AFL debut. That could change early in the 2022 season though, with Stephens poised to play in their senior side after an injury-free and encouraging preseason. Hopefully he can avoid the sub vest and provide the fantasy faithful with an M9-M10 option we can pick with confidence.
7. Neil Erasmus, Dockers
AFL Fantasy Price: $272,000
AAMI Series Score: N/A
Practice Game Score: N/A
2021 Average: 108.8 from 4 WAFL Colts games
The fact that he's missed both preseason hitouts for Fremantle doesn't mean you should take Neil Erasmus' name off your list. It may take the top-10 draftee some time to get going this AFL season, but as he continues to develop at a rapid rate you can expect the Dockers to get games into him and decent scores to follow. His ability to take a grab overhead could see him spend time as a half-forward rather than a regularly MID and there's enough upside to select Erasmus with confidence when he does appear in the Freo's lineup.
Best of the rest – Midfielders
One player we're definitely going to see during the first weekend of footy is Brady Hough (Eagles, $230K) with Adam Simpson confirming the former Peel Thunder product will feature against the Suns. He boasts solid junior numbers and could become a handy cash cow early on in the season, but once the bigger name West Coast players return, we should see Hough drop back to WAFL level. Popular Port youngster Jackson Mead (Power, $190K) is another name that coaches have at the forefront of their mind, hoping he can follow in Hough's footsteps and earn a debut to commence the season.
There are a few other 2021 draftees that could emerge as early cash cow targets with both Ben Hobbs (Bombers, $266K) and Jake Soligo (Crows, $220K) on the radar for coaches. The duo come at an inflated cost and hardly lit the world on fire over the preseason, but Soligo particularly interests me after the latest injury setback to Rory Laird. His average of 105+ from his final season in the NAB League could see Soligo score in healthy doses as soon as Adelaide picks him – which hopefully is within the first few rounds of the season.
Deeeeep Dive
Not every cash cow can be in the mix for a Round 1 game, however, that doesn't mean their names aren't worth remembering. In no particular order, here are some of the other rookie priced midfielders to consider throughout the season.
Jed McEntee (Power, $190K)
Arlo Draper (Magpies, $202K)
Reef McInnes (Magpies, $190K)
Matty Roberts (Swans, $224K)
Angus Sheldrick (Swans, $256K)
Harry Sharp (Lions, $198K)
Matthew Johnson (Dockers, $250K)
James Tsitas (Suns, $190K)
Robbie McComb (Bulldogs, $190K)
Josh Goater (Kangaroos, $248K)
Finn Callaghan (Giants, $286K)
Hugh Jackson (Power, $190K)
Tom Joyce (Eagles, $190K)
RUCKS
1. Sam Hayes, Power
AFL Fantasy Price: $190,000
AAMI Series Score: 50 from 45% TOG
Practice Game Score: 40
2021 Average: 87.4 from 18 SANFL games
Sam Hayes has had his work cut out for him in recent times to break through into Port Adelaide's senior side, but all signs point to that changing in the upcoming campaign. Following the departure of Peter Ladhams, the door has opened for Hayes to get AFL games and his form at the state level certainly justify picking him when he does appear for the Power. Producing an average of 87 and 91 points in the past two SANFL seasons respectively, Hayes is a smart bench ruckman to target and coaches have their fingers crossed regarding a potential early berth.
2. Jack Hayes, Saints
AFL Fantasy Price: $190,000
AAMI Series Score: 49 from 78% TOG
Practice Game Score: 27
2021 Average: 105.7 from 20 SANFL games
He was only signed a few weeks ago, but the stars are aligning for Jack Hayes to make his AFL debut in Round 1. Initially tabbed as an injury replacement for Paddy Ryder, Hayes didn't look out of place in the AAMI Series, which should see him play second fiddle as Rowan Marshall's backup once the season commences. His versatility in front of goal as well as in the ruck could lead to fairly safe job security while Ryder remains out and Hayes of the St Kilda variety is shaping up as THE popular R3 selection.
The moral of the story? Always answer your phone! 😂

Jack Hayes tells the story of how he landed up in red, white and black in the latest episode of Sounds of the Saints.

FULL PODCAST → https://t.co/9ZZI5DiEpm pic.twitter.com/uqpsnzAyUs

— St Kilda FC (@stkildafc) March 11, 2022
3. Hugh Dixon, Eagles
AFL Fantasy Price: $190,000
AAMI Series Score: 38 from 89% TOG
Practice Game Score: 66
2021 Average: 73.4 from 9 WAFL games
Carved in the mould of a key forward more than a backup ruckman, Hugh Dixon won't go scoring in heavy doses during 2022. He doesn't have to do much other than chug along as a slow-burning cash cow for fantasy coaches and the injury epidemic at West Coast HQ will likely pave the way for Dixon to feature in their team to start the season. Previously spending time on Freo's list, Dixon has shown glimpses of promise and while his fantasy numbers won't light up the world he's a handy bench piece thanks in part to his valuable FWD/RUC status.
Best of the rest – Rucks
It's slim pickings outside of the top-3 in the ruck department, with the mid-season draft paving the way for some other tall timber to put their hands up and make themselves known in the second half of the fantasy year. You would think a series of injuries would have to take place before Ned Moyle (Suns, $190K) features in the Suns' top side, although he did some encouraging things in just 32% of game time during the AAMI Series for his 21 points. Charlie Comben (Kangaroos, $190K) was a hot name earlier in the preseason, although he'll have his work cut out for him to matter from a fantasy perspective, even if he can string games together for the Roos.
Deeeeep Dive
Not every cash cow can be in the mix for a Round 1 game, however, that doesn't mean their names aren't worth remembering. In no particular order, here are some of the other rookie priced ruckmen to consider throughout the season.
Paul Tsapatolis (Cats, $190K)
Jacob Edwards (Kangaroos, $190K)
Luke Strnadica (Eagles, $190K)
Mac Andrew (Suns, $282K)
Max Heath (Saints, $190K)
Alex Mirkov (Blues, $190K)
FORWARDS
1. Josh Rachele, Crows
AFL Fantasy Price: $280,000
AAMI Series Score: 90 from 78% TOG
Practice Game Score: 74
2021 Average: 99.5 from 5 NAB League games
Adelaide's newest weapon inside 50 has had a helluva preseason, catapulting himself into fantasy teams around the globe and snagging the label of the most popular fantasy forward. Josh Rachele scored in healthy batches during both of the Crows' preseason hitouts and he's established himself as a must-have player in your front six. There is bound to be quiet games, but it's encouraging that Rachele has shown he can stuff the stat sheet and not rely on goals to fuel his fantasy score.
2. Tristan Xerri, Kangaroos
AFL Fantasy Price: $281,000
AAMI Series Score: 110 from 89% TOG
Practice Game Score: N/A
2021 Average: 105.3 from 6 VFL games
A HUGE score during the AAMI Series has seen Tristan Xerri land in a lot of lineups with the lanky Kangaroo keen to carve out a role in North's best-22. He'll have to battle with Todd Goldstein throughout the year for ruck responsibilities, but it's clear he's viewed highly internally with the club turning their back on trade offers for Xerri over the summer. He would've been a great answer at R3 for coaches, although he appears certain to add RUC status by Round 6, increasing his worth and making him a viable starting pick for your field or bench to commence the season.
3. Hugo Ralphsmith, Tigers
AFL Fantasy Price: $258,000
AAMI Series Score: 86 from 85% TOG
Practice Game Score: 51
2021 Average: 50.1 from 7 VNFL games
Tabbed as an answer on the halfback line for Richmond, Hugo Ralphsmith has done all the right things this preseason to boost his fantasy credentials. He backed up a solid 51 points in the practice game with a 20 touch, 10 mark score of 86 in the Tigers' final preseason hitout, albeit against an uninspiring Hawthorn team. It's also worth mentioning that over half of Ralphsmith's score in that game during the 3rd quarter, with an average in the mid-to-high 50's much more realistic. It's nothing to write home about, however, that's still enough scoring upside to justify adding the rebounding Richmond talent to your lineup.
4. Elijah Hollands, Suns
AFL Fantasy Price: $190,000
AAMI Series Score: N/A
Practice Game Score: N/A
2021 Average: 56 from 4 VFL games
An offseason darling for the fantasy community, it appears as though Elijah Hollands is no longer a lock for our starting outfits. Taken with the 7th pick back in 2020, we're yet to see Hollands take to the field at AFL level and the fact that he missed both preseason contests for the Suns means we'll have to wait a little longer. You can't blame Gold Coast for taking the tentative approach with their esteemed prospect and even though we'd love to slot him straight into our Round 1 squad, Hollands will gift fantasy coaches with the perfect downgrade target in the FWD line at some point this season.
5. Willie Rioli, Eagles
AFL Fantasy Price: $293,000
AAMI Series Score: 35 from 65% TOG
Practice Game Score: 17
2021 Average: N/A
Ok, here me out. You could make the case for a few basement priced rookies over Willie Rioli or perhaps even someone like Patrick Naish or Liam Henry. However, with the injury crisis striking West Coast, Rioli will instantly have added responsibility as he tries to reignite his AFL career. The fact that he only scored 35 points against Freo isn't ideal, but we did see the craft Eagle feature in 7 CBA's – a trend I expect to continue during the home and away season. I think there's a clear gap between the top-4 forwards I mentioned and Rioli/the field, so opting to select him isn't a strategy for the faint-hearted.
Best of the rest – Forwards
As I briefly mentioned above, despite costing $300K+ there is still some interest from the fantasy faithful in selecting Patrick Naish (Eagles, $314K) and/or Liam Henry (Dockers, $317K). Both players saw their stocks rise when they clashed at Optus Stadium in the AAMI Series with Naish (52) and Henry (66) scoring reasonably well while featuring across the wing for their respective sides. Naish is shaping up as the more popular option over Henry to commence the new fantasy campaign, but neither excite me a ton.
What is exciting is the prospect of a $190K forward about to make his debut! Fantasy coaches shouldn't expect Kaine Baldwin (Bombers, $190K) to score more than 40-50 points each week, but his presence as a bench option is crucial as we make the final tweaks to our starting lineup. The same can be said for Corey Durdin (Blues, $190K) who had a solid game before tweaking his calf in the preseason contest vs. Melbourne. Both players will rely on goals to score well, but they should still play their role and generate some handy cash at the beginning of the fantasy year. Tyson Stengle (Cats, $298K) will also need to hit the scoreboard to increase in value, but thanks to his starting price, I wouldn't be investing in the new Cats goalsneak.
Deeeeep Dive
Not every cash cow can be in the mix for a Round 1 game, however, that doesn't mean their names aren't worth remembering. In no particular order, here are some of the other rookie priced forwards to consider throughout the season.
Ely Smith (Lions, $190K)
Jai Serong (Hawks, $190K)
Nick Martin (Bombers, $190K)
Francis Evans (Cats, $190K)
Luke Pedlar (Crows, $210K)
Sam Darcy (Bulldogs, $288K)
Ned Long (Hawks, $190K)
Finn Maginnes (Hawks, $311K)
Joel Jeffrey (Suns, $196K)
Sam Philp (Blues, $205K)
Arthur Jones (Bulldogs, $206K)
Jackson Callow (Hawks, $190K)
Ash Johnson (Magpies, $190K)
Maurice Rioli (Tigers, $190K)
---
FOLLOW ME ON TWITTER: @SportsbyFry for all things AFL Fantasy (and more)! Feel free to hit me up with any questions you have throughout the season. Good luck! ✌️