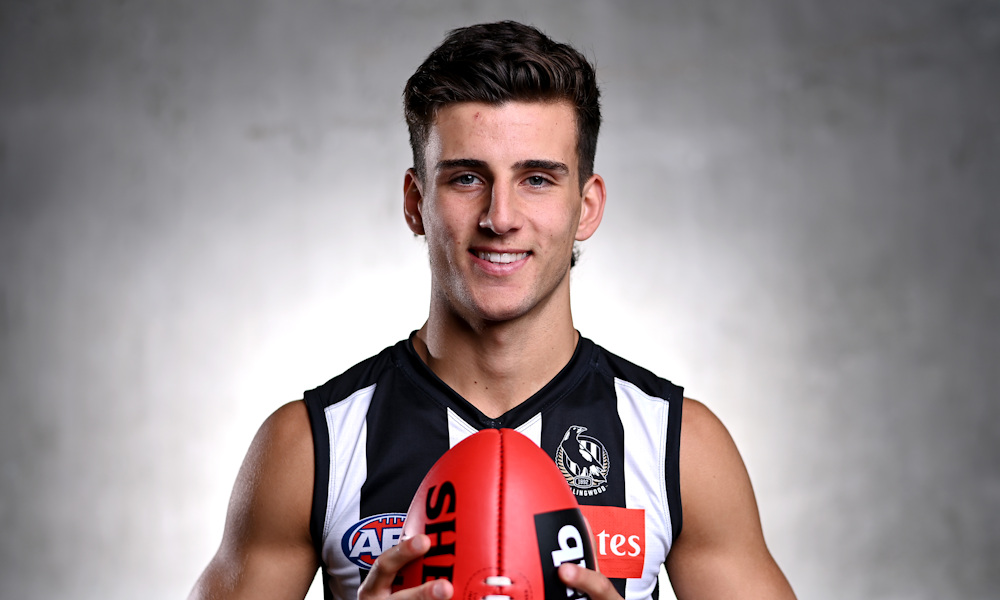 Name: Nick Daicos
Team: Collingwood Magpies
Position: MID
Price: $284,000
Bye round: 14
2021 average: 136
2021 games played: 5
Predicted average: 68
Draft range: Late-round target depending on league size
Click here for 2022 Fantasy prices.
Why should I pick him?
If you think that Jason Horne-Francis is a slam dunk pick for Classic AFL Fantasy sides, then Nick Daicos is probably sitting next to him in your lineup.
Drafted with the 4th overall pick after the Magpies matched a bid from Gold Coast, another chapter is set to be written in the 'Daicos chapter' at Collingwood. Nick now joins his brother Josh at the same club their father Peter played for in the 80's & 90's, carving out a Hall of Fame worthy career that included a flag and multiple B&F wins. Pies fans and fantasy keeper league enthusiasts alike won't complain if the youngest Daicos goes on to match the 549 goals in 250 games his dad produced and Nick's junior numbers indicate he's going to hit the ground running to start his AFL career.
Poised for an early-season berth in black and white, Nick Daicos was a class above his NAB League peers last season, averaging a preposterous 35.8 disposals from his five matches which translated to an average of 136 fantasy points. Daicos' best performance of the year came when he amassed 44 touches for a score of 149 against the Murray Bushrangers, highlighting his natural ability to find the footy and produce jaw-dropping fantasy point totals. The captain of both Oakleigh Chargers and the AFL Academy side, Collingwood's newest prospect averaged more disposals than recent No. 1 picks Sam Walsh and Matthew Rowell during his final NAB League season and even if Daicos isn't utilised as a pure midfielder it's hard to imagine him struggling to have an impact in year one as an AFL footballer.
We all knew he was going to land at the Pies once the draft was complete and list management GM Derek Hine has already suggested we could see Daicos playing a half-back/wing role in his first year at the club. His versatility means that Collingwood could deploy Daicos across multiple lines, with his skills around goal just as impressive as his innate ball-winning talent. There were more than a handful of matches last year where the youngest Daicos kicked multiple goals and while he won't likely be deployed as a regular midfielder to start his AFL career, there is plenty of potential to justify selecting the young Pie without fear.
He'll slot into an M6-M8 position for the majority of coaches and there's a high likelihood that by Round 6 he's added a second position to his arsenal. Regardless, Collingwood are keen to inject him into their team as early as possible with Hine claiming Daicos could have featured in their best 22 during the 2021 season! Don't overthink it.
Why shouldn't I pick him?
I wouldn't be doing my job if I didn't identify some of the cons when it comes to selecting Nick Daicos. Of course, his inflated price tag compared to basement rookies will instantly scare off some coaches – not that I think that's a justifiable reason to avoid the newest Pie. However, while some are identifying his position flexibility as a plus it could lead to Daicos being buried in the backline or closer to goal, which will undoubtedly impact his scoring.
During his junior days, the youngest Daicos was able to run rampant wherever he wanted and regularly post scores of 120+ and it's hard to envision him having that much success at AFL level. A dangerous threat in front of goal, Daicos will almost certainly spend time inside-50 and lose midfield minutes to heavy lifters Taylor Adams and Steele Sidebottom, with the likes of Scott Pendlebury, Jordan DeGoey* and his older brother Josh all set for their fair share of opportunities in the guts. When you add up and comers like Trent Bianco, Caleb Poulter and Finlay Macrae to the mix, we might not see Daicos sniff a CBA in the early portion of his career.
*watch this space…
New Magpies coach Craig McRae has kept his cards close to his chest in his early tenure, but most fans expect him to deploy a lot of the talent Collingwood has waiting in the wings. Should he opt to take a conservative approach with some of the club's new young guns, we could be stuck in a difficult position, even though all signs point to Daicos featuring heavily to start the 2022 season. As mentioned above his versatility may be one of his greatest assets, but if he's stuck on a half-back line struggling to chalk up +6 chances then it might see some coaches bail ship early in his rookie campaign.
Deck of DT Rating.
ACE
When it comes to cash cows, there may not be any that have better job security in 2022. Yes, there are questions over the position Nick Daicos will play and that may have an impact on his week-to-week scores, but there's no worse feeling than trading in a basement rookie only to see them feature in one or two games for the season (shoutout Ronin O'Connor, Sam Philp, Ryan Gardner, and the O.G. Relton Roberts). You don't have to keep him in your team for the entire year, but you'd be doing yourself a disservice if he's not in your first squad of 30.
Loading ...
FOLLOW ME ON TWITTER: @SportsbyFry for all things AFL Fantasy (and more)! Got something to say about the deck or AFL Fantasy in general? Join the conversation and use the hashtag… #AFLFantasy.