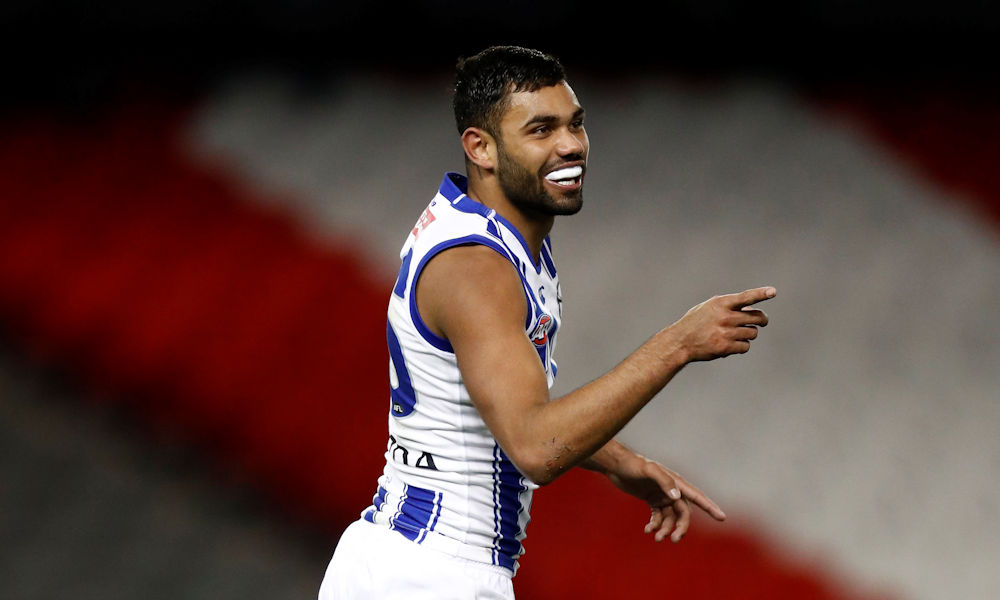 Name: Tarryn Thomas
Team: Kangaroos
Position: MID/FWD
Price: $681,000
Bye round: 14
2021 average: 81
2021 games played: 21
Predicted average: 96
Draft range: Rounds 7-10
Click here for 2022 Fantasy prices.
Why should I pick him?
Thomas enters his fourth season and is one of the main players that are being targeted for a break-out season. Over his career to date he averaged 55 in his debut season, then 49 (injury effect year with only 6gms) and finally 81 last season. The trend is obvious and an average of 95 is not out of the equation.
The thing is… If you play in the guts, then you score more points.
Over the course of the year, Thomas gradually found himself attending more centre bounces. Over the first five games of the year, he averaged 24% of the teams CBAs. In his last five games he attended 50% of them.
Below are Thomas' last three games of the year. As you can see, he was everywhere…
Subsequently, his scoring exploded. Before his bye last year Thomas was averaging just 71 and after his bye he averaged 93. He also averaged 101 in his last seven games.
Another thing to like about Thomas is the fact he can fill the stat line. He doesn't rely on goals or tackles to score, instead he fills the lot. From round 11 onwards he was in elite company to be one of only four players to average 20 touches and a goal. In that company… Dusty, Zorko and Petracca.
After his bye he averaged 21 disposals, 5.5 marks and 4 tackles = 93pts.
Why shouldn't I pick him?
Ben Cunnington (and others) play a big part in this equation. Our fingers are crossed that Cunnington returns ASAP after he underwent chemotherapy on a second detected cancer. He is expected to make a few recovery and we all hope that he does and gets back to his beast-like self.
Cunnington missed five games at the end of the season and that saw the door open for Thomas more than it ever has before and his scoring reflected this. In the four games that Cunnington missed at the end of the year that Thomas played in, he averaged 105. In games that Cunnington played in last year, Thomas only averaged 77. In fact, when playing alongside Cunnington he only registered one score in triple figures.
It's simple… Cunnington effects the scoring of Thomas. Then you can throw into the mix players like Jed Anderson (if he gets vaxed) and Hugh Greenwood who weren't there last year.
The Roos ranked last in contested possession in 2021. They want Greenwood and Anderson in the middle to assist Cunnington… which will push Thomas further down the line.
Kangaroo CBAs after the bye

Simpkin = 80%
Cunnington = 72% (6gms)
LDU = 61%
Anderson = 48% (5gms)
Thomas = 47%
Phillips = 34%
Stephenson = 20%
Does this mean that Thomas will received less CBAs than he did towards the end of last season. The answer is YES, he won't be in the guts for 50% of the CBAs as he drops further down the line, now sitting behind Simpkin, LDU, Cunnington, Greenwoood and Anderson. They are the top tier players that North want in the middle. Thomas is in the next group.
Thomas will be used in the middle. But will he be used like he was at then end of the season when North were running out of options? This situation needs to be monitored throughout the pre-season.
We also need to remember that Thomas can kick goals. He booted 24.17 last year and was the third best avenue to goals for the Roos. This is another concern.
Deck of DT Rating.
QUEEN
Ok… so 17% of the Fantasy community are on board… and I am too. However, after digging a little deeper into Thomas, I'm not as convinced as what I was. I'm worried about the fact that North have people coming back into the team, old and new players that most likely sit ahead of Thomas in the pecking order for CBAs. I'm also worried about the fact that he did rank third for most goals at the club and number one for goal assists. He is a dangerous avenue to goals for the club and this is where he might end up with all the inclusions that were not there when we saw signs of a "breakout".
With all that said, he is currently in my team. I can see him breaking out this season to average 90-100. He's far from locked in my team though but for now… he's there!
FOLLOW US  ON TWITTER: @DTTALK for all things AFL Fantasy (and more). Got something to say about the deck or AFL Fantasy in general? Join the conversation and use the hashtag… #AFLFantasy.