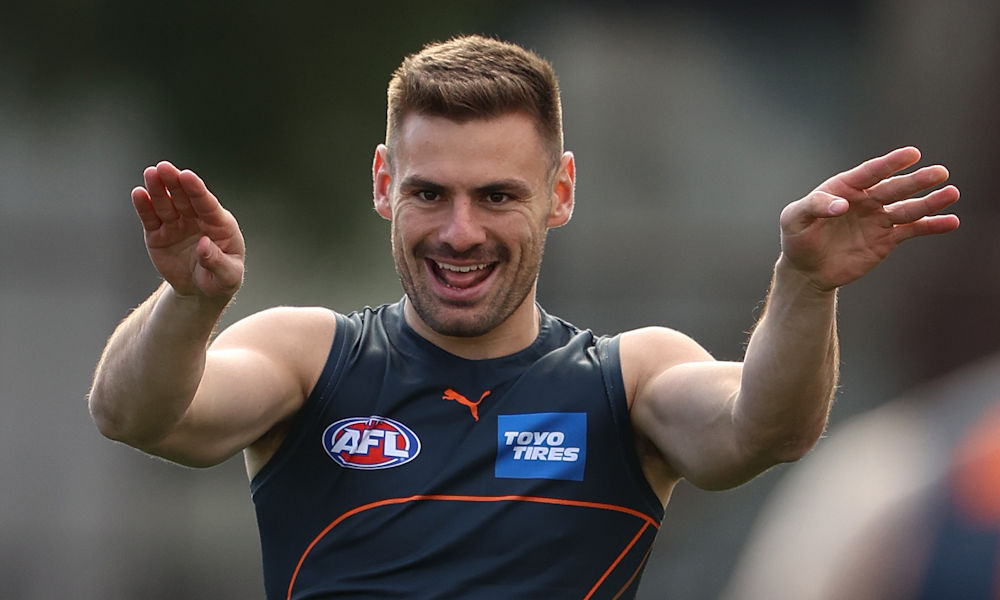 Name: Stephen Coniglio
Team: GWS
Position: MID/FWD
Price: $695,000
Bye round: 12
2021 average: 59
2021 games played: 5
Predicted average: 97
Draft range: 6-12th forward
Click here for 2022 Fantasy prices.
Why should I pick him?
When picking your F1, F2 or sometimes even your F3, competent coaches will look for players who come in at a discounted average of what they can potentially score, whilst showing they have the ability to feature in the midfield rotations. In 2020, many coaches picked Jordan De Goey and Tom Phillips in their starting squads, with the hope that both who were priced in the low 80's were able to improve enough to score in-line with the top 10 forwards. Both players ended up being poor starting selections (as many mid-pricers / underpriced premiums are), but the theory behind the selections is clear for everyone to see. This season we have a number of forward options priced in the low 80's that are capable of pushing even the top 6 forwards including Thomas, Dusty, Stringer and De Goey. But I am here to talk to you about another GWS player that is currently flying under the radar…
From 2016 the young GWS Giants announced themselves to the competition, consistently finishing high up on the AFL ladder whilst pushing for the premiership. Stephen Coniglio was a huge part of that, contributing as a high possession, two way running midfielder that consistently was able to hit the scoreboard. His AFL Fantasy averages from 2016 read as follows: 103, 96, 110, 104 and 96 (adjusted). The average of 104 in 2019 was actually not a fair reflection of Coniglio's season, with a season ending knee injury when he was 0 points in the first quarter. When we take that out, his average was closer to the 110 mark. These numbers push the top 8 midfielders and would be an absolute gift considering we have Coniglio available as a forward this season. Priced at an average of 83 due to a few lean injury affected seasons, Coniglio finds himself priced at the cheapest he has been since his 2nd season in the AFL.
One of the big talking points for GWS has always been their midfield mix and who will get the desired roles that bring about favourable AFL Fantasy scoring. Despite the negative media attention surrounding Coniglio, he still averaged 71% CBA's in 2020 and was averaging the same at the start of 2021 before he went down with the ankle injury. We saw how difficult it was for players to return to form off the back of long-term injuries in 2021, with Treloar and Dunkley two prime examples of gun AFL players who were unable to recapture any of their previous fantasy scoring form. The end of season form of Coniglio is concerning and will turn coaches off, but this combined with the fact he will be unique and at this point of time is completing a full pre-season, all signs point to him being able to improve on his starting price. "Form is temporary, class is permanent."
Why shouldn't I pick him?
Put simply, Coniglio just hasn't been the same player since he went down with that season ending knee injury in 2019. After missing the full pre-season, he came back in season 2020 to average 96 which was well down on what he had done previously. Fast forward into 2021 and a 5 game average of 59 is enough to completely ruin any Fantasy coach's season. Coniglio has always been injury prone, having only 2 x 21 game seasons in his career, with all considerable less. Although less relevant in Fantasy due to the 2 trades a week, you would want confidence that he can play a full season, which right now we do not have. The media also seem to add extra pressure to his game due to him being captain, with Coniglio seeming to suffer from a lack of confidence as of late. Whether this is due to his body breaking down or a mental barrier, will we see him get back to close to his best, or is he simply a role player in this new GWS line up? Add to this the fact Toby Greene is out for the first 5 rounds, does Coniglio provide leadership up forward which will make it difficult to increase on his starting price?
GWS have never been afraid to play multiple players through the midfield, with only Jacob Hopper averaging over 70% CBA's whilst 5 other players averaged between 40-60% CBA's in 2021. When compared with other teams in the comp this is quite high, with 13 teams in the league having more than 2 players averaging over 70% CBA's. With GWS not afraid to play multiple guys through there, is there enough ball to go around or is Coniglio's ceiling capped due to finding himself out of the midfield rotation? As a young side still developing, how many midfield minutes will be given to Tom Green, Tanner Bruhn, Lachie Ash and Finn Callahan? With such a deep midfield, are the days over where Coniglio gets 70% CBA's and averages 25+ possessions?
Deck of DT Rating.
QUEEN
At this point in the pre season, Coniglio is in my starting squad. He is one of the captains of the GWS Giants and I firmly believe he will be a strong component of the GWS midfield rotations in 2022. With that said, I will be closely monitoring him in the pre season and if news surfaces that he hasn't completed a full pre season or during the AAMI series he doesn't see enough CBA's, I will likely to jump to someone else around the same price point. Although the days of 110 Coniglio are likely gone, an average of 97+ is more than achievable from a guy of his calibre, which makes him a handy underpriced premium keeper and a gift in our forward lines.
If you guys have any pre season questions at all, make sure to hit me up on my Twitter @holmesyheroes or comment below and I will answer them there.
FOLLOW US  ON TWITTER: @DTTALK for all things AFL Fantasy (and more). Got something to say about the deck or AFL Fantasy in general? Join the conversation and use the hashtag… #AFLFantasy.