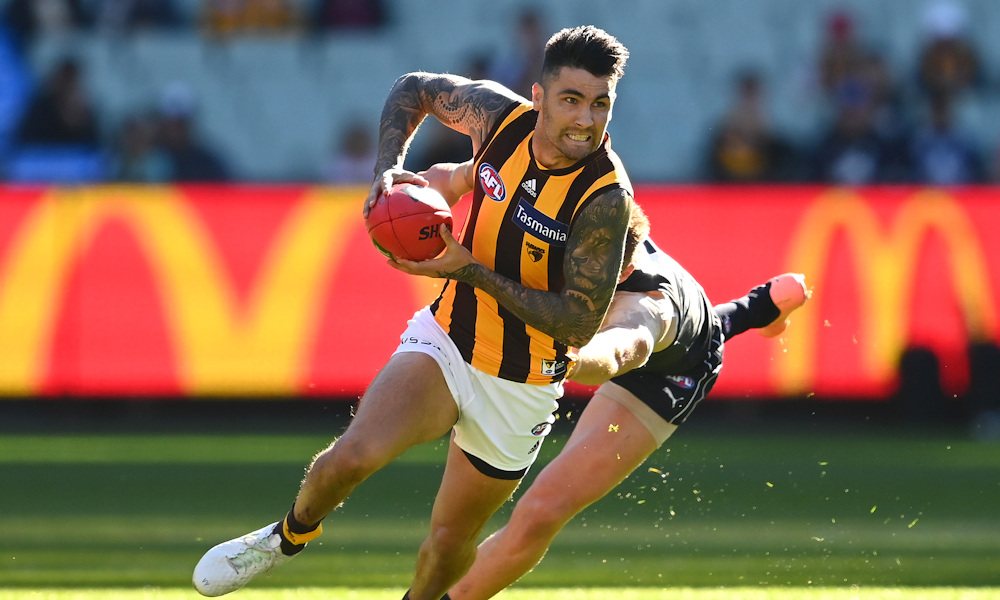 Name: Chad Wingard
Team: Hawthorn
Position: MID/FWD
Price: $740,000
Bye round: 14
2021 average: 88.3
2021 games played: 16
Predicted average: 96
Draft range: 3rd Round 
Click here for 2022 Fantasy prices. 
Why should I pick him? 
He's cheap, he finished 2021 in form and boy does he have a ceiling. Chad could be an absolute steal this season and I'd be confident that not many are willing to take the punt on him. 
Chad finished the 2021 season with a bang, averaging 109.4 in his last five games, including a huge 147 in Round 20 against Brisbane. This coincided with Hawthorn's administrative implosion in trying to make Sam Mitchell their head coach and the shuffle of players that followed. Wingard saw a move further up the ground, becoming more of a midfielder to end the season, rather than the crafty half-forward position that he had been resigned to for the last couple of seasons. Comparing Hawthorn's form in those few games to the rest of the year, there was significant improvement, and it seems like the coaching staff prefer Wingard in the middle, so it would make sense for him to stay in that role. 
Despite being the 6th most expensive Forward option, Wingard is priced at only $740k. Considering the slim pickings as far as value Forwards go, it seems like a strong option to save a bit of money on your Premiums here and spend big elsewhere. Having Chad at F1 or even F2 to start the season is a bold move, but with the scoring he will be capable of and the assumed low ownership numbers, it could be season defining. Worth a thought! 
Why shouldn't I pick him? 
Inconsistency is an absolute curse when it comes to Wingard. One of the main fears surrounding Chad is that he could go back to rotting in the forward line at any moment. As I mentioned earlier, it seems extremely counterproductive to move him back when the team and his individual performances were so classy while he was up the ground, but coaching staff have done stranger things. If he does move into the forward role again, you can expect a 75 average from Wingard, which is almost enough to ruin a season from a guy you could realistically expect Premium numbers from. 
Wingard is also consistently missing multiple games every season, usually through niggly injuries that linger, and rarely are these injuries occurring in one block, he tries to spread them out. Chad hasn't played a full season since 2015, and he hasn't even played at least 20 games since 2018. So, if you're picking him, have some good bench cover because it's highly likely that you will need it. 
One other thing that bothers me a bit is the price range that Wingard falls in and the Doggies that surround him. He's not extremely expensive, but Chad also isn't exactly cheap either. For $27k more you can get Dunkley and for $9k less you can get Treloar, both players who have proven how capable they are when given the midfield time and who seem just as likely, if not more likely, to retain their midfield positions. It seems hard to justify taking the risk on Wingard while there are multiple established options available around the same price, but it's a risky game. 
Deck of DT Rating. 
QUEEN 
With all the issues going on in Australia at the moment, this could be a tough season to do well in, meaning many Fantasy Coaches might choose to play it as safe as possible. So why not take a risk? At his best, Wingard is one of the best Forwards available to start the season. His ceiling is super high and he's also great to watch when he's lighting it up, so taking a punt on him is not unfounded. However, I wouldn't blame you if you went for the safer options around him, as he could do to Coaches what 2021 De Goey did to them. If everything goes right, he's capable of being an ace, if everything goes wrong, he's not even a picture card, but I'm backing him in. 
FOLLOW US  ON TWITTER: @DTTALK for all things AFL Fantasy (and more). Got something to say about the deck or AFL Fantasy in general? Join the conversation and use the hashtag… #AFLFantasy.