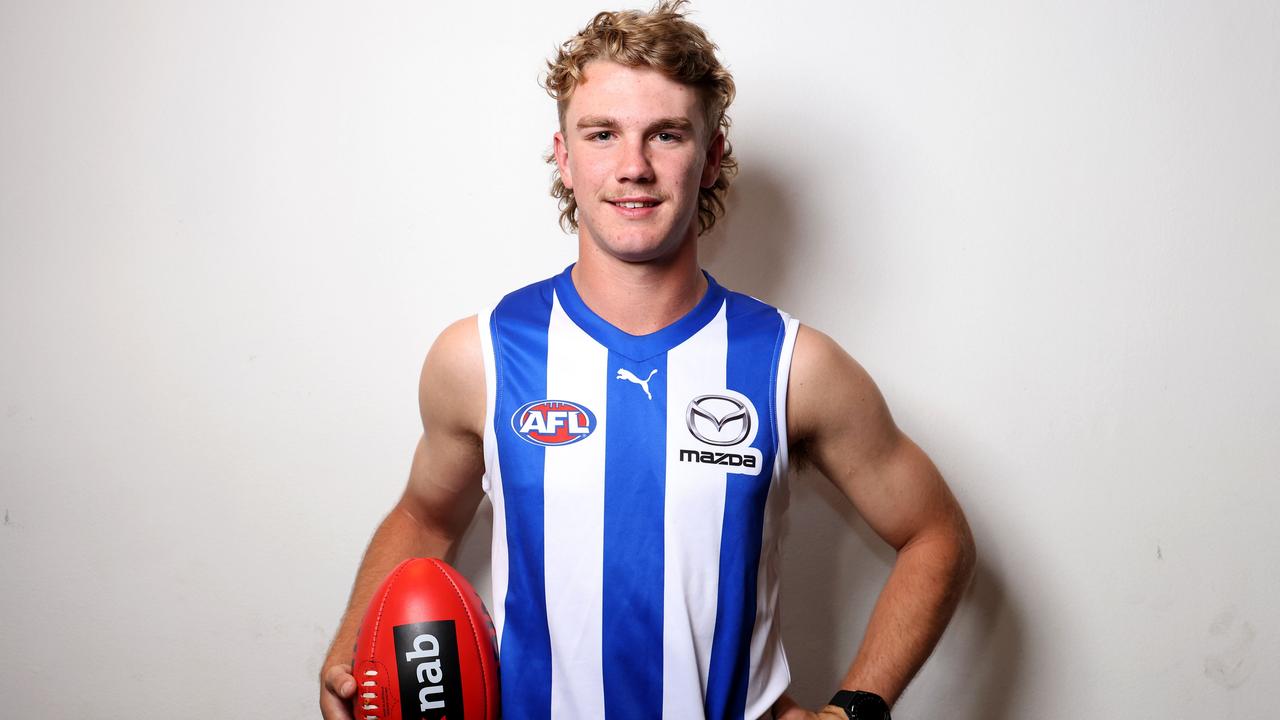 Name: Jason Horne-Francis
Team: North Melbourne Kangaroos
Position: MID
Price: $290,000
Bye round: 14
2021 average: 74
2021 games played: 20
Predicted average: 72
Draft range: Late-round target depending on league size
Click here for 2022 Fantasy prices.
Why should I pick him?
You've seen the highlights, you've heard the name and you've probably already put him in your team. If not, here's 472 words on why Jason Horne-Francis is a must-have for coaches in 2022.
Currently the second most owned player in Classic sides, Jason Horne-Francis is viewed as a walk-up starter for most AFL Fantasy teams. Touted as a once-in-a-generation talent, JHF will be chomping at the bit to get his pro career underway and his junior numbers give some insight into what fantasy coaches should expect in his rookie campaign. The star talent out of South Australia boasted a fantasy average of 74.2 points from his 20 SANFL League games last season and while there are higher averages amongst the incoming rookies, an average in the mid-70's in one of Australia's top competitions outside of the AFL deserves recognition.
Part of the reason Horne-Francis' average isn't as lofty as some of his draft peers is due to the dual-threat ability he possesses, which led to him spending large chunks of game time as a dangerous forward. As a result, the newest Roo managed to kick 15 snags in 2021 and he will likely spend a lot of time lining up on the half-forward line for North during the upcoming season. The scoring average from Horne-Francis may not entice everyone, but his ability to perform in big games may help pique coaches interest. His efforts in the most recent SANFL Preliminary Final is the best example, with the 18-year old dominating the crucial contest from start to finish. Taking home BOG honours in a losing side, the phenomenal prospect finished with 24 touches, 4 marks, 4 tackles, 3.3 (including a pair of posters), a game-high 11 clearances and 112 fantasy points!
Coming through with the goods in the most important game of his young career is just a tease for fantasy coaches and we can't expect to see Horne-Francis deliver too many of those scores in his rookie season. However, there's bound to be a few hundred's on display in year one and scoring under 50 just twice in 2021 illustrates the high fantasy floor JHF owns.
His price tag may scare some, but a natural ability to stuff the stat sheet in every category should see him emerge as the best cash cow on offer in season 2022. Seasoned coaches are used to paying top dollar for the reigning No. 1 pick and as we enter a new fantasy season there's no reason why we should overthink adding Horne-Francis to our starting squads. In the past decade, every midfielder that was drafted first overall has either finished with the highest average of all rookies OR accumulated the most total points, with the likes of Andrew McGrath and Sam Walsh managing to do both.
While his pure MID status to commence the year complicates things, I'll be stunned if he doesn't add FWD status when the first batch of DPP's arrive – giving us even more reason to start Horne-Francis at M6-M8 and not look back.
Why shouldn't I pick him?
I'm not going to waste too much of your time in this section, there are 101 reasons why you should start with Horne-Francis. With that said, naysayers will point out a few concerns that may make you avoid JHF to start the fantasy season. Firstly, despite his ability to hunt the footy in contested scenarios and the huge plus his presence adds to North's rebuild, it would be foolish for the club to throw him to the wolves with a full midfield workload straight away.
Horne-Francis is no stranger to extracting the pill from ball-up scenarios showcasing his talents as. a bullocking midfielder at SANFL level, and yet, we all expect the Roos' newest weapon to spend a fair amount of time inside-50 in the upcoming fantasy campaign. Don't be surprised if we see him feature in a similar role to another No. 1 overall selection in Cameron Rayner. While Rayner turned heads in his first AFL season, the talented Lions cub only averaged a measly 58.6 points from his 22 matches.
Firming for a Round 1 berth, Horne-Francis deserves to play a full slate of games next season, however, I'm expecting the Kangaroos to take a conservative approach with their prized recruit. A season ago we saw midfield prospects Will Phillips, Charlie Lazzaro and Tom Powell feature in just 14, 10 and 13 matches respectively. JHF should still excite North fans from day dot and warrant selection in close to 20 games, but his presence week in, week out is no certainty. He'll have to fight a number of up and coming teammates for midfield reps as well, with the likes of Hugh Greenwood, Jy Simpkin, Jed Anderson, Ben Cunnington, Jaidyn Stephenson and Luke Davies-Uniacke all bound to see a healthy dose of CBA's. By no means will that kill the fantasy potential of Horne-Francis, but it's certainly something worth monitoring.
Deck of DT Rating.
ACE
I was tempted to classify Horne-Francis as a King in the Deck of DT rankings, but there is too much meat on the bone to advise coaches to avoid the stud midfielder early on. As illustrated above his ability to impact the game in almost every aspect similar to the likes of Nat Fyfe and Patrick Cripps should see JHF display a healthy fantasy average right away, culminating in him ending the season as the best cash cow in 2022. I'm not scared off by his potential forward time or North Melbourne wrapping him in cotton wool and you shouldn't be either.
FOLLOW ME ON TWITTER: @SportsbyFry for all things AFL Fantasy (and more)! Got something to say about the deck or AFL Fantasy in general? Join the conversation and use the hashtag… #AFLFantasy.