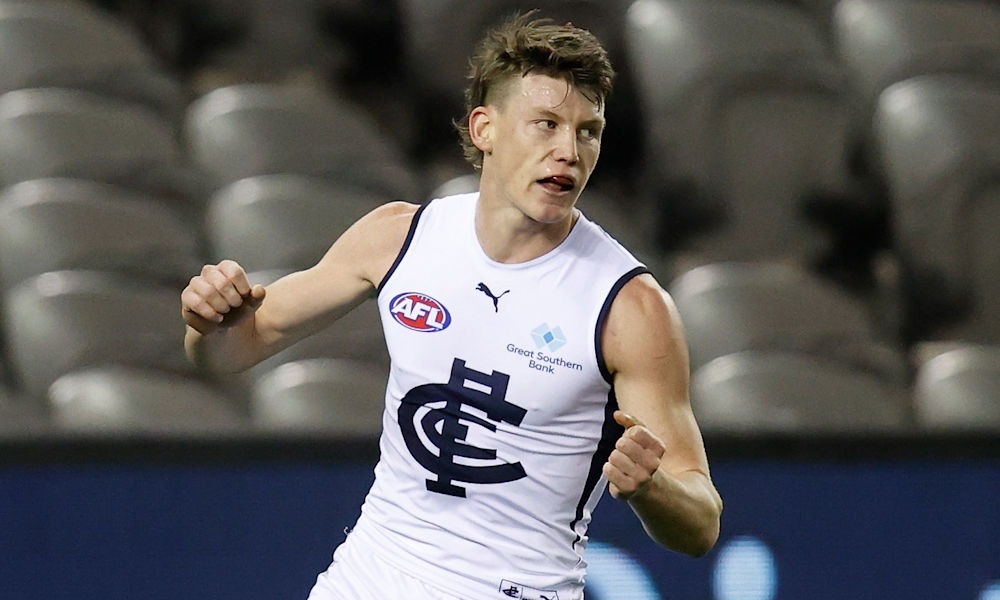 Name: Sam Walsh
Team: Carlton
Position: MID
Price: $914,000
Bye round: 12
2021 average: 109
2021 games played: 22
Predicted average: 115
Draft range: First round
Click here for 2022 Fantasy prices.
Why should I pick him?
Walsh is the epitome of the modern fantasy midfielder who since being drafted #1 in 2018 has looked to be on a course towards M1-8.  From a magnificent 92.1 in 2019 to a 77.1 in Coronaball meant for 2021 if you had looked into the Fantasy crystal ball you would have predicted a rise to just outside the top 8 and this is exactly what he did, raising his game to a magnificent 109 and M12.
If there is ever a player to progress once again from 109 to 115 and into the top 8 it is Sam Walsh. But how is he going to do it? Walsh can do it by turning around 1 vital fantasy stat which crept into his game in 2021: kick to handball ratio.
In 2021 Walsh averaged 29.8 disposals with 13.5 kicks and 16.3 handballs. If he turned that around by 3.5, meaning 17 kicks to 13 handballs, it would mean a scoring increase to 112, and this without improving upon his 0.5 goals a game and 44.4% shot accuracy or 4.5 tackles. And this is possible, as his kick to handball ratio in 2020 was 11.4 to 9.2 whilst in 2019 it was 13.5 to 11.7.
Another little stat for Walsh to clean up is his free kick against count which averages 1.5 which is above his free kick count for at 1.1, but that is an average -4 a game and two of his low scores were in part due to -15 in R19 and -12 in R1.
In other words, if Walsh simply kicks the ball more than handball and gives away a few less free kicks he can easily move to 115.
Also, 2021 saw the movement of the Carlton mantle from Cripps to Walsh, in part due to Cripps' body, but also because of the sheer power of Walsh's running game. This resulted in games where Walsh was tagged and it therefore means the tag, which will no doubt come, won't be as likely to curtail his scoring as we might have feared. A fit Cripps, the bigger body of Hewett and the smooth moving Cerra should make it easier for Walsh as the spread of talent is higher than in previous years.
Why shouldn't I pick him?
Of course, there is every chance all the above information will not work: the spread of talent means Walsh gets less ball, and he continues to handball at a higher rate than he kicks, and the tag at times works to the extent that his overall average stays between 105-110.  This is joy and annoyance of fantasy.
There is one stat that could count against Walsh and that is TOG. Maybe because the Carlton midfield relied on his run so much, Walsh's TOG remained well above 80 and in some games above 90%.  This level of running and TOG might be sustainable, but does Michael Voss think it is sustainable and therefore with Hewett and Cerra and the younger brigade, his TOG might fall to a more sustainable level.
This is made even more likely because, apart from the odd stint up forward, he largely plays exclusively in the middle and wing and therefore won't rest forward like many other midfielders who have high TOG.  If he is ever coming back from an injury this is something to be mindful of.
The other weird stat is that he does not perform great against Richmond, which is interesting because they don't tag nor worry about controlling the midfield ball.  His average against Richmond is 83. Just to make us rethink about picking him is his 76 average against his Round 3 opponent Hawthorn. We need to be mindful that he has only played since 2019 and therefore one average game skews the stats, but the skewed stats are in Round 1 and 3.
Many will say if he is only improving by 6 points, then I will pick him up after the bye when I am more certain who the top 8 mids will be, and that is a fair point. However, most of us will begin with 3 mids around 900K and how many mids can you as easily guarantee a scoring rise of 6: Mitchell, Oliver and then you start to head below 900K. Walsh may not get to 120, but not many do.
What do you think Sam Walsh (MID $914k) will average this year?

MORE: https://t.co/KxzMnSjEJZ 📝#AFLFantasy pic.twitter.com/cJkAhY26vy

— AFL Fantasy (@AFLFantasy) January 6, 2022
Deck of DT Rating.
KING
Walsh is a king with the slight negative being the new coach's usage of Walsh, and the likely tag being the only perceived negative. At the moment, Walsh is a great option for M2-3 in your side as he has seemed almost destined to be M8, at the worst.
FOLLOW US  ON TWITTER: @DTTALK for all things AFL Fantasy (and more). Got something to say about the deck or AFL Fantasy in general? Join the conversation and use the hashtag… #AFLFantasy.