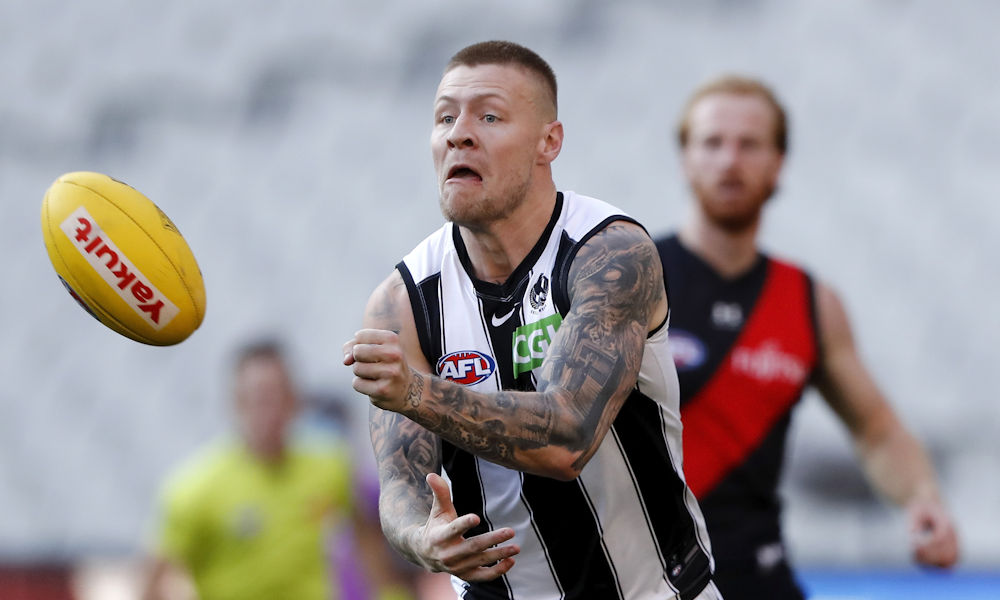 Name: Jordan De Goey
Team: Collingwood
Position: MID/FWD
Price: $707,000
Bye round: 14
2021 average: 84.3
2021 games played: 20
Predicted average: 95-100
Draft range: 8-12th forward
Click here for 2022 Fantasy prices.
Why should I pick him?
De Goey had a very mixed season in 2021, with a deep forward role and injury affected score of 3 meaning that he only averaged 84.3 for the season. But you're probably thinking he ended up averaging 84.3, that isn't actually a bad average. That was because we saw De Goat emerge as a force ever since he went into the midfield against Geelong in round 11. Once moved to a primary midfield role, his scores were 109, 78, 106, 124, 117, 120, 93, 129, 94, 98, and 109, with an average of 107 over that span. If he can average that, your getting a player that is heavily discounted, and could be over 20 points under priced, even though he played 20 games last season. Even if he averages 95-100 which I what I predict he will average, he is still priced over 10 points under what he did in that 11 game span. There are not many players priced under 750k that you can say are discounted by playing more than 15 games let alone 20 games.
Another great thing about De Goat is the he is available as a forward due to him playing such a deep forward role in the first 10 rounds last season. And there are a few forwards people will be looking at, but not many of them have the same ceiling of 130 that De Goey does. So if he does in fact play as a midfielder in 2022, you are picking a midfielder in one of your forward spots, which is what we aim to do as midfielders generally score the most points.
Why shouldn't I pick him?
There are only 2 things that worry me about De Goey, but we will get these answers before round 1 of the new season. The first thing being his off field trouble, will he be suspended? I am not sure, at this stage I believe he will be playing round 1 but it is definitely something to take into account.
The second thing being will Craig McRae keep De Goey in the midfield in 2022? A new coach bringing his own new ideas on how he wants the team to play, that may very well be playing De Goey in the forward line. If this is the case, he won't be an option we consider because he is still 707k and when he played forward in the first 10 rounds, his scores were 61, 90, 66, 44, 3 (injured in 1st quarter), 47, 106, 56, and 40, with an average of only 63.8 from 8 games (taking out the injured score of 3). If he plays forward, you would be paying for a player that is just over 20 points over priced.
Deck of DT Rating.
KING
I think De Goey could be a great pick for 2022, and is currently sitting as my F3. With those 2 concerns, we will know both before round 1, as we will know if he is playing round 1, and we can watch in pre season to see if he is playing in the midfield. I do believe he will play round 1 and in the guts, which could mean a player that is 15-20 points under priced in your forward line and with an ownership of only 4.8% as of writing this, he could be a really nice POD heading into round 1.
If you guys have any pre season questions at all, make sure to hit me up on my Twitter @baileyirrgang or Instagram @baileyirrgang, or comment below and I will answer them there.
FOLLOW US  ON TWITTER: @DTTALK for all things AFL Fantasy (and more). Got something to say about the deck or AFL Fantasy in general? Join the conversation and use the hashtag… #AFLFantasy.