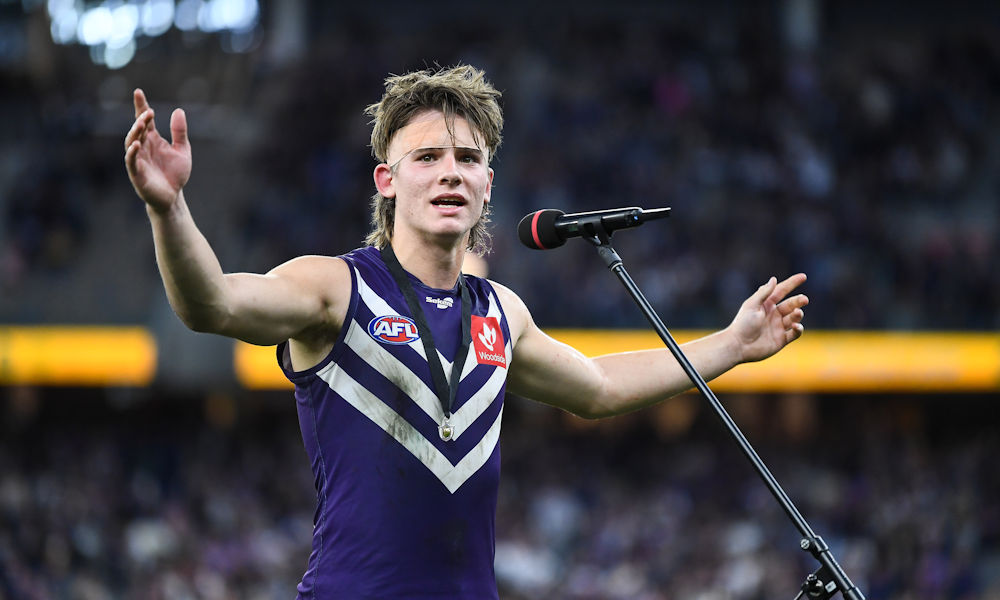 Name: Caleb Serong
Team: Fremantle
Position: MID
Price: $691,000
Bye round: 14
2021 average: 82.4
2021 games played: 22
Predicted average: 92
Draft range: Tenth Round
Click here for 2022 Fantasy prices.
Why should I pick him?
Serong has shown over the last two seasons that he is a very good footballer, whether that be in a fantasy perspective, or in general, with or without the help of umpires (Yes I'm still salty about his goal from out of bounds last year in the derby). His ability to score great fantasy numbers is clear for all to see with a high score of 143 against the Roos last season. Towards the end of the season Serong found some great form, averaging 117 in his last 3 games.
The real upside for Serong is the loss of Cerra to the dockers side. There were four games last season that Serong played with no Cerra in the team. In those games he scored 143 against the previously mentioned Roos, 71 against the Eagles in a game no one stood up for the Dockers, 75 against the Lions, and 116 on the road to the Saints. That gives him an average of 101.25 without Cerra, almost 19 more than his average.
With no Cerra, Fyfe getting older and playing further up the ground, or in his more favoured position…..injured, there is a greater opportunity for Caleb to play more midfield minutes, hopefully increasing his time on ground (TOG) in the process as the teams reliance on him grows. If his TOG improves, then there is no reason that his scores in the 70s/80s can become 90s
The biggest question all fantasy coaches will be asking is will he have a third year breakout? It is quite often considered that players start to find consistent fantasy form – particularly midfielders – when they enter their third year. Usually this is an impact of them getting their fitness routine to a consistent basis, getting a bigger frame, and greater confidence. Serong will surely, as mentioned above, be more relied upon by Longmuir to play a greater role in the team.
Why shouldn't I pick him?
It's difficult to not see the upside in Serong for his price, however there are some concerns to consider before locking him into your side. His TOG has always been a huge concern in fantasy. So often last year he would look to be heading towards a solid score, and then spend half the last quarter on the pine.
His TOG for the start of last season didn't go above 80% until round 19, with him usually only playing 72% of games on the ground throughout the season. In comparison his fellow midfielder in Brayshaw was consistently playing 80% of game time. It might not sound like lots, but that could increase the score considerably, particularly late in games when more points are on offer.
Deck of DT Rating.
QUEEN
In last years deck of DT Serong was labeled a King, and whilst he scored well at seasons end, we didn't quite see the form we would have liked throughout the year to justify that rating. However for his price, and with the increased reliance on him in the Dockers midfield we could easily see Serong's score increase by at least 10 points this season, if not more.
For his price he could prove to be a great bargain, especially when he is only priced $55k more than the start of last season and with the numbers he scored 0ver the last few rounds.
FOLLOW US  ON TWITTER: @DTTALK for all things AFL Fantasy (and more). Got something to say about the deck or AFL Fantasy in general? Join the conversation and use the hashtag… #AFLFantasy.