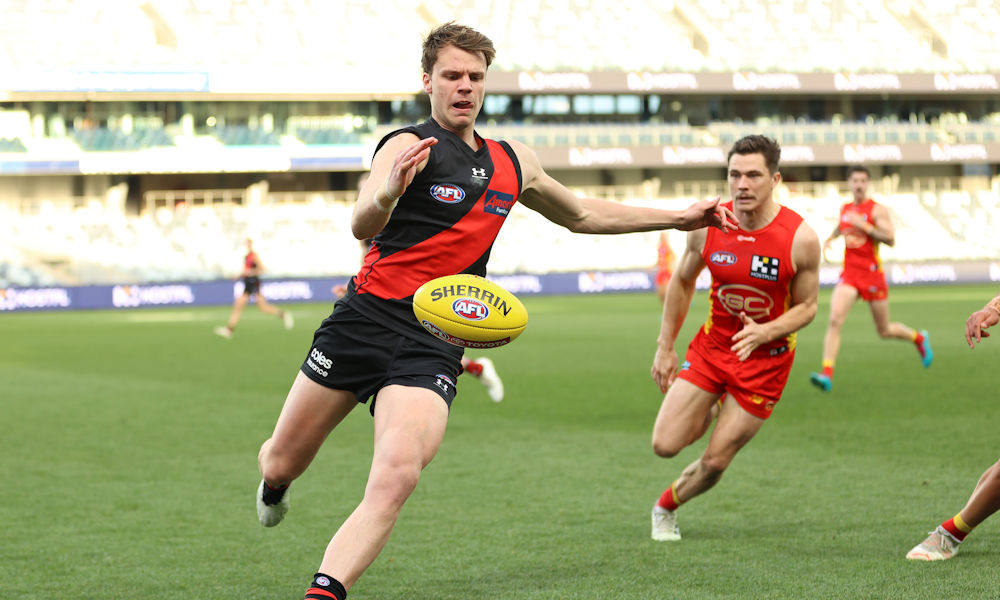 Name: Jordan Ridley
Team: Essendon
Position: DEF
Price: $671,000
Bye round: 12
2021 average: 80
2021 games played: 21
Predicted Average: 95
Draft range: 3rd – 4th Round
Click here for 2022 Fantasy prices.
Why should I pick him?
Bombers backman Jordan Ridley comes into the 2022 season priced at $671,000 having averaged 80 points in 2021, yet there's some definite upside on his starting price this year. Priced below $700,000 is a huge plus for coaches looking for a value pick down back, allowing us to spread money around our teams more evenly as opposed to simply paying up for potentially priced out assets who offer little to no upside on their starting price.
Ridley nailed down a spot in Essendon's best 22 during the 2020 'coronaball' season in which he played 17 senior games. During this season, we saw Ridley become a genuine intercept defender and distributor off halfback for the bombers, frequently linking up in switches and rebounding ball movement for the dons. He quickly cemented his place in their backline and averaged an adjusted 90 points over the course of the season. His 2020 season was so impressive that he collected Essendon's best and fairest having only played a total of 26 games in an explosive start to his career, and still only 21 years of age at the time of claiming the medal. A special talent indeed.
Entrenched deeply into the bombers best 22, Ridley kicked off the 2021 season by showing us that he could in fact score like a top 6 defender. With another preseason under his belt, Ridley came back looking ready to increase his 90 average in 2020 through natural progression as a young player. Across his first four games he did just that, scoring at an average of 108 from a massive 96.5% TOG. This patch really showed the upper echelon of where Ridley has performed since coming into the AFL, and there's nothing to say that he can't one day string it all together and maintain these scoring numbers over the course of an entire season. Coaches were left scrambling to bring in the promising young defender before an unfortunate concussion in round 5 seemed to hinder the remainder of his 2021. A silver lining for fantasy coaches emerged as this has led to him coming in well underpriced on what we've seen him produce as a fantasy asset.
I personally think it's more likely that we see the 2020 Crichton Medalist go closer to 95 than the 108 patch he showcased last year, but even at 95 he presents a 15 point upside on his starting price this season. With his position in the bombers 22 locked in, his massive TOG numbers and his ability to rack up disposals across halfback, we could genuinely see Ridley knocking on the door of the top 6 defenders come seasons end.
Why shouldn't I pick him?
A young defender with a club best and fairest under his belt, priced at 80 who's shown an ability to score at over 100 doesn't exactly scream 'full of downsides'. But digging a bit deeper past what initially meets the eye, we can uncover a few reasons as to why it might be better to avoid Ridler this season.
Whilst the start of his 2021 season was fantasy gold, his season on a whole can be described in one word; tease. Ridley showed coaches he could score well, copped an unfortunate knock and seemingly forgot how to rack up consistently high fantasy scores. He showed us just enough to hook many fantasy coaches in at various stages of the season, without giving us a strong string of performances worthy of a spot in our backlines. Having tonned up three times in the opening four rounds, he only scored 100 once more for the remainder of the season as he began to be given the odd lock down role on opposition talls. Many will still be feeling frustrated by what he dished up in the back half of last year, and with such a small sample size of top end fantasy scoring Jordan Ridley is far from a 'lock' in our starting fantasy sides.
Coming in priced at $671,000 there are other options priced around the mark that could present as a better starting option for fantasy coaches. Pre-season watch Brayden Maynard is priced just higher at $683,000, whilst proven fantasy scorer Caleb Daniel is in touching distance priced at $729,000. At a bit of an awkward starting price, coaches might be better served to pick up someone with more value like James Sicily $510,000 or just opting for more of a guns and rookies strategy down back.
Deck of DT Rating.
King
We've seen Jordan Ridley score at a healthy click of 108 as a key member of the bombers backline last year for a period, and I believe that he bumps his average back up that way this season. Coming in priced at only 80, it seems like there's enough meat on the bone to make him a worthy selection who could outscore his starting price by around 15 points and potentially challenge for a place in Roy's Rollin' 22. Is Jordan Ridley in your plans, let us know in the comments below!
FOLLOW US  ON TWITTER: @DTTALK for all things AFL Fantasy (and more). Got something to say about the deck or AFL Fantasy in general? Join the conversation and use the hashtag… #AFLFantasy.