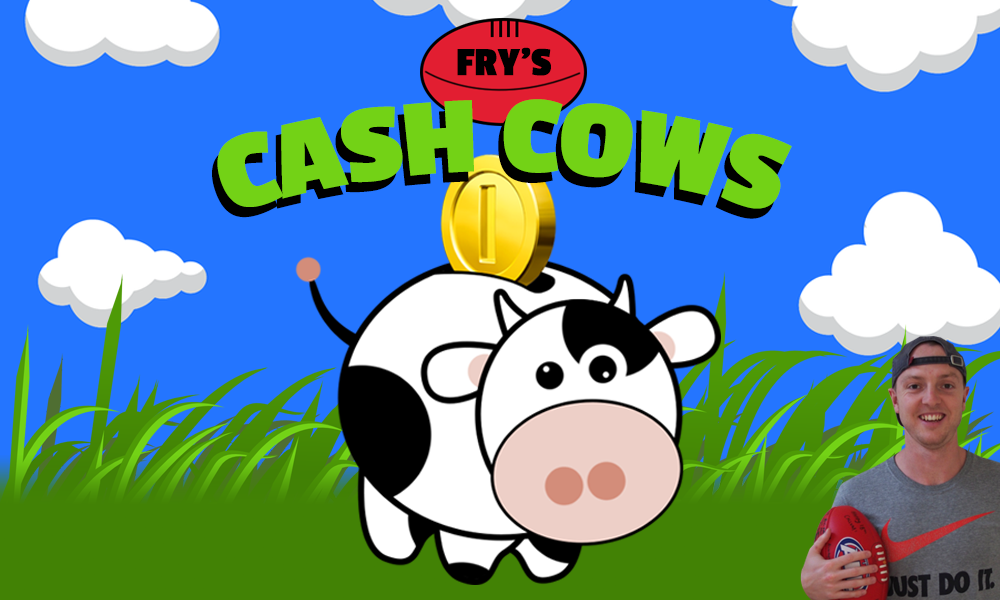 The start of the AAMI Community Series means it's nearly time for AFL Fantasy coaches around the globe to lock in their initial squads of 30, with Round 1 fast approaching. Months of tinkering, tweaking and completely starting from scratch are nearly over and the upcoming weekend of footy will give us one final look at the players we have sitting on the fence fighting for a place in our teams. Of course, as all successful coaches know rookies/cash cows are a quintessential part of success in this game and nailing the right youngsters can put you in great stead or instantly derail your season. With the salary cap increasing, I upped the rookie price threshold to $350K and doing so means there are plenty of cash cows to consider for season 2022 (contrary to Warnie's belief 😉).
Rookie/cash cows picks are defined as players who are priced at $350,000 or lower
Debutants: 9 in 2021, 9 in 2020
All things cash cows in Adelaide revolve around their most recent draftee Joshua Rachele (MID/FWD, $280K, 31.6%) snd after watching him against the Lions last weekend, you can understand where the hype is coming from. The No. 6 pick from last year's class hit the ground running, staking his claim for a Round 1 berth with 3 goals and top-scoring with 74 points against the Lions. He boasted a healthy average of 99.5 from his final season as a junior, and a large group of coaches will plug Rachele in at F5 or F6 if he's picked to start the season for the Crows.
The rest of Adelaide's rookie crop isn't too promising with their key position players offering little value. Luke Pedlar (MID/FWD, $210K, 6.0%) managed to feature in a pair of games last year although he'll face a tough time breaking into the Crows' best 22 and draftee Jake Soligo (MID, $220K, 0.9%) is in the same boat. He didn't light up the practice match, but averages of 22 touches and 105 fantasy points from the NAB League in 2021 means we'll need to keep an eye on Soligo if he cracks the rotation.
Debutants: 3 in 2021, 6 in 2020
Keidean Coleman (DEF/FWD, $343K, 4.0%) is the Brisbane youngster I've got my eyes on the most, with the versatile DEF/FWD starting to see his ownership increase. Tabbed as the successor to Grant Birchall on Brissy's halfback line, Coleman featured in 14 games a season ago for the Lions, although his average of 40.9 raises some concerns. Speaking of concerns, it's great to see Nakia Cockatoo (FWD, $339K, 1.4%) back on the park, but I'd avoid him if you want to enjoy your 2022 season, even if he does offer some upside.
There weren't a lot of rookies who earned a debut game a season ago for Brisbane, but with another strong preseason under their belt opportunities may arise for Ely Smith (MID/FWD, $190K, 22.0%) and Harry Sharp (MID, $198K, 4.4%). Their top draft pick from the offseason Darcy Wilmot (DEF, $260K, 1.2%) got a run in the practice hitout vs. Adelaide, but his score of 36 and average of 55 last season probably indicates you should chase other options.
Debutants: 3 in 2021, 4 in 2020
Carlton's cheap players that offer the most promise this season come in the form of established names cruelled by injuries. I'd stereotypically avoid key forwards, but if Charlie Curnow (FWD, $347K, 7.1%) works his way up the ground and gathers more footy he's set to easily outperform his breakeven of 41. Priced slightly lower at the other end of the ground, some are keen on Caleb Marchbank (DEF, $294K, 6.0%) thanks to his reduced price. With his last senior appearance coming in 2019 there's plenty of scepticism around picking the discounted Blue and he faces an uphill battle to be ready for the start of the fantasy campaign.
A pair of Carlton youngsters who have dealt with their own fair share of injury issues in Brodie Kemp (DEF, $271K, 1.6%) and Sam Philp (FWD, $205K, 0.6%) might entice coaches if they earn a gig throughout the season as well. Both players were selected in the top-20 during their respective draft years and could be fighting for their careers if they can't break through in 2022. The most recent prospect selected by the Blues doesn't offer a ton of fantasy promise with Jesse Motlop (FWD, $238K, 1.5%) set to score like a traditional small forward.
Debutants: 9 in 2021, 6 in 2020
With a lot of turnover at Collingwood, we should see another healthy batch of cash cows emerge as options this season. No cash cow is generating as much buzz as Nick Daicos (MID, $284K, 57.4%) currently the most owned player in the game and a lock for every sane coach at M6-M8. Not too far behind him in terms of popularity is Will Kelly (DEF/FWD, $191K, 40.0%) with the young Magpie surprisingly the 5th most owned fantasy player. While I advise every coach to add Daicos to their lineup, the same can't be said for Kelly, although, there is still some merit in picking him if he shows promise over the weekend.
If Kelly isn't picked to commence the season, his spot may be gifted to mature ager Charlie Dean (DEF, $190K, 12.7%). The reigning Rising Star winner from the VFL, Dean has hit the ground running this preseason and looms as a contender for a bench spot* in our backline. His scoring (69.8 AVG in 9 games) isn't unreal, but we've got to generate cash somehow right? Reef McInnes (MID, $190K, 5.0%) could be another Magpie who helps us achieve that whenever he's picked with Arlo Draper (MID, $202K, 1.0%) and Ash Johnson (FWD, $190K, 2.3%) another duo to add to your watchlist.
*Dean was sent in for scans as I was virtually hitting go on this article so stay glued to the Twittersphere 🤞
Debutants: 7 in 2021, 3 in 2020
Only a handful of Essendon rookies are sticking their hands up for fantasy coaches, with top draft pick Ben Hobbs (MID, $266K, 5.6%) the creme of the crop. Built like a stereotypical midfielder, Hobbs averaged 25 touches in his final junior season and is shaping up as a future leader at the Hanger. It may take some time before we see the best he has to offer, with plenty of mouths to feed in the Bombers' midfield unit. Although, if he can carve out a role as a reliable contributor on a half-forward line while pinch-hitting on the ball, the sky is the limit for Hobbs in year one.
Garrett McDonagh (DEF, $192K, 8.4%) is the next Essendon draftee we've got our eye on, with the state league mainstay finally landing on an AFL list. Originally draft-eligible in 2014, McDonagh averaged 20+ disposals in his 9 contests playing for Richmond's VFL side and his elite kicking skills could see him capture a role as a rebounding defender for the Dons. Kaine Baldwin (FWD, $190K, 2.0%) may earn a debut and provide some worth to coaches, but his 44 points in the most recent practice game don't exactly jump off the page. Recent rookie signings Tex Wanganeen and Nick Martin are set to begin their career as basement priced players that, like Baldwin, may become solid downgrade targets during season 2022.
Debutants: 5 in 2021, 6 in 2020
A potential wing role is up for grabs at Fremantle for both Nathan O'Driscoll (DEF/MID, $190K, 34.8%) and Liam Henry (FWD, $317K, 2.2%) and the two will get a chance to stake their claims this weekend for a spot to start the season. O'Driscoll remains the smarter investment given his DPP status and basement price, although Henry appears more entrenched in Fremantle's best 22 and if he's given a license to roam on the open spaces of Optus Stadium he'll likely be better than the 38 points he's priced at.
Fighting to crack the Dockers' 22 player rotation is top-10 draftee Neil Erasmus (MID, $272K, 3.7%) who missed out on selection in the practice game last week. A tall midfielder who honed his craft in the WAFL last season, Erasmus will be eager to claim the open spot left by Adam Cerra in Freo's engine room, but he may have to bide his time. The same could be said for Matthew Johnson (MID, $250, 0.7%) who was selected 21st overall in the draft and will start the season on the injury list. He didn't look out of place in the WAFL reserves competition a season ago and could tempt coaches when he earns a debut.
Debutants: 4 in 2021, 2 in 2020
Dad's Amry can only battle on for a bit longer and the Cattery will have to hand the keys over to some of their youngsters sooner or later. If he had managed to stay healthy last season, it's likely that Cooper Stephens (MID, $190K, 5.6%) would have earned an AFL berth already, with the highly touted midfielder sidelined with an ankle complaint for most of last year. He and fellow 2019 draftee Sam De Koning (DEF/FWD, $190K, 21.4%) could become useful cash cows if Geelong opts to get games into the pair.
De Koning's scoring history isn't amazing which will cause some to avoid the big Cat, and the same could be said for small forward Tyson Stengle (FWD, $298K, 5.9%). Landing in Geelong after being discarded by the Crows, Stengle will be hoping it's third time lucky at his new AFL home. While he tore up the recent practice game against Richmond (90 points with 4 goals), I'd suggest avoiding Stengle as small forwards don't tend to boast the greatest scoring track record.
Debutants: 3 in 2021, 7 in 2020
For years we have been treated to reliable rookies by the Gold Coast Suns and Elijah Hollands (MID/FWD, $190K, 48.6%) could help keep that streak alive in 2022. We got a glimpse of what he is capable of when healthy late last year, with the former No. 7 pick accumulating 27 touches and scoring 95 points in one of his final VFL hitouts. He was forced to play for that same side last weekend, but all signs point to Hollands tracking for an early debut. A Ben King ACL tear opens the door for another Suns forward in Joel Jeffrey (FWD, $196K, 1.7%) to potentially make waves in fantasy circles. It's a shame that he only managed an average of 28.5 from the final four games of last season or more coaches would likely be jumping on board.
The Suns' top draftee Mac Andrew (RUC, $282K, 2.2%) probably won't turn heads from a fantasy perspective, thanks to the ruck depth at Gold Coast and his unappealing scoring history (58.8 from 6 NAB League games); however, another offseason pickup in James Tsitas (MID, $190K, 6%) could matter. The basement priced MID who was the joint winner of the Margery Medal (SANFL's Brownlow) averaged over 28 touches and 100 fantasy points in 2021, making him a prime candidate to break into the midfield rotation for the Suns in year one.
Debutants: 6 in 2021, 6 in 2020
The intrigue at Greater Western Sydney when referring to cash cows starts and ends with Finn Callaghan (MID, $286K, 4.2%) who was taken 3rd in the most recent draft. He produced just 33 points in the practice hitouts vs. Sydney, although it's worth mentioning that his preseason preparation has been hampered by a foot injury. He'll likely take a few years to hit his straps for the Giants, which may mean the smart tactic is to avoid Callaghan for season 2022 unless he starts to tear up the VFL. The recent guest on the Traders podcast Jake Stein (DEF, $190K, 2.2%) informed us that he probably wouldn't even pick himself, which tells you all you need to know about the Giants DEF as a bench choice and academy product Josh Fahey (DEF, $208K, 0.3%) is the only other GWS name to remember on the off chance he breaks through.
Debutants: 8 in 2021, 5 in 2020
It's not a farfetched idea to have Josh Ward (MID, $278K, 17.2%) and Connor MacDonald ($240K, MID, 2.7%) in your lineup as soon as Hawthorn decides to play their top-30 draftees. Now that the baton has been passed on to Sam Mitchell we could see the kids getting a fair amount of game time with Ward (30.2 disposals and 108.8 fantasy points) and MacDonald (29.8 disposals and 121.2 fantasy points) proving they can rack up the footy last season at NAB League level. Of course, the likes of Tom Mitchell, Jaeger O'Meara and James Worpel won't make it easy for them to accumulate touches, but I'd back in the proven talent of the young duo when they don the brown and gold.
After unveiling the second most debutants a season ago, the Hawks could hand chances to a few other basement priced players. A lot of coaches are hot on Jai Serong (MID/FWD, $190K, 13.5%), but avoiding Caleb's younger brother is probably a solid play. Players like Jackson Callow (FWD, $190K, 0.8%), Ned Long (MID/FWD, $190K, 1.1%) and Emerson Jeka (FWD, $201K, 0.8%) could be added to your watchlist while Finn Maginnes (MID/FWD, $311K, 4.8%) is a name that has been doing the rounds this preseason as another breakout candidate. Watch him and his role closely vs. Richmond if you're trending towards selecting him.
Debutants: 2 in 2021, 4 in 2020
Fresh off a drought-breaking premiership, there is very little the Dees can offer in the form of fantasy rookies. None of their players priced under $400K boast an ownership over 2% and that will be unlikely to change given the depth on their list and the fact that their flag-winning window is wide open. But, Kade Chandler (FWD, $190K, 1.3%), Bailey Laurie (MID/FWD, $190K, 1.1%), Blake Howes (MID/FWD, $214K, 0.4%) and son of a gun Taj Woewodin (MID, $190K, 1.0%) are the few names I would at least monitor over the duration of the season.
Debutants: 6 in 2021, 4 in 2020
Every man, woman, child, dog, cat and chicken has their own opinion on Jason Horne-Francis (MID, $290K, 55.9%) and you can read my entire preseason writeup on the North young gun here. Simply put, the fact that he already looks like one of, if not the best player for the Kangaroos means it's wise to jump on the bandwagon while he's still under $300K. Horne-Francis appears like a certainty to add a second position prior to the byes, only enhancing his fantasy profile for classic coaches.
Taken 21 picks after JHF is Josh Goater (MID, $248K, 0.9%) who continues to trend upwards as a potential Aaron Hall replacement in the early portion of the season. His inflated price makes it tricky to justify a bench spot for Goater, but North believes he can commence his career as a rebounding defender after featuring heavily as a midfielder in the NAB League competition – with his burst of speed an asset to help break lines for the Roos. Twin towers Charlie Comben (RUC/FWD, $190K, 13.8%) and mid-season draftee Jacob Edwards (RUC/FWD, $190K, 7.0%) find themselves in a fair amount of teams and you could justify putting either of them at R3 or in your utility spot if they go well and stay in the side.
Debutants: 5 in 2021, 2 in 2020
Ken Hinkley has been kind to fantasy coaches throughout the last few seasons and we'll have our fingers crossed that he maintains his generous ways by giving us another healthy batch of cash cows. It would be a blessing if he handed Sam Hayes (RUC, $190K, 38.2%) a game to start the season, giving everyone a startable R3 with Scott Lycett dealing with an ankle complaint. After biding his time in the SANFL, the departure of Peter Ladhams gives us hope we'll see Hayes more frequently, but there are no guarantees. One name we do expect to see early for the Power is Josh Sinn (DEF/MID, $268K, 21.9%) with his line-breaking speed and penetrating kick helping him turn heads in the preseason.
51 points against the Suns in the practice hitout was a good start and another respectable showing vs. Adelaide should see Sinn become a Round 1 debutant. It might take longer for Sam Skinner (DEF/FWD, $190K, 22.2%) to break through, but he's another defender we could see given games by the Power this year. A handy swing piece between both ends of the ground, Skinner averaged 68.7 from 21 SANFL games last year with his intercept marking a highlight of his play. Finally, the strength of Port's midfield has meant Jackson Mead ($190K, MID, 14.6%) failed to crack the best 22 in his first few seasons, but the basement priced MID could offer upside if he achieves that feat throughout 2022.
Debutants: 7 in 2021, 2 in 2020
While Maurice Rioli (MID/FWD, 190K, 12.1%) is currently the most owned Tigers cash cow, it's another MID/FWD who is generating the most buzz as the season draws nearer. Hugo Ralphsmith (MID/FWD, $258K, 7.3%) appears set to take over the reins to Bachar Houli's role across the halfback line, which could lead to him emerging as a handy contributor for fantasy coaches. There are concerns over just how well Ralphsmith can score, but if he carves out a permanent role in Richmond's team we may have enough reason to pick him.
Despite using 5 picks in the top-30 last offseason, there isn't a lot of fantasy promise coming out of the new Tiger cubs. Josh Gibcus (DEF, $274K, 2.5%) appears like the Round 1 bolter, but he'll appear as a key defender with an average of 54.7 hardly wowing coaches. Similar could be said for Tom Brown (DEF, $258K, 0.6%) who may or may not feature in 2022 and with Richmond set to make at least one last crack at a flag, you can't imagine we'll see a lot from Tyler Sonsie (MID, $236K, 0.5%) or Sam Banks (DEF, $234K, 0.3%) in their rookie seasons.
Debutants: 5 in 2021, 3 in 2020
The name on everyone's lips out of St Kilda is Nasiah Wanganeen-Milera (DEF/MID, $270K, 4.9%) although it's fair to assume his fantasy scores won't match the level of class he displays. Averaging 48 at SANFL League level and 64 points from his 13 contests in the reserves, Wanganeen-Milera could feature in some games throughout the year, just don't expect him to light it up from a fantasy standpoint. You could make the same argument for Mitch Owens (MID, $226K, 0.2%) although he does own greater numbers from his final junior season (74.6 AVG from 5 NAB League games). A fairly settled Saints lineup means we won't likely see a ton of debutants this season, but Wanganeen-Milera, Owens, new SPP signing Jack Hayes and Oscar Adams (DEF/RUC, $190K, 0.9%) could prove me wrong.
Debutants: 3 in 2021, 7 in 2020
Let's address the elephant in the room in the form and shape of Will Gould (DEF, $190K, 24.7%). No, I don't expect to see Gould get a lot of game time in 2022 and yes, if he's on your DEF bench it's wise to chop him out. On the outside chance he FINALLY cracks the rotation for the Swans, trading him in isn't completely out of the question. I'm much higher on the prospects of Matty Roberts (MID, $224K, 1.5%) and Angus Sheldrick (MID, $256K, 0.6%) after Sydney pounced on the pair with their first two picks in the 2022 draft.
Roberts interests me the most having played SANFL League games a year ago and not looking out of place. When he dropped back to the U-18 competition he went bananas, collecting 25, 37 and 34 touches which equated to scores of 119, 160 and 169 fantasy points! Sheldrick had the same level of success in the WAFL Colts competition where he averaged 102.7 points fuelled by 25.8 disposals. The duo will have their work cut out for them to break into the Swans' on-ball rotation, but if picked, they both shape up as decent downgrade/starting selections.
Debutants: 3 in 2021, 6 in 2020
It's a real shame that injuries are a massive part of this game, because if not a lot of coaches would've possibly locked in two Eagles for their initial sides. An AC joint injury during match simulation drew a line through Greg Clark (MID, $190K, 24.1%) just as he was trending towards an AFL debut. The WAFL standout product, who turned heads with 28 disposals, 14 tackles, two goals and 155 points on Grand Final day, will now be sidelined for a few months, joined by West Coast's first-round pick Campbell Chesser (DEF/MID, $264K, 6.3%). A bone bruise injury derailed Chesser's chance of joining Clark in the Eagles lineup for Round 1, but it's important to keep them in mind when they get a clean bill of health.
So with all these injuries mounting, surely there are basement priced Eagles who coaches can look to, right? Not quite. A lot of the young midfielders come at an inflated cost, but there is one player I'm quite high on. Even though he's technically too dear for this article, Connor West (FWD, $362K, 0.9%) had some bright moments late last year after being picked in the mid-season draft by West Coast. Attending 15 of the 29 CBA's last weekend against Freo is a good sign too, and I'll be keeping a close eye on him during their second hitout against the Dockers on Sunday. Hugh Dixon will make his final claim for a list spot in that contest as well, looming as a possible bench piece to start the season should the Eagles use him to fill the void left by Jack Darling.
Debutants: 6 in 2021, 5 in 2020
A year ago, I was pumping up the tires of Jamarra Ugle-Hagan (FWD, $299K, 4.8%) as a viable cash cow investment, only for the Dogs stud to score a measly 210 fantasy points from his five AFL matches. Lesson learned, avoid key forwards. I won't be making the same mistake this time around with the Bulldogs' newest draftee, especially given his recent injury setback. Sam Darcy (DEF/FWD, $288K, 3.6%) succumbing to a stress fracture in his foot means that we won't likely see him until the second half of the year and he won't likely score in large bunches if he does manage to earn a gig during his first pro season.
The Bulldog I'm interested in the most is Robbie McComb (MID, $190K, 1.2%) fresh off winning Footscray's B&F last year. Unfortunately, a loaded Bulldogs midfield means McComb may have to adopt a similar role to what Anthony Scott played a season ago, with his scoring bound to be impacted by spending chunks of game time on the half-forward line. Still, it's worth keeping an eye on him with speedy small Arthur Jones (DEF/FWD, $206K, 0.8%) another prospect to monitor.
FOLLOW ME ON TWITTER: @SportsbyFry for all things AFL Fantasy (and more)! Feel free to hit me up with any questions you have throughout the season. Good luck! ✌️