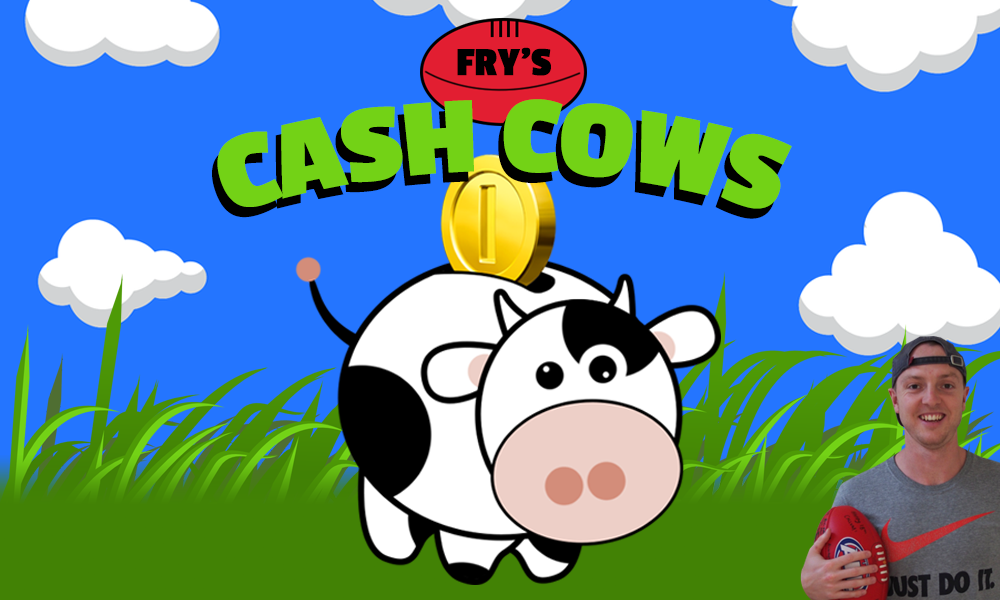 The final weekend of fantasy football is over with some lucky coaches rejoicing in premiership glory and others (like myself) left licking our wounds after a traumatic and testing season. Regardless of where you finished this fantasy season, most coaches continued to front up each week to make their pair of trades and navigate what proved to be another tough season for fantasy coaches. Amongst our successes were a bunch of capable rookies who deserve more than just a pat on their back, so to celebrate their performances, let's announce the cash cow award winners for 2021.
Rookie/cash cows are usually defined as players who are priced at $300,000 or lower
If you missed out on the 2021 Rookie Guide I wrote prior to Round 1 check it out here!
---
Game of the Year
Winner – Jeremy Sharp, Suns (123 in Round 18 vs. Bulldogs)
Jeremy Sharp's MAMMOTH score came at a crucial time for fantasy coaches as injuries were mounting and reliable rookies were harder and harder to find. When a high number of teams added Sharp to the mix at M7 or M8 we weren't expecting a 120-point return, but the sophomore Sun rewarded coaches by compiling 30 disposals with 24 kicks and 10 marks. He followed that math up with another 112-point outing, but his 123 points against the Bulldogs was an easy pick as the best performance by a cash cow in 2021.
Rookie Coach of the Year
Winner – John Longmire, Swans
Ken Hinkley will hold a special place in our hearts and ever since I started writing for the DT Talk boys, Hinkley has claimed Coach of the Year honours in every season. Until now. In the past, fantasy coaches have had a complicated relationship with John Longmire, but Sydney's lead man gifted us with three tantalising cash cows from Round 1 who went on to become productive rookies. It's highly likely that you had Errol Gulden, Braeden Campbell and Chad Warner in your side during the first half of the fantasy campaign, but even if you missed out on that trio Joel Amartey bobbed up briefly as an important late-season cash cow.
Cash Cow King
Winner – James Jordon, Demons
Errol Gulden tried his best to chase down Jordon with 4 votes in the final round from a 104-point game, but the Dees young gun couldn't be caught. Finishing 3 votes clear of the next best Cash Cow King nominee, Jordon polled votes in six different rounds including receiving maximum votes on four different occasions and running away with this year's CCK trophy.
Defender of the Year
Winner – Miles Bergman, Power
Both Trent Bianco and Tom Highmore put together impressive rookie campaigns this season, but Port's excitement machine Miles Bergman was the obvious pick as the best defensive cash cow. Bergman nearly went at an average of 80 through the fantasy finals and even though he started the year solely with FWD status, he made his presence felt in backline's around the globe over the duration of the season. Averages of 15.2 disposals and 4.7 marks are fine from his first AFL season and I won't be shocked if Bergman continues to build on these numbers and remains a fantasy factor throughout his playing days.
Midfielder of the Year
Winner – James Jordon, Demons
Shocker, James Jordon takes out another award race. Jeremy Sharp finished second in this category with 13% of the votes, but a sub-affected score of just 6 points in the final round ruined any chances he had of truly contending as the best rookie midfielder this past season. Jordon helped himself to 20+ touches in 11 different matches, carving out a role in Melbourne's engine room and proving he wasn't a passenger for one of the league's best midfield units.
Ruckman of the Year
Winner – Matthew Flynn, Giants
There were a handful of rookie rucks that stuck their hand up as serviceable cash cows throughout the fantasy season, but Matt Flynn stood head and shoulders above his peers as the best of the bunch. Peaking at over $500K, Flynn started his 2021 season with a 99-point debut and didn't slow down from there, aiding coaches when injury struck as an R2 replacement or as a handy R3 slowly rising in cash and becoming a valuable emergency. GWS' tall prospect was one of the most popular players of season 2021 until he went down with a shoulder injury in Round 18. By that point though, Flynn had served his purpose as a cash cow and proved his worth as the best rookie ruck going around.
Forward of the Year
Winner – Chad Warner, Swans
Most of the positional awards were landslide victories to one player and the quest to find the best rookie forward was no exception. Caleb Poulter and Deven Robertson at least made the count interesting, but Sydney's excitement machine Chad Warner was the runaway winner after averaging 69.1 points from his dozen games. Poulter had higher scoring games and Robertson scored more total points, but Warner's eye-opening start to the season saw him quickly become a cash cow favourite for coaches.
The Cash Cow Team of the Year
Choosing the best 15 cash cows from a single season is always a tough task, with a large number of rookies contributing for fantasy teams across the 2021 campaign. In my eyes, there are 10-12 cash cows who can't be ignored and are shoo-in's for a spot either on the field or on the bench, but narrowing down the final few selections was much harder. Some coaches may give more weight to a player who featured in a high number of games and dropped solid scores along the way, while others might view the rookies who showed a higher ceiling as the more deserving picks for the team of the year. No matter which way you fall, here are my picks for the Cash Cow Team of the Year!
Honourable mentions: Braeden Campbell, Jacob Koschiztke, Liam Stocker
DEF: Miles Bergman, Tom Highmore, Trent Bianco
MID: James Jordon, Errol Gulden, Jeremy Sharp, Tom Powell
RUC: Matt Flynn
FWD: Chad Warner, Caleb Poulter, Deven Robertson
BENCH: Nik Cox, Lachie Bramble, Chris Burgess, Ryan Byrnes
Finals MVP
Winner – Miles Bergman
Popular picks James Jordon and Jeremy Sharp struggled in the fantasy finals, which opened the door for another cash cow to claim the finals MVP award. Technically Hawthorn's Connor Nash was the best rookie scorer in the final month of the season, posting three 90's in the final month; however, his inferior ownership percentage allowed Miles Bergman to swoop onto the trophy. Finishing just five points shy of Nash, Bergman was the only other rook to top 300 points as he averaged 78.2 points over the final month, with Lachie Bramble (297) and Errol Gulden (266) deserving a shoutout for their late-season heroics.
2021 Rookie MVP
Winner – James Jordon, Demons
Der. After his epic 2021 season, James Jordon was the easy choice to claim rookie MVP honours, despite a crowded bunch of contenders. While Errold Gulden, Miles Bergman and Lachie Bramble all had their bright moments during the season, Jordon's fantasy production was on display for the entire year, with the Demons' youngster only missing one game in Round 23 this season. Granted, it's not a great look for the cash cow of the year to miss Grand Final weekend, but by that point, Jordon had more than served his purpose as a cash cow – cementing himself as the clear best rookie from the past season in the process.
---
FOLLOW ME ON TWITTER: @SportsbyFry for all things AFL Fantasy (and more)! Feel free to hit me up with any questions you have throughout the season. Good Luck! ✌️