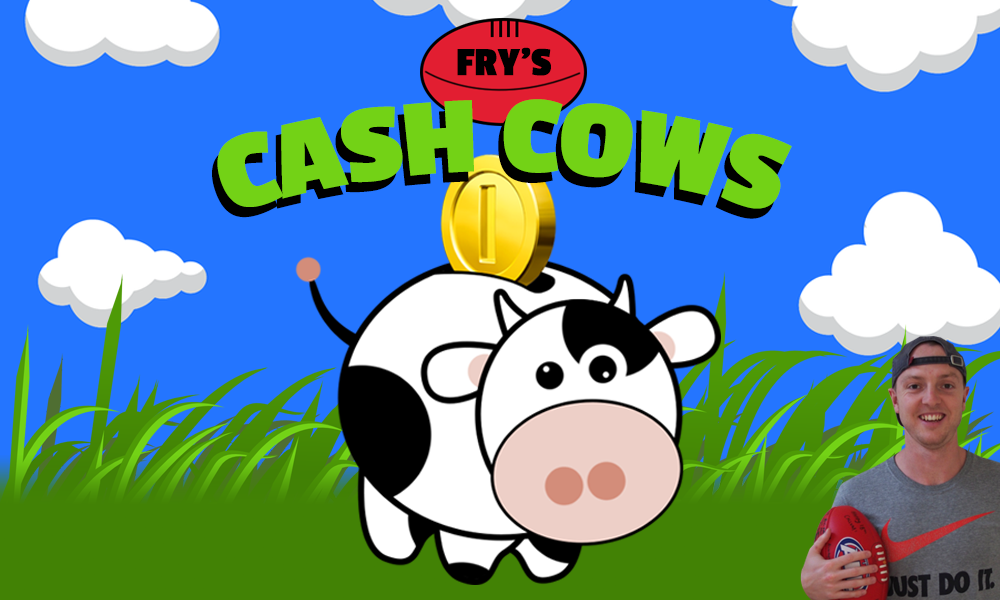 22 down, 1 to go!
And just like that, the curtain is ready to be drawn on another rollercoaster season of AFL Fantasy footy. While there wasn't the same amount of carnage and chaos as last year, the 2021 season was still a testing time for coaches with the addition of the medical sub, constant fixture changes and a plethora of injuries to big names that forced us to take action with our weekly trades. Luckily, when those injuries struck a few reliable rookies stuck their hands up to help and today, we're focusing on award season, with a large number of those cash cows attempting to secure a piece of silverware.
Rookie/cash cows are usually defined as players who are priced at $300,000 or lower
If you missed out on the 2021 Rookie Guide I wrote prior to Round 1 check it out here!
---
Cash Cow King – Round 22
The absence of Jaeger O'Meara and James Worpel from Hawthorn's midfield last week meant that Jai Newcombe (111) was able to make his presence well and truly felt! A 37-point first quarter helped set the tone for Newcombe with his popular teammate Lachie Bramble (83) helping his fantasy coaches with a third 80+ score in the past month. Defenders Sam Durham (78) and Myles Bergman (92) round out the weekly nominees for their performances, but Newcombe is the clear CCK from Round 22 in my eyes.
Loading ...
Round 23 Rankings
Now that we've reached the final round of the fantasy season, cash cows are far from the forefront of our minds. Most coaches still relying on rookies to contribute to their Round 23 score have accepted their fate and are likely stuck with them, but upgrading the likes of Jeremy Sharp and/or Lachie Bramble is still a fine way to use your last pair of trades for the season. Of course, a lot of coaches will opt to chop underperformers instead of Sharp/Bramble and if you have to play a few cash cows on your field for the Grand Final, here are the few trustworthy types in each line.
DEFENCE
Myles Bergman (Power)

Tom Highmore (Saints)*

Trent Bianco (Magpies)
MIDFIELD
Jeremy Sharp (Suns)

Lachie Bramble (Hawks)

James Jordon (Demons)
RUCK
Ned Reeves (Hawks)*
FORWARD
Lachie Bramble (Hawks)

Errol Gulden (Swans)

Deven Robertson (Lions)*
* if named
Round 23 Downgrade Targets
A lot of coaches are at the point of the season where they are punting bench positions and trading away players in an effort to maximise points on the ground. There are a few fresh faces filtering through and your best chance might be to target a player who is at least named to play this round – providing you with a valuable emergency score. Here are the best (cheap) downgrade targets to close the season.
Josh Worrell ($170K, DEF/FWD, Crows)

Brody Kemp ($172K, MID, Blues)

Maurice Rioli ($176K, MID/FWD, Tigers)

Charlie Comben ($172K, RUC/FWD, Kangaroos)

Phoenix Spicer ($188K, MID/FWD, Kangaroos)

Joel Jeffrey ($194K, DEF, Suns)
Award Races
Game of the Year
Through 21 games, there have been 19 triple-figure scores from 14 different rookies with Jeremy Sharp and his Suns teammate Chris Burgess tying for the honour of the highest score by a cash cow this season. The 123 points Sharp scored in Round 19 and Burgess scored in Rd 17 saw them earn a nomination, with Sharp earning the Rising Star nomination for his 30-disposal effort. They weren't the only cash cows capable of an epic score and a huge percentage of coaches would've fielded Errol Gulden (108) back in Round 1 when he raised the bat during his fantasy debut.
It's fair to say, this kid looks sharp ✨

Jeremy Sharp from the @GoldCoastSuns is the round 18 @NAB AFL Rising Star nominee 👏 pic.twitter.com/r6sKrrLLQO

— AFL (@AFL) July 19, 2021
There would've also been a large portion of the community that was boosted by Tom Highmore's 110-point outing in the middle of the bye rounds, with St Kilda's intercept maestro helping himself to 13 marks and 22 touches (with 17 kicks!). Jai Newcombe came close to earning a gig in the final poll thanks to his 111 points last round during preliminary final weekend, with James Jordon, Caleb Poulter and Tom Powell all deserving of mention after scoring 100+ on multiple occasions. It's hard to go past Sharp's 123 at the back end of the season in my eyes, but Gulden's fast start, Highmore's timely ton and Burgess' big day out make for an interesting vote.
Loading ...
Rookie Coach of the Year
One of the more interesting awards handed out at seasons end, there's no runaway winner for Coach of the Year honours in season 2021. Back-to-back COY winner Ken Hinkley deserves some recognition for his consistent up to date team info and willingness to 'play the kids, but he missed out on a nomination this season thanks to the work of his peers. The Collingwood coaching combo in Nathan Buckley and Robert Harvey helped provide us with a league-high 9 debutants including the likes of Trent Bianco, Caleb Poulter and Finlay Macrae while Ben Rutten wasn't too far behind the pace with handy contributors like Nik Cox and Archie Perkins amongst their 7 debutants.
While Harvey/Buckley and Nicks are worth mentioning I believe that Alastair Clarkson and John Longmire are the real contenders for this year's honour. In his final season with the Hawks, Clarko gifted fantasy coaches with 8 debutants including Jacob Koschitzke and Ned Reeves while deploying Jai Newcombe and Lachie Bramble in the back half of the season. His main threat for the award in Longmire supplied the fantasy community with a three-headed cash cow monster by playing Braeden Campbell, Errold Gulden and Chad Warner from Rd 1 and he provided us with the 'Amartey Party' over the final portion of the season. Once again, we're set for a close race for the title of best fantasy-friendly AFL coach.
Loading ...
Cash Cow King
No player can catch James Jordon this year in the season's Cash Cow King vote tally, but the race is still wide open to fill out the rest of the podium places. Jordon managed six nominations over the duration of the season – including polling the max number of votes on four occasions. To put that into perspective, the other CCK candidates Powell (4 noms, 3 BOG's), Sharp (4 noms, 2 BOG's) and Gulden (5 noms, 1 BOG) are a bit behind the Melbourne rookie gun and I won't be surprised to see him gather most of the votes. Lachie Bramble or Trent Bianco (11 votes) loom as the dark horse picks to capture a spot in the top-3 with an epic GF performance, but there's a clear No. 1 cash cow when it comes to big scores in 2021.
Loading ...
Defender of the Year
Despite starting the year as a FWD, Miles Bergman has put his hand up as the best rookie defender 2021 had to offer. Travelling into his bye, Bergman was coming off a DNP and a sub-affected score of 15, leading to the majority of his owners giving him the flick. The Port young gun went on to play the remaining 11 games of the season while scoring a respectable 68.7 points a game and forged out a spot on the field for a lot of successful coaches.
Trent Bianco made his presence felt in the second half of the season too, although, the young Magpie had his miscues along the way. Still, the gifted Collingwood prospect managed to score 68 or more points in 6 of his 10 games, emerging as a very handy cash cow at the pointy end of the campaign. The third defender to draw over 50% of the backline votes last week was St Kilda's Tom Highmore. While his own inconsistencies cost him a chance of contending for more silverware, the Saints tall proved his worth when he was given a string of games – posting an average of 71.1 over his final seven matches! In my eyes, Bergman's high tally of games played gives him the edge against most of his defensive competitors and the versatile Power talent could become a future star in the back six.
Loading ...
Midfielder of the Year
The four cash cows vying for the honour of best midfielder have had drastically different journey's this season. The overwhelming favourite for the honour is Melbourne's James Jordon with the 20-year old proving he is an important member of the ladder-leading Dees. Scoring over 90 on five different occasions is a big reason why Jordon scored more points than any other rook, but featuring in every match this season has also been important.
The other trio of nominees, North Melbourne's ball-winning beast Tom Powell, Sydney dynamo Errol Gulden and Gold Coast bolter Jeremy Sharp, have played 13, 16 and 8 games respectively. Each of the young midfielders deserves to be on the ballot, but it's hard for them to mount a case against Jordon. Early on it looked like Powell would live up to his hype as my favourite MID rookie, averaging 77 points from his first eight games including consecutive 100+ scores!
"He looks about 12 years old this kid, but he can seriously play."

Welcome to the Tom Powell fan club, Joey! 🌟 pic.twitter.com/LOChKLarNB

— maddie (@maddiemelb) May 12, 2021
Unfortunately, injuries took their toll on Powell and he's failed to play at AFL level since Round 13. Had he held his spot for another fortnight Powell would have gone head-to-head with Jeremy Sharp, who has been a star in the Gold Coast engine room since he reclaimed a spot in the side. Only once has he scored under 60 and there's a chance Sharp produces a big score during the Fantasy Grand Final, with 11% of the completion still owning the line-breaking second-year pro.
A revival in the second half of the year could even see a few coaches still trusting Errol Gulden, with the energetic cygnet hardly missing a step in his debut season. Gulden has the 3rd most points amongst all cash cows, despite missing five matches through injury and posting a few lacklustre point totals along the way. It's a crowded group of rookie MID's, although Jordon's consistent dominance might be too hard to ignore.
Loading ...
Ruckman of the Year
This award seems pretty obvious to me after Matt Flynn scored 845 points from his 12 games to emerge as the clear top ruck cash cow this season. GWS' youngster had to bide his time before finally earning his AFL debut, but a 99-point effort in his first game against St Kilda highlighted how important he could be for fantasy coaches. Flynn went on to score 70+ in five more matches and peaked at over $500K – around the time when a lot of coaches would have thanked him for his services and traded him away. The other two ruck candidates, Joel Amartey and Ned Reeves COMBINED to score just 698 points; however, both of them played a handy role for a large group of teams as we hit the home stretch. Chris Burgess may have deserved a mention, but his inferior ownership percentage means that Flynn should earn the bulk of the votes here.
Loading ...
Forward of the Year
Finding a winner for the best rookie forward this season is much harder than the other award categories. While a large group of cash cows added FWD status over the season, giving them added value for fantasy teams, the three finalists in 2021 all started the season as genuine forwards. Initially, Chad Warner was the clear No. 1 rookie amongst the front six, with Sydney's young gun scoring 81, 100, 95 and 93 points in four of his first six matches. He produced plenty of highlights in his first 12 games, however, similarly to Tom Powell, an injury derailed his rookie season with Warner failing to play an AFL game since Round 12.
Round 12 was also the same round that Collingwood cash cow Caleb Poulter scored his second fantasy ton in three weeks, proving to be a crucial addition during the bye rounds. Poulter got his debut five weeks earlier and tailed off to end the year, but don't forget he was one of just five rookies to post two scores in the 100's – with his first coming against Port Adelaide in just his 4th game of footy. Leading into the best-of-18 rounds is also where Deven Robertson established himself a jet in the forward group as well, averaging 75.5 points in the four weeks before his bye. Robertson benefitted from Lachie Neale's absence and thrived with added midfield responsibility for Brisbane – rounding out a very intriguing group of forward nominees.
Loading ...
MVP
I've outlined the individual cases for most of the rookies above, but this award is the one where you're meant to get sentimental. While Jordon scored the most points and Sharp had the highest score, not all cash cows are created equally and every coach is going to have their unique MVP. Maybe it's Tom Powell thanks to his fast start that helped propel you up the ranks, or Lachie Bramble captures your vote after you traded him in and watched him guide your team in the final few months as a final rookie.
During that same time, Jeremy Sharp burst onto the scene and he'll get his own share of the votes after his epic arrival for fantasy coaches while the consistent performances from Miles Bergman can't go unnoticed either. Errol Gulden may have been traded by a lot of coaches when injury struck, but that time came when he was at a luxurious price – serving his purpose as a cash cow and allowing you to grab another upgrade. Of course, James Jordon put numbers on the board unlike any other rookie this past season, but an ugly 29-point game in Round 4 could have seen some owners abandon ship, making him unworthy of a vote in your eyes. Either way, every coach will have that one cash cow that helped them when they needed help the most in season 2021, so cast your vote wisely.
Loading ...
---
FOLLOW ME ON TWITTER: @SportsbyFry for all things AFL Fantasy (and more)! Feel free to hit me up with any questions you have throughout the season. Good Luck! ✌️