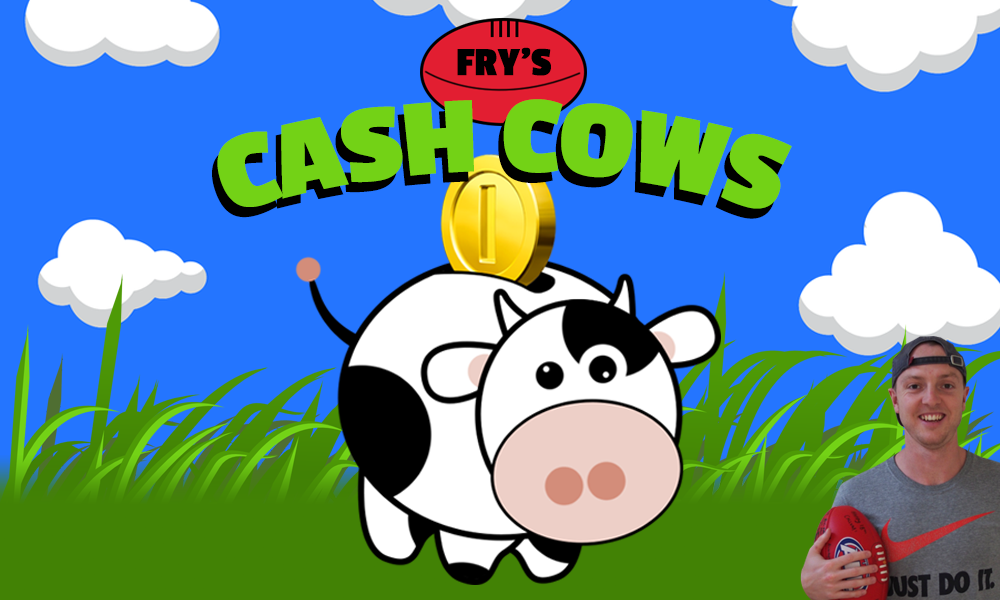 21 down, 2 to go!
We have reached preliminary finals weekend and for the coaches still in the mix, ultimate bragging rights are only 4 trades away! A few members from the cash cow class of 2021 are still having their say late into the season, but for most of the rookies, their time as relevant fantasy options has come and gone. However, that doesn't mean they didn't have an impact for coaches over the duration of the season and today we start the process of narrowing down the nominees for this season's batch of awards!
Rookie/cash cows are usually defined as players who are priced at $300,000 or lower
If you missed out on the 2021 Rookie Guide I wrote prior to Round 1 check it out here!
---
Cash Cow King – Round 21
No rookie managed to push triple-figures in Round 21, but that didn't stop a handful of cash cows from making a difference during the fantasy finals. Lachie Bramble (94) and Jeremy Sharp (88) are likely the last two rookies on-field for a large portion of the comp and the duo didn't let their coaches down with a pair of impressive scores. Defensive mainstay Tom Highmore (87) wasn't too far behind and Hawthorn's Connor Nash (92) deserves special mention for his second consecutive score in the 90's! I'm siding with the late ROY bolter in Jeremy Sharp for my nomination this week and the race to catch James Jordon for Cash Cow King honours is heating up with 2 rounds remaining.
Loading ...
Round 22

Rankings
With just two rounds left in the 2021 AFL fantasy season, there aren't too many reliable cash cows left for us to trust on our fields. With that being said, a few of our popular rookies are producing better scores than some of the highly owned mid-priced talent and chopping out those $500K-$700K underperformers isn't a terrible move by any means. If you're opting to trade out a player like Jordan Ridley, Shai Bolton, Patrick Cripps or Reilly O'Brien to an elite fantasy player while keeping a rookie on your field, here are the few I still trust over the final fortnight of the season.
DEFENCE
Myles Bergman (Power)

Trent Bianco (Magpies)*

Tom Highmore (Saints)
MIDFIELD
Jeremy Sharp (Suns)

Lachie Bramble (Hawks)

James Jordon (Demons)
RUCK
Ned Reeves (Hawks)*

N/A
FORWARD
Lachie Bramble (Hawks)

Errol Gulden (Swans)

Deven Robertson (Lions)*
* if named
Round 22 Downgrade Targets
A lot of coaches are at the point of the season where they are punting bench positions and trading away players in an effort to maximise points on the ground. There are a few fresh faces filtering through and your best chance might be to target a player who is at least named to play this round – providing you with a valuable emergency score. Here are the best (cheap) downgrade targets to close the season.
Josh Worrell ($170K, DEF/FWD, Crows)

Brody Kemp ($170K, MID, Blues)

Maurice Rioli ($174K, MID/FWD, Tigers)

Joel Jeffrey ($182K, DEF, Suns)

Jacob Edwards ($170K, RUC/FWD, Kangaroos)

Josh Honey ($232K, MID/FWD, Blues)

Nathan O'Driscoll ($218K, MID, Dockers)
What a moment for Joel Jeffrey when he slotted his first AFL goal on the weekend. It had to be our first @Hostplus Super Play for the day! pic.twitter.com/EihQooGOJF

— Gold Coast Suns (@GoldCoastSUNS) August 9, 2021
Award Nominees
Through 21 rounds of this season, we have been gifted with 86 debutants and a high number of cash cows that aided our fantasy cause in what has been another testing year. The AFL continues to deal with COVID-19 ramifications that have altered fixtures, team lineups and even state leagues around Australia, but amongst all the chaos and carnage a particular group of rookies have produced some healthy scores for the fantasy community.
As we near the end of another fantasy campaign, it's time to recognise some of those high achievers from the class of 2021, with your votes determining which players qualify for the final ballot! Next week I will be back with the final voting ballot for all the rookie/cash cow awards including Game of the Year, Position MVP's, the Cash Cow King and more, but below you can have your say on which cash cows deserve recognition for their efforts this season.
Make 2-4 selections (depending on position) for the finalists of each positional award race. Voting closes at the conclusion of Round 21
DEFENCE
Loading ...
MIDFIELD
Loading ...
RUCK
Loading ...
FORWARD
Loading ...
---
FOLLOW ME ON TWITTER: @SportsbyFry for all things AFL Fantasy (and more)! Feel free to hit me up with any questions you have throughout the season. Good Luck! ✌️